According to the folks over at the Downtown Alliance, that's the number of pies and slices set to fly off the proverbial shelves at this year's Pie N Beer day event. The popular Summertime bash which has taken a two year covid-break, is back for 2022, and back with style I might add.
If you're new to event, Pie N Beer day rolls around on July 24th marking the state's traditional holiday – Pioneer Day. The food and drink festival toasts the day with a massive selection of pie and beer (say it real fast and it makes sense).
This year's event will move to The Gateway on the West side of downtown, with ample room for all that pie and of course, beer. Local brewers and restaurants then team up, and well, serve up pie and and beer all day long.
Brad Wheeler, MC for the day's live music proceedings writes, "sometimes, new residents of Utah can feel left out from the observances on July 24. Our celebration is inclusive and welcoming to all. I invite everyone to this wholesome, family-friendly event with the world's largest assemblage of pie and beer!"
Here are some snaps from our own archives, from Pie N Beer days past:
Confirmed acts to perform on the north stage of The Gateway include Proper Way, Timmy The Teeth, Cowjazz, and more to be announced. For 2022's Pie N Beer Day celebrations the following breweries will be pouring the sudsy stuff:
Bewilder Brewing
Bohemian Brewery
Desert Edge Brewery
Epic Brewing
Fisher Brewing Company
Hopkins Brewing Company
Level Crossing Brewing Company
Moab Brewery
Mountain West Cider
Offset Brewing
Ogden River Bring
Proper Brewing Co.
Red Rock Brewing
RoHa Brewing
Roosters
SaltFire Brewing Company
Salt Flats Brewery
Shades Brewing
Squatters
Strap Tank Brewing Company
T.F. Brewing
Uinta Brewing
UTOG Brewing Company
Wasatch Brewery
while the following restaurants will be providing a range of sweet and savory pies:
Avenues Proper
Bakery 43
Brewers Bread
Bricks Corner
Copper Onion
The Dodo
Eggs In The City
Emigration Cafe
Este Pizza
Eva's Bakery
Flake Pie Co
Flanker Kitchen + Sporting Club
Goodfood Gluten Free Bakery
Nomad Eatery
Oquirrh
Pies The Limit
Porcupine Grill
Rocky Mountain Pies
Squatters
Stein Erickson Lodge
Tin Angel
UTOG
Wasatch Brew Pub
This years event will run noon through 6.pm. with live music from a variety of local acts, completely free of charge. Pie passes will be sold at the door and will include five beer and pie pairings for $40.
More Pie N Beer Day 2022 options
Flanker Kitchen + Sporting Club
Epic Brewing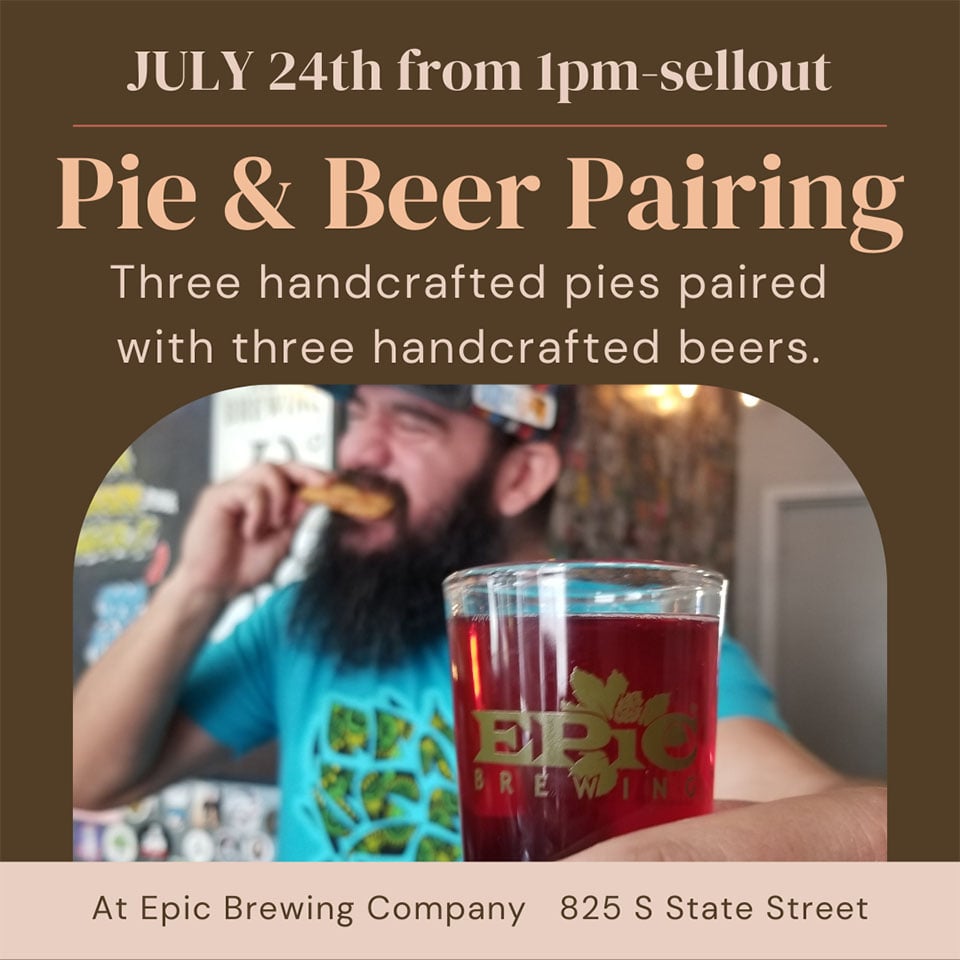 Via press release: Get ready to indulge in rich deliciousness this July 24th! Epic Brewing Company and Pie Fight are gearing up for a Pie & Beer Day celebration by pairing three handcrafted pies with three handcrafted brews.  
Each pairing was carefully selected by head bakers and brewers at both local businesses. The crew at Pie Fight even developed a new recipe tto pair with Epic Brewing's Pie 'n' Beer Day Sour Ale. This year's pairings are:
Banana Chocolate Chip Pie with Brainless Belgian Golden Ale
Blueberry Goat Cheese Pie with Pie 'n' Beer Day Sour Ale
Peanut Butter & Jelly Pie with Double Jam Imperial Stout
The pies and beers will be available to-go at Epic Brewing on 825 S State Street on July 24th from 1 pm until sellout. Each hand pie is $7.50 and the beers start at $2.99/can. Bring a friend and try them all!
Hi, I'm Stuart, nice to meet you!  I'm the founder, writer and wrangler at Gastronomic SLC.  I'm a multiple-award winning journalist and have written in myopic detail about the Salt Lake City  dining scene for the better part of seventeen years.
I've worked extensively with multiple local publications from Visit Salt Lake to Salt Lake Magazine, not least helped to consult on national TV.   Pause those credits, yep, that's me! I'm also a former restaurant critic of more than five years, working for the Salt Lake Tribune.    I'm largely fueled by a critical obsession with rice, alliteration and the use of big words I don't understand.   What they're saying about me: "Not inaccurate", "I thought he was older", "I don't share his feelings".
Want to know more? This is why I am the way I am.
This article may contain content provided by one of our paid partners. These are some of the best businesses in Utah. For a list of all our current and past relationships see our
partnership history page
.