With many restaurants ready to pop the cork after battling through a year in the biz, it's a resounding endorsement for any restaurant to celebrate NINE years. That's exactly what Avenues Proper will be doing this Sunday, and hopefully you'll want to raise a glass with them too. The Avenue's neighborhood hang out opened nearly a decade ago and spawned a series of siblings, notably, Proper Burger, Proper Brewing, Stratford Proper – and the completely unique Craft by Proper – the only bar in Utah that serves 100% Utah brews.
The nine year birthday party starts at 5.30 p.m. with a cocktail hour, before dinner – a six course affair – starts at 6.30 p.m. sharp. Each course in the meal is paired with a suitable beer from the well regarded brew team – the full menu is as follows:
Fried brie, strawberry vinaigrette, arugula, almonds
Patersbier – Belgian-style blonde
Split pea soup, ham, crème fraîche, smoked pineapple, salsa, bacon fat
Whispers Of The Primordial Sea – smoked helles lager with pineapple
Scallion pancake, soy chili glaze
Carcosa – mixed fermentation ale, aged in pinot noir barrels with plum
Intermezzo, bleu cheese ice cream, saba
Sour Ranger – sour ale with strawberries and hibiscus
Duck breast, cherry bbq, pearl barley risotto, root vegetable
Ye Olde Boi – English-style old ale with rye aged in bourbon barrels
Chocolate cake, beet ice cream, salted caramel brittle
Grand Slainte – imperial stout

Price for the event is $105 per person ($75 food, with optional $30 beer pairing). Call or email the restaurant to reserve.
376 8th Ave, Salt Lake City, UT 84103
(385) 227-8628
avenuesproper.com
Flanker dishes up deals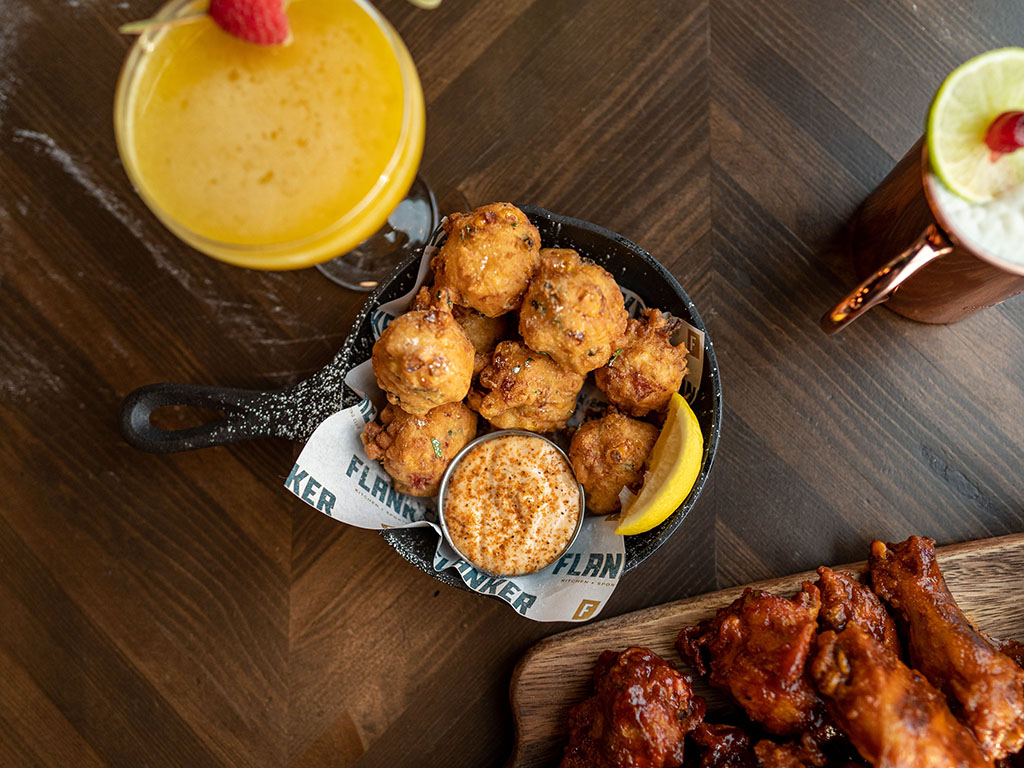 Flanker – the fun new addition to The Gateway – has announced a couple of specials. If you were thinking of wandering on down to see what's cooking, now's the perfect time. A $5 appetizer menu is now being offered on Wednesdays and Thursdays, 52.00 – 7.00 p.m. and "showcases different items each week from the elevated American fare menu in the restaurant".
Also of note Thursday, May 5th will see Flanker's debut Cinco de Mayo party featuring "Fiesta food specials, $25 Pacifico pitchers, $5 Luna Azul shots, and $7 margaritas. Live entertainment will include a mariachi band and DJ Erockalypse.'"
6 N Rio Grande St Suite 35, Salt Lake City, UT 84101
(801) 683-7070
flankerslc.com
Mountain West cider plot Marmalade beer garden
The aways reliable Building Salt Lake recently announced this scoop after poring through local city paperwork – the opening of a possible new location for Mountain West in the Marmalade area of SLC. BSL note that the planning application state:
"Our intent is to replace the current outdoor venue with a permanent structure that would include a full service kitchen, restaurant, bar and smokehouse. The popularity of the 'Garten' over the past several years has demonstrated community support for a local bar/restaurant at the current location."
BSL go on to write that "The restaurant, already named Garten, would be designed in homage to classic German beer halls. It will include 13-foot walls and a partial second floor, large wood timbers and steel framing. arten is expected to provide space for 250 guests indoors and outdoors during warmer months and 120 indoors in the winter. The space would be powered entirely by rooftop solar. "
I'll raise a glass to that!
Utah cheese awards comes back for sixth edition
Via press release
The Utah Cheese Awards announces its sixth competition. For the second year, cheesemakers and specialty food producers in Utah and the states surrounding it (Wyoming, Colorado, New Mexico, Arizona, Nevada, and Idaho), as well as Montana, will be able to enter.
"It's a big chunk of America," founder Steve Jerman declares. "Our new show footprint is about 970 miles wide and over 1200 miles high. It comprises 550,073 acres, is about 175% larger than Europe, and almost 1/4 of the area of the entire United States!" he continued.
Once again cheesemakers and cheese plate food makers will be able to have their products judged by varied teams of food professionals and foodie consumers to win gold, silver, and bronze medals as well as one of two best-of-show awards. The event was launched in 2017 after Jerman completed an internship at a small Utah creamery the previous year, and felt a contest could succeed.
In other news
Hi, I'm Stuart, nice to meet you!  I'm the founder, writer and wrangler at Gastronomic SLC; I'm also a former restaurant critic of more than five years, working for the Salt Lake Tribune.  I've worked extensively with multiple local publications from Visit Salt Lake to Salt Lake Magazine, not least helped to consult on national TV shows.
I'm a multiple-award winning journalist and have covered the Utah dining scene for the better part of fifteen years.   I'm largely fueled by a critical obsession with rice, alliteration and the use of big words I don't understand.   What they're saying about me: "Not inaccurate", "I thought he was older", "I don't share his feelings".  Want to know more? This is why I am the way I am.
This article may contain content provided by one of our paid partners. These are some of the best businesses in Utah. For a list of all our current and past relationships see our
partnership history page
.