Easter Sunday falls on April 17th this, and with it, an inevitable slew of brunch menus, buffets and dining specials. Below are all of the Easter dining options for 2022 we know of in SLC. Be sure to bookmark the page and check back later – we will continue to update the page as we receive more info from restaurants. For previous years and more inspiration see our Easter roundups in 2021, 2020, 2019, 2018, 2017.
Note: much of the information and descriptions below are provided by restaurants directly.
Easter 2022 dining out in Utah
Fleming's Steakhouse
Three course prix-fixe
April 16th and 17th
$55 per guest
Menu includes macadamia citrus salad, tournedos of beef with butter poached lobster and espresso delight dessert.
20 S 400 W, Salt Lake City, UT 84101
(801) 355-3704
flemingssteakhouse.com
Franck's
Four course prix-fixe
11.00 a.m. – 2.30 p.m.
$90 Adults, $50 kids 12 and under
Menu as follows:
Amuse – burrata cheese, grilled Crumb Brother's sourdough, grape marmalade, grape aguachili, olive oil, chervil
Caramelized Hawaiian walu, potato nest bacon and eggs(caviar) emulsion, raw onion, fried parsley, pickled fennel
Wagyu beef cheek & coulotte, Wagyu beef fat "Pancake", soft scrambled egg, porcini hollandaise, maple, celeriac purée, mizuna, hazelnut, bourbon-rosemary syrup
Creamsicle house made donut, orange glaze, vanilla bean buttercream, blood orange meringue, ruby grapefruit, orange gel, vanilla bean powder, flowers
6263 Holladay Blvd E, Holladay, UT 84121
(801) 274-6264
francksfood.com
Hearth And Hill
Brunch buffet
10.00 a.m. – 2.30 p.m.
$75 adults, kids ages 5-12 $35, kids 4 and under are free
Buffet includes: deviled eggs, eggs Benedict, hummus and vegetables, smoked salmon, Wagyu beef sliders, beef ribeye, herb-crusted salmon, roasted leg of lamb, cupcakes: carrot and chocolate, fruit crisp, strawberry shortcake.
1153 Center Dr, Park City, UT 84098
(435) 200-8840
hearth-hill.com
Hub & Spoke
Brunch buffet
9.00 a.m. – 2.30 p.m.
$44.99 adults, $22.49 kids under 12
Buffet includes: chicken and waffle, mini Kentucky hot brown, classic benedict, crab benedict, vegan grit skillet, classic French toast, 2 egg build your own omelet. Sides include homey glazed ham, scrambled eggs, bacon, sausage, potatoes, pasta salad, fresh fruit. Assorted desserts.
1291 S 1100 E, Salt Lake City, UT 84105
(801) 487-0698
hubandspokediner.com
La Caille
Buffet
$125 adults, $45 children 3-10
Menu includes:
Herb roasted beet salad, farro, frisee haricots vert, honey lemon thyme vinaigrette
Artisan greens, apples, grapes, candied nuts, blue cheese, white balsamic vinaigrette
Cream of carrot soup, coriander cream fraiche
Hand selected sliced fruit
Assorted deviled eggs
Imported & domestic cheese platter
Parfaits, dried fruits, fresh berries, vanilla yogurt, granola
Apricot and pistachio scones, blueberry mini muffins, croissants, butter, honeys, jams
Seafood station with shrimp, snow crab, cocktail sauce, lemons, butter; marble rye lox with cucumber and capers; tuna poke, thai chili shoyu sauce, crispy wanto
Crème brulee french toast, maple syrup
Eggs benedict, grilled ham, poached farm fresh eggs
Chef Hustin's chicken wings with assorted sauces
Ratatouille, assorted spring vegetables, polenta, fennel tomato sauce, local goat cheese
Scrambled farm fresh eggs, local sausage, crispy potatoes
Carving station with garlic rosemary roasted leg of lamb with green apple jalapeno mint sauce; black pepper maple glazed candied bacon; herb slow roasted rib eye, au jus, horseradish
Dessert display with chocolate parfait; crème brulee; strawberry rhubarb cobbler; carrot cake
9565 Wasatch Blvd, Sandy, UT 84092
(801) 942-1751
lacaille.com
Log Haven
Three course menu
Noon – 5.00 p.m.
$61.00 adults, $34.50 children under 12
Menu as follows:
Starter, choice of:

Wild mushroom Soup, crème fraÎche, gremolata bread crumbs OR
Bloomsdale spinach salad, smoked bacon, chopped egg, honey-lemon dressing

Entree, choice of:

Pan seared Manhattan New York, grilled asparagus, aged Gruyere potatoes, bordelaise
Grilled salmon, French lentils, roasted baby carrots, artichoke pesto, lemon beurre blanc
Grilled chicken breast, butternut – pecan polenta, cherry – dijon gastrique
Roast leg of lamb, stuffed with dried tomato pesto, cipollini onions – barley cassoulet, roasted broccolini
Parmesan Reggiano risotto, English peas, tomato coulis, evoo

Dessert, choice of:

Strawberry panna cotta
Lemon tart
Chocolate ganache tart with vanilla ice cream
6451 Mill Creek Canyon Rd, Salt Lake City, UT 84109
(801) 272-8255
log-haven.com
Pago
Easter brunch menu
$32 per person
Menu as follows:
Welcome – pastry basket + chef's selection
Starters choice of one per guest

Kale caesar, pickled fennel, sunchoke chips, parmesan, baby kale, anchovy upon request
Strawberries & beets, pickled strawberries, goat cheese, candied quinoa, balsamic puree
Marinated asparagus, sauce gribiche, roasted garlic bread crumbs
Shrimp aguachil, cucumber, avocado, cilantro, chile, red onion

Main choice of one per guest

Pago breakfast, Clifford farm scrambled eggs, market vegetables, brunch potatoes
Eggs benedict, prosciutto, arugula, english muffin, hollandaise, brunch potatoes
French toast, griddled brioche, berries, powdered sugar, maple syrup
Trout kedgeree, curry fried rice, scrambled eggs, tomato, cucumber, cilantro, fried shallots, avocado
Pozole rojo, pork shoulder, hominy, guajillo chile, shredded cabbage, radish, crispy tortilla
Pago burger, bacon, cheddar, pickled onion, arugula, black garlic aioli, brunch potatoes
878 S 900 E, Salt Lake City, UT 84102
(801) 532-0777
pagoslc.com
Pago On Main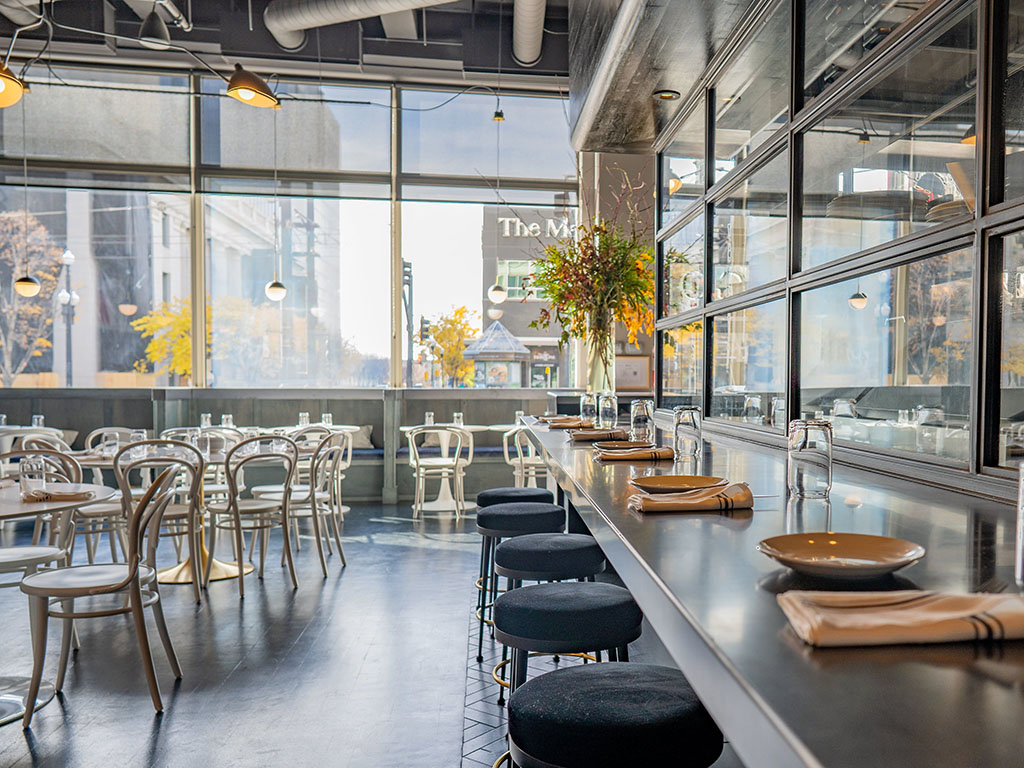 Brunch buffet
$42 adults, $21 kids 12 and under, kids under four free
10.00 a.m. – 2.00 p.m.
Brunch menu as follows:
Artisan cheese & meat. daily selection, seasonal garnishes, crostini, pumpkin bread, mostarda
Fresh fruit, honey mascarpone, honeycomb crumble
Beets, pickled strawberries, goat cheese mousse, crispy quinoa
Kale caesar, pickled fennel, baby kale, sunchoke chips, parmesan
Burrata, pumpkin bread, olive oil, pepita chile crumble,
Orecchiette pasta salad + (vg) + kale pesto, peas, artichoke, cherry tomato, feta
French toast, brioche, fresh berries, lemon curd, maple syrup
Ricotta blintz, roasted strawberry jam, almond crumble
Trout kedgeree, vadouvan curry rice, pickled radish, marinated carrot, cilantro, fried shallots
Wild game meatballs, golden raisin, sofrito, pomodoro sauce, garlic breadcrumbs, feta
Sunchoke & potato poutine, mushroom gravy, cheddar curd, fresno chile, smoked onion
Cauliflower carbonara, guanciale, pecorino, egg yolk, black pepper, pangrattato
Farotto, farro risotto, zucchini/ pistachio pesto, roasted cherry tomato, pecorino
Braised short rib, carrot mascarpone, crispy kale
Scrambled eggs
Bacon
Brunch potatoes
Carving station with honey/ lavender glazed ham + pineapple mostarda
Sweets selection of fresh baked breads, pastries & desserts
41 S Main St, Salt Lake City, UT 84111
(801) 441-2955
pagoslc.com
Riverhorse On Main
All you can eat brunch
10.00 a.m. – 2.00 p.m.
$85 adults, $65 kids
540 Main St, Park City, UT 84060
(435) 649-3536
riverhorseparkcity.com
Snowbasin – Earl's Lodge
Easter brunch buffet
10.00 a.m. – 4.00 p.m.
$79 adult, $40 kids 5-11, free 4 and under
Buffet includes:
Carving station with ham and prime rib
Benedicts station with classic, crab and florentine benedicts
Egg & omelet stations with your choice of ham, bacon, sausage, pepper, jalapeños, onions, mushrooms, spinach, tomatoes and cheddar cheese
Crepe station with your choice of Nutella, peanut butter, whipped cream, chocolate sauce, caramel sauce, mixed berries. Raspberry sauce, peach compote, bananas and orange liqueur
Cold food buffet with antipasto platter, fresh fruit, charcuterie platter, garden salad, Caesar salad, caprese salad
Hot food buffet with bacon and sausage, maple soy-glazed salmon, mushroom ravioli with brown butter sage sauce, Brussel sprouts with sweet soy glaze, grilled asparagus, honey glazed carrots, pot roast with mashed potatoes, breakfast potatoes
Kids buffet menu with mini corn dog, tater tots, chicken tenders, scrambled eggs
3925 Snowbasin Rd, Ogden, UT 84403
(801) 620-1000
snowbasin.com/events/detail/easter-buffet
Snowbird – Cliff Lodge
Easter brunch at Cliff Lodge
9.00 a.m. – 3.00 p.m.
$59 adults, Kids 6 – 12 $29, 5 & under free
9320 Cliff Lodge Dr, Snowbird, UT 84092
(801) 933-2222
https://stgsnowbirdmedia.blob.core.windows.net/snowbird/uploaded/dining_pdf/the_aerie_easter_brunch_menu_22.pdf
Tuscany
Brunch buffet
April 17th, 10.00 a.m. – 2.00 p.m.
$85 Adults, $40 kids 12 and under
Featured buffet items include: prime rib, chilled crab legs & shrimp, roasted lamb, honey glazed ham, gourmet omelet bar, fresh salads, assorted house made breads & desserts. Order at the
table: eggs benedict ham, Florentine, house made waffles with whipped butter and maple syrup.
2832 6200 S, Salt Lake City, UT 84121
(801) 277-9919
tuscanyslc.com
Easter 2022 dining at home
If you're catering to a crowd or prefer to indulge yourself and yourself alone this Easter – the following businesses might have something you fancy…
Beltex Meats
Utah's best butchers are now taking pre-orders for their Easter seasonal cuts. Cider-glazed smoked hams and holiday legs of lamb are available for 2022, order here. Price is $45 deposit with the remainder due at pickup.
Brio Italian Grille
Bring home an exclusive Easter weekend package to celebrate with family and friends around your holiday table this year. Available for pick up, curbside or delivery between Friday, April 15th – Easter Sunday, April 17th. Comes in two dinner portions (feeds two), four dinner portions (feeds four) and one half pan (feeds 10). More details here.
Buca Di Beppo
Bring home an exclusive Easter weekend package to celebrate with family and friends around your holiday table this year. Available for pick up, curbside or delivery between Friday, April 15th – Easter Sunday, April 17th. Feed 5 for $60, Feed 10 for $110. Meals include salad, pasta, dessert. More details here.
Catch Sitka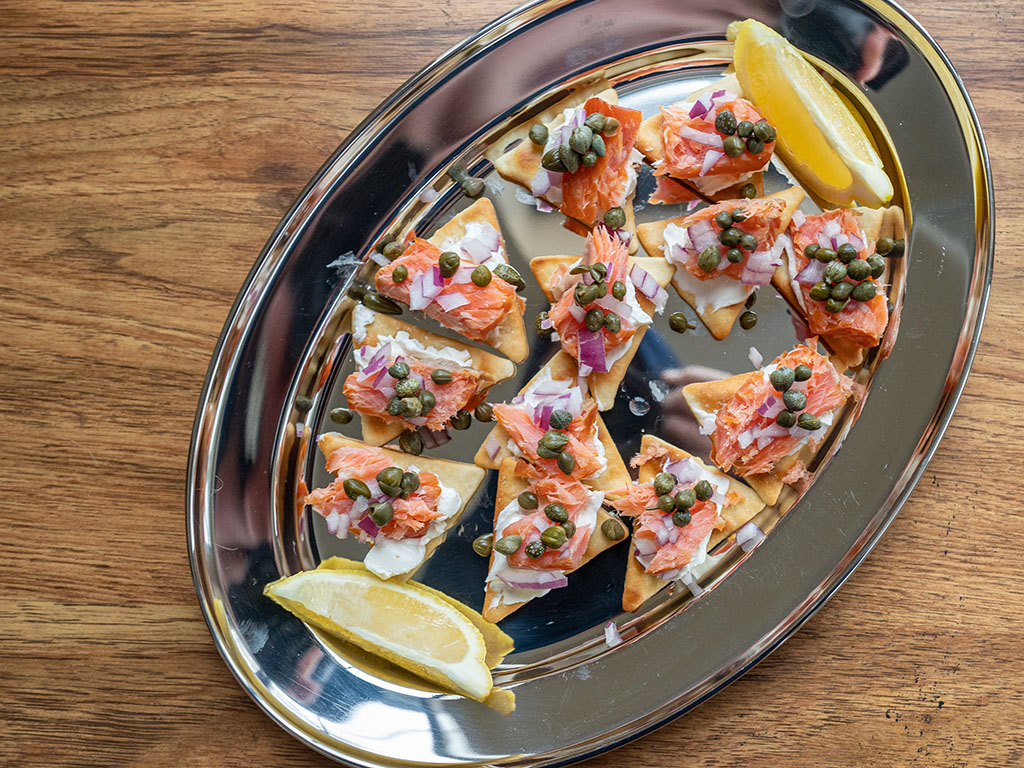 Fancy a seafood-fueled Easter table? All of the Alaskan seafood from Catch Sitka Seafood is caught wild, using hook-and-line sustainable fishing practices, immediately iced, processed dock-side by artisans, blast frozen to lock in flavor and sent straight to you. Alaskan seafood is some of the very best in the world – and CS's is backed by a 100% satisfaction guarantee too. Check em out here. If you make a purchase we get a referral fee.
Cracker Barrel
With two entrée options and a variety of side options, Cracker Barrel's Heat n' Serve meals offer abundant portions and can be scaled to accommodate any size gathering. Guests can look forward to a simple, yet customizable Easter celebration with guided instructions to easily prepare Easter dinner or brunch, from oven to table, in three hours. The following options are available:
Elevate your holiday experience with the Easter Prime Rib Heat n' Serve Family Dinner which serves 4-6 people (starting at $124.99). This meal includes Prime Rib, au jus and Horseradish, Mashed Potatoes, Roasted Gravy, choice of two Country Sides and Sweet Yeast Rolls.
Or go the traditional route with Spiral-sliced Sugar-cured ham. Choose from two options:

Easter Ham Heat n' Serve Feast which serves 8-10 people (starting at $149.99), featuring Spiral-sliced Sugar-cured Ham, Mashed Potatoes, Roasted Gravy, choice of three Country Sides, Sweet Yeast Rolls and Peach Cobbler; or
Easter Ham Heat n' Serve Family Dinner which serves 4-6 people (starting at $99.99), including Spiral-sliced Sugar-cured Ham, Mashed Potatoes, Roasted Gravy, choice of two Country Sides and Sweet Yeast Rolls.

A delicious new addition to this year's Heat n' Serve side selection is Three-Cheese Squash Casserole, baked yellow squash prepared with a creamy cheese blend and topped with breadcrumbs.
Build your own Easter meal or supplement Grandma's sacred recipes by mixing and matching your Cracker Barrel favorites with a wide assortment of options from the A La Carte Heat n' Serve Easter Menu.
Pre-order is required for Cracker Barrel's Easter Heat n' Serve meals, which are available for pick up April 14-17, while supplies last. Guests looking to enjoy a Heat n' Serve meal are encouraged to order online at least 48 hours in advance of desired pick-up date by visiting crackerbarrel.com.
Flourish Bakery
Treat yourself and your loved ones this Easter with delicious baked goods from Flourish Bakery! We have a variety of treats that are perfect for the celebration – like our famous carrot cake, our tasty cinnamon rolls, and our specially-decorated sour cream sugar cookies with raspberry and lemon buttercream.
Make sure to pre-order yours today here: https://flourishslc.org/collections/all-products/easter

iGourmet
iGourmet.com (affiliate link) is a one stop shop for smartly bundled gift boxes from all around the world. Shop for everything from cheese to charcuterie to stress free meal kits. If you can eat it – it's likely these guys will ship it – and for far less than the price of a plane ticket too! iGourmet focus on quality and the extensive selection is sure to have something for everyone. Pictured, just a handful of the goodies from their European biscuit collection box – wonderful treats from all over the continent.
Salt Box Eatery and Catering
Save time in the kitchen with a pick-up Easter experience. The Park City based catering outfit are offering a variety of breakfast pastries, dinner options like lump crab cakes, wild game meatballs and braised lamb shank, and Nutella and banana crepes for dessert. $225 serves 4 guests. Order online at saltboxpc.com.
Spice House
I've been banging on about the Chicago based Spice House for as long as I have been writing this website. See: forever. The reason? You really can't find better spices, anywhere. I know some might think there's no difference between this and that, but trust me, freshness is everything. Moreover, if you make a big enough purchase, it usually works out cheaper than local grocery stores anyway. Adobo to za'atar – these guys have it all – and I'll confess to having spent days and days thumbing through their collection. We get a referral fee for purchases made with them – check them out.
Twisted Tiramisu
The local dessert gurus (who will deliver right to your door) have a special Easter line up this year:
Creme brûlée – lady fingers dipped in espresso, vanilla mascarpone, brûléed sugar top
Frangipane – lady fingers dipped in honey sweetened light roast coffee, almond mascarpone, layer of house made Frangipane cream, topped with caramelized sliced almonds
Italian anise – lady fingers soaked in light roast roast coffee, layered with vanilla bean + anise flavored mascarpone, edible spring confetti sprinkle top
Tiramisu for 2 $12 , 9×9 $50, Delivery is $7 or free with the orders over $40. Pick ups are in Midvale
Keep the conversation going
Want to stay on top of the SLC food scene, minute by minute, dish by dish? Here are a few other places you should follow along:
Hi, I'm Stuart, nice to meet you!  I'm the founder, writer and wrangler at Gastronomic SLC; I'm also a former restaurant critic of more than five years, working for the Salt Lake Tribune.  I've worked extensively with multiple local publications from Visit Salt Lake to Salt Lake Magazine, not least helped to consult on national TV shows.
I'm a multiple-award winning journalist and have covered the Utah dining scene for the better part of fifteen years.   I'm largely fueled by a critical obsession with rice, alliteration and the use of big words I don't understand.   What they're saying about me: "Not inaccurate", "I thought he was older", "I don't share his feelings".  Want to know more? This is why I am the way I am.
This article may contain content provided by one of our paid partners. These are some of the best businesses in Utah. For a list of all our current and past relationships see our
partnership history page
.