St. Pat's Day in Salt Lake City
Plenty of pubs and bars will be celebrating this one, but the following are all offering either special beer releases, food or events for the big day itself:
Bewilder Brewing – Debuting their Irish Stout, Irish Lager, and Leprechaun Tears on March 17th. Irish themed menu offered.
Cocktail Collective – St. Patty's Day Irish cocktails special event, 6.00 – 9.00 p.m. $55. More info.
Feldman's Deli – Serving up corned beef and cabbage all day from 11.00 a.m. through 8.00 p.m. to 8pm, with live music from Callanish from 5.30 p.m. to 7.30 p.m.
Flanker – Guinness cheddar dip with pretzel bites, cottage pie with curried beef stew, peas, carrots, mashed potatoes.
Green Pig – Irish music and an Irish menu including a corned beef and cabbage special.
Pins & Ales – Specials of reuben sandwich, bangers and mash, Irish brat burger. Drink specials too, see more here.
Squatters downtown SLC brewpub – Always has corned beef and cabbage for the big day and for 2022 also featuring a dry Irish stout.
Old Dutch Store – Sorned beef and cabbage on the day itself.
Oh and here's my yearly plea, that normally falls on deaf ears, stop it with the goddamn Irish car bombs. Just stop it.
Vine Lore Wine Dinner
Looking further ahead, dining events are now coming back online at a quick pace. Here are some that caught my eye – starting with this March 28th wine pairing dinner with Julia Dehring. Held at Tuscany in Cottonwood Heights, the meal is priced $155 Per Person($55 food, $100 wine). Menu as follows:

Chilled drunken white shrimp & taro root taco's, lime-avocado mousse, caviar pico de gallo, shaved cabbage, fermented fresno chili sauce, cilantro
Noelia Bebelia Albariño


18 layer pork cheek lasagna, pickled pistachio, smoked tomato, fried sage
Morgante Nero d'Avola


Crispy bison short rib, confit king trumpet mushroom, cremini mushroom puree, maitake mushroom chip, sweet & sour hon shemiji, red wine honey emulsion
Chateau Gigognan Chateauneuf du Pape


Coconut haupia, crystalized curry cornflake, lychee fruit, passion fruit sponge
Willamette Valley Vineyards Riesling
2832 6200 S, Salt Lake City, UT 84121
(801) 277-9919
tuscanyslc.com
Michel Gonet Champagne visits Yuta
Wanship's Blue Sky will be hosting a full weekend of bubbly fun featuring Michel Gonet Champagne. Events will be co-hosted by Diane Signolle Gonet, a seventh-generation champagne make from Aziz, France. Each event will be paired with a rare vintage. PR for the events writes:
Founded in 1882 by Charles Gonet, the family-owned champagne house has been producing award-winning champagnes for seven+ generations. The Gonet Family owns expansive acreage in the Champagne region of France, stretching from Avize through Mesnil-­Sur-­Oger and other famous appellations. The family's emphasis on quality rather than quantity, has earned many awards over the years. Sofie Gonet, daughter of Michel Gonet, currently leads the Champagne operation. Year after year her passion, tenacity and devotion have gained the brand international and national notoriety and acclaim.
Three events are being held:
March 25th, champagne and oysters – "shoot sporting clays at the heated 5-stand pavilion before an indulgence of freshly shucked oysters and a tasting of Gonet Champagne", 2.00 – 4.00 p.m. $95 food and drunk, $350 clays
March 26th, Gonet Grand Cru tasting, | "Explore the variety of grand cru paired with bites from chef Galen Zamarra while guided by a member of the Gonet family through different years of their Brut reserve", 1.00 – 3.00 p.m. at the Yuta Bar, $115 for wine, $40 for paired light bites.
March 27th, Gonet wine dinner, "Experience the legacy of the Gonet Winery, paired with a five-course tasting menu, the creative vision of executive chef Galen Zamarra surrounded by the rustic elegance of the Wasatch wine room at the Yuta restaurant", 6.00 – 9.00 p.m. in the Wine Room, dinner $175, wine $125.
27649 Old Lincoln Hwy, Wanship, UT 84017
(435) 336-6420
aubergeresorts.com/bluesky/dine/
…and then Midway Mercantile
Diana Gonet then heads to Midway Mercantile a couple of days later for further tasting fun. March 29th sees "the heir apparent to the Gonet Champagne House" lead guests through a tasting of two Gonet Champagnes as well as white Bordeaux, and two aged red Bordeaux wines (a 2011 and 2014) made by her brothers, plus a Provencal rose too. Priced $155 per person.
99 E Main St, Midway, UT 84049
(435) 315-4151
midwaymercantile.com
Stanza Spring wine dinner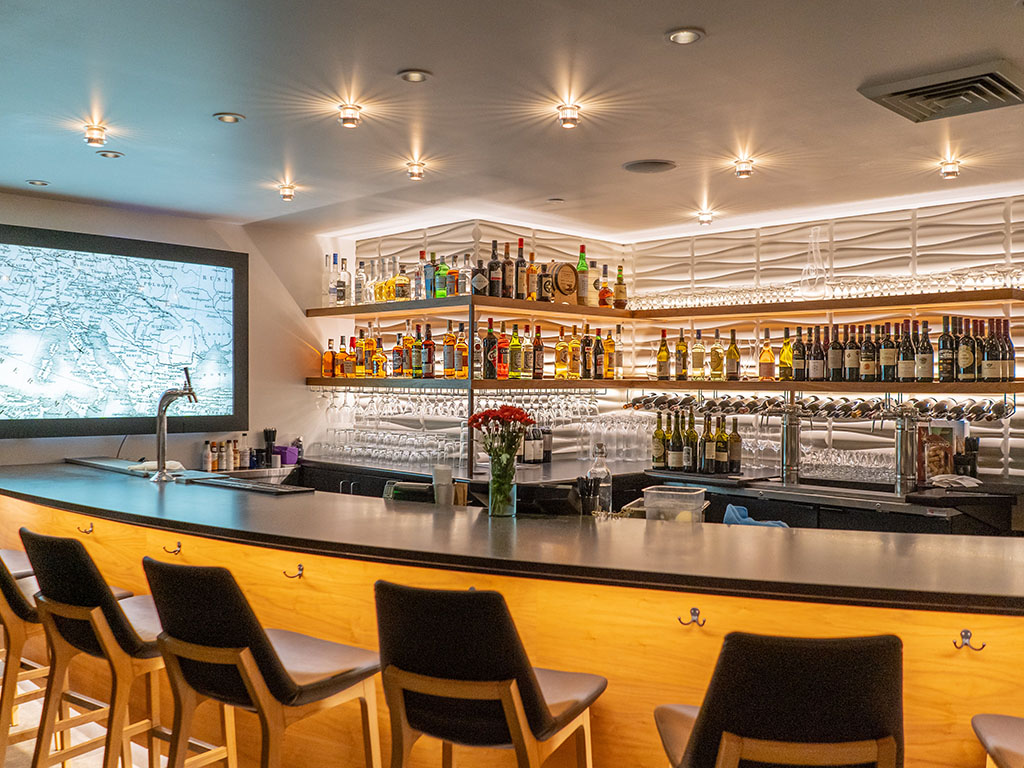 With head chef Jonathan LeBlanc moving on from the downtown Italian restaurant in 2021, former sous chef Paul Cafaro is now at the helm. Put April 5th in your diary if you want to check out Cafaro's first major menu of the year – this Spring six course effort. Priced $150 per person, the meal starts at 6.30 p.m and menu is as follows:
Sesame crusted ahi tuna carpaccio, friseé, fennel, caper, black sea salt, whole grain cracker, wasabi aioli, champagne vinaigrette
Hopler Gruner Veltliner, 2018


Roasted bone marrow, balsamic onion jam, crispy shallot, black garlic aioli, Jerusalem artichoke sage brown butter
Poliziano Vino Nobile di Montepulciano, 2018


Strawberry passion fruit sorbet


Lobster thermador, jumbo gulf shrimp & red crab stuffing, spinach & ricotta filled red pepper ravioli, snow pea, bearnaise
Marco Felluga Molamatta, 2015


Rack of lamb, whole grain mustard & parmesan crusted, blue cheese wild mushroom pastry, brussels sprouts, acorn squash purée, cherry gastrique
Zenato Valpolicella Ripassa, 2017


Dark chocolate flourless cake, crème anglaise, raspberry coulis, vanilla caramel whipped
454 E 300 S, Salt Lake City, UT 84111
(801) 746-4441
stanzaslc.com
Brewstillery back this Summer
Hopefully we all see many more of these press release. A possible Spring and Summer return of food and drink fun.
Via press release
It's official! Tickets are now available for SLUG Mag's Brewstillery, a festival celebrating the unique culture of Utah's local breweries and distilleries. This all-ages event will take place on Saturday, June 18 at Artspace City Center from 2:00-7:00 p.m.! Among the participating breweries and distilleries, there will also be local artisans, musicians, food trucks and a gaming area.
Attendees will get the chance to experience Utah's local breweries and distilleries. There will be options for everyone, beer, cider, saké, rum the list goes on!
Save money and time with pre-sale tickets for $25 and purchase extra tokens beforehand. Admission day of is $30 and $7 for non-drinkers. Each admission includes 5 tokens and a commemorative mug that attendees can fill with samplings of local beer. For an additional $5, you can upgrade to a commemorative pink mug that benefits Planned Parenthood of Utah.
Keep the conversation going
Want to stay on top of the SLC food scene, minute by minute, dish by dish? Here are a few other places you should follow along:
Hi, I'm Stuart, nice to meet you!  I'm the founder, writer and wrangler at Gastronomic SLC.  I'm a multiple-award winning journalist and have written in myopic detail about the Salt Lake City  dining scene for the better part of seventeen years.
I've worked extensively with multiple local publications from Visit Salt Lake to Salt Lake Magazine, not least helped to consult on national TV.   Pause those credits, yep, that's me! I'm also a former restaurant critic of more than five years, working for the Salt Lake Tribune.    I'm largely fueled by a critical obsession with rice, alliteration and the use of big words I don't understand.   What they're saying about me: "Not inaccurate", "I thought he was older", "I don't share his feelings".
Want to know more? This is why I am the way I am.
This article may contain content provided by one of our paid partners. These are some of the best businesses in Utah. For a list of all our current and past relationships see our
partnership history page
.