Welcome back to our monthly roundup of all things perfectly potable. While ordinarily I'd start with a raised eyebrow and nod to the state's bar license crunch (there are presently ZERO available) there's truthfully not much to talk about. So instead lets start with another looming area of concern…
Full service restaurant licenses (beer, wine, liquor)
Full service restaurant licenses are now feeling some pressure too. Entering the October DABC meeting 55 full service license were available in the state of Utah; and applying for those some fifteen new businesses. With the depletion of bar licenses making such headlines and headaches, DABC chairman Tom Jacobson was keen to head off a similar fiasco.
This month's applicants all received approval for their licenses, but Jacobson made it clear future businesses would be graded more in line with the approach given to bars. While restaurant licenses flow in and out of the general pool more readily than bars, Jacobson predicted many would be bars might turn to this option instead; indeed our own anecdotal tracking of new restaurants shows a quickening pace in general. At any rate, the writing on the wall is clear, future license applicants will need to show their ability to open in short order, to be assured a successful application.
The following businesses all received their licenses. Notables include San Diego import Crack Shack who received a full service license (and the featured image above is theirs, credit to Crack Shack and Wade Vandevort) and Martine, making a welcome and surprise comeback to the SLC dining scene:
Tonys Tacos, Heber

Canyon Breeze Restaurant, Ivins

Courtyard Lehi at Thanksgiving Point, Lehi

The Rose Establishment, Salt Lake City

Cytybyrd, Salt Lake City
Cajun Boil Seafood Restaurant, Salt Lake City
The Crack Shack, Salt Lake City

Facil Taqueria, Salt Lake City

Puerto Vallarta Mexican Grill & Cantina, West Jordan
Dolly Donuts, Salt Lake City, conditional
Monarca Bar & Grill, Salt Lake City, conditional
Martine, Salt Lake City, conditional
Bartolo's Restaurant, Park City, conditional
Culichi Kitchen, Spanish Fork, conditional
Garage Grill, Herriman, conditional
Limited service restaurant licenses (beer and wine)
Things are less contended on the limited service side of things. Going into the meeting the state had 74 remaining licenses of this type, with the following six businesses approved:
Richie Lush's BBQ Kamas, Kamas
Chop Shop, Park City
Yurt at Solitude Resort, Winter seasonal, Solitude
Ramen Haus, Farmington, conditional
Mountain Mike's Pizza Utah, Orem, conditional
Bar restaurant licenses
As for the much storied bar licenses, one more will be available in both December and February next year for sure – based on population increases. Imbibers and business owners alike should note the current waiting list has twelve applicants in line. Who knows how many more will join the queue over the coming months.
At the meeting chairman Jacobsen was moved to note both he and other commissioners had been in contact with the legislature on the issue and that the DABC was "not asleep at the wheel on this issue." Those 12 applicants then, are as follows:
Fenice Mediterranean Bistro, Salt Lake City
Wasatch Loft & Tap Room Bar, Park City
Casot, Salt Lake City
The Pearl, Salt Lake City
Garage Grill, Herriman
The Green Room, Salt Lake City
Proper Brewing Moab Taphouse, Moab
Durango Bar, Salt Lake City
The Spoke, Moab
Edison House, Salt Lake City
Bout Time Pub & Grub, Bluffdale
Fife Brewing Company, Salt Lake City
Other interesting odds and ends
Sugarhouse's The Ruin was approved to move from from their current location on Wilmington Ave. to the heart of downtown SLC. The Ruin will move into the former Mollie and Ollies at 159 S. Main Street. With it, I suspect a larger focus on food – mirroring successes such as White Horse, Whiskey Street and London Belle – making for a vibrant Main drag downtown. A cursory glance of social media shows the business hiring for line cooks. Also moving is the Ogden home of Slackwater – expected to open up shop in their own building as of November 30th.
The huge Flanker Kitchen & Sporting Club is now ready to open, with the Vegas based brand securing a license through private purchase. The October meeting approved the $50,000 purchase of Legends Pub & Grill (Salt Lake City) license, paving the way for Flanker's opening; if you needed a reminder, this is the massive concept moving into the space left vacant by Punch Bowl over in the The Gateway.
Another private sale saw an additional $50K change hands, this time seeing the Habitat Downtown Event Center sell to Shades Brewing. It looks like Shades are opening up a new location at 366 S. State Street, with a bar license now firmly in hand. I've reached out to the local brewer to confirm what the plans are for the South Salt Lake location.
Several business were approved for extended closures as follows:
Star Bar, Park City, extended until November
Below Zero Club, Salt Lake City, until January 2022
Pete's Bar & Grill, Ogden, until November
Porter's Smokehouse & Grill, Springdale, until February 2022
Scion Cider, Salt Lake City – until November
Tsunami, Sugarhouse, – until November
Notables here include Scion – a cider focused bar coming to the 9th and 9th as well as Tsunami who have been on temp-hiatus since 2020. Staffing issues continue to plague the business that recently dropped Sunday service entirely from the group.
A few last items then, There was the approval of a manufacturing license for Grandeur View Bitters (SLC) – a new boutique bitters outfit and the Pendry resort in Park City received the last resort license in the state as well, with no further licenses expected. Commissioner Jacobson mused that the definition of resort needs more clarity mentioning at least two more possible resorts coming down the line
Drink In Utah – grab yourself a deal
The latest report from Drink In Utah is now in. The detailed analysis of DABC pricing lists everything from new and delisted items through to price rises and discounts. It's essential reading if you want to save a dime and stay appraised of whats going on at liquor stores. Click here to see what's afoot.
BeerdBus takes to the streets
Check out this one from Visit Salt Lake, offering an interesting way to explore SLC's brewery scene. The BeerdBus promises:
"a fun transportation solution for enjoying Salt Lake's best breweries responsibly. Utilizing the Salt Lake Brewery Pass, accessing the best beer Salt Lake has to offer has never been easier; just hop on the BeerdBus and enjoy! For this event, select breweries will be explored and participants will each receive a three-day Brewery Pass for the event and access to remaining breweries on their own."
The next bus will be departing at 4 p.m. on November 2nd hitting up Squatters West Side Tavern, RoHa, Kiitos Brewing, Proper Brewing Co. Capacity – 40.
BTG fundraises with beautiful boards
Local wine experts (and longtime sponsor of GSCL) BTG have a cool little fundraiser going on right now, and one that promises to make your kitchen/bar that much better – handcrafted wooden chopping boards from none other than master sommelier Louis Koppel himself. Here's the details direct from the business:
Check out these gorgeous handmade cutting boards, made by our sommelier Louis & branded with the BTG logo. The first is ash and exotic wenge hardwood, the second is ash and walnut- perfect for home use, pretty enough for a cheeseboard, and a welcome gift.
These are for sale now, with a portion of the proceeds going to One Small Miracle, a local charity that aims to help service industry workers with unplanned medical events. Cheers! In Utah, service industry professionals remain uninsured at a rate four times the average of workers in other industries. For these individuals, navigating an unplanned medical event can be particularly challenging: even a 2 to 4-week recovery from an injury or everyday accident can create a lasting financial strain beyond the unplanned medical costs. Without another safety net to aid with living expenses, a worker's illness or injury can cause both immediate and lasting impact.
One Small Miracle exists to help bridge these gaps, providing short term support for core living expenses (rent, groceries, utility bills) as workers recover and can make longer-term plans related to their health issues.To date, OSM has provided more than $92,000 in direct support to Utah service industry workers.You can donate directl
SL Mag cocktail contest is back for 2021
November 1st through 30th sees SL Mag poll locals once more – who rules the roost when it comes to craft cocktails. This year a dozen of the Beehive's best have put together a list of concoctions like no other, entrants as follows:
Alibi: Dead Man's Party
Bambara (The Vault): London Foggy
Beehive Distilling: Remedial Rose
BTG/Caffe Molise: Smokey the Pear
Lake Effect: Second Iteration
Mortar and Pestle: Fire and Earth
Post Office Place: A Good Sarsaparilla
Seabird: Blood of a Unicorn
SLC Eatery: The Alta Peruvian
Stoneground: The Malouf
Undercurrent: Sex Dreams
Water Witch: Seething Song
Full ingredients and details on the cocktails can be found here on the SL Mag website. Go drink, go vote.
Ogden's Own open Side Bar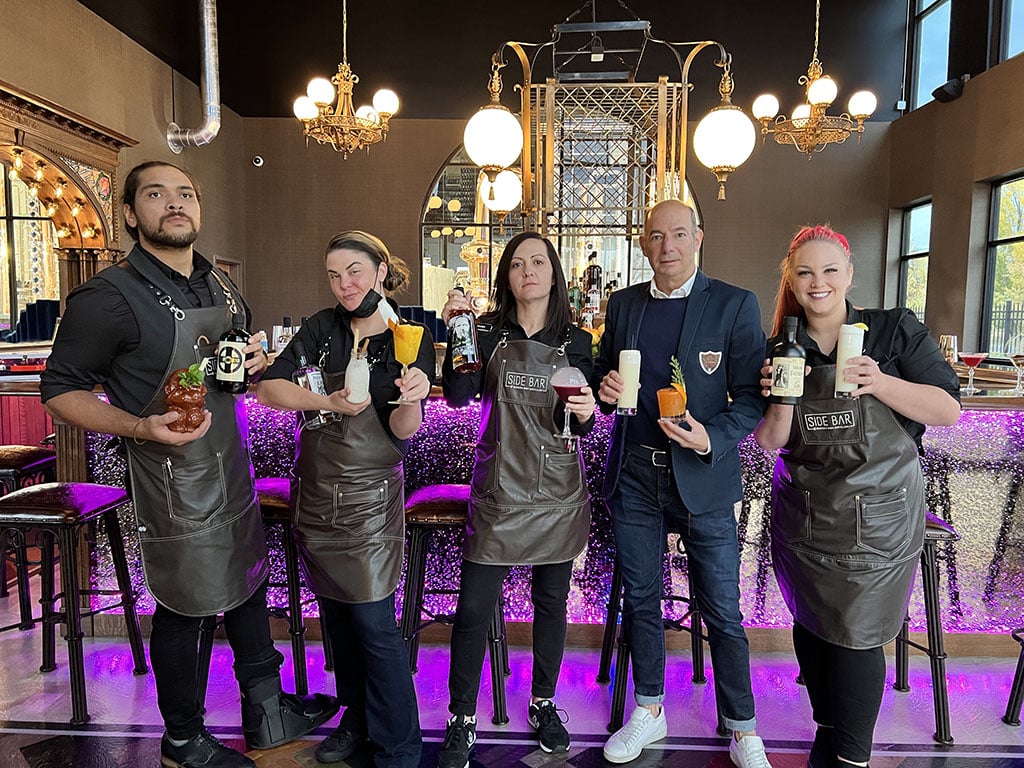 Via press release:
Ogden's Own Distillery, an award-winning leading distiller of craft spirits and the largest independently owned distillery in the state of Utah, officially announced today the opening of Side Bar – the brand-new, on-site cocktail bar that officially opens to the public on October 27th.
Side Bar at Ogden's Own Distillery will feature a dynamic and engaging cocktail menu that is "worth the trip" for all, and the bar is certain to quickly become a favorite mixology destination for Ogden locals, residents of Utah and visitors alike. Seeking to simplify the experience of not knowing what to order at a bar, Side Bar developed a unique way to cater to all flavor and spirits preferences. Ogden's Own President Mark Fine, a 30-year beverage industry veteran, led the creation of a cocktail menu for Side Bar that is categorized into four flavor groups: Sweet & Fruity, Sour & Tart, Spicy, and Spirit Forward. Within each category, Ogden's Own's core portfolio of spirits is featured, including Five Wives Vodka (and its flavors "Sinful" and "Heavenly"), Porter's Whiskeys (including Porter's Small Batch Rye and flavors Peanut Butter, "Fire", Huckleberry, Apple, Peach), Madam Pattirini Gin, and Underground Herbal Spirit. Side Bar even offers a wide selection of non-alcoholic "mocktails" so those who wish not to have alcohol or end up stuck with only water, soda, or a "Shirley Temple" can instead enjoy a handcrafted beverage that is housed in proper glassware, garnished, and tastes amazing.
Along with the enticing selection of cocktails, Ogden's Own team worked tirelessly to incorporate its impeccable attention to detail at Side Bar. Every aspect of Side Bar and its beverage program, including glassware, garnishes, in-house made syrups, seasonal and locally sourced ingredients, molecular/culinary expertise, and sustainably friendly practices (no plastic straws!) has been meticulously considered, illustrating Ogden's Own's dedication to cultivating an unparalleled level of quality. The Side Bar mixology team personally guides the cocktail selection process, hand-delivers each cocktail, and even creates cocktails tableside, reinforcing a personalized, memorable and "Instagrammable" experience with a dash of showmanship. Side Bar will also provide complimentary recipe cards to guests so that they can emulate their favorite cocktail at home and additionally offer monthly cocktail classes to bring out the inner mixologist in everyone.
"With Side Bar, we strive to share our inspiration with consumers and industry members through creative craft cocktails that use taste and presentation to engage all human senses…including your mind and heart," says Mark Fine, President of Ogden's Own Distillery. "Too many people go to a bar or restaurant and don't know what to order, and we wanted to rethink that experience with an environment that is fun and unpretentious but executed with the utmost precision and professionalism, helping our guests discover multiple cocktails fitting their tastes and moods at any given time. We can't wait to welcome guests from all over to Side Bar at Ogden's Own."
The initial beverage program for Side Bar was developed by Mark Fine, and also supported and executed by a team including Emily Yett (a renowned bartending consultant that has appeared on "Bar Rescue"), as well as the Brand Ambassadors and Resident Mixologists of Side Bar at Ogden's Own, Brandi Strickler, Felicia Parsons, and Tommy McKeever. Side Bar's mixology team plans to rotate the bar's menu offerings every two to three months, remaining highly involved in the creativity of the bar's upcoming menus and concepts.
Beginning Wednesday, October 27th, Side Bar at Ogden's Own Distillery (615 W Stockman Way in Ogden) will be open Tuesday through Saturday from 4 pm to 10 pm. For more information on store hours, events, concerts, and other happenings at the distillery, please visit OgdensOwn.com.
Squatters releases Hazy Hop Rising Double IPA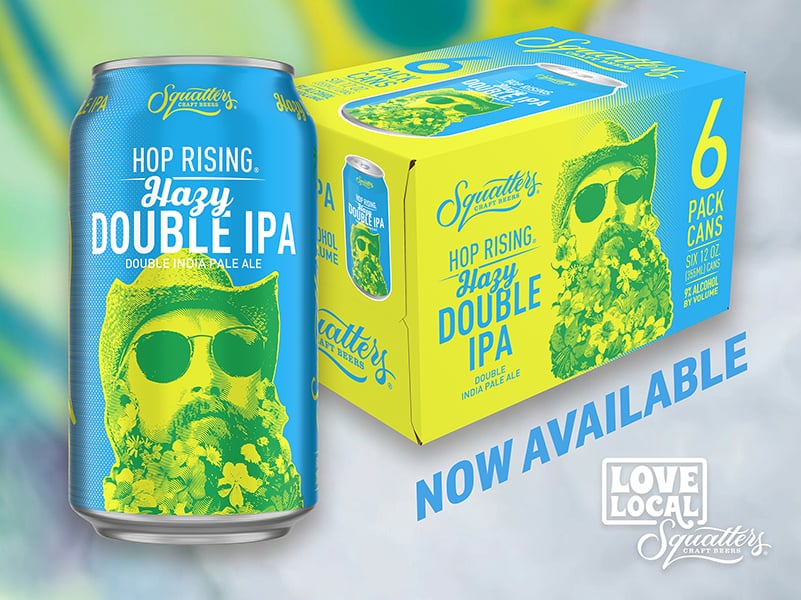 Via press release:
Squatters Craft Beers announces the release of Hazy Hop Rising Double IPA, a juicy twist on a Squatters classic. Hazy Hop Rising is now available in 6-packs of 12 oz. cans at Squatters Pubs and at beer sellers across Squatter's distribution footprint of 19 states.
Squatters' brewers perfected the art of the incredibly smooth, high-octane IPA with the original Hop Rising Double IPA, which has become a mainstay among hop lovers. Now, Hop Rising is hazy for the first time, with big aromas and flavors of apricot, pineapple and citrus, sporting a creamy mouthfeel and slightly sweet finish.
"At a hearty 9% ABV, Hazy Hop Rising is the perfect beer to pair with tacos and apres ski," said Marketing Manager Kristin Martino. "It's a tasty, easy-drinking hazy beer with the ABV to back it up."
More reading
Keep the conversation going
Want to stay on top of the SLC food scene, minute by minute, dish by dish? Here are a few other places you should follow along:
Hi, I'm Stuart, nice to meet you!  I'm the founder, writer and wrangler at Gastronomic SLC; I'm also a former restaurant critic of more than five years, working for the Salt Lake Tribune.  I've worked extensively with multiple local publications from Visit Salt Lake to Salt Lake Magazine, not least helped to consult on national TV shows.
I'm a multiple-award winning journalist and have covered the Utah dining scene for the better part of fifteen years.   I'm largely fueled by a critical obsession with rice, alliteration and the use of big words I don't understand.   What they're saying about me: "Not inaccurate", "I thought he was older", "I don't share his feelings".  Want to know more? This is why I am the way I am.
This article may contain content provided by one of our paid partners. These are some of the best businesses in Utah. For a list of all our current and past relationships see our
partnership history page
.