July 13th – Asian food truck festival
ABC4 reports in detail on this food truck get-together that sees the community coming together this month. The event on Tuesday, July 13th runs 5 through 8.30 p.m. and see's multiple food trucks hit up SOHO Food Park serving  Thai, Japanese, Filipino, and Chinese food: 
Bento Truck
Comfort Bowl
Suzy Thai food (pictured, mango sticky rice)
Crunchy Munchy
Fatty Tuna
Thai Chef To Go
4747 Holladay Blvd E, Holladay, UT 84117
(801) 616-7516
July 15th – Wine takes flight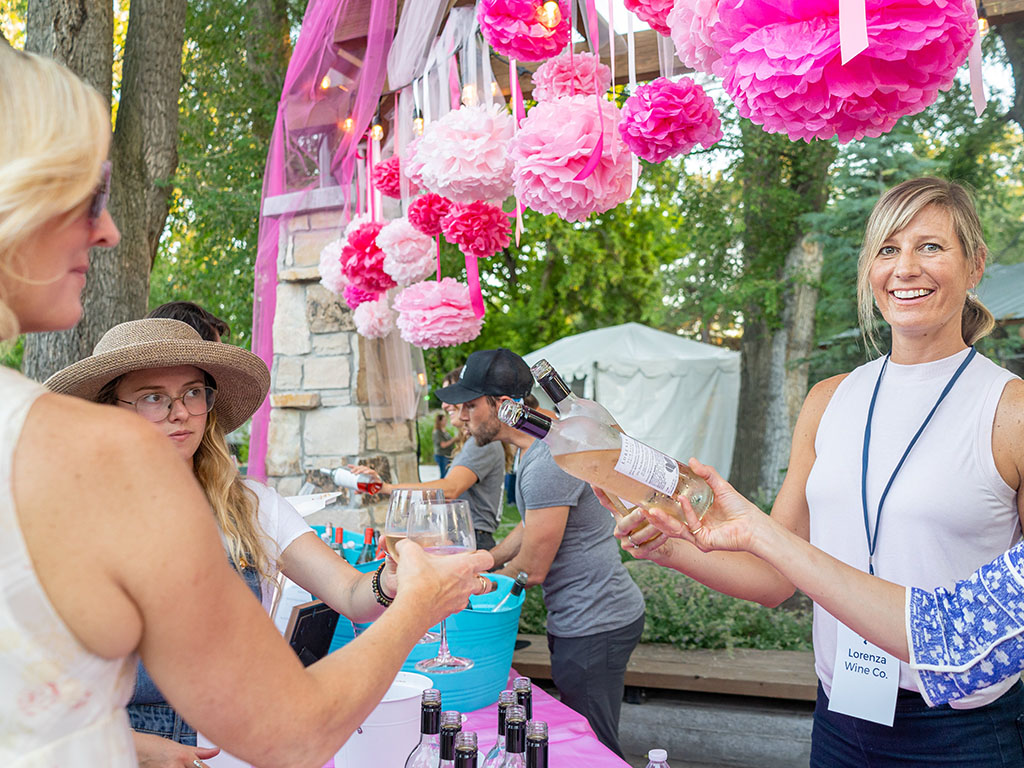 The series of guided wine flights by Jim Santangelo continues at Tracy Aviary on Thursday the 15th. Offered as part of the leaner Eat Drink SLC format this year the tasting event takes in the wines of France. The event costs $50 per person and starts at 6 p.m. The event organizers write:
Explore the wines of France with refreshing Summertime whites and reds and discover your new favorite wine from France's popular wine growing regions. Small nibbles of apple, nut and cheese are paired, and receive printed tasting notes and professional 90 minute presentation. A fun, educational and entertaining wine tasting of this classic wine growing region.
589 E 1300 S, Salt Lake City, UT 84105
tracyaviary.org/events/event/258-wine-takes-flight-wines-of-france
July 18th – Proper patio dinner
Hitting the patio at Stratford Proper this month – Holystone Distilling – who bring their local liquors to be paired with a five course menu as follows:
Oysters – pickled grapes, pepper mignonette, cucumber dust
Perla Vodka
Agedashi tofu – wagyu beef, peas
Shochu
Smoked duck ham – snap peas, cashew cream, cherry gastrique
Bosuns Gin
Lamb riblets – chermoula, charred onions, black garlic aioli
Almond sponge cake – coconut, lemon
Cerulean Gin
Price is $45 for food and $40 for optional pairing. Dinner begins at 7 p.m.
588 Stratford Ave S, Salt Lake City, UT 84106
(385) 522-2637
stratfordproper.com
July 24th – Hearth And Hill
The H&H team decamp and head to Woodland Biscuit Company over in Hideout, to serve up a plated multi course dinner with optional pairings. The event begins with passed appetizers as follows:
Ham on rye – speck, pimento, cheese, toasted rye
Scotch before the egg – inside out scotch egg, smoked sausage, cured egg, onion marmalade, mustard
Olive stuffed tomato
Before continuing with a five course meal of:
Kampachi crudo, fennel water, serrano, hemp seed, pear, mint
Street corn purse, sauce gribiche
Beet cured halibut, grilled leek, citrus relish
Bison strip loin, quail egg, potato butter
Michigan maple pie, Redmond sea salt
Dinner is priced $225 per person, alcohol extra.
734 E State Hwy 35, Hideout, UT 84036
(435) 783-4202
hearth-hill.com
July 21st and 28th – Midway Mercantile
This Midway based restaurant has events hosting out los state wineries this month – both will paired dishes from chef John.
Newfound Winery, July 21st at 6 p.m. With Matt and Audra Nauman, husband and wife owners of Newfound Winery. The winery began its planting in the Sierra Foothills back in 2016. The event will showcase their Chardonnay, Grenache, Carignane and a proprietary blend they call Gravels. $125.00 per person – 60 seats are available.
Pence Vineyards, July 28th at 6 p.m. With winemaker John Faulkner from legendary Pence Winery in Santa Barbara. Dinner will include their Chardonnay, Pinot Noir, Syrah, and PTG Blend. $125.00 per person – 60 seats are available.
99 E Main St, Midway, UT 84049
(435) 315-4151
midwaymercantile.com
July 30th – The Lakehouse hosts James Beard dinner
Last week, our newest writer Christy detailed the arrival of chef Tamara Stanger at Heber's Lakehouse restaurant . Following hot on the heels is this event with two seatings, one at 5.30 and one at 8, with dinner expected to run around two hours. Tickets are sold as pairs for $300 and are part of the Taste America dinner series presented by Capital One.
Menu as follows:
Blue corn kneel down bread with Kerrygold butter and assorted Kerrygold cheeses
The Amelia – Rabbit Hole Bespoke Gin with lemon juice, Utah elderberry–infused maraschino liqueur, and crème de violette
Juniper-smoked mountain clams with mosaic corn dumplings and sunflower cream
Old Town Cellars Townie Rosé NV
Elk backstrap with ancient heritage squash, wild grape molasses, rabbit bone butter, and wheat dukkah
Old Town Cellars Mountain Town Red NV
alternate entree
Uinta mushroom with ancient heritage squash, wild grape molasses, piñon butter, and wheat dukkah
Old Town Cellars Mountain Town Red NV
1940's Nesselrode pie with white oak acorn, Nielsen-Massey vanilla, luxardo juneberries, and prairie flowers

Flight of Rabbit Hole whiskeys

Boxergrail Kentucky Straight Rye Whiskey
Cavehill Kentucky Straight Bourbon Whiskey
Dareringer Straight Bourbon Whiskey (finished in PX sherry casks)
Heigold Kentucky Straight Bourbon Whiskey
5317 US-189 S, Heber City, UT 84032
(435) 210-7474
thelakehousedeercreek.com

Hi, I'm Stuart, nice to meet you!  I'm the founder, writer and wrangler at Gastronomic SLC; I'm also a former restaurant critic of more than five years, working for the Salt Lake Tribune.  I've worked extensively with multiple local publications from Visit Salt Lake to Salt Lake Magazine, not least helped to consult on national TV shows.
I'm a multiple-award winning journalist and have covered the Utah dining scene for the better part of fifteen years.   I'm largely fueled by a critical obsession with rice, alliteration and the use of big words I don't understand.   What they're saying about me: "Not inaccurate", "I thought he was older", "I don't share his feelings".  Want to know more? This is why I am the way I am.
This article may contain content provided by one of our paid partners. These are some of the best businesses in Utah. For a list of all our current and past relationships see our
partnership history page
.