Liquor legislation looms large
Trying saying that after a double. This year's legislative session has now kicked off and will run until March 5th. On the docket, a few issues that might affect Utah drinkers directly.
The most notable item up for discussion is talk of increasing bar licenses. Once upon a time, Utah had one bar license for every 7,850 residents; it currently sites at one per 10,200. This relatively recent ratio reduction came as the levy for pulling down the derided Zion curtains across the state. The result has been an increasing amount of businesses waiting in line at monthly DABC meetings, for their chance at the proverbial golden ticket. Actually, we should call it a green ticket. Reports of bar licenses changing hands privately for $50K and up are not uncommon. Members of the DABC have even spoken out about their own frustration at the limit, calling on the legislation for help. Fingers crossed, this seems like a simple one.
Another pro-business bill is SB119. Championed by Derek Kitchen, the ' To-go Beverage Service Amendments' bill essentially seeks to allow pickup of beer, wine, liquor etc from licensed restaurants – at the same time as making a food purchase. There's talk of sealed containers and cocktails to go, being a lifeline to struggling businesses right now. Personally I don't see how a couple of gin and tonics here and there (remember bars can only make a certain % of profit via liquor anyway) changes the fundamentals of the perilous economic state we're in – but hey – I'm just a guy rambling on the Internet. I'd personally love to see the return of curbside beer pickup from groceries, and an extensions to breweries. Just saying personally, I'd spend spend spend if that were on option…
(Update Jan 26th: it's been pointed out to me that SB119 as currently written would only allow for canned cocktails, not wine, beer or cider sadly)
Also of interest, SB59 which proposes a new consumer purchasing division for the DABC. This new part of the commission would allow the state to purchase out of state items on behalf of consumers, right down to single bottles if they wanted to. This would rip up the current 'special order' process which is notoriously slow and buggy.
Four new stores funded my profits directly from the DABC are also to be discussed; as are raises for liquor store employees – positions which have traditionally seen huge turnover due to the awful pay.
Proper Beer dinner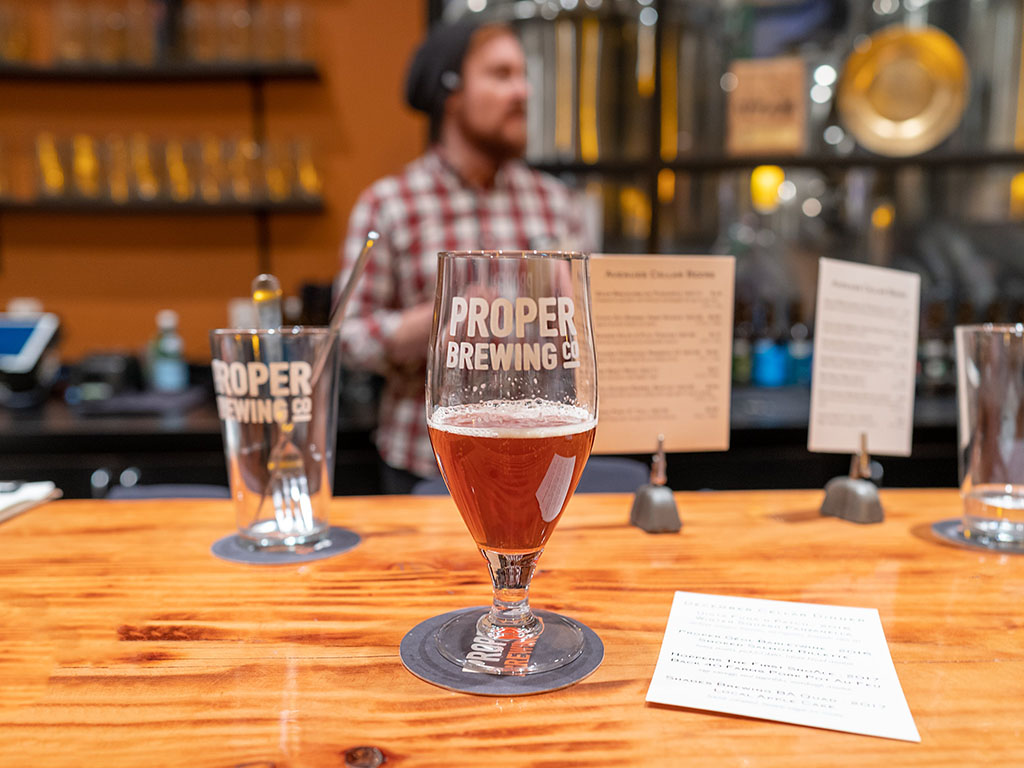 For obvious reasons, dining events have been pretty thin on the ground of late; that's why when I spy one, I'm keen to share. Taking their popular beer cellar dinner on the road, this inaugural 2021 fathering will be held within their all new event space at Stratford Proper.
The event which sees the Proper team pull aged beers from their private cellar stock and pair them with suitable dishes. The event on January 28th starts at 6 p.m. and menu is as follows:
Bone marrow, duxelle, pickled cherries, ry sourdough
2017 Talisman Limited Exclusive Beer
Burnt citrus salad, endive, fennel, ricotta salata, smoked calamari
2018 Squatters Outer Daarrgness
Dry aged duck breast, crispy skin, charred snap peas, chili oil, preserved orange
2017 Epic Big Bad Baptista
Goat cheese cheesecake, chanterelles, red wine
2015 Uinta Labyrinth
Cost is $75 (food $45, beer $30). Call to RSVP.
Review round-up
Over in SL Mag, Jeremy Pugh looks at the venerable Blue Boar Inn on Midway (link) while Kaitlynn Christy checks out the new Pie Fight in the 9th and 9th area (link). Curiously this is the second new pie place I've come across in as many weeks. Note to self: pie is the new chicken sandwich which is in turn the new ramen.
Meanwhile, Ted Scheffler heads all over town and checks out the new fancy pants Ivy / Varley on downtown SLC (link), Afterword up in Heber (link) as well as the third version of Finca (link). All three look mighty fine, though I fear I'm increasingly not cool or chic enough for downtown SLC.
City Weekly's Alex Springer checks out one of the buzziest new openings of late – Bricks Corner (link). The carb loading (I approve) continues in Springer's previous piece that looks at Mad Dough and Streusel SLC (link).
Heated patios are a hit
The closure of Summer patios prompted many local restaurants to take stock and look how to keep things ticking outdoors – many more than I thought. From heated patios to private igloos and globes – I've been bowled over by the number of businesses that have adapted to the current demand for outdoor/spaced dining options. A little while ago I asked for more options, and I did a little more digging myself.
f you're looking for a comprehensive list of where you can still dine al fresco while the temps remain frigid, check out the new list here, and let me know if you're aware of others. Fun fact: empty patio pics like the one above are perfect for photo-shopping, and crafting your own local version of the current Bernie meme.
Hive Eats expands
Towards the end of last year I wrote about the brand new Hive Eats service; the service has gone from strength to strength since, with more local restaurants signing up.
In essence, the service is a blend of food subscription and restaurant delivery service. The hive Eats team curate a weekly menu from participating restaurants, you signup for a number of delivered meals – which then arrive on your doorstep ready to heat and serve. Current restaurants include:
Arlo
Avenues Proper
Copper Onion
Cucina
Finca
Mazza
Osteria Amore
Pago
Publik
Trio
I've yet to try the service myself but a recent discussion in our Facebook group (you're a member right?) had nothing but praise.
Hearth and Hill
Via press release
Hearth and Hill, "a gathering spot" for Park City locals and visitors, invites guests to indulge in the restaurant's new winter lunch and dinner menus, as well as Sunday brunch and curbside pick-up meals. Options include Hearth and Hill classics, along with new recipes prepared by Executive Chef Jordan Harvey, Pastry Chef Jessie Nakoneczny and Bar Manager Daisy Clark.
"Winter has officially arrived, and with that comes our brand-new menus for the season," said Proprietor Brooks Kirchheimer. "From healthy to hearty, and always delicious, our team has created some incredible offerings to fuel everyone from the casual snacker to the most ravenous après-skier."
Begin your midday munch with shareables including fresh Hamachi Crudo (puffed rice, daikon, apple, Szechuan peppercorn, citrus emulsion), Pork Gyoza (soy dipping sauce), and Truffle Mac and Cheese (gruyère, bacon, bread crumb, chive), or snack on Foie Butter (everything spice donut, berry mostarda) or Spiced Pecans (rosemary, cayenne). Freshen up with the new Winter Salad (arugula, frisée, beet, quinoa, ricotta salata, squash, walnut, maple vinaigrette) or feast on an Italian Dip (shaved beef ribeye, provolone, giardiniera, as jus, hoagie roll) or a Smoked Turkey Sandwich (bacon, spinach, green tomato jam, havarti, basil aioli, 7-grain bread), whose proceeds benefit the Park City Education Foundation.
Kick off dinner with a shareable Grilled Lamb T-Bone (harissa, tzatziki, salted cucumber) or Country Fried Delicata Squash (poached egg, apple, radish sprout, Alabama white sauce), or start with Beer Battered Cauliflower (Carolina gold sauce, chive, chive oil) or signature Cheddar Biscuits (honey butter, cracked pepper). Savor new mains such as Wahoo (pepita caper relish, smashed celery root, celery heart, sorrel), Short Rib Pastrami (brown butter mashed potatoes, mushroom ragout, fried kraut) and Cauliflower Enchiladas (guajillo chile, tomatillo, Oaxaca cheese, crema, pinto bean, carrot radish salad).
Warm up with a build-your-own Old Fashioned or seasonal cocktails such as Hazy Sky (mezcal, campari, pineapple, orange, demerara, chocolate bitters), Cozy Sweater (bourbon, maple, lemon, orange bitters), Spiced Hot Cider (rum, apple, cinnamon, house-made cider) or a Gin Fizz (gin, chateau monet, rosemary honey, lemon). Sample the new seasonal mocktail, Snape's S'mores (hot cocoa, toasted marshmallow, graham cracker sprinkle) and enjoy the latest flavors of their traditional selections, Boone's Brew (house-made cider, fresh spices, whipped cream), Jack's Juice (limeade, blueberry, pomegranate), and Layla's Lemonade (strawberry, basil seed, thyme).
Take-out Family Dinner for 4 options include Orange Chicken (gyoza, veggie fried rice, soba noodles, peanut sauce, cashews, bok choy), Fajita Night (avocado salad, flank steak, chicken, cabbage, cotija cheese, guacamole, pico de gallo, limes, tortillas, Spanish rice, beans) and Short Rib (mashed potatoes, corn on the cob, white bread, bbq sauce, pickles). Frozen meal items include Homemade Meat or Vegetable Lasagna and savory Cheddar Biscuits. An abundant spread of Sunday brunch offerings is also available weekly from 10 a.m. – 3 p.m.
Ogden's Own giveaway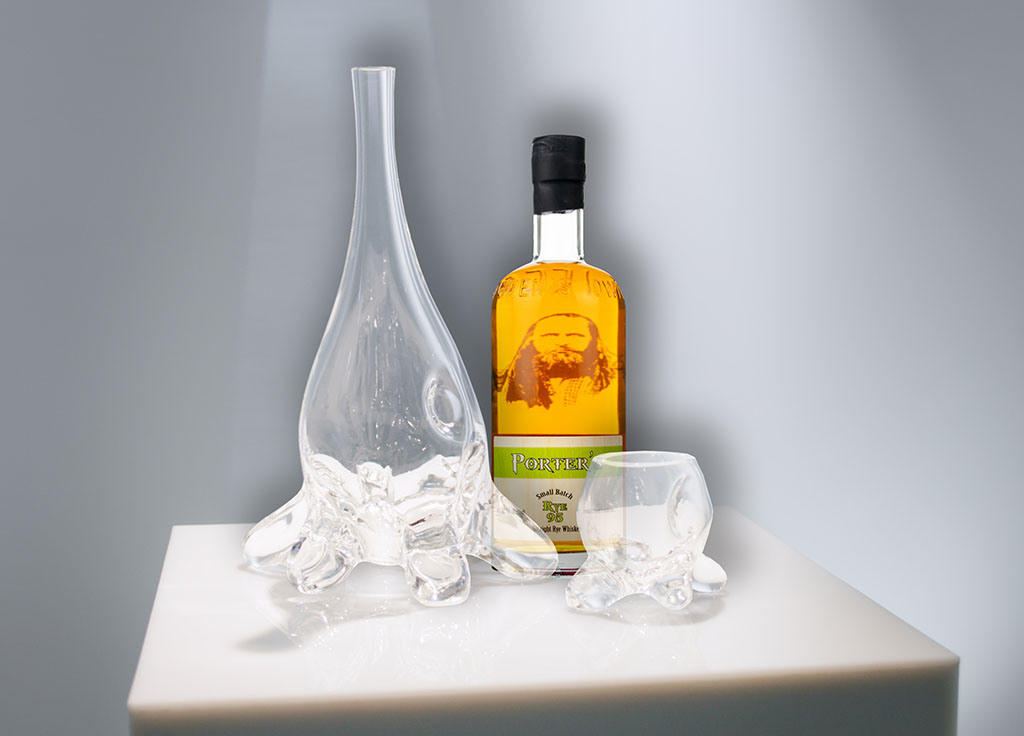 Finally, this one just landed in my inbox…a chance to win a very unique piece of glassware. Here's the PR:
Deborah Czeresko, world-renowned glass artist and Season 1 winner of Netflix's Blown Away, has teamed up with Utah's beloved Ogden's Own distillery for a special collaboration: a raffle of her famous piece, "Morph": a handcrafted glass decanter + rocks glass set, perfect for holding your favorite Ogden's Own expression (or any other spirit)!
Valued at more than $8,000, anyone can enter for a chance to win for as little as $5. And the best part? 100% of the proceeds raised will go to two Utah LGBTQ organizations, the Utah PRIDE Center and Equality Utah – truly a rare opportunity to both support a great cause and potentially win a one-of-a-kind artwork that any spirits aficionado would love.
See more here: https://checkout.square.site/buy/4LRZ2GHQ2GG6S5JZFGCUYOWS?fbclid=IwAR1xaLHZjOLSt0hmaBO3ni2YekCWoocMnUSngvq_dOb6l-S8WPgwOPjY4w4
More links
Hi, I'm Stuart, nice to meet you!  I'm the founder, writer and wrangler at Gastronomic SLC; I'm also a former restaurant critic of more than five years, working for the Salt Lake Tribune.  I've worked extensively with multiple local publications from Visit Salt Lake to Salt Lake Magazine, not least helped to consult on national TV shows.
I'm a multiple-award winning journalist and have covered the Utah dining scene for the better part of fifteen years.   I'm largely fueled by a critical obsession with rice, alliteration and the use of big words I don't understand.   What they're saying about me: "Not inaccurate", "I thought he was older", "I don't share his feelings".  Want to know more? This is why I am the way I am.
This article may contain content provided by one of our paid partners. These are some of the best businesses in Utah. For a list of all our current and past relationships see our
partnership history page
.