As we enter the supposedly cheeriest month on the calendar, the outlook in restaurant land remains gloomy. Lets be completely honest with one other – there's no respite coming anytime soon; patios aren't coming back for at least another four or five months, the impact of vaccines will be even longer, and large swathes of the populace refuse to give two hoots. Restaurants are barely hanging on. In private, I've been told of numerous operations that are all but gone already. You'll be hearing about them from me soon I'm sure.
The only way many will survive is by outright vocal campaigning and spending. If you've got a favorite restaurant you need to get behind them the best that you can. Case in point, the fortunes of Murray's Restaurant Morelia were seemingly reversed as loyal and hungry locals stepped in to bolster the tills of the three decade staple.
A couple more that need your help right now – over on Reddit users report that the lower Sugar Hood's (hey if I keep using this name it'll stick right) Olympian Greek restaurant is on precarious ground. If you can stop by, order take out or delivery from the breakfast and lunch spot, do.
Meanwhile for those down in Orem, Joe's Cafe looks to be struggling too, check out the owners plea over on Instagram here. If you know of any other businesses that need a shout out or are barely hanging on, just let me know. You know the saying right, you must be the change you want to see in the world, you must eat the change you want to see in the world.
Because, if you don't support those local businesses you love, you know what happens next…
Closures
Pallet – One of downtown SLC's signature chef-driven restaurants sadly closes their doors today. Pallet have long offered one of the most consistent big-city menus in town. Restaurants of this calibre take years to build up, they don't suddenly re-appear when the dust settles.
Chef and owner Buzz Wiley reported the following on Instagram, "This has to be the worst feeling that I have ever felt. Although we have had much success, it feels like a failure to our Pallet family – both staff and guests combined. Due to the current climate we are facing, I have decided to protect our community and our staff. We can no longer sustain a viable level of business.
I want to thank everyone who has been a part of the Pallet family – for making my dreams come true and continuing to fight for a similar outcome. I have so much love for all of the experiences we have shared. Without the Pallet family, the restaurant wouldn't have been as successful or as special to all of the people who had the chance to experience what we do best.
To our guests, thank you so much for the support and love. Without you, we would not have been here for as long as we have. I cannot show enough appreciation for you. Please continue to support our, friends in the local industry – there are so many talented and creative businesses that need you."
Moochie's Lehi – The Guy Fieri touted meatball and sub shop has seen some brisk expansion over the past few years, but has now been forced to take a brief step back. News came via their Facebook page that the Lehi location has now been shuttered with immediate effect. The Lehi branch is survived by the original outpost in SLC as well as two more in South Salt Lake and Midvale.
New news
Nomad Uinta – This one has all me all kinds of intrigued and ready to hit the Shark Tank. You might recall that in the wake of Justin Soelberg's move to the East-side of town with the aptly titled Nomad East, the original Nomad Eatery was closed. This week, it's back in business with the opening of a mini-Nomad within the West side brew pub location of Uinta brewing; the newly minted Nomad Beer Me is offering a modestly portioned menu, check it out here.
Not only am I pretty thrilled to see Soelberg's epic crispy chicken back on the menu with one of my favorite local breweries, but the potential here seems huge. Imagine if you will a number of Nomad's popping up at other breweries, supplanting the usually ultra-mediocre cold sandwiches or slopped together chips and dip? What about other businesses, some that might be facing C19 struggling opening up other micro-concepts within spots that need a solid food component? Like I say, I'm off to the shark tank soon, but you're welcome to take the pointer as well…
La Bonita Palateria – "gourmet popsicles, corn in a cup, strawberries and cream, fruit with lime and chili powder, tamales, churros and many other great treats", thats just a taste of what you can expect from this new palateria in South Ogden.
O-ku Ramen And Sushi – I nabbed this tip from our food talk group, you're a member right? This new ramen restaurant has now opened up where Cafe Berlin once stood (and will be long remembered for its short life) over in Sandy.
Morty's – Coming right outta Logan and landing in SLC (in the Central ninth near Nohm and Water Witch) is this burger shop that
Five Alls – By way of completion, a reader mentioned I hadn't given credit where credits due to this SLC institution. Back from the brink, the olde-English-themed (attire and all) restaurant is back in business.
Cotton Bottom Inn – You guys love burgers. Like really really love burgers. How much? The CBI reports that yesterday, their newly revived spot (courtesy of the Bar-X group) grilled up more than 450 of the suckers. That's how much.
Stanza wine dinner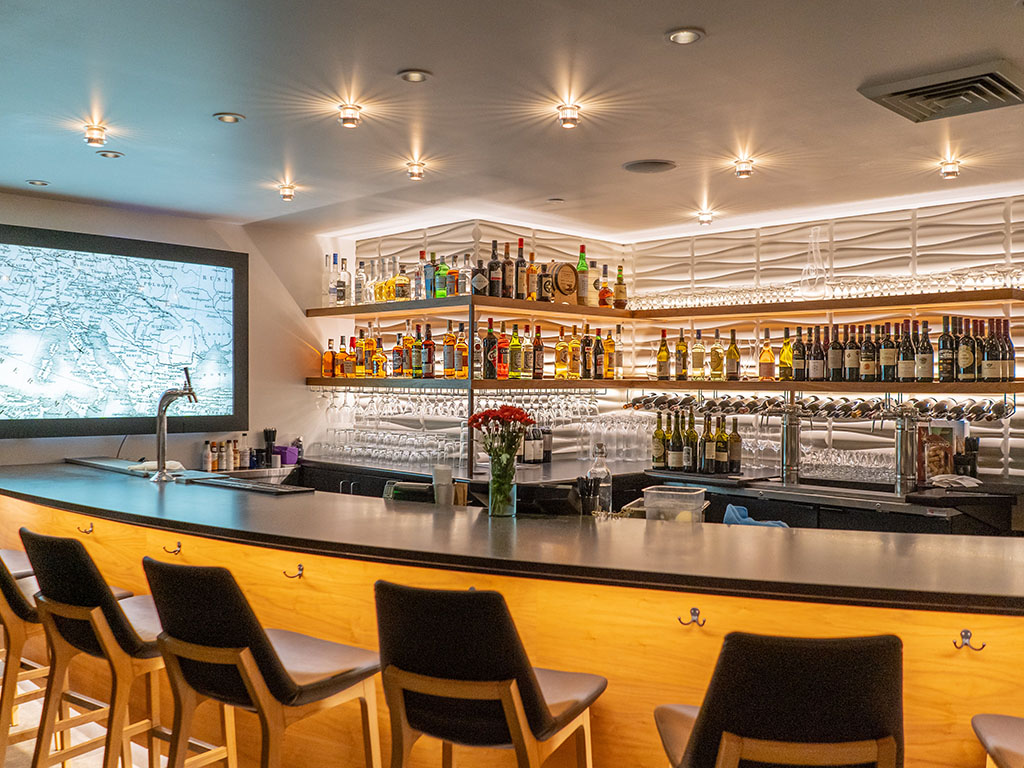 There's virtually zero food and wine events happening right now, but when I do spot one, I'm keen to share; especially when its from one of my favorite chef's in town. On December 10th Stanza will be hosting an Italian Holiday Wine Dinner, featuring a five course meal and wine pairings from Francis Fecteau.
For what it's worth, Stanza have a handsomely large private dining space upstairs and are keen to communicate they'll be following rigorous safety. The meal starts at 6.30 p.m. and the menu is as follows:
Amuse of chestnut & roasted cauliflower soup, grappa cream
Vietti Moscato D 'Asti
Tortellini en Brodo Con Polpetti, Tartufo Asiago & Ricotta Tortellini, Spinach, Sundried tomato, Capon Consomme, Mini Veal Polpette
Vietti Tre Vigne Barbera
Dover Sole, Wild Mushroom, Candied Lemon, Wild Rice, Roasted Pine Nuts, White Wine Sauce
Vietti Roero Arneis
Blood Orange-Pomegranate Sorbet

Stuffed Duroc Pork Loin, Sausage, Apple & Bacon Stuffed Loin, Caramelized Sweet Potato, Zucchini & Squash Spaghetti, Smoked Chestnut Honey BBQ Sauce
Vietti Perbacco Nebbiolo
Bourbon Pecan Cannoli, Caramelized Pecans, Mascarpone Cream, Chocolate Bourbon Sauce, Butter Pecan Gelato, Chocolate Bourbon Sauce
Waterpocket Oread
Price for the meal is a knock me down and pick me up bargain of $80 per person ($55 food / $25 wine). Call (801) 746-4441 for reservations.
Menu watch
Oquirrh – Act fast on this one. I asked the restaurant how long this new turkey tonkatsu special would last and I'm told not very. I think the picture above says all you need to know
Nohm – Get 25% off during lunch if you follow these guys on Instagram. The Japanese restaurant offers a little bit of everything for their lunch service, sashimi platters, chicken katsu, vegetarian bibimbap, kimchi fried rice and more.
Beltex Meats – I'm going to wax lyrical at some future point on how amazeballs my Thanksgiving turkey from Beltex was. Suffices to say, I have never tasted turkey like it before. As a quick heads up the award winning butchers shops are now taking Christmas preorders here. There's turkey, cider brined hams and prime rib roasts amongst all the other goodies. I guarantee you perfection if you shop here.
Winter Market Gateway – Also now in full flow down at the Gateway, this seasonal market. The Winter Farmers Market is back for the 8th year and you'll find a variety of local products such as :grass-fed meats, baked goods, dairy, eggs, honey, packaged foods and more.
The PR for the market reckons nearly half of Utah's counties are represented at the Winter Market, featuring farmers and producers within a 250-mile radius of Salt Lake City. The market will be held every Saturday now until April 17th, 2021 from 10 a.m. to 2 p.m.
Park City dining deals
Via press release:
In partnership with the Park City Chamber of Commerce & Visitors Bureau (PCCB), the Park City Area Restaurant Association (PCARA) introduces the Dine Local. Save Local. restaurant campaign. Grant funds received from the Governor's Office of Economic Development (GOED) will fuel this early winter dining promotion designed to drive business to Park City area dining establishments between Thanksgiving and New Year's Eve.
"As we head into the winter season, we want to encourage locals and visitors to continue to support our esteemed dining community," PCARA executive director Ginger Wicks said. "Dine Local. Save Local. gift cards give diners an added incentive to visit their favorite restaurants or try something new, and restaurants a cost-free way to maintain their award-winning offerings through the end of the year."
How the Dine Local. Save. Local promotion works:
Diners can sign up to receive a $25 Dine Local. Save Local. gift certificate on the PCARA website.
Certificates will be mailed to diners within 2 days from their registration.
Certificates can be redeemed at participating PCARA member restaurants when diners spend $50 or more (not including alcohol, taxes, service charges or gratuity).
Diners must present the $25 gift certificate, and the participating restaurant will take $25 off the bill.
Gift cards are valid for dine-in and carryout orders only between now and New Year's Eve, 2020. Supply is limited, and guests must pre-register before December 15, 2020 to receive a gift card. PCARA member restaurants participating in the Dine Local. Save Local. promotion will be listed on the PCARA website in the coming weeks.
In other news
Keep the conversation going
Want to stay on top of the SLC food scene, minute by minute, dish by dish? Here are a few other places you should follow along:
Hi, I'm Stuart, nice to meet you!  I'm the founder, writer and wrangler at Gastronomic SLC.  I'm a multiple-award winning journalist and have written in myopic detail about the Salt Lake City  dining scene for the better part of seventeen years.
I've worked extensively with multiple local publications from Visit Salt Lake to Salt Lake Magazine, not least helped to consult on national TV.   Pause those credits, yep, that's me! I'm also a former restaurant critic of more than five years, working for the Salt Lake Tribune.    I'm largely fueled by a critical obsession with rice, alliteration and the use of big words I don't understand.   What they're saying about me: "Not inaccurate", "I thought he was older", "I don't share his feelings".
Want to know more? This is why I am the way I am.
This article may contain content provided by one of our paid partners. These are some of the best businesses in Utah. For a list of all our current and past relationships see our
partnership history page
.