If you found yourself starting at your buzzing phone late last night, you no doubt tuned in for Gazza's address to the state regarding Covus; what you might not have heard as part of the message though, are the specific new rules that will affect bars and restaurants.
First up bars will now be required to close at 10 p.m. – which means last call is now 9 p.m. folks (edit: we've since been tipped by industry gurus that DABC compliance has confirmed drinks can be served until 10). Secondly, restaurants should now only serve groups that consist of people from the same household; no word on if servers will now need to ID diners for association. Seated groups must remain socially distanced at six feet too.
According to the Trib, these restrictions take effect at 1 p.m. Monday November 9th and will end November 23rd, just in time for turkey day.
Heated patios aim to retain diners
Up until now, many restaurants have survived the C19 battle by leaning heavily into their patios. As the white stuff starts to fall, several restaurants are hoping to keep the al fresco dining going; we've seen several starting to roll out heated patio options and expect this to grow.
A few places we know of offering heated patios in SLC right now include:
Caputo's 15th (reader tip)
Cucina (reader tip)
Know of any others? Let me know via stuart@gastronomicslc.com so I can update the list!
Harmon's classes make virtual return
The popular cooking classes at Harmon's locations around the valley have been absent for some time, but after some apparent retooling, they're now back – and from the comfort of your own kitchen too. Upcoming classes cover a variety of cuisines and techniques, examples include:
Sushi night
Ravioli and tortellini
One pot wonders
Taste of Thai
Would be cooks are provided everything they need for the class, which can be picked up from the specific Harmon's location hosting the event – online via Zoom. Prices run in the region of $40-$70.
Check out a full list of the Harmon's cooking classes here.
Menu watch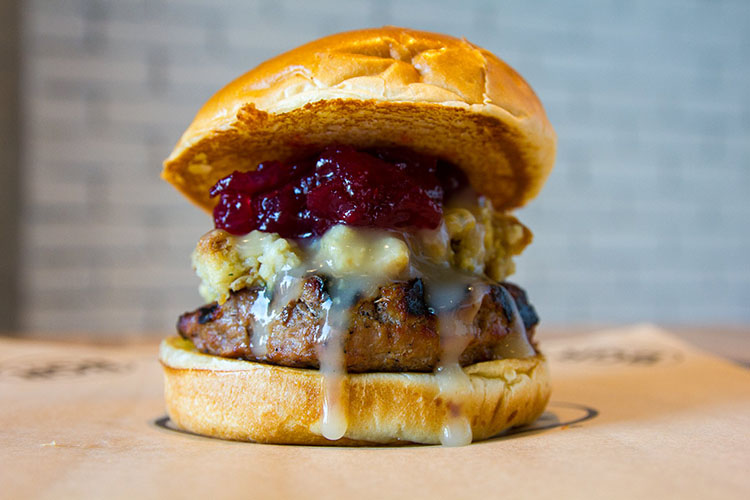 BGR – Not quite here yet, but any day, and you will want to bookmark this burger. Coming later this month, BGR's Thanksgiving on a bun burger that includes cranberry sauce and gravy.
Hearth And Hill – A refreshed Fall menu is now being served at this Park City hotspot. New dinner options include:
Short rib tostada with Oaxaca cheese, crispy black bean, hominy relish
Idaho Riverence trout with celery root slaw, romesco, bearnaise sauce
Miso grouper with turnip, mushroom, carrot sofrito, wild rice, creamed kimchee
Short rib pastrami with Anson Mills grits, roasted root vegetable, fried kraut, pan sauce
Hot fudge brownie banana split
Sticky toffee pudding
Also as part of the Shop In Utah the business is offering a $25 gift voucher with any $100 food order for a limited time.
Log Haven – Over in Millcreek canyon the fine dining destination have taken the wraps of a new Winter menu. Dishes on the new menu include:
Grilled calamari Puttanesca with polenta croutons, charred lemon, Calabrian chili aioli
Porcinin crust chicken breast with roasted broccolini with speck, ricotta polenta, hen of the woods mushroom, Madeira sauce
Grilled Elk NY Strip with couscous, hazelnuts, currants, butternut squash, brown butter, huckleberry gastrique
Veneto – November is the final month to enjoy the Fall ala carte menu at the SLC Italian. Seasonal highlights across the menu include wild mushrooms, sea urchin, figs, sardines and lingonberries.
Ritual Chocolate expands and opens cafe
Via press release
Ritual Chocolate is celebrating its ten year anniversary this year, and is expanding its business with a larger production facility outside of Park City, Utah. The new location is housing a new Ritual cafe, private tasting room as well as office space and an expanded factory.
"We needed to find a larger building in order to keep growing the business and creating new products. We hope that this will truly become a hub for all things food, drink, chocolate education as well as a convenient location for locals and passersby," said Ritual co-owner and founder, Robbie Stout. "It is a bigger and brighter space that gives us room to grow. It's our forever home."
The new 12,000 square foot location is designed for providing a high-quality food and drink experience. As well as producing their ethically traded, small-batch chocolate, the new Ritual location offers a dedicated tasting and test kitchen. In addition, customers can attend classes, tastings and have events hosted in the future.
The factory cafe menu includes quiches from June Pies, a variety of paninis using Hawk and Sparrow bread and custom cookies from Suss Cookies. Ritual offers their signature chocolate in tasting flights as well as a full coffee and espresso menu.
This expansion means Ritual's original location in Park City will have more space for cafe goers, including an expanded food and drink menu, with beer and wine offerings later in December.
The Ritual Chocolate Charleston location is located at 2175 West 3000 South and is open 7 days a week from 8am-5pm. The building is also home to local businesses, Pink Elephant Coffee Roasters and June Pies.
Founded in 2010 by Robbie Stout and Anna Davies, Ritual Chocolate has dedicated itself to providing sustainably-sourced, exceptional quality chocolate while celebrating the complexity of the cacao bean. Sourcing some of the highest quality cacao in the world to make their chocolate, each bar from Ritual represents an authentic expression of the flavor unique to each origin of the bean.
Curry Up Now roll's it forward
Via press release
Curry Up Now, the nation's largest and fastest growing Indian fast casual concept best known for its Tikka Masala Burritos and other creative Indian eats, is continuing its "Roll it Forward" initiative with a burrito donation drive in honor of Veterans Day. Guests can add one or more $12 Donation Burritos to their cart when ordering from Curry Up Now's app, or by donating in bulk via the website. Curry Up Now will match every burrito donated through October 31 and deliver the burritos to veteran and active duty-focused organizations in the communities surrounding their restaurant locations on Veterans Day, November 11.
Curry Up Now launched its Roll It Forward campaign earlier this year as a means for giving back to deserving groups in their community in the best way they know how – through food. In the spring, Curry Up Now and its guests collected nearly 1,000 burritos for healthcare workers on the frontlines battling the COVID-19 crisis and donated them to hospitals close to their restaurants in California, Utah, Georgia, and New Jersey.
"We are extremely thankful for our veterans and active duty military, and all of their contributions in keeping us safe," said Akash Kapoor, founder and CEO of Curry Up Now. "The Roll it Forward initiative is our way of saying 'thank you' to so many deserving heroes, and because of the generous response we received when we launched this campaign earlier this year, we have no doubt that our guests and the public will show the same appreciation for our veterans and military."
In other news
Keep the conversation going
Want to stay on top of the SLC food scene, minute by minute, dish by dish? Here are a few other places you should follow along:
Hi, I'm Stuart, nice to meet you!  I'm the founder, writer and wrangler at Gastronomic SLC.  I'm a multiple-award winning journalist and have written in myopic detail about the Salt Lake City  dining scene for the better part of seventeen years.
I've worked extensively with multiple local publications from Visit Salt Lake to Salt Lake Magazine, not least helped to consult on national TV.   Pause those credits, yep, that's me! I'm also a former restaurant critic of more than five years, working for the Salt Lake Tribune.    I'm largely fueled by a critical obsession with rice, alliteration and the use of big words I don't understand.   What they're saying about me: "Not inaccurate", "I thought he was older", "I don't share his feelings".
Want to know more? This is why I am the way I am.
This article may contain content provided by one of our paid partners. These are some of the best businesses in Utah. For a list of all our current and past relationships see our
partnership history page
.