Eat Drink SLC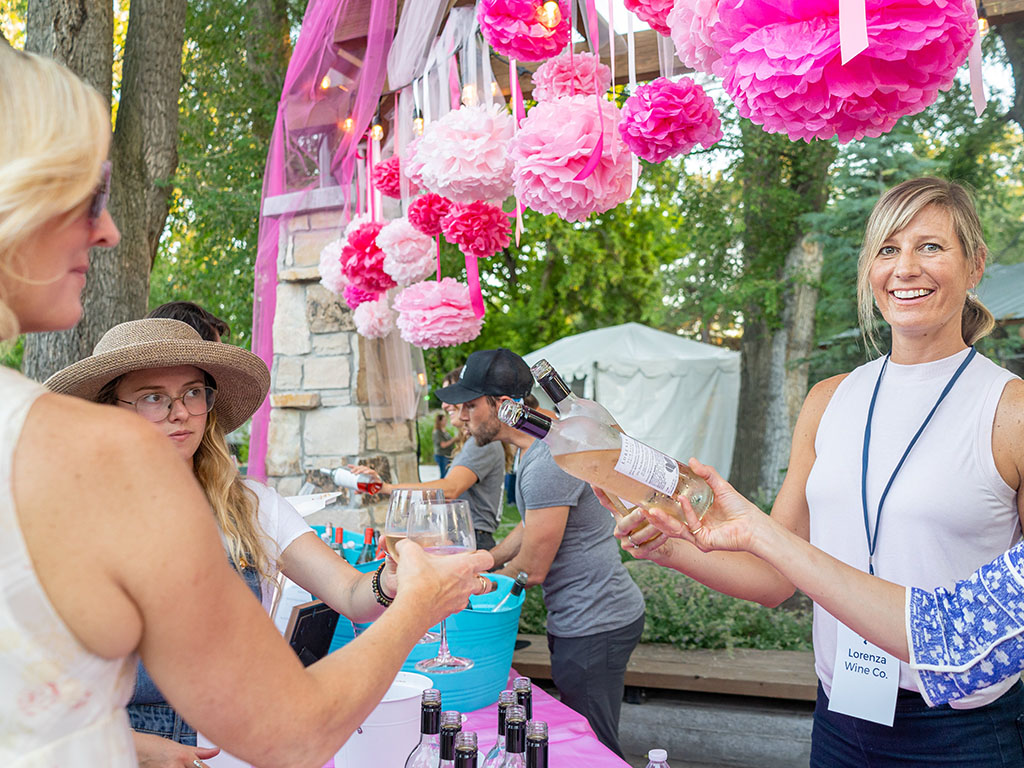 Probably the highlight of last year's dining event and festival calendar was Eat Drink SLC's fifth installment. Sadly, the inevitable news arrived this week that the 2020 edition is set to be nixed. At least in the format you know and love. This year – for more than obvious reasons – the event is instead asking would be attendees to instead spend their money helping those in need.
Here's the full release:
For the past five summers, Salt Lake City's culinary community has turned out by the hundreds to support Eat Drink SLC (EDSLC.) EDSLC's mission is to raise awareness of Salt Lake's finest culinary and cultural opportunities through engaging patrons with the marriage of food and drink. Net proceeds benefit nonprofits that enhance a sense of place, art, and community. This year will be no different in that EDSLC will encourage would-be patrons to visit participating vendors as well as supporting Utah Food Bank.
In former years, the dazzling event showcased the city's vibrant food scene with seasonal fare from leading local restaurants and purveyors, a selection of over 100 wines from an international assortment of family-owned wineries, craft cocktails from small-batch distilleries, and craft beers—all enjoyed throughout the cool, green grounds of Tracy Aviary. Now, as the previously scheduled July 8, 2020 EDSLC joins the heartbreaking list of major events cancelations, organizers have pivoted to make the best of the situation while supporting the community.
"For the past 5 years, Eat Drink SLC has been a celebration of the coming of age of SLC as a culinary hot spot celebrating this passionate, hard-working, creative community. This year with the effects of the COVID pandemic, we feel even stronger the need to not only applaud but to support all facets of this resilient industry. In addition to encouraging guests to visit EDSLC food and drink partners, we are donating to Utah Food Bank where more and more families—including those of restaurant employees—are depending on basic food needs." – Vine Lore president, Tracey Thompson.
EDSLC's co-founder and presenting Drink Curator, Vine Lore Wine & Spirits will match dollar for dollar any and all contributions up to $10,000 to Utah Food Bank. Patrons can contribute by visiting www.eatdrinkslc.com
"Utah Food Bank appreciates the creative way that Eat Drink SLC is turning around the misfortune of cancelled social events to benefit the many Utahns who are now facing hunger for similar reasons. Their industry has been hit hard by economic fallout from the pandemic, and despite this, they have found a way to give back to our community, a clear indicator that we are all truly stronger together." – Ginette Bott, Utah Food Bank President & CEO

In addition to their donation and rallying sponsors and other EDSLC participants to join in donating to Utah Food Bank, EDSLC's digital campaign will encourage Utah food and wine lovers to support local food and drink purveyors, restaurants, and bars. For a complete list of Eat Drink SLC participants and their current operating hours, visit here.
New News
Arlo – This week sees the launch of Milo Carrier's new restaurant that took over from the space left empty by the closure of Em's/The Day Room. Over on instagram the business confirms "to start, we are offering a nimble take out menu of classic favorites – pizza, pasta, and salad. The dishes will remain the same but the styles, toppings, and ingredients will change regularly."
Brio – Following a brief period of uncertainty, this chain of Italian restaurants was recently saved from bankruptcy by Earl Enterprises. As you read this the Murray Utah location is now back open for business.
Finca – Third times the charm eh – which is the headline of the more detailed report of this re-opening over in SL Mag; the short story is that Finca is now back in business. Fans of Trestle Tavern though will lament that the 15th and 15th business had to make way for this comeback. The restaurant seeks to recapture some of its earlier glories (here's my review for the Trib a crazy eight years ago).
Pat's BBQ – After changing hands a little while ago, the brand new Pat's BBQ location on State Street (2929 S State Street – a former Village Inn) is now smoking up a storm. Read more.
Pretty Bird – If you haven't heard the news, the next iteration of Pretty Bird is set to hatch over in the greater Sugar Hood – with Sampan making way for Viet Pham's renowned spicy chicken. The new location will operate as a full service restaurant while the original over on Downtown's Regent Street will become a walk up style business.
Sabor Latino – A new North Salt Lake location is now in full swing for this Latin American restaurant. Read more.
Closures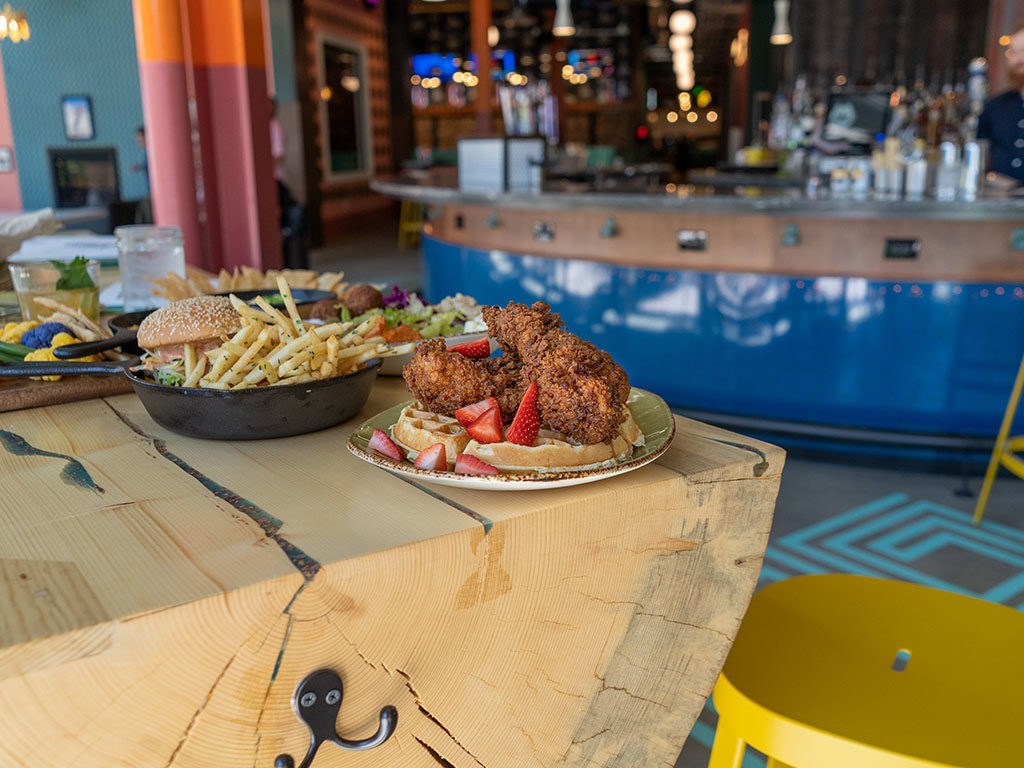 Punch Bowl Social – Sad news. One of my personal favorites won't be making a return to SLC. The brand's PR company confirmed last week that the experiential based dining concept over in The Gateway is now gone for good. If you never whiled away an evening drinking Squatters Juicy IPA while playing giant scrabble, you missed out.
Temptasian – This American Fork location is also now more. The business announced via Facebook, "Due to the current situation and struggles we are facing, we have carefully considered our options and thought this through. It is with great regret and sadness that we've come to the decision to close down this location. Our last day will be Friday, July 31st 2020"
Tortilla Union – Another pandemic-nixed business, this time over in Station Park. Read more.
Trestle Tavern – Just by way of completeness, this concept is now shuttered for good in the wake of Finca's rebirth.
Liquor Laws
I couldn't not call this one out and let the news fly by. Just in case you didn't know, because I certainly didn't, it's now fine to bootleg transport as much as nine liters of alcohol over state lines for personal use. I also take no small amount of personal humor from the fact the law is written using the rather precise liter measurement, while beer is still regarded by the vagaries of ABW.
Speaking of lesser known laws, I should note that The High West Distillery in Wanship is now back open for business. Not many know this but it's completely legal to buy liquor on Sundays in Utah. Specifically any Type 5 package agency that serves food on site, can offer their product to go. High West is a Type 5, just sayin'
Saffron Valley menu updates
While many businesses are struggling in the current climate, one that continues to innovate and thrive is this group (and sponsor of GSLC!) of fine Indian eateries. You might've already seen the range of offers, updates and deals Saffron Valley has been offering in these unusual times, but just in case here are the latest:
Thali lunch platter – Recently updated, this personal Indian buffet on a platter. The new Thali lunch special includes a d sampling of appetizers, curries, rices, veggies, flatbreads, and other sides from different regions on a round platter. Menu changes daily and includes a vegetarian thali option! Just $12.99 each. Available for dine-in at both the Downtown and Sugar House locations, Tuesday thru Friday, from 11:00 am – 2.30 pm.
Lunch box buffet – The popular lunch buffet is still available and the curry options are recently updated as of July 1st.
Select 2 of the following 4 gluten-free curries:
Chicken Tikka Masala
Malabar Fish Curry
Vegetable Coconut Korma
Mutter Paneer
Select 1 of the following 2 appetizers:
Tandoori Chicken
Vegetable Samosa
The buffet includes basmati rice, one appetizer, and one classic butter naan (not pictured) for $10.99. Available for takeout orders during lunch hours only at all four Saffron Valley locations.
Tikka Masala Special – Prepared fresh daily with tomato sauce, onions and fenugreek. Customize your spice level: mild, medium, spicy or very spicy. Get a double portion (32 oz) of chicken, paneer, or vegetable tikka masala to go for $17.99 every Tuesday. Pro-tip: add a side of basmati rice or garlic naan for $2.99. Available for lunch or dinner takeout from all four locations on Tuesdays only.
Tupelo announces move
This one via press release:
One of Park City's most acclaimed fine dining establishments, Tupelo Park City, introduces their newest concept in the beautiful Heber Valley, Utah. In the coming weeks, Chef Matthew Harris and his team will unveil Afterword by Tupelo Park City, a unique destination dining experience within Heber's thriving downtown.
"It has been an honor to serve our guests in the heart of Park City for the last five years, and we are thrilled for the opportunity to offer this new experience to the community we call home," said Tupelo Park City Partner Maggie Alvarez. "An afterword is a commentary, not a conclusion. We're excited to explore this fresh, playful variation of the Tupelo Park City vision, while maintaining our signature standards for warm hospitality and quality ingredients."
Nestled in a historic home in what was most recently Main Street Social, Afterword will be the ultimate farm-to-table experience, offering ample outdoor dining space on its spacious patio. Like all of Chef Harris' endeavors, it will be fueled by local producers, ranchers, and farmers, some of whom are located less than five miles away. Chef Harris' own micro-farm, Tupelo Farm, is also located in Midway, Utah, just a few miles away.
Due to the changing dynamics of restaurant dining, Tupelo Park City is moving on from its flagship location. However, Chef Harris continues to serve the Park City community with his sister concept, RIME Seafood & Steak at The St. Regis Deer Valley, and looks forward to offering this altogether different experience in the rapidly growing Heber Valley, a scenic 20 minute drive from Park City's Main Street.
"We are so proud of our sustainably caught seafood and locally sourced meats offered at RIME at St. Regis," said Tupelo Park City Chef & Owner Matthew Harris. "Our intimate new dining experience, award winning wine list, and craft cocktail program at Afterword will be the perfect complement."
Afterword by Tupelo Park City will open on July 1, 2020. Tupelo Park City remains deeply committed to its Park City roots and will seek appropriate opportunities to return to Park City in the future.
To learn more about Tupelo Park City's new Heber dining experience, contact Christa Graff with Graff Public Relations, LLC, at 435.640.7921 or christa@graffpr.com. Additional information is available at afterwordrestaurant.
Nelson Cottage debuts Summer menu
Another via press release:
The Nelson Cottage by High West invites guests to enjoy their new summer dine-in menu. The Nelson Cottage has changed up their format a little to accommodate for a socially distanced experience with the same delicious menu. Whiskey pairings are option but of course, highly recommended! The summer dine-in menu will change weekly.
July 2nd menu will feature:
Smoked Onion Flatbread
Gracie's Farm Greens
Utah Trout
Niman Ranch Lamb T-bones with mini chimichurri
Roasted Asparagus with lemon
Sea Salt Roasted Fingerling Potatoes with curry ketchup
Brown Sugar Biscuits with berries and whiskey chantilly
Dinner is $40 per person with whiskey pairings available for an additional cost. To ensure the health and safety of High West staff and guests, The Nelson Cottage will uphold all Health Department safety measures and requirements. Masks and gloves will be worn by all staff, among other protocols to provide a safe, comfortable dining environment.
Further food stories
Keep the conversation going
Want to stay on top of the SLC food scene, minute by minute, dish by dish? Here are a few other places you should follow along:
Hi, I'm Stuart, nice to meet you!  I'm the founder, writer and wrangler at Gastronomic SLC.  I'm a multiple-award winning journalist and have written in myopic detail about the Salt Lake City  dining scene for the better part of seventeen years.
I've worked extensively with multiple local publications from Visit Salt Lake to Salt Lake Magazine, not least helped to consult on national TV.   Pause those credits, yep, that's me! I'm also a former restaurant critic of more than five years, working for the Salt Lake Tribune.    I'm largely fueled by a critical obsession with rice, alliteration and the use of big words I don't understand.   What they're saying about me: "Not inaccurate", "I thought he was older", "I don't share his feelings".
Want to know more? This is why I am the way I am.
This article may contain content provided by one of our paid partners. These are some of the best businesses in Utah. For a list of all our current and past relationships see our
partnership history page
.