2020 might be the year of the rat, but 2019 was most definitely the year of the chicken; well the year of the fried chicken (sandwich) that is. Fast food chains went to war over this trendy dish and local restaurants weren't far behind either.
If you couldn't keep up with the frenzied frying, I can't blame you, it seems like every other week there was a new local option. With January diets hopefully now coming to an end here are seventeen sandwiches vying for your attention in 2020. How many have you tried?
Punch Bowl Social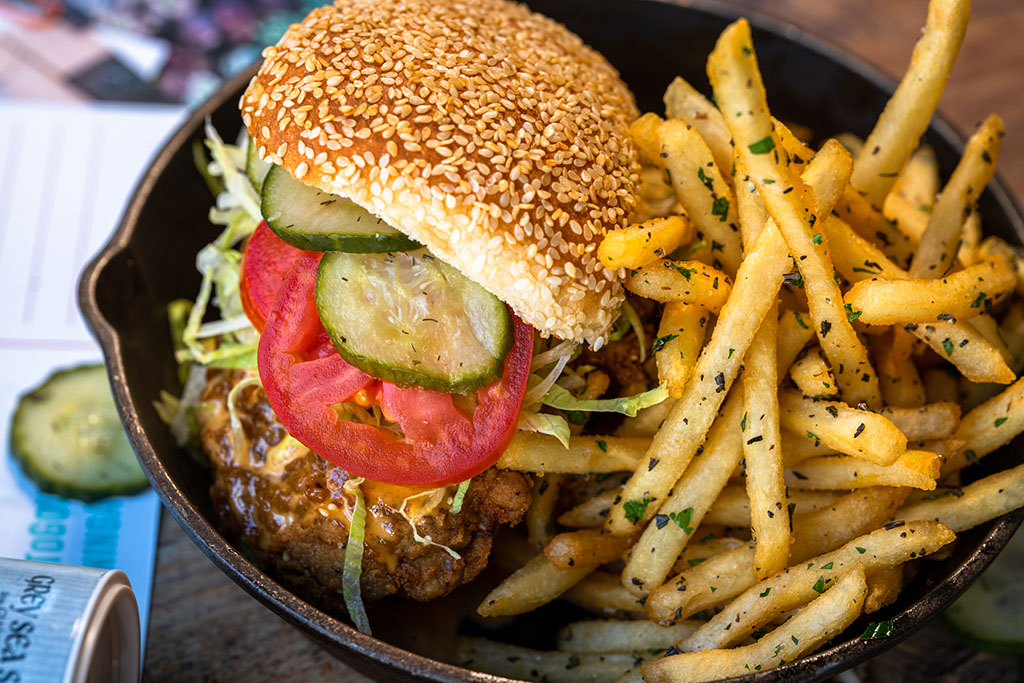 One of the best openings in 2019 was this food meets fun meets drinks concept at the revitalized Gateway. On a menu packed with comfort food taken up a notch you'll find the a la bama chicken sandwich. Sheamus Feely, chief culinary and beverage officer writes, "The sauce that goes on top is a white BBQ sauce. It was originally invented at Big Bob Gibson's BBQ in Alabama. It is tangy with some creamy and spicy. You really only find it in parts of Alabama.
We top it with our house-made dill pickles. The thing that really makes the sandwich (that no one would expect) is the ice COLD shredded lettuce. It is a great contrast with the hot chicken.
There are a lot of great chicken sandwiches out there. But we wanted to make a chicken sandwich that hadn't quite been done before. We were essentially paying homage to one of the most unique bbq sauces out there and then mixing it with zaatar to make a good evolution on a classic. We thought that would be a fun story to tell." $14.25 secures you this piece of perfection.
Avenues Proper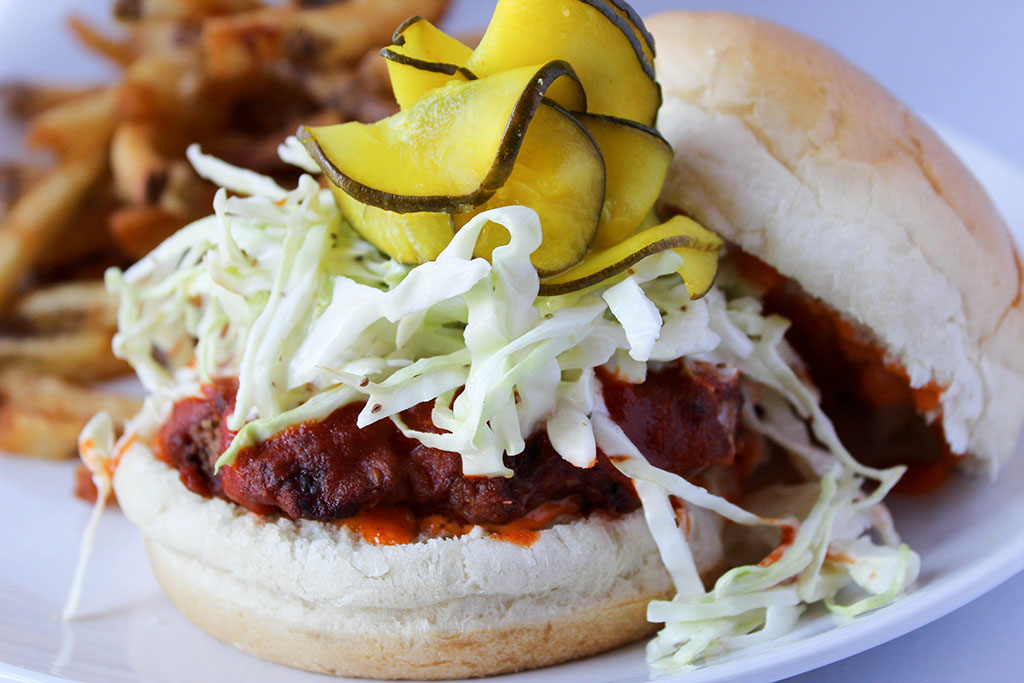 "The spicy chicken sandwich at Avenues Proper is a little different", says Eleanor Lewis of this Avenues hot spot. "Instead of chicken breast, we make a chicken sausage patty in house (which you can also find on our Chicken and Waffles).
"This ensures a great texture and allows the seasoning to be incorporated evenly throughout, instead of just on the outside of the chicken. The sausage is fried, and then covered in a Sriracha- and honey-based sauce and layered with slaw and zucchini pickles on a hamburger bun. Though we change many of the items on our menu seasonally, like the chicken and waffles, this has been and evergreen staple of our menu almost since we opened in 2013. Available on our weekday lunch, midday, and dinner menus."
The sandwich with side is priced at $14 all day long.
376 8th Ave, Salt Lake City, UT 84103
(385) 227-8628
avenuesproper.com
HallPass
New to The Gateway this year – this food hall concept hot out of Vegas. Speaking of hot – the multi-format restaurant space offers the pictured Blaze Of Thunder chicken sandwich. Crispy Nashville-style hot chicken is topped with creamy slaw and pickles, all loaded up on a brioche. It's yours for $11.95.
153 S Rio Grande St, Salt Lake City, UT 84101
slcmenu.com/2019/10/25/hallpass-menu/
Cucina Deli
Another Avenue's offered sandwich to keep your eyes peeled for is this one, courtesy of chef Joey Ferran. Owner Dean Pierose writes, "Ours is pretty clean and peeps are loving it. The sandwich comes with a "Ciabatta roll, warmed up, lettuce tomato and mayo. A 5oz hand breaded chicken cutlet warmed with sambal oelek and Swiss cheese."
1026 2nd Ave, Salt Lake City, UT 84103
(801) 322-3055
cucinaslc.com
Bird House
There are a range of sandwiches on the menu available at this family friendly spot in the 9th and 9th neighborhood. The pictured piri piri chicken sandwich is available fried or grilled and is priced $9.95.
Owner Scott Evans details the sandwiches namesake sauce, "Our signature sauce is based on the Portugese sauce, piri pri (or peri peri). The pepper sauce or common in Portugal and former Portugese colonies, like Brazil, as well as South Africa. In South America, Europe and in the DC area, many people are familiar with Nando's Restaurant which made a name for Piri Piri chicken. Our sauce uses fresno peppers, chill pequin, salt, garlic, lemon juice, water (the key is stewing the peppers in the lemon juice)."
The sandwich itself combines brined Mary's Chicken on a local Stone Ground ciabatta bun before being finished with cabbage slaw, picy piri piri sauce and aioli.
856 East 900 South, Salt Lake City, Utah 84105, USA
(801) 441-2213
Menu
Oak Wood Fire Kitchen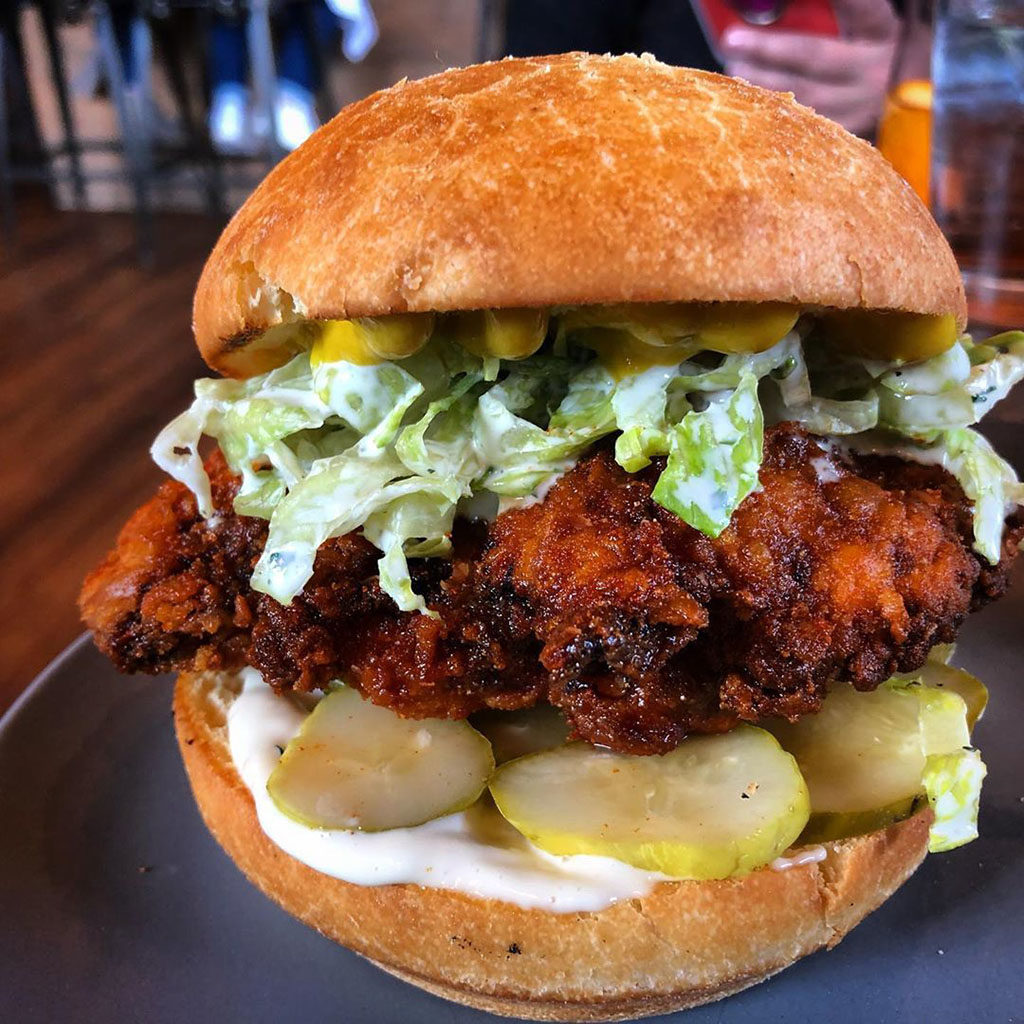 With competion this fierce chef Brandon Price of Oakwood Fire Kitchen told me "I can't give it all away", when asked about the crucial make up of his Draper restaurant's chicken sandwich.
What he was willing to give up though… "We use Redbird chicken thighs. There are raised right, antibiotic free in Colorado and not too big. I believe a chicken sandwich should be a manageable size. We use a few techniques that help our crust stay intact and crispy. Buttermilk brined and we fry at a lower temperature than normal. For the toppings and finishing touches we make spicy pickles, malt vinegar aioli and an iceberg slaw".
715 E 12300 S, Draper, UT 84020
(801) 996-8155
oakwoodfirekitchen.com
Dirty Bird Chxx
Also created and crafted by Price and now open in the Provo food hall space The Hut, more chicken sandwiches; and ones already garnering great reviews. Th counter concept offers a trio of sandwiches: classic, spicy and the namesake dirty bird which comes with chili oil, bacon and pimento cheese. Double bonus points for the choice of Duke's mayo here too. Sandwiches are priced $8-$9.
495 E 600 N, Provo, UT 84606
slcmenu.com/2020/01/10/dirty-bird-menu/
Pretty Bird
Arguably the local innovator when it comes to the comtemporary renaissance in fried chicken. The restaurant is the work of Viet Pham, former fine dining chef turned TV celeb. After opening his latest business in early 2018 the fried chicken shop hasn't looked back. IG worthy images of heaving chicken sandwiches have maintained the long flowing queues out the door onto Regent Street till this day.
The sandwich itself is priced $10.50 and uses pressure fried boneless chicken thighs with slaw, pickles, "pretty bird sauce" and a buttered bun.
146 Regent St, Salt Lake City, UT 84111
prettybirdchicken.com
Nomad Eatery
Justin Soelberg's elevated comfort food spot in North Salt Lake has been making waves ever since the doors opened too. Soelberg's own effort in the chicken wars also wisely uses Duke's mayo. The $11 sandwich comes with crispy chicken thigh, Buffalo sauce, Dukes, shredded lettuce and zucchini pickle.
Expect a second opening of Nomad on the East Benches early this year. Fingers crossed the $11 sandwich makes the journey East with Soelberg too.
2110 W North Temple, Salt Lake City, UT 84116
(801) 938-9629
nomad-eatery.com
Ginger Street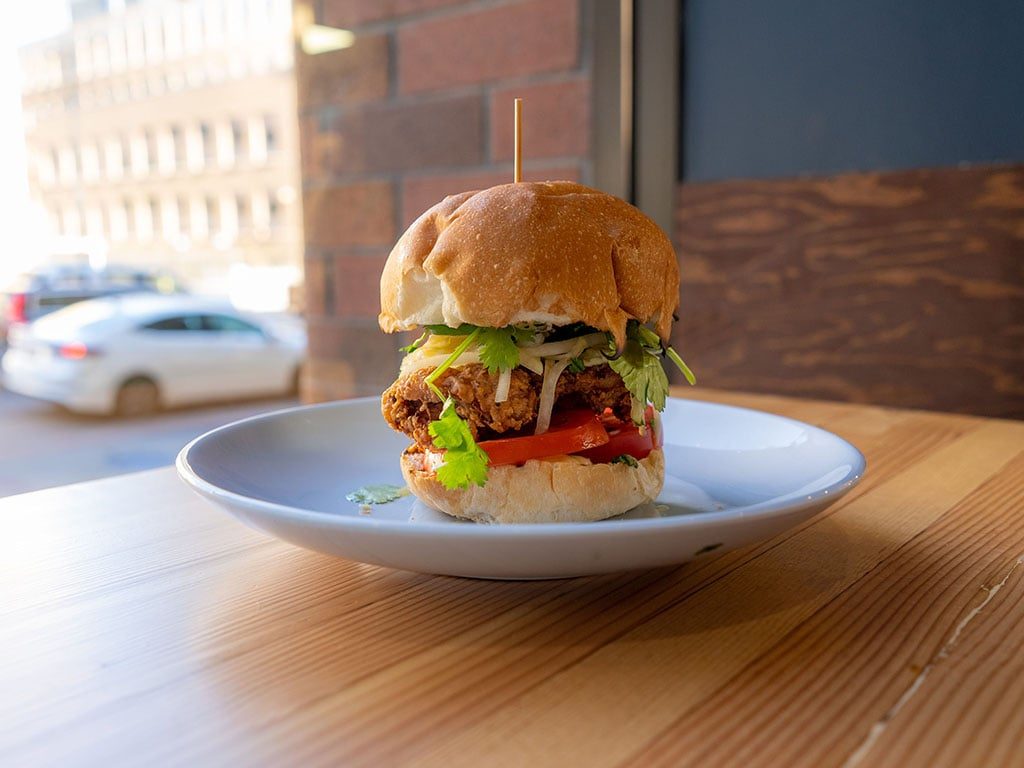 Meanwhile in downtown SLC, the eclectic menu of chef Tyler Stokes sports this East meets West conception. The "squishy bun" is loaded up with green papaya slaw, tomato and tangy Japanese Kewpie mayo. Grab one for $10.
Night owls, especially those hitting the town, should note that the chicken sandwich is also one of the restaurant's dishes available late at the walk up window on 3rd South.
324 State Street, Salt Lake City, Utah 84111
(385) 477-4975
gingerstreet.com
Bok Bok
American Fork is home to this Korean/American restaurant that focuses squarely on chicken. Amongst the various configurations you'll find a sandwich that comes with "seasoned, double fried chicken breast", before being finished with pickled red slaw, pickle and "box spread". The sandwich ala carte is available for a wallet friendly $6.49.
648 E State St, American Fork, UT 84003
slcmenu.com/2019/10/25/bok-bok-chicken-utah-menu/
Kluck's Krispy Chicken
Also in Utah County, another stop for the chicken connoisseur should be this relatively new restaurant. Their menu offers a toasted brioche bun with hand trimmed chicken breast and cabbage salad for $8.99.
1066 S 750 E, Orem, UT 84097
(801) 310-4477
slcmenu.com/2019/10/25/klucks-krispy-chicken-menu/
Zulu Piri Piri Chicken Grille
Not far away in Lehi is this chicken spot with an altruistic bent. On their sandwich, co-founder Nikki Davis writes, "In terms of our chicken sandwich, it's amazing. We actually got 2nd place for best sandwich in the Daily Herald's Best In Utah Valley Reader's Choice Awards for 2019, after only being open less than about 6 months. We use high quality ingredients and source locally as much as possible.
We use very little sugar in anything in our restaurant. Our sauce has very little organic brown sugar and nothing else in the restaurant has sugar in it. Our sandwich comes with a 6 ounce chicken breast, arugula, Muenster cheese, caramelized onions, avocado, and our signature Piri Piri aioli. Customers can add bacon for 99 cents. Our sandwich comes on a ciabatta bun, or a gluten free bun. Or, patrons can opt for it to be served on a whole wheat tortilla as a wrap. Our sandwich comes with a generous portion of tri-colored potatoes on the side.
Our sandwich can be ordered grilled or fried and are made fresh to order. Our chicken is marinated in our signature Piri Piri sauce for 48 hours and is flame-grilled on our 6 foot grill. We create our own scratch made batter for our fried option. Our proprietary Piri Piri aioli is house made daily and completes each sandwich or wrap. Let me know if you'd like any other info.
Ella Lee's Soul Food
Now open within Benji's BBQ on State Street is this Southern-styled restaurant within a restaurant. Ella Lee's Soul Food Kitchen draws on the family recipes of owner/operator Benji and his Georgia roots.
3245 S State St, Salt Lake City, UT 84115
(435) 709-5227
facebook.com/pages/category/Soul-Food-Restaurant/Ella-Lees-Soul-Food-Kitchen-516586128746693/

Lovebirds Hot Chicken
"Fried chicken for the whole family", so goes the businesses blurb. Lovebirds comes from the same owners behind the much loved Waffle Love food truck. Unlike it's predecessor though, this a bricks and mortar operation equidistant from Orem and Provo. The restaurant's menu features an $8.95 chicken sandwich comprising boneless chicken thigh, slaw and pickles on a home made toast bun with "awesome sauce".
4801 N University Ave, Provo, UT 84604
lovebirdschicken.com
Big Johnny's Hot Chicken
Follow on Instagram here and you might be able to snag one of Johnny's delicious looking hot chicken sandwiches from the Provo's Farmer's Market once weather allows.
Lola's Street Kitchen
Head to Midway and you'll find this creation. "Hand battered & fried organic chicken breast" is topped with a choice of lemon aioli or spicy buffalo sauce, bread & butter pickles, lettuce and tomato on a freshly baked potato roll. The sandwich is priced $11.
24 E Main St, Midway, UT 84049
(435) 671-3970
lolasstreetkitchen.com
Keep the conversation going
Want to stay on top of the SLC food scene, minute by minute, dish by dish? Here are a few other places you should follow along:
Hi, I'm Stuart, nice to meet you!  I'm the founder, writer and wrangler at Gastronomic SLC; I'm also a former restaurant critic of more than five years, working for the Salt Lake Tribune.  I've worked extensively with multiple local publications from Visit Salt Lake to Salt Lake Magazine, not least helped to consult on national TV shows.
I'm a multiple-award winning journalist and have covered the Utah dining scene for the better part of fifteen years.   I'm largely fueled by a critical obsession with rice, alliteration and the use of big words I don't understand.   What they're saying about me: "Not inaccurate", "I thought he was older", "I don't share his feelings".  Want to know more? This is why I am the way I am.
This article may contain content provided by one of our paid partners. These are some of the best businesses in Utah. For a list of all our current and past relationships see our
partnership history page
.