I can't be the only one just a little excited by today's formal announcement of the winners (and by proxy the losers) for the concessions slots at the eagerly anticipated airport rebuild. The last time our airport dining saw an update was circa 2012 with the Taste Elevated campaign adding local names like Salt Lake Pizza & Pasta, High West, Greek Souvlaki and Vivace (remember them?!)
The list of dining options released today reads like a fun mix of national brands and local favorites, and the first tranche will be ready to go, come the fall of 2020.
If you've been following the rebuild, things are expected to come together in two phases. Today's announcement includes only the first phase of the project, dubbed The New SLC. Phase one includes the central terminal, the West end of both concourses and a parking garage.
The second phase is scheduled to be come online in 2024 and will include the East end of the concourses. Some 50,000 sq. ft. of food and beverage space will house more than 20+ operations at opening, with phase two adding nearly 30,000 sq. ft. more. You're gonna have to wait just a little longer for news on those it seems.
The full list then, of those selected to represent SLC to the world in phase one (see the map here):
Concourse A/Terminal Plaza
Beans & Brews
Bruges Belgian Bistro
Cafe Rio
California Pizza Kitchen
Fillings & Emulsions
Granatos
Market Street Grill
Panda Express
Pago
Panera Bread
Pizzeria Limone
Pulp Lifestyle Kitchen
Shake Shack
SLC Life Market/Creminelli Fine Meats
Squatters Pub
Starbucks (2)
White Horse Spirits & Kitchen
Concourse B
Pick Up Stix
Silver Diner
Smashburger
Uinta Brewing Company
Wasatch Pub
Pre-Security
Blue Lemon
Starbucks (Level One)
Obviously there are more than a few notable names on the list. The popular Downtown SLC Bourbon Group will be outfitting their first airport location in the form of a new White Horse location. Matt Crandall, Director of Food & Beverage for the group writes:
The new SLC Airport will offer the best of both local and national food, beverage and retail establishments in one of finest airports in the country. This will provide guests with some of the best dining options available to the traveler at street level pricing. The Bourbon Group and White Horse are honored to be a part of this amazing state of the art facility and look forward to providing world class food and beverage to travelers while representing Salt Lake City.
Expect the food and format to loosely follow the popular bar-restaurant concept albeit with the obvious challenges of the location tempering certain parts of the menu; in case you didn't know – while the restaurants involved design and facilitate the concession businesses, it's left to a third party food services company (HMS Host, SSP America etc) to execute the day to day operations.
Suffices to say this means the businesses in question can't directly staff the kitchens, and sensible menu choices need to be made with that in mind. On the flip side, Crandall noted this would be the first Bourbon Group restaurant in Utah that you can take the kids to…
Other cool new additions include Pago, Bruges, Creminelli and a location of Fillings And Emulsions. Some charcuterie and a macaron while you wait for your flight perhaps?
Familiar faces already at the airport like Squatters and Market Street are reprints their roles with the former doubling down with two new pub grub spots. Squatters COO Doug Hoefling writes:
"We could not imagine a Salt Lake City Airport without a Squatters, especially as we enter our 30th year of continuous operation in 2019. We poured all our effort into the bidding process, and left it all on the field. We are beyond grateful to have been selected and cannot wait to be a part of this enormous step forward for the state of Utah."
I don't know about your own journeys through SLC International in the past, but mine pretty much always required a stop through Squatters and at least one Hop Rising IPA.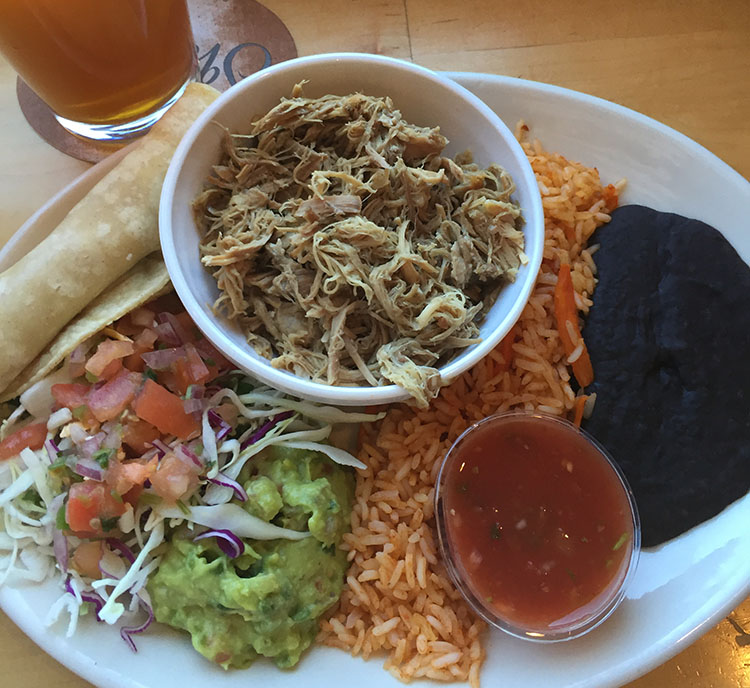 You might also note two pretty big national names on the list: Shack Shack and Panera Bread. Neither currently have any operations in Utah, though Shack Shack did recently announce broader expansion into the Utah market. Lovers of Panera will also surely be crossing their fingers in hope that the new airport location represents a beach head for onward development. Hey, that's what happened with Popeye's after all, who aren't actually present on the release today curiously.
Speaking of which, some other names missing from today's release stand out: High West, Vino Volo, Greek Souvlaki, Salt Lake Pizza and Pasta to name a few – and there's nary a BK or McDs – which you may see as blessing or curse. Of course, phase two is still to be announced, and based on the size of the expansion I'd guess another 10-15 names will be joining those announced today at some point.
Lastly, the press release for the unveiling confirms that all restaurants will offer breakfast, lunch and dinner and that "street pricing" will protect passengers from outright gauging – expect to pay the same price charged at the airport if the business in question has external operations.
Roll on 2020!
Hi, I'm Stuart, nice to meet you!  I'm the founder, writer and wrangler at Gastronomic SLC; I'm also a former restaurant critic of more than five years, working for the Salt Lake Tribune.  I've worked extensively with multiple local publications from Visit Salt Lake to Salt Lake Magazine, not least helped to consult on national TV shows.
I'm a multiple-award winning journalist and have covered the Utah dining scene for the better part of fifteen years.   I'm largely fueled by a critical obsession with rice, alliteration and the use of big words I don't understand.   What they're saying about me: "Not inaccurate", "I thought he was older", "I don't share his feelings".  Want to know more? This is why I am the way I am.
This article may contain content provided by one of our paid partners. These are some of the best businesses in Utah. For a list of all our current and past relationships see our
partnership history page
.