Is it me or are new restaurants arriving thicker and faster? It's barely been a month since the last recap of the recent for the ravenous. While all this extra competition might have restaurateurs turning in their sleep, it's game on for the rest of us.
Anyway lets get right to it, this collection of brand spanking new dining destinations has me more than a little hot under the collar. Case in point…
Angry Korean BBQ
This South Jordan fusion fueled business caught me completely off guard; and to be clear, fusion isn't a word I throw around with abandon. Some advice for would be writers – by definition, fusion requires the melding of more than one component. Fusion cuisine isn't disparate cuisines eyeing each other up from the pages of a menu…rant over…
The Angry Korean is the work of Peter Kim and Young-Ho Kang, two Korean chefs with undeniably strong backgrounds. Kim's for example includes a stint at Momofuku under David Chang – NYC's king of umami – before moving onto Michelin starred Korean eatery Danji. Kang – a seasoned sushi chef himself across the US and Korea – met Kim here in Utah, and the rest as they say, is delicious history.
A food truck came first, a relatively quick and simple way to test their flavors out on an unsuspecting public – would Utahns fall for their East meets West concoctions? The answer was a resounding yes and after a sizable search for the the right home, the pair settled on their first bricks and mortar unit over in South Jordan's The District.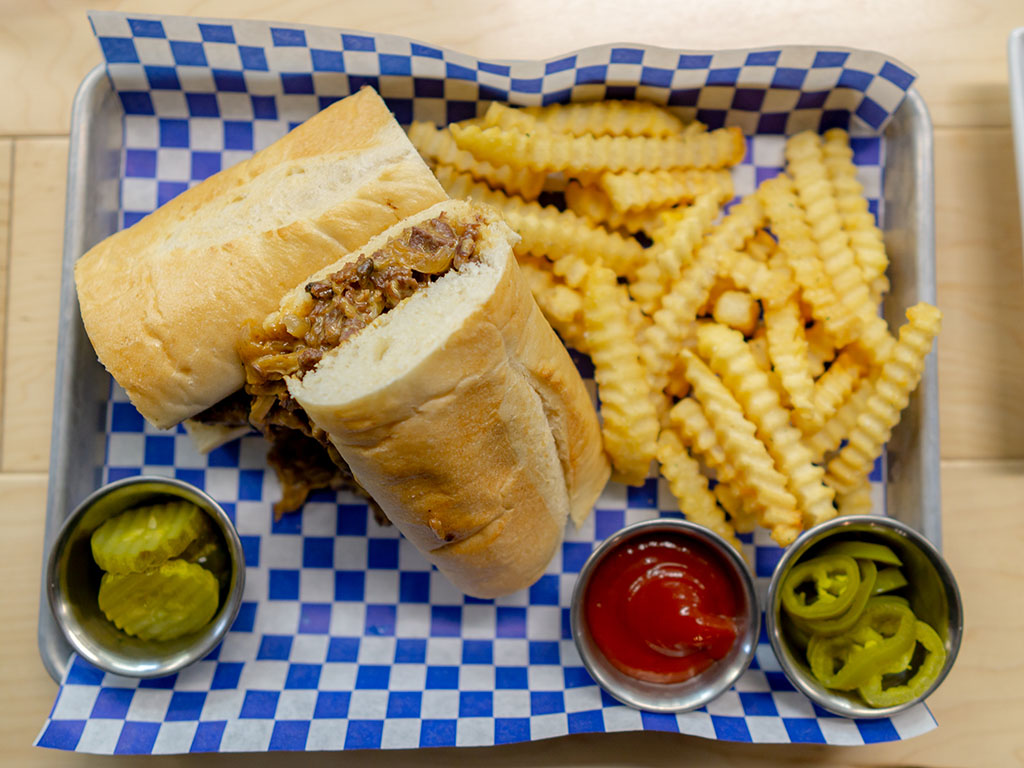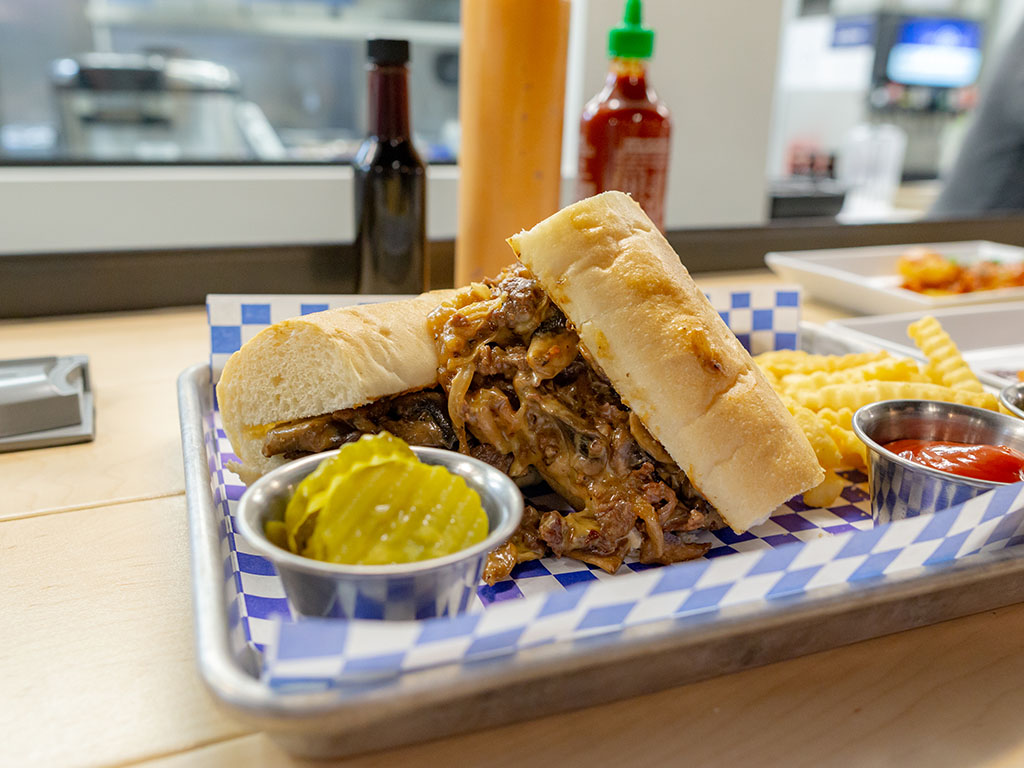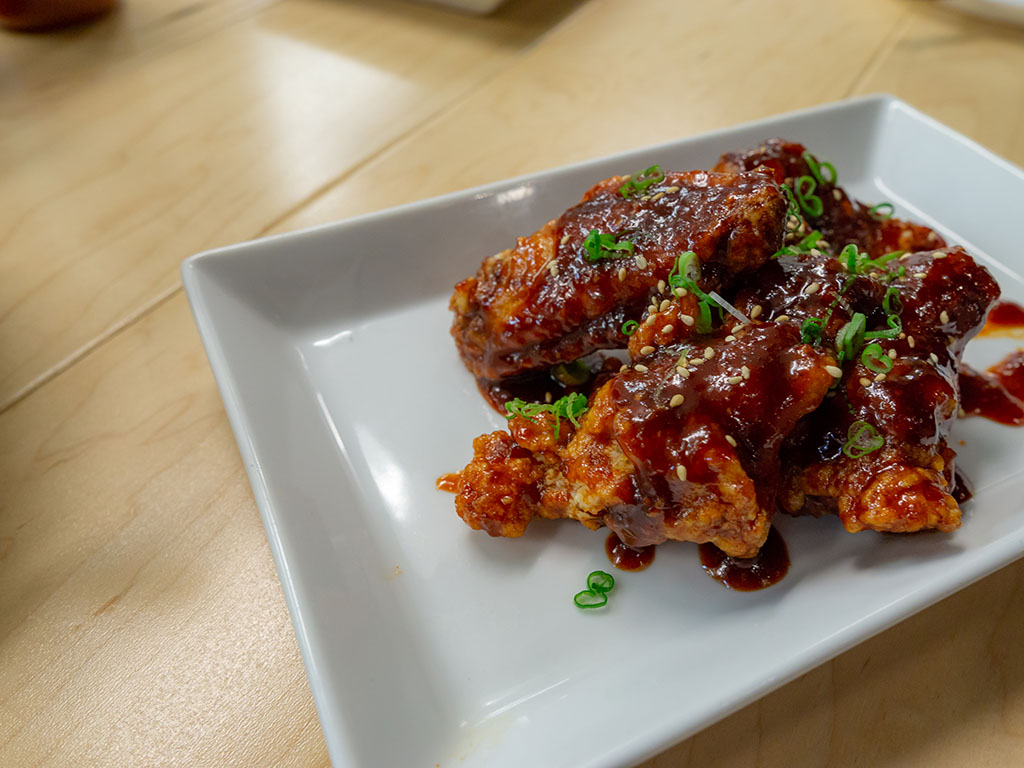 The truck is now under wraps while the duo are focused on expanding their menu which is all about fun and flavor, not necessarily the traditional. What the hell am I talking about? Well, we're back to that foxing fusion term. The dishes at Angry Korean are fun with a capital, give me more of that right now. They take traditional Korean flavors, ingredients and techniques, but present them in an accessible format that are unlikely to frighten the meekest of mice.

Even the most timid diner will happily tackle their Philly cheesesteak emboldened with bulgogi (Korean BBQ beef). There's top notch Korean fried chicken (spicy and mild versions), luscious deep fried shrimp and of course the tacos – a giddy wink to LA's Roy Choi – that made their food truck a runaway success.
Despite the causal feel and vibe, there's nothing dumbed down here. Classic Korean ingredients and technique are applied wherever appropriate. The restaurant makes it own soy sauce, kimchi, sauces and more. You'll find enjoyable japchae and mandoo in the rice bowls. This is solid cooking by any measure and worth your time and money.
11587 District Main Dr Suite 300, South Jordan, UT 84095
(801) 307-8300
facebook.com/theangrykorean/
BFF Turon
If names like sisig, adobo and pancit send a shiver down your spine, you'll want to check out this new Filipino restaurant in West Jordan; a cuisine that's been in relatively short supply until now (keep reading, these things come in threes apparently). There's not much info out there yet, save their Yelp profile. All I have for you is the results of some basic Googling:
"Turon, also known as lumpiyang saging, is a Philippine snack made of thinly sliced bananas and a slice of jackfruit, dusted with brown sugar, rolled in a spring roll wrapper and fried. Other fillings can also be used, including sweet potato, mango, cheddar cheese and coconut. "
Sounds great to me, I'm in.
8860 S Redwood Rd, West Jordan, UT 84088
(801) 280-6344

Black Sheep Bar & Grill
Unrelated to the Utah county restaurant of similar name, this new Foothill bar moves into the space left empty by MacCool's. This is actually the second outpost for the BSB & Grill, the original being over in West Jordan. The menu offers plenty of familiar pub grub like burgers, wings, sandwiches and more.
I've not stopped by myself, but from the (above) pic lifted from their FB page it would appear the space has been remodeled too.
1400 South Foothill Drive, Salt Lake City, UT 84108
(801) 877-9350
facebook.com/blacksheepfoothillbarandgrill/
Blue Poblano
It's not quite clear to me when this Provo restaurant closed it's doors. At any rate they're now back open and the much lauded Mexican restaurant is back in business.
1796 N 950 W St, Provo, UT 84604
bluepoblano.com

Flame Burger
You, I and everyone else thought peak burger had arrived. We were all very wrong. That said, this new Murray-ish burger spot is a distinct change of direction from the trendy types of late, you know the ones – all deep fried edison bulbs and skinny jeans aioli.
This is an old school burger joint from a time long ago, when burgers were real burgers and they smoked 20 day. The prices at Flame hark back to a different era too and are almost absurdly low. Nothing on the menu breaks the four dollar mark.
And yes, you know what that means. Don't be silly, of course I don't mean extra cash in your wallet. I mean more burgers in your belly. You have my permission to order up three at once – you'll still be ahead versus the price of a single burger at some other places in town. Madness.
5430 900 E, Salt Lake City, UT 84117
(801) 262-0262
facebook.com/flburger/

Hearth And Hill
This new Kimball Junction eatery has a certain Jurassic Park quality to it; the massive 192 seater has everything and then some. The moment you step through the front door, the restaurant dazzles with a snazzy bar area, all dapper bar tenders and glimmering bar counter. There's a pristine kitchen visible from the large dining area, private dining, outside patios, underground parking aplenty. Thankfully, no raptors.
Equally sprawling is the menu. Want some Korean fried chicken? No, try an over sized plate of dessert sundae or scallop filled gyoza or cheddar biscuit with pimento cheese, or trout with gnocchi. Or, or, or. You get the point. The menu just wants to be loved, not judged; and it goes about that task like a culinary whirling dervish.
The ambitious project of Brooks Kirchheimer (and family) wants to be the goto space for all your occasions. Kick back at the bar to unwind after work, celebrate that special occasion or just stop by with the family when cooking. Heck, if you're going into labor head on down and grab a BLT first. At a soft opening event I attended, Kirchheimer waxed lyrical about becoming an anchor for the local community in a myriad of ways.
Theres so much going on here, and in so many different directions, it's all a little dizzying. It's the excited kid who insistently wants to show you all their Christmas presents in quick succession.
Kirchheimer himself has a seasoned career in hospitality, both here in Utah, plus across the US; not to mention the kitchen and management team are familiar PC/Deer Valley faces too. The restaurant is obviously backed by a dollop of cash, and given a little time, patience and *breath* calm, this should be a hit with the locals for sure.
1153 Center Dr, Park City, UT 84098
(435) 200-8840
hearth-hill.com

Hopkins Brewing Company
This one came out of left field. If you've been following the final DABC get togethers of 2018, you'll have heard the owners of this Sugar House space (Epic Brewing) compete for a coveted liquor license for a few months.
At the time, it sounded like they intended to convert the hip space from restaurant to bar, but what's transpired is the arrival of this new brewing business. I'm not aware of Hopkins Brewing being awarded a manufacturing license themselves (indeed the newly licensed bar space is listed as Epic according to the DABC) so I assume it's an imprint on the Epic brand itself – though appears to tout itself as separate.
If you know more let me know, if I find out more, I'll let you know, deal?
1048 E 2100 S, Salt Lake City, UT 84106
(385) 528-3275
facebook.com/pages/category/Brewery/Hopkins-Brewing-Co-647095499010479
Kaze Sushi
This new sushi spot opens up roughly betwixt (never miss an opportunity to use that word guys) Spitz and Ramen 930 in downtown SLC. Beyond that, at the time of press, I know little else, the doors opening just days ago. I mean I could probably suggest you'll find sushi and grilled items, but…
63 E Broadway, Salt Lake City, Utah 84111
(801) 561-0188
facebook.com/KazesushibarSLC/

King Buffet
King Buffet doesn't hold back on the go big or go home concept; indeed, if you want to literally go home with bundles of their buffet, they're all for it. That's right, this might be the only all you can eat joint in town that has to go options, priced matter of factly by the pound. While you might never avail yourself of pounds upon pounds of to-go food, there's something ever so comforting and soothing knowing that this exists in our space time continuum.
The new digs in South Salt Lake joins the existing brace of buffets already churning out hundreds of dishes in Orem and Taylorsville. In fact King Buffet promises more than 200 dishes spread across lunch and dinner services, including sushi, seafood and a Mongolian grill.
I'll take nine pounds of the fried shrimp to go please.
3620 S State Street, Salt Lake City, UT 84115
(801) 905-1186
kingbuffetutah.com

Kubo Express Smoothies And Grill
Great minds and all that – another Filipino influenced restaurant. This Millcreek-Murray operation opens at 7 a.m. prompt and serves up an intriguing mish-mash of Filipino and Asian-American dishes. There's bucket loads of breakfast options at killer prices, and plenty of coffee to keep things flowing.
4041 700 E, Salt Lake City, UT 84107
(385) 474-9909
facebook.com/kuboexpressslc
Mr Charlie's Chicken Fingers
I have no idea who Mr. Charlie is. I only know that he promises the very best chicken fingers in Utah. In order to fulfill his promise, the focus here is microscopically myopic. You love chicken fingers? Come here. You don't? Keep on walking weirdo.
The menu starts and stops at chicken fingers, and with such manic obsession, you'd hope these are the fingers of your dreams. Initial reviews certainly seem to indicate there's more than just hype here.
The restaurant states their poultry is never frozen, is hand breaded, antibiotic free, vegetarian fed, uses no hormones, and is cage free, so kudos on that. Back to the real question though, if these are the fingers, how big is the chicken! /dad joke.
554 W 4500 S, Murray, UT 84123
(801) 803-9486
mrcharlieschickenfingers.com
Narra Asian Bistro
Completing the trifecta – the third name on our list this month to deliver Filipino cuisine. I'd normally say something like the restaurant embraces a range of Filipino dishes not seen all that often in Utah – but that's no longer true this month. Filipino, the new ramen? Anyway, at Narra you'll find a selection of other South East Asian dishes on a menu that dabbles with Chinese and Vietnamese too.

6550 S Big Cottonwood Canyon Rd, Holladay, UT 84121
(801) 410-8200
facebook.com/narrabistro/

Nikko Sushi & Ramen
Ever wonder what happened to sushi-chef Sunny Tsogbadrakh? You know, the eminently talented chap from the much missed Naked Fish in downtown SLC. If you happened by the restaurant in it's pomp, you'll remember Tsogbadrakh, his beaming expression eclipsed only by his way with a Yanagi.
The point of all this, you'll now find him manning the decks at this relatively new Kaysville sushi and ramen spot.
242 N 300 W, Kaysville, UT 84037
(801) 513-5596
facebook.com/pages/category/Sushi-Restaurant/Nikko-Sushi-Ramen-697030457307434/

Saola
One of the foodie-press' predicted trends for 2019 was the introduction of Ghost restaurants. No, not Patrick Swayze inspired, but businesses with no presence, nowhere guests can directly dine at. No bricks. No mortar. No wheels. No truck. No nothing.
I didn't think we'd see the concept quite so fast here in Utah, living as languidly behind the curve as we we do – but here we are. Saola currently has no physical presence as such, and operates simply as a delivery business.
The restaurant does have plans to open a physical location in time, but who knows, we might one day be looking at these guys as the first Ghostly spot in Utah.
Santo Tacos
Head, tongue, guts. That's all I needed to read to know this new taco shop wasn't messing about. Some grand looking food pictures across social media combined with blushingly cheap prices are only further evidence that something interesting is going on here. Report back please.
910 N 900 W #B, Salt Lake City, UT 84116
(801) 493-4000
facebook.com/santotacoslc/

SLC Eatery
Expect to hear a lot about this ambitious new restaurant. I'll caveat all of the following by saying that I was practically the first guest of their soft opening. With our table eagerly outnumbered by staff 10:1, it'd be somewhat risible if the experience wasn't fabulous. It was.
So what's the big deal about this place? First up, behind the line you'll find co-chefs Paul Chamberlain and Logen Crew; the duo have been oft times line partners for more than a decade, notably Crew scooping a bevy of awards while cooking up a storm at the much missed Fresco.
Emily Merchant (GM) and Elyse Evans (cocktail program) complete a quartet that are intent on providing Utah with a unique culinary experience. After all, they have a cart(!)
Much like a traditional dim sum experience, you'll find a trolley wending its way through the restaurant space during service. All you need to do is flag down the driver and grab a plate or two. Chamberlain writes:
"The cart is an idea we wanted to do after Logen had went to state bird in San Francisco. We thought it was a such a great idea to bring a cart around during service just in case you are feeling like you cant wait for your order. And also to excite people with these smaller cheaper bites but not get full so they can still feel like they can order entrees. Its a riff on Spanish tapas and dim sum style service."
Dishes greedily snaffled from the passing trolley are totted up table side on a piece of paper just like the traditional dim sum experience. The selection of small plates we sampled during the opening spanned a briny-fresh oyster, teeny tiny dressed Tokyo turnips, an earthy veggie soup and a fun little prawn dumpling creation amidst a bacony broth.
Asian influence punctuates the menu throughout. Lamb shoulder on coriander noodles with fermented black beans is a salty-sucker punch of umami to the jaw, while miso brown butter pound cake – lightened with sake poached pear cake – is all molasses and restrained sweetness.
Inspiration comes from other corners of the globe. Indian vadouvan here, mole and cotija there. Closer to home, Southern roots shine strongly too with dishes such as smoked beef served with a side grits and duo of chicken coming with a deep fried piece of thigh aloft collard green flecked sorghum.
The restaurant will have you swooning like a Southern belle, and declaring all sorts of things. I know I was. If they play their cards right, they'll be topping all the best of lists in no time at all.
Expect the menu to be a constantly evolving canvas for Crew and Chamberlain's creativity, the latter teasing me with, "we will be using items like the anti griddle and centrifuge to help elevate and play with new ideas in the bar and kitchen.". Stay tuned.

TRUreligion Pancake And Steakhouse
If the furniture above looks familiar, there's a pretty good reason – you're looking at Lamb's Grill translated to Orem, lock stock and barrel; well tables, booths and bar to be more precise.
The whole array has been refinished and dropped into an art deco esque setting that serves (I'm told) a mean cup of coffee alongside an all day breakfast menu.
360 S State St Suite, Orem, UT 84058
(801) 705-4425
trureligionpancakeandsteakhouse.com

Tasty 888
Laytonians have a new choice for pan-Asian cuisine; this new restaurant offers a little bit of everything. Predominantly serving up Japanese cuisine, the restaurant also offers Chinese and Thai dishes too.
270 N Main St, Layton, UT 84041
(385) 262-2924
tasty888.com

Turmeric
Open for roughly a week at this point is this brand new Indian restaurant out in Draper. Thankfully, the menu takes a few unexpected turns beyond the expected tandoori and tikka – check out the variety of "65" style dishes plus the small selection of Indian street food.

280 E 12300 S, Draper UT 84020
(801) 999- 4133
turmericutah.com

Coming Soon
Hruskas Kolace
American Fork will see a new location soon. Existing branches of the business already includes Provo and SLC.

Oquirrh SLC
Drew Fuller et al's concept seems to be dotting the proverbials, fingers crossed for an opening soon. I've seen job ads placed, Traeger grills smoking away and a liquor license granted just days ago.
Keep the conversation going
Want to stay on top of the SLC food scene, minute by minute, dish by dish? Here are a few other places you should follow along:
Hi, I'm Stuart, nice to meet you!  I'm the founder, writer and wrangler at Gastronomic SLC; I'm also a former restaurant critic of more than five years, working for the Salt Lake Tribune.  I've worked extensively with multiple local publications from Visit Salt Lake to Salt Lake Magazine, not least helped to consult on national TV shows.
I'm a multiple-award winning journalist and have covered the Utah dining scene for the better part of fifteen years.   I'm largely fueled by a critical obsession with rice, alliteration and the use of big words I don't understand.   What they're saying about me: "Not inaccurate", "I thought he was older", "I don't share his feelings".  Want to know more? This is why I am the way I am.
This article may contain content provided by one of our paid partners. These are some of the best businesses in Utah. For a list of all our current and past relationships see our
partnership history page
.