With Christmas just around the corner you'll no doubt soon be gazing across a small departments store's worth of unwanted presents from loved ones. After all you really needed some more stuff to cram in that one kitchen draw you never open, right?
Here's a holiday tip for you. After all the awkward smiles, thank yous, and you really shouldn't haves pass, get that junk onto Ebay stat. Hopefully you'll be able to get what you actually want. Cold. Hard. Cash. And once you have that, let me tempt you with what you really want this Christmas, a bevy of new restaurants, bars, bakeries and coffee shops to splurge at:
Bar George / George
With the legislature's dissolution of the dining club license, Finca owner Scott Evans had quite the conundrum of how to utilize the sprawling space of his downtown business. The solution? Why have one restaurant, when two are better; hence the formation of George and Bar George. The former is the restaurant side of the space, the latter a wine bar, with both nodding in name to Evans' father, who made the first foodie marks on a young Evans.
The menu reads largely the same at both spots and is adamantly opposed to being nailed down in any shape or form. There are fan favorites from Finca with gobs of sherry and cream; there are French classics like beef bourguignon, called beef Burgundy here, because goddamnit pronunciation is hard; there are Italian pastas that chef Phelix Gardner has always excelled at where he's laid his chef hat; and there are newfangled fads like poutine and deep fried cheeseburger 'egg rolls'.
Over on the Bar George side of things, 21+ only and separated by a chic glass and wood partition, Evans gets to geek out on his obvious love affair, wine. The selection is as exotic as it is esoteric but is held together by a roughly sewn hem of natural wines. You don't really need to know what that really means, suffices to say the important point is that it tastes as it's priced, which is to say: excellent.
327 W 200 S, Salt Lake City, UT 84101
(801) 487-0699
georgeslc.com
Bambu
When Courtright Auto departed the monolith of poured concrete on 33rd and 5th, the last thing I expected to popup in their place was a Vietnamese drink spot, but here we are, possibly the most unlikely switch over of 2018.
Bambu promises chèlicious-ness aplenty: chè is a Vietnamese word for home-made beverages, dessert drinks and puddings by the way. On this national chain's list of drinks you'll find an exotic range of teas, bobas, smoothies and juices. Who's up for an oolong sea salt tea with
sea salt foam and egg pudding with me?
3310 South 500 East, South Salt Lake, Utah 84106
(385) 229-4261
drinkbambu.com
Bawarchi
Meanwhile over in South Jordan this new Indian restaurant replaces an outpost of Dickey's BBQ pit. The menu has plenty of familiar faces such as samosa and curry, but pushes the boat out when it comes to rice dishes. Bawarchi offers more than 20 different types of biryani all told.
689 West South Jordan Pkwy, South Jordan, UT – 84095
(801) 445-1565
bawarchislc.com
Brownies! Brownies! Brownies!
Now this is a restaurant naming concept I can get behind. No more of that coy sophisticated nonsense, tell it like it is. I for one can't wait for the opening of Meat! Meat! Meat! In the interim you'll find me here at this new Sugar House dessert shop.
Just in case it wasn't abundantly clear, the order of the day here is brownies. Sorry, Brownies! Brownies with a range of gourmet toppings that merely reading about will send you into a sugar coma.
1751 1100 E, Salt Lake City, UT 84105
(385) 522-2825
browniesx3.com

Chedda Burger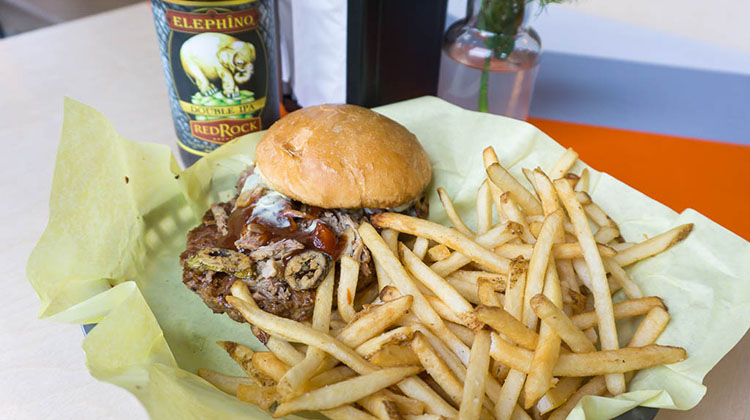 Nick Watts' burger emporium continues to grow at a gleeful pace, recently adding Lehi to their roster of downtown and Foothill locations. If memory serves there's also a West Valley City outing in the offing too.
The menu at all locations retain Watts' gonzo original food truck vision. There are burgers resplendent in piles of pulled pork and fried jalapeños; there are toppings such as chicharrones crusted guacamole; and there's an insistence on never using the letter R when writing the word chedda. Cos that's hip man. At least I think so, my rapidly receding hairline and the use of the word hip in itself probably prevents me from being any arbiter of cool.
1899 W Traverse Pkwy Lehi, Utah
(385) 352-7487
cheddaburger.co
The Day Room
One of SLC's most low key and long lived independent restaurants – Em's – has semi-expanded sideways into the space left open by the departing Alchemy Coffee next door. The Day Room is the latest work from owner/chef Emily Gassman. The menu is simple cafe fare: sandwiches, light bites and brunch items. There's a full bar too.
271 Center St W, Salt Lake City, UT 84103
websitedayroomandems.com

Delice
Another new cafe and one garnering great reviews to boot. This former Mi Ranchito location is now home to Delice, mainly serving up breakfast and lunch – with dinner too on Friday and Saturday. The menu is predominantly French leaning with panini and pastries set to tempt you off that diet. Hey it's Christmas, we can worry about the calories in January right? Right?!? Asking for a friend?
2747 State St, Salt Lake City, UT 84115
(801) 953-1910
facebook.com/delicebakeryslc
Gourmandise Draper
And why not one more new cafe for good measure? This time over in the South of the valley, where Gourmandise has brought its tremendously successful downtown recipe to Draper. The winning formula doesn't seem to have been messed with much at all. There's an array of pastries, breads and sweets plus a full cafe menu offering breakfast, lunch and dinner. Expect crowds.

725 E 12300 S, Draper, UT 84020
(801) 571-1500
gourmandisethebakery.com/draper/
Kathmandu
First there came Himalayan Kitchen and not was a simple time. Then the entropical pandoras box was opened. Some of the Himalayan crew struck out on their own to start Gura's in Herriman while some other guys opened Kathmandu on Highland Drive. That in turn begat (!) Kathmandu 2 on the edge of the downtown area. Then some weird stuff happened and they separated ways, but still went on to operate loosely under the Kathmandu name. Then, some of the guys left and opened Gurkhas on 3300S, but then some of the old guys from the original Highland Drive opened this new place on 2100 S. Confused? Just go eat some great Nepalese/Indian food and don't stress it too much.
250 2100 S, Salt Lake City, UT 84115
(801) 935-4258
2100.thekathmandu.net
King's Peak Coffee Roasters
This new coffee roaster and cafe in downtown SLC reached out directly to me. Here's the full scoop per their words:
Kings Peak Coffee Roasters is a new local roastery and coffee shop just outside of downtown Salt Lake. Located in the beautiful historic Bogue Foundry Arts Building, which is home to FFKR architects and Salt Grass Printmakers; as well as several artists' studios and an upcoming co-working art space. The space itself is ultimately a reflection of craft, artistry and community, which is central to Kings Peak's undertaking as well.
Started by a couple of passionate outdoor lovers, Kings Peak's namesake comes from Utah's highest peak and was ultimately a way to pay homage to Utah; its scenery and its awesome local community. Kings Peak's coffees are consciously, and sustainability sourced, with several offerings from direct trade farm partnerships in Guatemala and Costa Rica. The business prides itself on offering unique one of a kind single origin coffees and paying premium prices for green coffee beans to ensure that everyone in the supply chain is fairly compensated and that specialty coffee farms can continue to grow and thrive.
The shop itself was a true labor of love and was designed to complement the steel foundry aesthetic and history of the building. Warm lights, handmade wood furnishings and exposed brick make it a perfect place to cozy up and relax or hunker down and get work done on the free Wifi. The menu includes many local Utah items and offers something for just about everyone; with vegan, paleo, gluten free and even several keto food and drink options.
Drink wise, there's everything from the classic latte, cappuccino variety, to golden milk turmeric lattes, fresh leaf Turkish pot chais, and seasonal selections made with house syrups; such as cardamom brown sugar, sweet potato and even pecan pie. For the straight and narrow black coffee lovers there's plenty of options as well, with classic drip, americanos, pour overs and even AeroPress extraction. And with all the coffee being roasted and packaged right behind the shop, there's always a little extra of that pleasant coffee aroma.

412 S 7th W Suite 140, Salt Lake City, UT 84104
(385) 267-1890
facebook.com/kingspeakcoffeeroasters/
Our Kitchen Cafe
Amidst the concepts, lengthy menu explanations and some folks' hand wringing obsession with trying to make SLC cooler, hipper, stronger and faster – every so often I'll stumble mouth first into a plate of corned beef hash and a restaurant like Our Kitchen Cafe.
This is a restaurant that wants to be described with adjectives like hearty, sturdy and honest; a quick glance of the menu doesn't turn up a single occurrence of deep fried cauliflower or shishito pepper. If eggs, bacon, coffee and pancakes aren't your thing, well, ask Santa to bring you some common sense this year.
85 N Redwood Rd, North Salt Lake, UT 84054
(801) 292-1174
ourkitchencafe.com
One 0 Eight
Beyond two Yelp reviews and this single Trib preview I dare you to find anything meaningful about this new restaurant from James Dumas, formerly the top chops over at Park City's High West. With Constellation Brands' purchase of the whiskey upstarts, Dumas wanted to go solo and focus on the food.
The restaurant has seemingly gone to some ninja-like lengths to open up in ultra stealth mode. There's no website, no Open Table listing or similar, no social media profiles; there's not even a phone number to call and reserve directly, by all accounts you can't even anyway, so don't try.
What there are though, are apparently legions of neighborhood diners clamoring to snag a seat in the space Dumas has brought back to life since the departure of Eric DeBonis' Sea Salt restaurant. Let me know if you give them a whirl.
1709 E 1300th S, Salt Lake City, UT 84108
Peery Hotel updates
It's not entirely clear to me when everything happened, but it's all change, yet again for dining options at the Peery Hotel. The most recent concept to flounder and be shuttered was Carnegie's Public House. It's probably fair to say that Carnegie's didn't turn many heads, but it was still a gaping chasm of improvement over other recent past efforts.
Anyway, now ensconced back in it's place, a veritable phoenix from the grill – Christopher's; which itself has flirted around town for many a year, and now ends up back in the same spot where it all started way back when. This all comes under the slightly new name of Christopher's Prime Tavern And Grill. At least I'm assuming this is the same Christopher's from way back when.

Also on the Westerly side of the property at ground level, Sonoma Grill replaces the space left empty by Romano's Macaroni Grill. Sonoma seems to directly compete with its adjacent neighbor offering a "grill and wine bar" concept just steps away. Both are owned by the same group that also operates the Fat Jack's burger restaurant.
Note: Here's a 42% off Groupon deal for Christopher's should you go check them out.
110 Broadway, Salt Lake City, UT 84101
(801) 521-4300
christophersut.com
sonomagrillut.com
R&R BBQ
Provo is the latest location for this Four Food Groups franchise to plant a rib shaped flag in. North Salt Lake should also be coming online soon too. As the expansion continues apace, I'd like to suggest a new moniker to help them fuel their growth: Meat! Meat! Meat!
4801 N University Ave, Provo, UT
(801) 281-5508
randrbbq.com
RIME Raw Bar
Is it just me, or is that the most unpalatable new restaurant name I've heard in a while? gRIMEy sounding names aside (seriously, is it me?) this new seafood spot sits atop Deer Valley Resort proudly sporting the slightly cringeworthy slogan of 'where powder meets chowder'. The ski friendly operation is the latest from the crew of Tupelo back down in Park City.
Deer Valley Resort (top of Jordanelle Gondola)
rimerawbar.com
Sicilia Mia
After shuttering their Sugar House spot in the merry go round locale that is the Epic Brewing spot (it's going to be real deal bar next) Downtown and Farmington are pretty much opening as I write. If you have spare cash laying around, I'd invest in stock from companies provide big wheels of cheese; Sicilia Mia's piece de cheesestance is finishing of a portion of eggy carbonara in a flaming wheel of cheese. People cannot apparently get enough of the table side theatrics by all accounts; bring back the dessert cart I say, I want pyrotechnics, more bananas foster and crepe Suzette please!
Stratford Proper
The latest opening from the ever growing Proper brand of business is today (Monday December 10th). This one replaces Per Noi, just a little East of Sugar House and looks set to bring with it all the things Proper do exceptionally well: beer, burgers, brunch and more. Here's the full release:
Stratford Proper is the latest venture by Andrew Tendick and brothers Liam and Rio Connelly, who opened Avenues Proper Restaurant and Publick House in 2013, and most recently Proper Brewing Co and Proper Burger Co in 2016.
Under the leadership of Executive Chef Jeffrey Springer, Stratford Proper is a from-scratch kitchen offering a variety of local ingredient-driven dishes, including several artisanal pizzas and handmade pastas. The breakfast and lunch menus offer lighter fare and showcases our new pastry program helmed by Shelby McDonald. Brunch is offered Saturday and Sunday mornings.
This 60 seat restaurant is located south of Sugar House Park and I-80 in the residential neighborhood of Highland Park, known for its walkability and peaceful tree-lined streets within a short drive of downtown. The newly renovated restaurant space has a clean, cheerful French bistro-inspired aesthetic in two adjacent dining room wings that can easily be sectioned off to accommodate private parties of up to 30.
True to our roots in craft brewing, Stratford Proper offers a selection of draft bottled and Proper Brewing Co beers, as well as wine and cocktails. Operating under a Restaurant license, patrons are obligated to order food in order to enjoy our libations, but this also allows for a family-friendly venue. Our drink menus also boast a wide selection of hot and cold nonalcoholic beverages, including craft mocktails and coffee and espresso from local roaster La Barba.
The grand opening is today, Monday, December 10th. Walk-ins are welcome, as well as reservations made over the phone at 801-953-1262 or via OpenTable.com.
1588 E Stratford Avenue, Salt Lake City, Utah 84106
(801) 953-1262
facebook.com/StratfordProper/
Coming Soon
We're keeping an eye on the following businesses that are still in the planning/construction phases. Hopefully by the next article they'll be good to go!
Angry Korean BBQ
My first question is how angry is the Angry Korean? Soup nazi levels of angry? My guess is the fury is more an allusion to spice than spite. At any rate, this former food truck operation that merrily serves up everything from japchae noodles through Korean mandoo dumplings is about to open a static establishment in South Jordan. From their Facebook page the business appears to be in the final phase of readying:
Hey everyone, we are getting very close to opening our brick and mortar location here in South Jordan! We are looking for enthusiastic individuals to join our front of the house team. Please PM if you are interested in becoming a part of what will soon be the best Korean fusion restaurant in Utah.
Barrio
Since their liquor license approval way back in June, there's nothing much more to report on this possible new business. We'll keep watching and crossing our fingers though.
282 East 900 South, Salt Lake City, UT 84111
barrioslc.com
Hearth And Hill
I'll leave the details of this one to the press release I recently received on their planned December opening:
Hearth and Hill will open soon, offering a refreshing new dining experience to Park City's residents and visitors. The 192-seat restaurant, located next to Best Buy in Kimball Junction, features an innovative menu in a newly constructed, upscale-casual environment. Opening is targeted for the week of December 17.
Proprietor Brooks Kirchheimer, former Manager of Daly's Pub at Montage Deer Valley and Sundance Resort's Zoom restaurant, has assembled an extraordinary team of local culinary talent, including General Manager Mia Yue (Firewood, High West), Executive Chef Jordan Harvey (Zoom, Sundance Resort), Assistant General Manager Kendall Kelley (High West), and Chef de Cuisine Adam Walker (Handle, Yuki Yama).
"My dream of opening a restaurant in a community I love is finally coming to fruition with Hearth and Hill," said Brooks. "I couldn't ask for a better team of restaurant professionals to create this unique space and menu for Park City's discerning foodie crowd. Together, we look forward to providing a gathering spot that is fun and memorable for one and all."
The menu highlights both local specialties and flavors from around the globe among its variety of savory dishes created by Chef Jordan. Shareables include Daily Gyoza, Hamachi Crudo, Spinach Artichoke Flatbread and Chicken Wings. Inventive salads such as Chilled Soba Noodle and Avocado are complemented by hearty Ramen and a seasonal soup of the day. Sandwiches and generous large plates include Beef and Veggie Burgers, Korean Fried Chicken, Utah Trout and bacon-glazed mushroom Filet. Truffle Mac and Cheese and Cheddar Biscuits are among the delicious side dishes. Delectable in-house desserts round out the experience, while a children's menu ensures guests of all ages leave happy.

The restaurant's full bar, equipped with big-screen TVs, serves draft beers and a signature make-your-own Old Fashioned complete with seasonal liqueurs and house-made ingredients. A spacious patio and 36-seat private dining room, each with a fireplace, are among the many seating options. Hearth and Hill, which offers live music and convenient free parking, will be open daily year-around for lunch and dinner, take-out included.
1153 Center Dr, Park City, UT 84098
hearth-hill.com
Narra Asian Bistro
Not much to report on here except to say Cottonwood Heights should be welcoming a new Asian restaurant sooner than later. Narra recently received a liquor license and replaces the defunct Thai Basil.
6550 S Big Cottonwood Canyon Rd, Holladay, Utah 84121
(801) 410-8200
narrabistro.com
Oquirrh
Little further to report on this new business from chef Drew Fuller, formerly of Pago, HSL and others. Will keep you posted as we learn more. 2019 is shaping up to be even more fun than 2018.
368 E 100 SSalt Lake City, UT 84111
instagram.com/oquirrhslc/
Santo Tacos
A reader of the site tipped me off to this awesomely-authentic looking restaurant coming together on the West side of town. You can keep tabs on them via their Instagram page for now and drool over items like the lush looking cochinita pibil and more. Whenever I see a regional specialty like that, I feet a very special tingle . One to watch.
910 N 900 W, Salt Lake City, UT 84116
(801) 893-4000
santotacos.com
SLC Eatery
Still a ways to go for this new restaurant from Logen Crew and co. Here's some snaps from the current renovation work to give you an idea. No formal word on an opening date yet.
1017 Main St, Salt Lake City, UT 84111
facebook.com/slceatery/
Food talk
Want to discuss this post or the SLC food scene in general? Check out our Facebook group and come talk with 100s of other SLC foodies.
Restaurant deals and coupons
Looking to stretch the budget a little further? Here are a few of the more popular/better offers on local discount sites right now:
Hi, I'm Stuart, nice to meet you!  I'm the founder, writer and wrangler at Gastronomic SLC; I'm also a former restaurant critic of more than five years, working for the Salt Lake Tribune.  I've worked extensively with multiple local publications from Visit Salt Lake to Salt Lake Magazine, not least helped to consult on national TV shows.
I'm a multiple-award winning journalist and have covered the Utah dining scene for the better part of fifteen years.   I'm largely fueled by a critical obsession with rice, alliteration and the use of big words I don't understand.   What they're saying about me: "Not inaccurate", "I thought he was older", "I don't share his feelings".  Want to know more? This is why I am the way I am.
This article may contain content provided by one of our paid partners. These are some of the best businesses in Utah. For a list of all our current and past relationships see our
partnership history page
.