What vegetable do you hate the most? That was a question posed to me this week at the Downtown Alliance's Chef Showdown. Frankly it has me just as flummoxed now as it did then, I'm a lover greedy pig not a hater.
If you didn't attend the event, definitely keep an eye out for the next, it was a blast. Stanza's Jonathan LeBlanc squared off against The Copper Onion's Amanda McGraw in an iron chef-esque battle of the farmer's market baskets. McGraw was given turnips as her mystery ingredient and LeBlanc eggplant. As one of the three judges I tried to a capture a little of the magic over on Instagram. But back to that poser then, what vegetable is likely to cause me ansgt or agony?
Turnips are as likely a candidate as any I suppose, but as McGraw ably demonstrated this Wednesday, bewitching results are possible in suitably sorcerous hands: poached turnip in place of tofu in a miso dashi broth with turnip greens? Earthy Tokyo turnips in nori, ginger and garlic butter with sautéed greens aside sweet duck breast? Or what about thyme and rosemary steeped turnip ice cream with turnips and apples in simple syrup with olive oil cake? Devilry for sure, but proof positive that distaste and delectable are merely separated by nous.
What else? Brussel sprouts typically top most lists of dread. I can't say I agree though, nor do the legion of chefs that have embraced these micro-cabbages over the past decade; producing dishes chopped and shaved, enriched with cream and sherry, brought to life with bacon and almond. Anything is possible with salt, fat and liquor. That's my motto anyway.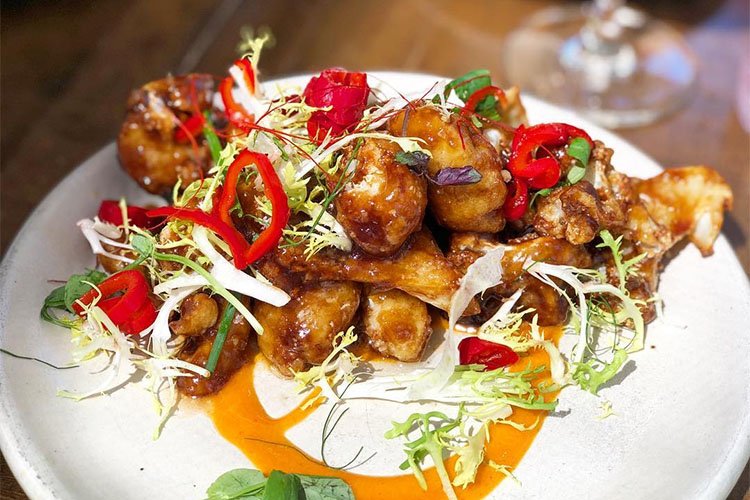 The same renaissance is currently afoot with cauliflower, another much derided member of the cruciferous family. Probably the most popular way to temper cauli's funk is to deep fry it. Deep frying cures all ails as any Scotsman will tell you. HSL's Briar Handly has probably single handedly converted more folks to team brassica than anyone else with his battered and golden fried General Tso's cauliflower creation.
What else? Carrots? Roast em. Beets? Roast em. Sweet potatoes? Roast em. Myopic maybe, but as the temperatures drops, some of the most fun you'll have in the kitchen this Fall can be had by turning that dial up to 450F and extracting every last ounce of natural sugar.
The best I could come up with personally was the angular artichoke, all pointy bits and mocking challenge. It's not that I dislike the taste of artichoke per se, it's more than fact I'm an exceptionally lazy human being. You actually want me to get to work before I eat, pruning layer after layer? My hands haven't seen an honest day of work in their 40 or so years, I'd rather toss an artichoke through the window than peel it. In fairness I have much the same bemusement with crab legs, a delightful delicacy to most, a miserable chore for me. Just give me a damn hot dog, 30 seconds and a microwave. Again, let me underscore my abject apathy when it comes to industry.
So what about you, what crop makes you wilt and weep? Let me know in the comments below and I'll present the most difficult picks to chefs across town; maybe we'll all learn some new tricks and delicious dishes for our fall cooking.
Hi, I'm Stuart, nice to meet you!  I'm the founder, writer and wrangler at Gastronomic SLC.  I'm a multiple-award winning journalist and have written in myopic detail about the Salt Lake City  dining scene for the better part of seventeen years.
I've worked extensively with multiple local publications from Visit Salt Lake to Salt Lake Magazine, not least helped to consult on national TV.   Pause those credits, yep, that's me! I'm also a former restaurant critic of more than five years, working for the Salt Lake Tribune.    I'm largely fueled by a critical obsession with rice, alliteration and the use of big words I don't understand.   What they're saying about me: "Not inaccurate", "I thought he was older", "I don't share his feelings".
Want to know more? This is why I am the way I am.
This article may contain content provided by one of our paid partners. These are some of the best businesses in Utah. For a list of all our current and past relationships see our
partnership history page
.