Spencer's For Steaks And Chops
If you're looking for something a little different this weekend, check out this fun event this Friday evening (August 17th). Grill and chill will be held on the Trofi patio, Spencer's in downtown SLC will be offering an all you can eat menu for just $30. The AYCE affair runs from 8 p.m. – 11 p.m. with the following menu:
* Wagyu beef sliders with tobacco onions, smoked peppercorn ketchup
* Brisket station with silver dollar rolls
* Fried pickles with green goddess dressing
* Key lime pie bites
Wine, beer and two signature cocktails will be offered at a cash bar too. Whether you use the event to kick off your Friday night, or just kick back on the patio all night long in a slider coma – the weather is looking perfect for this weekend.
1910, 255 S W Temple, Salt Lake City, UT 84101
(801) 238-4748
www3.hilton.com/en/hotels/utah/hilton-salt-lake-city-center-SLCCCHH/dining/spencers.html
SLC Food And Wine Festival
Coming back for its second year – and all the much more improved – the Salt Lake Area Restaurant Association's (SLARA) Food And Wine Festival. Sixteen diverse events will be held over six days by some of the best in town. From educational and tasting classes through to full blown dinners, beer to wine to whiskey – there'll be something for everyone.
SLARA itself will also host a centerpiece Meet Your Maker event on September 15th as well; held on downtown's reinvigorated Regent Street, 12 well-known local chefs will prepare heritage proteins and vegetables before your very eyes. Drinks will also be poured from over 20 local distillers, wine reps and breweries.
Tickets will be on sale shortly, but so you can get a head start on the crowds – here's a sneak preview of some of the events you can expect. Start making plans now:
Conversations with Senator Steven Urquart at Martine
An exquisite five-course dinner of international flavors with a wine pairing from around the world. In Martine's historic brownstone's private dining room, James Beard-Nominated Chef Ed Heath will create an intimate dinner you will never forget. Join host Steve Urquhart, former Utah Senator, where you can ask him anything including why he is still a Republican. This event is capped at 14 guests.
September 11
Japanese Whiskey Tasting at Post Office Place
An exclusive tasting of Japanese Rice Whiskies paired with Takashi & Post Office Place dishes.
September 12 @ 4:30 PM | $120
Beer Tasting & Education Class at Purgatory
Enjoy a premium tasting experience, featuring locally-crafted beer and directed by our beer guru. Not only will you delve into a wide range of flavors, but you will also partake in the exploration of the bistro behind the process and application of what makes a good beer come to life. Come enjoy this class with tapas provided by Purgatory Bar.
September 12 @ 6.00 p.m. | $35
Vino with a View at Cliff Dining Pub
Join Cliff Dining Pub in Draper for an exclusive wine event. Jimmy Santangelo, owner of Wine Academy of Utah, will be hosting a wine pairing and tasting with a specially crafted menu created by Head Chefs Rene Negron and Magdiel Zamorano. This event includes access to a welcome reception, with a three-course dinner and dessert pairing. Celebrate your farewell to summer with great wines and one of our epic Cliff sunsets!
September 12
Harvest Dinner Featuring Duckhorn Winery at Provisions
Join Tyler Stokes, owner/chef, for a gorgeous 5-course dinner and wine pairing, featuring Duckhorn Winery. Celebrate the greatest food Utah has to offer, prepared by Salt Lake's premier chef and delight in one of the finest wineries in America.
September 12 @ 6.00 p.m. | $120
Cocktail Takeover with Beehive Distillery at The Tin Angel Café
This is a delectable four-course pairing, using only seasonal ingredients from Wasatch Community Gardens. Pairings will feature Beehive Distillery craft cocktails.
September 13 @ 6.00 p.m. | $80
Tiki Takeover with the Real McCoy at Water Witch
Join Scott Gardner, Matt Pfohl and the team at Water Witch as they regale you with the wonderful world of rum! Enjoy tiki cocktails, delicious rum and snacks in an exotic flavor journey into the Caribbean all wrapped up in an educational experience featuring Mac Jones, one of the owners of the Real McCoy!
September 13 @ 6.00 p.m. | $40
Natural Wine Dinner at Pago
Wine Enthusiast Magazine's top 100 Wine Restaurants in the country for 2018! Learn WTF are natural wines, why you need to be drinking them and where you can buy them. Hosted by Pago founder/owner/sommelier Scott Evans and local wine broker extraordinaire, Brett Ludemann of Flora/Fauna. Five courses + six natural wines = good times.
September 14 @ 6.00 p.m. | $85
Paranormal Night at Dented Brick Distillery
Learn about the haunted past of the Dented Brick Distillery. Originally the location of a shootout at a little brick house in South Salt Lake, this distillery has spirits still lingering on the premises! Have a guided tour, taste the spirits of all spirits ($5 additional charge when you get here. It's a Utah thing…) and enjoy small bites from our partner, SOMI Vietnamese Bistro. Tarot card reading available on site.
September 14 @ 7.00 p.m. | $25
Cooking Class/Brunch & Bubbles at Park City Culinary Institute
You love to order them but why not learn how to make your favorite brunch classics from scratch? In this hands-on class, you will learn the secret ingredient for the most popular dishes, how to poach eggs and even Crepes Suzette.
September 15 @ 11.00 a.m. | $45
Meet Your Maker at Regent Street
Join the Salt Lake Area Restaurant Association in our premier kickoff for what is surely to be the most talked about foodie event in Salt Lake City. With 12 well-known local chefs preparing heritage proteins and vegetables before your very eyes, and over 20 local distillers, wine representatives and breweries, you will be immersed in a whole new world of Utah. Join us on Regent Street for the celebration of the year!
September 15 @ 5.00 p.m. | $100-$135
Tea & Cheese Tasting at Tea Zaanti
Join owners Becky & Scott as they share their exploration into incorporating tea into all culinary pursuits. At this event, join them in a tea and cheese pairing experience that is unique and exciting. Five teas, six distinctive cheese.
September 15 @ 5.00 p.m. | $20
Brewery Brunch with Brewery Tour at Proper Brewing Co.
Have you ever paired beer with brunch? If not, you must join us for this adventure of beer samples, a beer cocktail, a brewery tour and a souvenir stein to take home.
September 16 @ 12.00 p.m. | $40
Garden Harvest Dinner at Table X
Featuring 5-courses using only produce from the Table X culinary gardens and Small Vineyard Spanish, Italian and Portuguese wines paired by Brad Jensen…Importer extraordinaire.
September 16 @ 5.00 p.m. | $110
Olive Oil Education Class at We Olive
Learn about the essence of olive oils from California, with small bites paired with domestic small-production natural wines featured by Flora/Fauna.
September 16 @ 5.00 p.m. | $49
Garden Harvest Dinner at Table X
Featuring 5-courses using only produce from the Table X culinary gardens and Small Vineyard Spanish, Italian and Portuguese wines paired by Brad Jensen…Importer extraordinaire.
September 16 @ 7.00 p.m. | $110
Tap-Takeover with Shades of Pale at Bucket O' Crawfish
Bucket O' Crawfish will be partnering with Shades of Pale Brewery to host a Tap-Takeover. The selected beers for the day will pair nicely with fresh seafood: crab, shrimp, clams, mussels and, of course, crawfish.
September 16 @ all day
Be sure to bookmark saltlakefoodandwinefest.com and follow SLARA on Facebook for more upto the minute info.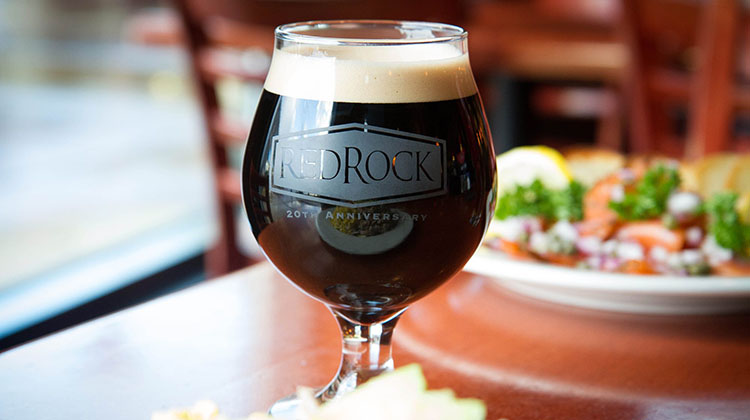 Red Rock Beer Dinner
Head to Park City's acclaimed Tupelo on August 30th for a great beer pairing dinner. Running 6.30 – 9:30 p.m. cost is just $65 for a five course dinner perfectly paired with the beers of Red Rock Brewery. Menu is as follows:
Welcome bites
* Rockhill Creamery gruyere fritter, toasted coriander, olive chile puree & hop smoked utah trout, okra, sunflower, tupelo farm's scarlet radish
* Fröhlich Pils
1st
* Compressed watermelon, roasted beets, local burrata, fennel pollen vinaigrette, rye crouton, pecans
* Golden Halo Blonde Ale
2nd
* Chile braised beef shoulder, summer corn, fried squash, black bean mole
* Bobcat Nutbrown Ale
3rd
* Malt & mustard seed rubbed pork tenderloin, braised collard greens, local peaches
* Elephino Double IPA
4th
* Spice crusted bass, heirloom carrot puree, b&b pickles, lemon hop brown butter
* 20th Anniversary Imperial Red Ale
5th
* Brûléed figs, goat's milk ricotta, mock honeycomb, banana cotton candy, marvella gastrique
* Marvella Belgian Tripel
508 Main St, Park City, UT 84060
(435) 615-7700
tupeloparkcity.com
Feast Of Five Senses
Phew – if you're still ready for more after that – mark October 21st in your diary. That's the data for this years Feast Of The Five Senses, the yearly fundraising spectacular for Slow Food Utah. This year the event will be moving locations to somewhere quite intriguing – you won't want to miss it for sure. More details to follow…
Hi, I'm Stuart, nice to meet you!  I'm the founder, writer and wrangler at Gastronomic SLC.  I'm a multiple-award winning journalist and have written in myopic detail about the Salt Lake City  dining scene for the better part of seventeen years.
I've worked extensively with multiple local publications from Visit Salt Lake to Salt Lake Magazine, not least helped to consult on national TV.   Pause those credits, yep, that's me! I'm also a former restaurant critic of more than five years, working for the Salt Lake Tribune.    I'm largely fueled by a critical obsession with rice, alliteration and the use of big words I don't understand.   What they're saying about me: "Not inaccurate", "I thought he was older", "I don't share his feelings".
Want to know more? This is why I am the way I am.
This article may contain content provided by one of our paid partners. These are some of the best businesses in Utah. For a list of all our current and past relationships see our
partnership history page
.