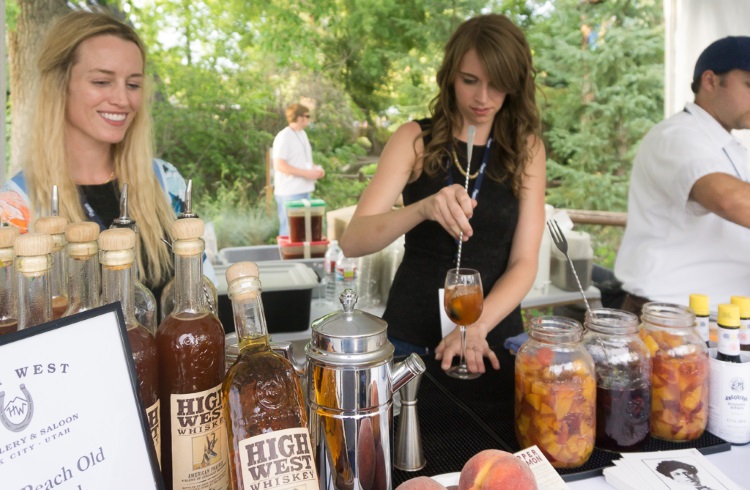 If you missed out on tickets for this years Eat Drink SLC, take note of a few more food and wine focused events following on from the big party itself. As Tracey Thompson of Wine Lore mentioned to me, "we are fortunate enough to have a lot of talent still in SLC after Eat Drink SLC and Vine Lore is sponsoring several wine events beginning July 7th."
IF you weren't lucky enough to secure tickets to the big bash on July 6th, or you don't want the party to stop, check out these follow on events:
Friday July 7th
Finca
Port Wine Seminar
3-5.00 p.m.
$55
Join Judson Carroll of Premium Port Wines as he guides guests through a tasting of
three award winning brands-Dow's, Graham's, Blandy's.
He will give a glimpse of Portugal and the producing families behind the wines being explored who carry on 350+ years of heritage while continuing to advance the quality of the wines produced in this region. Jud will provide background and romance, as to the origins and evolution of the Douro DOC, Port, and Madeira wines. The Port Seminar includes 8 wines with light cheese & charcuterie selection.
Please stay for after the seminar- Jud will be on site all evening and FINCA is offering 5 wine pairings for guests to enjoy all evening.

July 9th
Manoli's
Meet The Maker: Baileyana Winery
Scott Woodward, founding partner of Appellation Wine Co., will be the special guest for the evening to chat table side with guests about Baileyana Winery — the flagship winery from the Niven Family. Featured Wine: Baileyana Rosé of Pinot Noir — Limited production, award-winning rosé.
July 9th
Avenues Proper
Meet The Maker: Heron Wines
5.30-8.30 p.m.
Winemaker Laely Heron will be on site to chat with guests about her wines that will be featured by the glass. Laely launched Heron wines when it was rare to find a female winemaker and winery owner. Over the past 20 + years she has continued to create award winning affordable wines that reflect her spirit- pioneering, adventurous, daring, smart, adaptable. Reservations not required.
Sunday July 9th
East Liberty Tap House
Meet The maker: Winemaker: Mindy Kearney of Lorenza Winery
5.30 – 8.30 p.m.
Winemaker Mindy Kearney will be joining us at East Liberty Tap House to pour her stunning Lorenza Rosé. Her wine will be featured by the glass and Mindy will be available to visit tables to talk about her rosé and her winery. Reservations not required.
Hops On The Hill – Returning for another Summer long run at Stein Eriksen Lodge, this fun event that mixes brews, BBQ, and free live music on Tuesday nights.
Running from from July 11th through August 15th guests can enjoy craft-beer tastings from celebrated breweries and brew masters, along with a savory patio barbecue from executive chef Zane Holmquist from 6–7.30 p.m. Free concert performances will take place from 6-9.00 p.m.
The beer tasting costs $20, and the BBQ experience costs $20 on the Stein Eriksen Lodge deck. Brats, burgers, and hot dogs, as well as beer, wine, and liquor will be available for purchase on the lawn for concert-goers.
The local breweries and live performances scheduled for the 6-week Tuesday summer series are as follows:
July 11
Breweries: Squatters & Red Rock
Band: Mother Lode
July 18
Breweries: Park City & Epic
Band: Red Desert Ramblers
Jul 25
Breweries: Roha & Bonneville
Band: Gary Tada
Aug 1
Breweries: 2Row & Bohemian
Band: Terrence and the Two Headed Monster
Aug 8
Breweries: Proper & Uinta
Band: The Lazlos
Aug 15
Breweries: Wasatch & Melvin
Band: Utah County Swillers
Hi, I'm Stuart, nice to meet you!  I'm the founder, writer and wrangler at Gastronomic SLC and The Utah Review; I'm also a former restaurant critic of more than five years, working for the Salt Lake Tribune.  I've worked extensively with other local publications from Utah Stories through to Salt Lake Magazine and Visit Salt Lake.
I'm a multiple-award winning journalist and have covered the Utah dining scene for more than a decade.   I'm largely fueled by Uinta Cutthroat, alliteration and the use of too many big words I don't understand.  I ate all the pies.
This site is 100% free of intrusive third party ads through the generous headline sponsorship by The Gateway - SLC's premier entertainment destination.
This article may contain content provided by one of our Partners or Sponsors. These are some of the best businesses in Utah. The current businesses we work with include:
Avenues Proper
,
BGR
,
Bourbon House
,
BTG Wine Bar
,
Caffe Molise
,
Cafe Niche
,
Campos Coffee
,
Current Fish & Oyster
,
Kyoto
,
Feldman's Deli
,
Log Haven
,
Oasis Cafe
,
Proper Burger
,
Proper Brewing Co
,
Saffron Valley
,
SLC Eatery
,
Stanza Italian Bistro
,
Taqueria 27
,
Whiskey Street
,
White Horse
.
For a list of all our past relationships and timelines, please see our historical partnerships page.