UPDATE: Sadly, Spice Kitchen have indicated that this event has now been cancelled.
Noor Al Sham – This Wednesday (June 7th @ 7 p.m.) check out the latest pop-up restaurant by Spice Kitchen Incubator; a program of the International Rescue Committee in SLC that functions as a culinary business incubator program for refugees, immigrants, and low-moderate income community members who want to start their own food business.
Wednesday's event held at Eggs in the City showcases Noor al Sham, a business run by a Syrian chef who came to Utah in 2015 from Egypt. As explained to me by the SPI team, "Noor learned to cook in Syria and became a chef when he was just 16 years old. Noor wanted to start his own business to make life better for his family. He specializes in shawarma and barbeque, and also pickles his own vegetables. In addition to his catering business Noor al Sham, Noor has also started a non-profit that helps newly arrived Syrians adjust to life in Salt Lake City. He strives to give his customers a great experience with delicious and beautiful food, a friendly personality, and exceptional hospitality!"
The 5-course Syrian inspired menu for the evening is as follows:
Dish 1
Fattoush salad — green salad with pita croutons and pomegranate dressing
Dish 2
Baba ganoush — roasted eggplant dip served with pita bread and vegetables

Dish 3
Syrian style chicken soup in a saffron broth
Dish 4
Yogurt braised lamb with Syrian-style rice topped with green peas, spiced beef, and sliced almonds
Dessert
Baklava – layers of phyllo dough with walnut and honey filling
Tickets are priced $75 per person and can be purchased online.
Eggs in the City
1675 1300 S, Salt Lake City, UT 84105
(801) 581-0809
Buy tickets here
BTG Wine Bar – Later in the month, SLC's finest wine bar presents a Soter Vineyards wine dinner. On June 20th join winemaker James Cahill and BTG sommelier Louis Koppel as they work their way through a five course meal paired with four Soter wines:
* Soter Vineyards, Brut Rosé
* Planet Oregon, Chardonnay
* North Valley, Pinot Noir
* North Valley, Reserve Pinot Noir
The five course meal is prepared by chef Fred Moesinger and is priced at $30 per person, with wine pairings an additional $35. Contact the restaurant directly for reservations.
63 W 100 S, Salt Lake City, UT 84101
(801) 359-2814
btgwinebar.com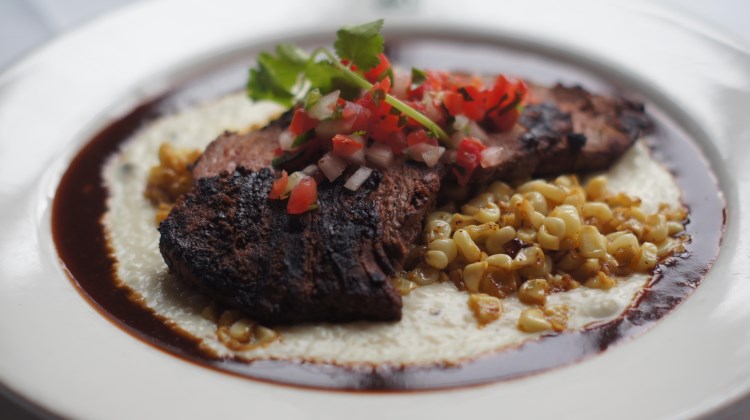 Log Haven – And finally, starting this month, the season long 'Dog Days Of Summer' event is back at this Millcreek respite. Enjoy a hike up Millcreek Canyon with fido and then stop in for dinner at the restaurant afterwards – you'll both be warmly welcomed.
Diners with well behaved canine companions will be seated on Log Haven's outside (5.30 – 7 p.m.) patio where they can order from Log Haven's seasonal menu. A limited-time drink menu will be offered in honor of Dog Days too including the Salty Chihuahua (vodka, grapefruit juice, agave syrup) and the Melon-Collie Mojito (rum, midori, lime juice, mint).
The event runs all Summer long weather permitting, formally ending October 23rd.
451 Millcreek Canyon Rd, Salt Lake City, UT 84109
(801) 272-8255
www.log-haven.com
Hi, I'm Stuart, nice to meet you!  I'm the founder, writer and wrangler at Gastronomic SLC and The Utah Review; I'm also a former restaurant critic of more than five years, working for the Salt Lake Tribune.  I've worked extensively with other local publications from Utah Stories through to Salt Lake Magazine and Visit Salt Lake.
I'm a multiple-award winning journalist and have covered the Utah dining scene for more than a decade.   I'm largely fueled by Uinta Cutthroat, alliteration and the use of too many big words I don't understand.  I ate all the pies.
This site is 100% free of intrusive third party ads through the generous headline sponsorship by The Gateway - SLC's premier entertainment destination.
This article may contain content provided by one of our Partners or Sponsors. These are some of the best businesses in Utah. The current businesses we work with include:
Avenues Proper
,
BGR
,
Bourbon House
,
BTG Wine Bar
,
Caffe Molise
,
Cafe Niche
,
Campos Coffee
,
Current Fish & Oyster
,
Kyoto
,
Feldman's Deli
,
Log Haven
,
Oasis Cafe
,
Proper Burger
,
Proper Brewing Co
,
Saffron Valley
,
SLC Eatery
,
Stanza Italian Bistro
,
Taqueria 27
,
Whiskey Street
,
White Horse
.
For a list of all our past relationships and timelines, please see our historical partnerships page.