Continuing on from their Uncommon Cocktail series, Vida Tequila have something special in mind for your cocktail glasses this holiday season. You'll be able to kick proceedings up a notch this year with a bevvy of cocktails crafted by some of the best.
Using the three guides below you can whip up a specialty cocktail in seconds with Vida Tequila, convincing your guests you're an expert with the jigger. For lively parties bowl your friends and family over with something eye catching like the vanilla ginger snap with Vida Anejo; or just treat yourself on a chilly winter night and curl up with a blanket, sipping a Russian mexicano, the classic white Russian reinvented.
Vida was founded in 2003 by locals John and Lisa Barlow. The tequila is produced in Arandas, Mexico using traditional methods. Only the finest parts of the weber blue agave plants are used before the juice is twice distilled for bottling and aging.
Click on the images below for the full size cheat sheets ready for printing, each with three recipe ideas. Extra idea: for that special someone who's been particularly nice in 2015, print one off and bundle with a bottle in their stocking this Christmas…
The LaSalle and Trio Restaurant Groups – As we mentioned last week, these two local restaurant groups have something special on offer to warm the soul during the frosty holidays. The inaugural Sparking Wine Festival is under way and runs through to the end of January 2016 – perfect to toast in the new year and beyond.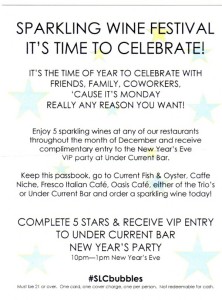 Speaking of New Years, revelers can participate in the Passport Series and celebrate the New Year in style. The first 50 people to hand in passports (see image left) stamped after tasting sparkling wines at just five of the above restaurants will receive exclusive access to a private VIP New Year's Celebration upstairs at Under Current Bar.
If you'd rather get the skinny on these fine tipples in a more educational and intimate setting – James Santangelo and Under Current Bar's general manager Amy Eldredge will also offer the next in their seasonal line of educational events, a Winter Sparkling Wine Forum on Wednesday, December 16, 2015 at 6:30 p.m. at Under Current Bar. The evening will include a lively discussion on bubbles and small bite pairings from executive chef Logen Crew. The cost to attend is just $55 for the event (or $30 without sparkling wine pairings). RSVPs are required and can be made by emailing events@currentfishandoyster.com.
Selected sparklers on offer during the festival include the following, tasting notes courtesy of Under Current Bar:
Oasis Café
Zonin Prosecco
A lively Italian Sparkling wine bursting with white peach and pear flavors.
Caffe Niche
Sumarroca Brut 'Reserva' Cava, Spain 2011T
This vintage Cava tastes more like premium Champagne but without the price tag.
Fresco
Adami 'Garbel 13' Prosecco, Italy
Bursts on the palate with honeydew melon with a green apple like finish.
Café Trio(s)
Michelle Brut Rosé, Columbia Valley, WA
"Dry blush colored sparkling wine bursting with raspberry and strawberry."
Under Current Bar
Sofia 'blanc de blancs' Sparkling Wine, CA
Sparkling wine in a can, with your own straw! Enjoy the holidays all on your own with this delicious juicy fresh pears, melon, and honeysuckle.
Current Fish & Oyster
Willm Cremant d'Alsace blanc de blancs Brut, France
This sparkling wine from Alsace is made in the same methodé traditionnelle used in Champagne to produce sparkling wine. Think fresh apples, peaches and apricots in a glass.
Epic Brewing – Beer lovers should start to see some exciting new products in grocery and convenience stores this month. Epic will be releasing its new Utah session series, a range of Utah exclusive 4% ABV beers with statewide availability both on draft and in bottles. The Utah session series will initially consist of five, 4% ABV beers, including a mosaic and simcoe hopped session IPA, a single-hop golden ale featuring centennial hops, a spiced wit beer, an orchard raspberry ale and a kettle soured IPA which will be the first sour beer ever in Utah grocery stores.
Epic intends to iterate on the line through 2016 with future additions to the series including an entire lineup of orchard fruit beers, inspired by the fruit stands along US-89, and a rotating lineup of unique sour beers. "We're approaching session beer the same way we approach all our beers: with creativity, innovation, and a commitment to high quality ingredients," explains Epic's Brewmaster, Kevin Crompton.
Vine Lore – Finally our friends over at this local beverage broker have another seasonal recipe for you, this time featuring Jack Rabbit Gin – which also happens to be on sale at liquor stores this month ($24.99 down from $27.99). The Festive Cranberry-Orange Sipper can be made as follows:
1 teaspoon sugar
1 cup ice cubes
1 1/2 ounce Jack Rabbit Gin
1 tbs fresh orange juice
1/4 cup tonic water
Muddle orange rind strip, fresh cranberries, and sugar in a cocktail shaker. Add ice cubes, gin, and fresh orange juice. Cover with lid, and shake vigorously until thoroughly chilled (about 30 seconds). Pour into an 8-oz. glass; top with tonic water. Serve immediately. Garnish with fresh rosemary and fresh cranberries.
* Gastronomic SLC is a proud local partner of La Salle Group, Vida Tequila and Vine Lore (distributors of Beehive Gin).
Hi, I'm Stuart, nice to meet you!  I'm the founder, writer and wrangler at Gastronomic SLC.  I'm a multiple-award winning journalist and have written in myopic detail about the Salt Lake City  dining scene for the better part of seventeen years.
I've worked extensively with multiple local publications from Visit Salt Lake to Salt Lake Magazine, not least helped to consult on national TV.   Pause those credits, yep, that's me! I'm also a former restaurant critic of more than five years, working for the Salt Lake Tribune.    I'm largely fueled by a critical obsession with rice, alliteration and the use of big words I don't understand.   What they're saying about me: "Not inaccurate", "I thought he was older", "I don't share his feelings".
Want to know more? This is why I am the way I am.
This article may contain content provided by one of our paid partners. These are some of the best businesses in Utah. For a list of all our current and past relationships see our
partnership history page
.