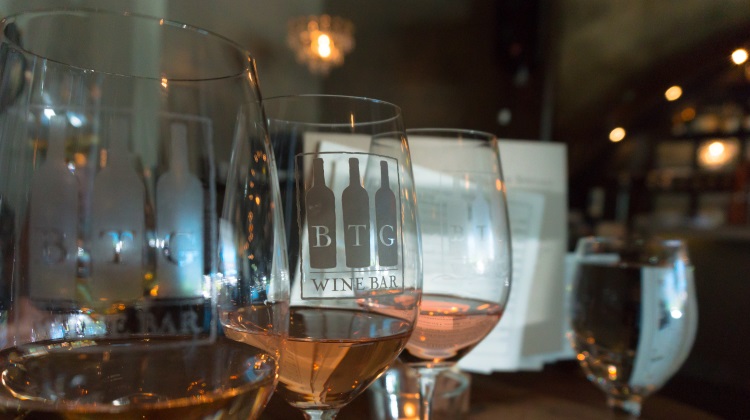 BTG Wine Bar * – Next Wednesday, one of SLC's finest is offering a wine dinner with a twist. BTG's Sommelier Selections Wine Dinner on July 29th offers diners the chance to set their own dining time, with reservations available anytime between 6-9 p.m. It's an intriguing spin on the standard setup, and presumably affords diners the opportunity to enjoy dinner at their own pace, and hopefully enjoy more personal one to one wine-geekery as required.
Hosted by Louis Koppel, BTG's sommelier in chief, food will be prepared by chef de cuisine Justin Gomes. Cost for the dinner is $33 for the wine and $32 for the food and the full menu is as follows:
* Lorenza, Rosé, California, 2014
* Prosciutto wrapped figs
* Campovida, Campo di Bianca, Mendocino 2013
* Salmon crudo with horseradish cream
* Hecht & Bannier, Faugères, France 2010
* Stuffed rabbit loin with mushroom ragu
* Broadbent, 10 Years Old Verdelho Madeira
* Carrot and apple tart
63 100 S, Salt Lake City, UT 84101
(801) 359-2814
www.btgwinebar.com
Finca * – In a similar vein, Finca is offering a special tasting menu and wine pairing, July 26th – July 31st, titled: Wines of Basque Country. The cost is $40 for food and $24 for the wine pairings, and I'll let owner Scott Evans explain the concept in his own words:
"Nearly every year I venture out to different corners of Spain and search for delicious food and drink. This past May, I returned to Northern Spain to visit some of my favorite producers and also some new ones. With an insatiable desire for new flavors, I was surprised that some of the most impactful experiences came from the tried and true. I began to notice subtle details, which I had previously only gleaned past in my exuberance. Namely, what struck me was how ridiculously appropriate the wines from Northern Spain and in particularly the Basque country are for the summer.
From bright white wines like Txakoli (pronounced CHOCK-oh-lee) to a fresh style of old vine Garnacha red from the neighboring Navarra region, these wines spoke to me, in a different tone than when I last encountered them. These wines are perfect to battle the heat and they are perfect (yes really, they are perfect!) with the food you should be eating regularly this summer. For me this means chilled seafood, like the pickled shrimp, freshly shucked oysters, and wild Alaskan Salmon. Just so happens we will be serving all of the above and you're invited! And should you fall in love with one (or all?) of them, you'll be able to pop over to the nearest DABC and stock up on these lovely and affordable wines and impress your friends with your insider knowledge."
327 200 S, Salt Lake City, UT 84101
(801) 487-0699
www.fincaslc.com
Wasatch Mountain Table – While the punishing summer heat has subsided for now, if you're like me, you'll still grab any excuse to take in some mountain air during the Summer. Solitude's recurring mountain table series wraps up this year on July 31st, 6.30 – 9 p.m. As ever, its hosted on the beautiful grounds of the solitude resort.
The theme for this final mealis billed as "Bison N' Beer" and promises, "fresh, local food exquisitely prepared and served al fresco under the majestic Wasatch mountains. Local farmers and ranchers join us for an appetizer reception, followed by a four course dinner (with optional wine pairings) at our communal 'Mountain Table' alongside Big Cottonwood Creek.:
12000 Big Cottonwood Canyon Rd, Solitude, UT 84121
(801) 534-1400
www.skisolitude.com
Pioneer Day * – Two La Salle group restaurants aim to start your celebrations on the 24th the right way – whatever you're in the mood for. Both Caffe Niche and Kyoto will open on the holiday. Caffe Niche will open for brunch from 8 a.m. until 4 p.m. Selections are a la carte from the popular brunch menu. Chef Peggi Ince-Whiting is also welcoming diners at Kyoto on Pioneer Day for lunch 11 a.m. until 2 p.m. Kyoto will be closed for dinner to allow their employees to celebrate the holiday with their families.
Caffe Niche
779 Broadway, Salt Lake City, UT 84102
(801) 433-3380
www.caffeniche.com
Kyoto
1080 1300 S, Salt Lake City, UT 84105
(801) 487-3525
www.kyotoslc.com
Wasatch Art Soiree – Finally, one for a little further ahead in your calendar, and another excuse to hit up the beautiful Utah peaks. On Friday August 21st, 6 p.m. – 10 p.m. head to the Albion Grill at Alta. There you will find the 2015 Wasatch Art Soiree – a celebration of food & art in the mountains.
5 local artists and 5 local chefs will showcase their favorite creations; guests will then cast their vote for both their favorite artist and chef. The winners are awarded the 'People's Choice Grant of $1,000' – with which to continue their artistic or culinary passion. There will also be live entertainment and interactive art, not to mention beer and wine plus cocktails from Sugarhouse Distillery.
Cost for the event is $50 in advance or $75 on the day of event; VIP tickets are priced $125 (with a surprise promised therein) and the lineup for 2015 is as follows:
2015 Chefs
* Katie Weinner – SLC POP
* Carl Rubidue – Saucy Skillet
* Amy Oelerich – MediumRareChefs
* Andy Walter – Dottie's Biscuit Barn
* Adam Kreisel – Chaia Cucina
2015 Artists
* Brianne Gonzalez – Silk Painting
* Sarabeth Clevenger – Watercolor & Acrylic
* Theresa Husarik – Hand Colored Photographs with Pressed Flowers
* Troy Winslow – Oil Painting
* Jay Dash – Photography
For more information see http://altaarts.org/events/wasatchartsoiree2015
Hi, I'm Stuart, nice to meet you!  I'm the founder, writer and wrangler at Gastronomic SLC.  I'm a multiple-award winning journalist and have written in myopic detail about the Salt Lake City  dining scene for the better part of seventeen years.
I've worked extensively with multiple local publications from Visit Salt Lake to Salt Lake Magazine, not least helped to consult on national TV.   Pause those credits, yep, that's me! I'm also a former restaurant critic of more than five years, working for the Salt Lake Tribune.    I'm largely fueled by a critical obsession with rice, alliteration and the use of big words I don't understand.   What they're saying about me: "Not inaccurate", "I thought he was older", "I don't share his feelings".
Want to know more? This is why I am the way I am.
This article may contain content provided by one of our paid partners. These are some of the best businesses in Utah. For a list of all our current and past relationships see our
partnership history page
.