The Annex by Epic Brewing – If you you've still to discover the culinary revolution underway at The Annex, I implore you to brush up ASAP; also, go sit in the corner for not paying attention and check out my The Annex by Epic review here. Since that particular piece, I've had several other exceptional meals, and presently rate the food coming out of chef Craig Gerome's kitchen as my favorite in the state. That's no light praise.
With that in mind, the upcoming pairing dinner on June 1st has me all a flutter. Epic will be hosting Firestone Walker Brewing Company for a limited beer pairing dinner. The 5 course dinner will start at 6:00pm and features beers not available in Utah including the "Proprietor's Vintage" §ucaba, a Barley Wine, and Parabola, a Russian Imperial Stout. The cost of $43 for five courses of this caliber is unquestionably "a good deal TM". The optional beer pairing is $22 extra.
"This dinner is a fantastic opportunity for locals to get to know a few of the terrific beers Firestone Walker is producing." explains Marcel Paramore, General Manager at The Annex. "It can be difficult to obtain beers not carried by the state and we've taken great care to pair them with dishes that both highlight their uniqueness and are equally well crafted."
Gerome's menu for the night begins with light spring flavors which complement the herbal qualities of well hopped beer. From there the complex and earthy characteristics of saison are paired with bouchout mussels (rope grown, briny monsters, pictured above) before moving onto robust barley wine and herb basted rib eye. For desert a black berry vol-au-vent will be served with the well-aged Parabola, a Russian imperial stout. Elizabeth Isenbart, Firestone Walker's territory manager will be attending the dinner to discuss the beers with guests.
1048 E 2100 S #110, Salt Lake City, UT 84106
(801) 742-5490
www.theannexbyepicbrewing.com
Finca * – Another business no stranger to fabulous pairing dinners. On June 7th, Portugal is the star for the Quinta do Romeu wine dinner. As ever, owner Scott Evans, sent the lusciously detailed info and inspiration for the event over:
Portugal. It is official. This country is now on my map. Not the literal map, but the metaphorical map, the one that we have in our minds that signifies, somehow, what's on our minds. Some call it their radar. I'll stick with map. Cartography seems more appropriate, what with the storied tales of sea-faring and circumnavigating, and the global empirical aspirations associated with the country.
Much of my travel is based, unabashedly and enthusiastically, around wine. It works out really well, too. With wine comes rich history and distinct culture, a certain (usually quite pleasant) climate, fascinating and hard-working farmer/artist types, and a landscape that is more often than not either quite near the mountains or quite near the sea…sometimes both. One is almost guaranteed to eat well and recreate well when traveling is wine focused. Needless to say, there are far too many locales for most people to knock off their bucket wine-travel destination lists. I've never been to Portugal. And initially my desire to travel to Portugal over all the other places on my list was quite low. It's Port's fault. Fortified wines have never really made me swoon. I like them, I've had some ridiculous examples aged for decades and have been very impressed. Am I passionate about them? Not really. So it's not all that crazy to say that while growing up in the wine world, I focused very little on Portugal since fortified wines are what the country has been most famed for the last 300 years. Over the last 20 years, however, there has been a shift. A new propensity for farmers and winemakers to take a larger portion of what was formerly destined for Port production, and vinify instead dry table wines from their red grapes. The results have been outrageously successful, usually at jaw dropping value, and their success is now deservedly making waves internationally.
Case in point: Quinta do Romeu, and the wine estate I blame for ultimately rearranging my wine-travel priorities. After my first introduction with Romeu, a wine dinner that was held this time last year at Finca's former location, I was smitten. First and foremost, the wines are stunners. Effusively aromatic, structured, age-worthy reds, svelte and complex whites, and refreshingly pretty rosé all made from the unique local varieties, these wines are not soon forgotten after they've disappeared from your glass. Of course I would want to drink these wines at the source! But it was the research I've done since that would lead me to say that I simply must get there. And more specifically, if I were to go to only one single estate in all of Portugal, Quinta do Romeu would be that one.
It seems to me that the sprawling estate of Quinta do Romeu represents, miraculously in one family holding, all of Portugal. The rich family history of the estate dates back to 1857. The estate itself is comprised of thousands and thousands of acres of which only 60 acres are dedicated to vines. Another 300 acres are dedicated to olives. The rest is wild and pretty much unfettered and intense, including the innumerable cork oaks that forest a large portion of the land (from which all bottles receive their high quality cork finish). All operations are certified organic, and as previously mentioned, overseen entirely by descendants of the original family. The offices are even located on the Unesco World Heritage Site of the Marine Promenade in Porto, along the Duoro river.
I write all this, somewhat begrudgingly, as I won't be able to swing a wine trip to Portugal any time soon, no matter how high it is on the list. There is solace to be taken in this situation, however. The second annual Quinta do Romeu wine dinner is not far off, the evening of Sunday, June 7th to be exact. Executive Chef Phelix Gardner, Chef de Cuisine Dallas Olson, Sous Chef Carter Light and Sous Chef Jaime Muniz have crafted a multi-course menu to pair with the majestic wines of Quinta do Romeu, including stunners like Basque-Style Stuffed Baked Crab "Salad" and Pheasant Roasted with Green Tobacco Leaf.
Quinta do Romeu winemaker João Pedro Menéres, and importer Brad Jensen from Bon Vivant Imports (www.bonvivantimports.com), will be on hand to regale us with tales of a Portuguese wine legacy, the slow persistent river Duoro, the rocky, dramatic, schistose hillsides, and a commitment to steward one's soil to the best of one's ability, while we breathe deeply and taste the place with the help of his absolutely stunning wines. João will have a few of his 2011's with him, and if you've been doing YOUR research, you know that these are wines you don't want to miss. The fixed-price menu and wine pairings are available by reservation only for $45 food and $30 wine + tax/gratuity on Sunday, June 7th at 6:00PM at FINCA 327 W. 200 S. in downtown Salt Lake City. Visit our website for the full menu and other details at www.fincaslc.com/events.
327 W 200 S, Salt Lake City, UT 84101
(801) 487-0699
www.fincaslc.com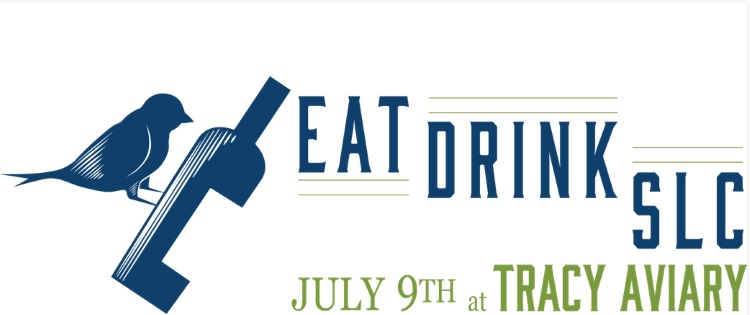 EatDrinkSLC * – Finally, make a mark in your diary and keep July 9th open; it's looking like you won't want to miss the very first EatDrinkSLC event. We'll have more info on specifics as the event gets a tad closer, but the details to date already look like an event you will not want to miss.
Tracy Aviary will be the lush, verdant setting for Eat Drink SLC, a food slash libation celebration that raises a glass or three to all that's great about Salt Lake City's increasing culinary coming of age. As the press release puts it:
"Not just a food festival that happens to feature a few wineries, not just a wine festival with some food to nibble on — Eat Drink SLC is a true communion between food and libations, pairing restaurants with complementary wineries, breweries and distilleries, as well as being an event that's deeply rooted in the Salt Lake City community.
EatDrink SLC was born from the desire to build recognition of Salt Lake's status as a vibrant food and drink scene; foster appreciation of the beautiful union between food, wine, beer and spirits; and raise the visibility of local businesses in Utah's food and drink industry. Eat Drink SLC's format promotes the marriage of food and drink in a way unduplicated by other Utah events, giving equal weight to food and drink by thoughtfully pairing participating restaurants with complementary wineries, breweries and distilleries.
The event is 21 and over and for a rather reasonable $75, guests can nibble on bites from a roster of SLC's finest (more info to come as names are inked) plus sip and swirl the evening away (6-9pm) from a selection of 80 wines from an international assortment of family-owned wineries and craft cocktails from small-batch distilleries.
In addition there will be live music on the Aviary's cool, green grounds while also supporting three local nonprofits in the process: Tracy Aviary, Comunidades Unidas and SB Dance. Check out the www.eatdrinkslc.com site for more details and stay tuned for further updates as they roll in.
* Gastronomic SLC is a proud local partner of Finca and Vine Lore (who tipped me off to the EatDrinkSLC event).
Hi, I'm Stuart, nice to meet you!  I'm the founder, writer and wrangler at Gastronomic SLC.  I'm a multiple-award winning journalist and have written in myopic detail about the Salt Lake City  dining scene for the better part of seventeen years.
I've worked extensively with multiple local publications from Visit Salt Lake to Salt Lake Magazine, not least helped to consult on national TV.   Pause those credits, yep, that's me! I'm also a former restaurant critic of more than five years, working for the Salt Lake Tribune.    I'm largely fueled by a critical obsession with rice, alliteration and the use of big words I don't understand.   What they're saying about me: "Not inaccurate", "I thought he was older", "I don't share his feelings".
Want to know more? This is why I am the way I am.
This article may contain content provided by one of our paid partners. These are some of the best businesses in Utah. For a list of all our current and past relationships see our
partnership history page
.