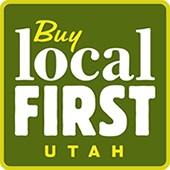 Local First Utah – November 29th is Small Business Saturday, a promo campaign started by American Express in 2010. Note: If you have an American Express card it's worth reviewing as in past years, shopping at your favorite local business has yielded anywhere from a $10-$25 rebate. What's better than shopping local – shopping locally for free!
Local First Utah are also getting in on the holiday spending festivities this year with their first first ever Instagram Photo Contest, running November 24th – December 23rd. Local first will be giving away a grand prize of goodies from members of their Local First Leaders Circle which includes business such as Amour Spreads, Les Madeleines and Mazza – e.g. this should be one tasty prize.
All you have to do is snap a photo of a locally purchased holiday gift, wrapped or unwrapped, and include either a Local First Utah gift tag or gift wrap sticker in the photo. Post your photo on Instagram, using #localgiftshift and include the location where the gift was purchased. From their Local First will pick an Instagram photo of the week and enter you in the draw for the grand prize. Entries are also unlimited.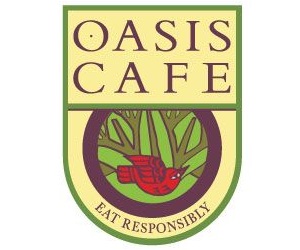 Oasis Cafe * – As the cold weather moves in Oasis Cafe's chef de cuisine, Efren Benitez, is offering a new three-course nightly dinner menu for just $25 through November 30. Changing weekly, the nightly dinner special includes savory seafood selections paired with the last of the fall harvest — zucchini, eggplant, fennel, carrots, spinach and the last of the garden tomatoes. "We love to give a new twist to comfort foods while offering some lighter selections," said Will Keesen, general manager. "Efren's menu is a real crowd pleaser for cold nights." Oasis Cafe's specials each include a starter choice of soup or salad:
Nov. 11 – 17:
Pan-seared scallops over fregola pasta, zucchini, cherry tomato and arugula, finishing with a warm apple and pear pie with vanilla ice cream.
Nov. 18 – 27:
Coriander crusted salmon over green curry orzo pasta with carrots and coconut milk, with marbled cappuccino cheesecake as a finale.
Nov. 28 – Dec. 3:
Sautéed baby scallops with fettuccini pasta, peas, carrots and spinach dressed with creamy fennel sauce. For dessert, diners can enjoy port wine poached pear with sabayon and raspberries.
151 S 500 E, Salt Lake City, UT 84102
(801) 322-0404
www.oasiscafeslc.com
Frida Bistro * – Frida Bistro also recently announced a smattering of new dishes for the fall too. These include:
Salmon con ajonjoli
Sesame crusted salmon with strawberries, cream cheese, rosemary, grilled squash and sweet pumpkin risotto, drizzled with a cherry balsamic reduction
Puerco con mole negro
Tequila marinated pork belly with sweet potato purée, served with mini black bean and mini lamb tamales
Quesadilla huitlacoche
Black corn truffle with cheese, tomato, onion, jalapeño, and epazote in blue corn tortillas, with mango marmalade
Crema de azafrán y coliflor
Creamy saffron soup made with cauliflower and leeks, garnished with three-chile oil & crab
545 W 700 S, Salt Lake City, UT 84101
(801) 983-6692
www.fridabistro.com
Zest – Also keeping an eye on the plummeting temperatures is Zest, the downtown SLC eatery focused on vegetarian cuisine and cocktails. With the chilly weather ahead Zest are offering a new weekly winter soup, which promises to be healthy, hearty and organic. Downtown offices in need of warming up should note that large call in orders for offices are encouraged too, just give them 24 hours notice for those especially big orders.
Solo diners can pick up a bowl in person as well of course, maybe also while ordering up one of Zest's "box-lunches to-go" – built around the full Zest lunch menu – making for a healthy lunch option when time is of the essence.
275 S 200 W, Salt Lake City, UT 84101
(801) 433-0589
www.zestslc.com
* Gastronomic SLC is a proud local partner of Oasis Cafe and Frida Bistro.
Hi, I'm Stuart, nice to meet you!  I'm the founder, writer and wrangler at Gastronomic SLC.  I'm a multiple-award winning journalist and have written in myopic detail about the Salt Lake City  dining scene for the better part of seventeen years.
I've worked extensively with multiple local publications from Visit Salt Lake to Salt Lake Magazine, not least helped to consult on national TV.   Pause those credits, yep, that's me! I'm also a former restaurant critic of more than five years, working for the Salt Lake Tribune.    I'm largely fueled by a critical obsession with rice, alliteration and the use of big words I don't understand.   What they're saying about me: "Not inaccurate", "I thought he was older", "I don't share his feelings".
Want to know more? This is why I am the way I am.
This article may contain content provided by one of our paid partners. These are some of the best businesses in Utah. For a list of all our current and past relationships see our
partnership history page
.