With a quarter century nearly on the clock, Squatters Craft Beers last week announced a raft of updates. In addition to a brand new refresh of all packaging (hitting the shelves now, pictured above and below) – two new fine brews will be hitting stores as well. Here are some more details on those.
Wee Peat Scottish Ale
• Style: Scottish Ale
• 5.6% ABV
• 27 IBUs
• Filtered
• Available Year Round
• 12 oz. bottles
Squatters brewmaster Jason Stock has been a fan of Scottish ales since his beer geek infancy; it was only natural to design one professionally at the first opportunity. Upon taking the reins in 2011, peat malt was a style he couldn't wait to explore. "My assistant and I were talking about what beer to brew on a cold misty morning, one of those mornings where everything is starting to thaw and the earthy smells are encompassing," remembers Stock. "We decided that an earthy, malty, smoky beer would be delicious."
They developed a beer that would bring to mind a wonderful early morning which inspired the Scotland golf photograph on the packaging. "Wee Peat is quickly becoming one of my favorite beers we have ever brewed over the past 25 years," adds head brewmaster Dan Burick. "It is well balanced with truly interesting malt flavors at a perfect alcohol level. Everything has been all about hops for the last five years; this is a very welcoming change."
Bumper Crop Honey Ale
• Style: Honey Ale
• 5.5% ABV
• 15 IBUs
• Unfiltered
• Available May – August
• 12 oz. bottles
Bumper Crop is a light summer ale originally created to celebrate the 20th Anniversary of Salt Lake's Farmers Market. The brew made enough head turns that it's now a seasonal bottle special. "I really like the subtle flavors generated by the local ingredients. In my opinion, the honey for the most part gets fermented out, but you can pick up a hint. The lavender on the other hand is a really cool subtle flavor. Perfect for a hot summer day," says head brewmaster Dan Burick. "Both of these beers won medals in May at the North American Brewers Festival, Bumper Crop a Bronze and Wee Peat a Sliver; out of the gate, this is fabulous."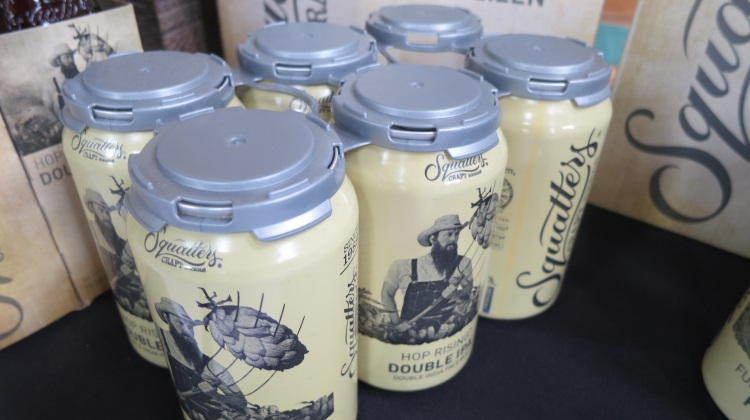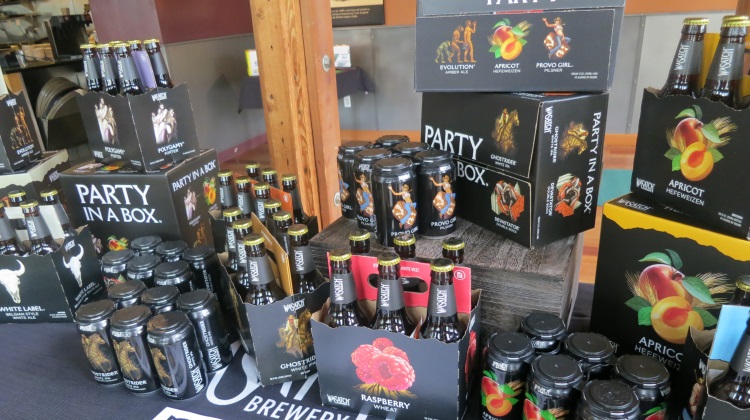 Speaking of those 25 years of quality craft brewing – the landmark date is reached this fall; that's when Peter Cole and Jeff Polychronis began bringing quality brews to Utah and kick started our 'brewvolution' (trademark: me); 12 World Beer Cups, 24 Great American Beer Festival Medals, and 30 North American Brewers Association Medals later – Squatters has teamed up with the Utah Museum of Contemporary Art (UMOCA) to commemorate Squatters 25th Anniversary.
UMOCA and Squatters have chosen four local artists to each create a 340 square foot mural with the theme "25 Years of Beer" that will be painted on the east side of Squatters Pub. The selected artists are: Trent Call, Mackinzie Donovan, Richard Landvatter and Mike Murdock.
"I'm very excited that Squatters approached UMOCA to collaborate on their 25th Anniversary mural," says Curator of Education Jared Steffen. "UMOCA and Squatters have had a great partnership over the years, and since both have a commitment to showcasing and serving our community, it's natural fit."
Mural painting will begin Saturday, June 28th and will be completed over the 4th of July weekend. The public is invited to vote for their favorite art piece and the winning mural will be featured on the beer label for a limited edition 25th Anniversary brew and 25th Anniversary Squatters t-shirt. Voting will be available at the Pub and also on both UMOCA and Squatters Facebook fan pages.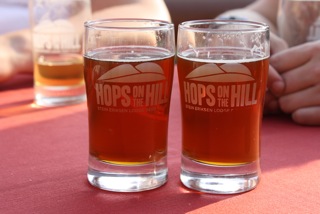 Hops On The Hill
Tuesday nights this summer are a lot more enticing at Stein Eriksen Lodge with its Hops on the Hill—an evening celebrating Utah craft beer and free concerts. The Tuesday night Hops on the Hill Summer Series features tastings starting at 5 pm and a free concert at 6 pm. Running July 8 and through August 19, a portion of the proceeds from Hops on Hill will benefit the Youth Sports Alliance, an organization dedicated to providing support to enable youth to participate, learn, compete and excel in sports.
Hops on the Hill will highlight the following Utah breweries and bands:
July 08
Squatters
Latin Jazz Band
July 15
Epic Brewing Company
Red Desert Ramblers
July 22
Uinta Brewing Company
Mister Sister
July 29
Desert Edge
Motherlode Canyon Band
Aug 05
Red Rock Brewery
Fastback
Aug 12
Bohemian Brewery
Marmalade Hill
Aug 19
Wasatch Brewery
Utah County Swillers
The Utah craft beer and food pairing tasting, which occurs prior to the concerts, costs $35 in advance and $40 day of. During the concert portion attendees can enjoy grilled fare consisting of hot dogs, brats and burgers ranging from $5-10 and a bar with $5 beer, $10 wine and $10 liquor will be available for purchase. Stein Eriksen Lodge is donating 10 percent of proceeds to the YSA from the entire summer series.
The YSA is a nonprofit organization founded in 2002 following the Salt Lake Winter Olympics. Started as a legacy for local youth, the YSA supports 13 youth winter sports teams, 1,000 competitive junior athletes and 1,000 Get Out & Play elementary school students. Its scholarship program donates $50,000+ per year to individuals and its grant program donates $250,000+ per year to teams.
Hi, I'm Stuart, nice to meet you!  I'm the founder, writer and wrangler at Gastronomic SLC.  I'm a multiple-award winning journalist and have written in myopic detail about the Salt Lake City  dining scene for the better part of seventeen years.
I've worked extensively with multiple local publications from Visit Salt Lake to Salt Lake Magazine, not least helped to consult on national TV.   Pause those credits, yep, that's me! I'm also a former restaurant critic of more than five years, working for the Salt Lake Tribune.    I'm largely fueled by a critical obsession with rice, alliteration and the use of big words I don't understand.   What they're saying about me: "Not inaccurate", "I thought he was older", "I don't share his feelings".
Want to know more? This is why I am the way I am.
This article may contain content provided by one of our paid partners. These are some of the best businesses in Utah. For a list of all our current and past relationships see our
partnership history page
.