Pig, Pinot and… Adam in the Garden. No, not that Adam. The Adam here is Adam Campbell, Winemaker of Elk Cove Vineyards. One of the first families of Willamette Valley viniculture, specializing in estate grown cool climate wines that rival the best in the world.
Adam Campbell, son of Elk Cove founders Pat and Joe, has lived his whole life among the vines and has a tremendous respect for the land on which his grapes are grown. Elk Cove uses sustainable practices and is Salmon Safe. Adam Campbell produces outstanding Pinot Noirs and cool climate whites.
Campbell remarks, "High quality wine really starts in the vineyard. The time I spend stomping through our 250 acres of vines not only helps us make good decisions in viticulture, it also informs our winemaking decisions. Good winemaking is a mixture of art and science… But at the end of the day I need great vineyard sites and impeccable farming to make phenomenal wines."
On Thursday July 10th (6:30-9:00 p.m.) Best of State Winner executive chef Eric May (Blue Boar Inn) teams up with Gus Magann (Vine Lore) to showcase Elk Cove Vineyards wines with delicious plates prepared with pig, spit roasted onsite.
The party will be held at a high Avenues private estate above City Creek Canyon that houses 3 water features, Japanese rock garden pathways, interesting flora and a comfortable dining patio (pictured top left). Tickets are $75 per person and are available at www.sbdance.com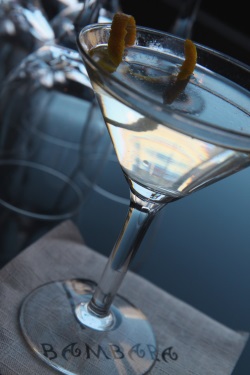 Bambara *
"WICKED," Broadway's biggest blockbuster, has worked its magic on critics and audiences alike. Austin Craig, head bartender at Bambara, seeks to delight dining guests with a new roster of "wicked good" signature cocktails when they join Bambara for a pre-theatre meal for the nine week run of "WICKED" from July 9 through August 24. For Sunday matinees at 1 p.m., Bambara's new weekend brunch is a great precursor to the show. Bambara will also open early on Sunday evenings at 5 p.m. so guests can make it to the 6:30 p.m. curtain call.
"Many guests love dining with us pre-theatre and we wanted to surprise them by offering a line of specialty cocktails just for the show," said Guy Wheelwright, Bambara's general manager. "They are wickedly good and are guaranteed to help get people in a theatrical mood!"
The "Vault" is offering six different "WICKED"-inspired specialty drinks during the show's production run from July 9 through August 24, including:
Green with Elphie
Absolut Vanilla Vodka, Midori Liquor, Pineapple Juice, Sweet & Sour, Served in a Champagne Flute $10
Dr. Dillamond's Dram
Appleton Rum, Grenadine, Cranberry, Orange & Pineapple Juice, Float Myer's Rum $10
Flying Monkey
Absolut Vanilla, Coffee Liqueur, Shot of Espresso, Shaken & Served Chilled $10
Glinda-Licious
Buffalo Trace Bourbon, Canton Ginger Liqueur, Dash Bitters $10
Elphaba's Elixer
Boodles Gin, Prosecco, Ginger Beer $11
Madame Morrible's Mead
Espolon Tequila, Peach Schnapps, Fresh Squeezed Orange Juice $11
202 S Main St, Salt Lake City, UT 84101
(801) 363-5454
www.bambara-slc.com
Epic News
The Annex by Epic Brewing has just announced the tapping of its first collaboration beer with the local homebrew club The Lauter Day Brewers. The unique recipe was developed by members of the Lauter Day Brewers homebrew club and brewed on The Annex's seven barrel system. The beer is an untraditional Pale Ale fermented with Brettanomyces Bruxellensis, a unique "wild" yeast associated with the Brussels region of Belgium.
"Salt Lake City has a fantastic homebrewing scene, full of passionate beer lovers. It's fantastic to see the pride people feel when they have a pint of beer that they had a hand in making. The Annex is glad to be part that," explained Ty Eldridge, the Front of House Manager at The Annex. The beer will remain on tap at The Annex for the next few weeks.
* Gastronomic SLC is a proud local partner of Bambara.
Hi, I'm Stuart, nice to meet you!  I'm the founder, writer and wrangler at Gastronomic SLC.  I'm a multiple-award winning journalist and have written in myopic detail about the Salt Lake City  dining scene for the better part of seventeen years.
I've worked extensively with multiple local publications from Visit Salt Lake to Salt Lake Magazine, not least helped to consult on national TV.   Pause those credits, yep, that's me! I'm also a former restaurant critic of more than five years, working for the Salt Lake Tribune.    I'm largely fueled by a critical obsession with rice, alliteration and the use of big words I don't understand.   What they're saying about me: "Not inaccurate", "I thought he was older", "I don't share his feelings".
Want to know more? This is why I am the way I am.
This article may contain content provided by one of our paid partners. These are some of the best businesses in Utah. For a list of all our current and past relationships see our
partnership history page
.