This week, Shades of Pale Brewing Co announced their imminent move from Park City to South Salt Lake, at least for the time being anyway. The full news release explains in detail:
The site, approx 13,000 sq feet, is located at the corner of S. West Temple and Utopia just a block south of 2100 S. The new site will be home to a new production facility, as well as a proposed tap room, bottle shop and brewery boutique.
"We are so excited to have found a great location for the production facility," says Trent Fargher, founder of Shades of Pale. "We have received a warm welcome from the locals already and couldn't be happier."
The new facility will add the much needed capacity for Shades of Pale, and allow the brewery to release a line of high point beers, seasonals and experimentals, as well as expand it's package offering. The new facility will start with its current capacity of 1,000 barrels a year and quickly grow as tanks and equipment is acquired to expand production.
"The quest for a new location, was an arduous one," says co-founder, Alexandra Ortiz De Fargher. Shades of Pale began the search for a new location two years ago but the list of criteria was long. Considerations included zoning, infrastructure, ease of shipping, and convenience for patrons. "We will be opening a taproom, so proximity to public transportation and easy high way access was important," says Ortiz de Fargher. The new Shades of Pale site is just one block from the TRAX Center Pointe station, just minutes from down town Salt Lake City, and highway access.
Shades of Pale anticipates a grand opening in the fall 2014 and two soft openings this summer. Current equipment will be relocated to the new facility and the development of new line of beers will begin. Next, a bottle shop will open making it possible for patrons to purchase cold beer directly from the brewery. The tap room will be built out next, then the gift shop and art gallery.
Shades of Pale's current Park City facility will close due to location constraints that preclude the brewery from being able to serve beer on site. A new Park City location will be announced in the coming months.
Park City Food & Wine Classic Debuts Beer-B-Q
Fire up the grills and crack open a cold one. Two American classics converge this summer at the Park City Food & Wine Classic's newest event, "Beer-B-Q."
On Friday, July 11 — day-three of the five-day festival — explore the world of barbecue and craft beer with none other than the world-renowned chefs of the Waldorf Astoria. They'll show off their grilling skills as brewers from Utah's famous local breweries showcase a range of delicious craft beers. And just like any true barbecue, live music will keep the party hopping throughout the evening.
"Talk about the quintessential Park City event, this event really highlights some of the best that this town has to offer: tantalizing barbecue dishes, great local craft beers, and incredible live music," said Jason Ornstein, owner of Team Player Productions, which organizes the Food & Wine Classic. "This is an event you won't want to miss."
Beer-B-Q runs from 7 to 9:30 p.m. at the Waldorf Astoria. Tickets cost $85, and all attendees must be 21 or older. "Mountain chic attire" recommended.
The event is one of just dozens of events at the 10th annual Park City Food & Wine Classic. Leading chefs, sommeliers and brewers from around the world will lead food and wine tastings, bike rides, hikes, fishing excursions and much more — all amid Park City's famous Wasatch Mountains.
"There are experiences for every sense — taste, smell, sight, touch. I can't think of a better way to spend a long summer weekend." Ornstein said.
The weekend runs from July 9 to July 13, opening with the classic's sumptuous "Farm to Barn" dinner, and closing with the favorite "Hair of the Dog" bike ride and "It's a Mary Morning" brunch. In between, learn wine-tasting secrets from famous vintners, taste whiskeys from Park City's award-winning High West distillery, dig into a "Slabs and Cabs" meat-and-red-wine luncheon, and take dashes through the woods, rides on horseback, excursions on stand-up-paddle-boards, mountain-biking trips on Park City's renowned single-track trails, and much more.
"We've got all the makings of a truly memorable weekend," Ornstein said. "Whether you love active get-up-and-go vacations or complete and total relaxation — or even a bit of both — our seminars and their leaders will make sure you have the experience of a lifetime."
Ticket prices range from $75 for the "Unlocking the Label" and "Design, Paint & Wine" seminars, to $375 for "Casts & Cabs: Fly Fishing with a Winemaker." To learn more or to buy tickets, visit the classic's website, www.parkcityfoodandwineclassic.com. Act fast – tickets to most events sell out quickly.
Proceeds from ticket sales benefit the People's Health Clinic, a nonprofit that provides healthcare for uninsured individuals and families in Utah's Summit and Wasatch counties. Last year, the classic raised more than $30k for the clinic. In all, Team Player Productions has raised more than $2 million for local charities.
Caffe Niche *
Caffé Niche is now open on Mondays from 8 a.m. until 9 p.m. Chef Ethan Lappé has added all-new spring menu items to both lunch and dinner menus. A new roster of handcrafted cocktails, wine and beer selections round out the dining experience.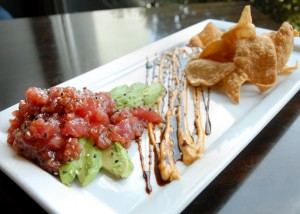 For lunch, Lappé has added a new Warm Potato Salad, a composed salad with bacon, peas, corn, chimichurri, a citrus aioli on warm Idaho banana fingerling potatoes. There's also a new classic Crab Louis with "live" butter lettuce, lump crab meat, avocado, heirloom cherry tomatoes, champagne vinaigrette and house made Thousand Island dressing. A Local Utah Elk Burger with chimichurri, cabbage and house made aioli sounds like a winner too.
Dinner brings an emphasis on Lappé's close association with Hawaiian fishermen and farmers. A new small plate, Hawaiian Poke Tartare (pictured upper left), joins a new entree of line caught fish, direct shipped from the island fishermen, it's never frozen, and comes with fresh Hawaiian hearts of palm that come straight from the growers, sautéed Bloomsdale spinach and a creamy vinaigrette. His new pasta is a Purple Sweet Potato Ravioli with skim milk béchamel, heirloom tomatoes and Bloomsdale spinach (pictured lower left).
For the final course, Lappé offers a new Grapefruit "Brulée with fresh grapefruit supremes, drizzled with local honey in a caramelized spun sugar basket; a Spicy Chocolate Decadence with callebaut Belgian chocolate spiced with ancho chilies, cinnamon, fresh vanilla bean crème anglaise and fresh berries; plus a Lemon Meringue Pie.
Bartender Chris Bradshaw is having a blast with his new ice freezer, hand-crafting cubes for his new line up of Elevated and Classic Cocktails. His new "Elevated" line includes four different deconstructed drinks, the Ricky, Fernet & Coke, Cuba Libre and the east coast favorite, Dark Stormy. Caffé Niche's Classic Cocktail lineup includes guest favorites like the New Orleans Sazerac and classic Pimm's Cup. The Beer offerings at Niche are all local from local brewers UINTA, Red Rock, Squatters, Wasatch and EPIC. The wine list focus is on small farms with an emphasis on wines that are certified organic, biodynamic and sustainable. "We don't just select a wine for quality of grapes, but also for wineries that have the same beliefs and values," said Bradshaw.
779 E Broadway, Salt Lake City, UT 84102
(801) 433-3380
www.caffeniche.com
* Gastronomic SLC is a proud local partner of Caffe Niche.
Hi, I'm Stuart, nice to meet you!  I'm the founder, writer and wrangler at Gastronomic SLC.  I'm a multiple-award winning journalist and have written in myopic detail about the Salt Lake City  dining scene for the better part of seventeen years.
I've worked extensively with multiple local publications from Visit Salt Lake to Salt Lake Magazine, not least helped to consult on national TV.   Pause those credits, yep, that's me! I'm also a former restaurant critic of more than five years, working for the Salt Lake Tribune.    I'm largely fueled by a critical obsession with rice, alliteration and the use of big words I don't understand.   What they're saying about me: "Not inaccurate", "I thought he was older", "I don't share his feelings".
Want to know more? This is why I am the way I am.
This article may contain content provided by one of our paid partners. These are some of the best businesses in Utah. For a list of all our current and past relationships see our
partnership history page
.