I surveyed the neighboring office buildings as the sky began to mask its fading highlights in velvety, Utah spruce blue.  Sharing overeager peeping windows and smiling cobblestone streets, From Scratch's eco-chic camouflage blended in well amongst the silver-mail-clad Gallivan Avenue giants. My husband pointed out the restaurant across the street.  Parked directly in front of the restaurant, I hardly noticed the welcoming windows awaiting guest arrival.  The chalkboard sign denoting the specials alerted my eye.
After we entered, we were promptly greeted by hostess Gwen, who I quickly learned is restaurant owner David Brodsky's mama.  David and Gwen built this place through mother-son efforts.
Gwen was charming as she moved deftly leftwards through obstacles to the table-arrayed area of the locale; her proud soft laughter slipped through her smile like tiny bubbles. Tonight was her last night on the job, the well-prepared restaurant was ready for autonomy.  She remained eager to show off some of the finer details of the cooperative enterprise.
The decorative details demand attention, especially the stormy translucent, hand-blown glass light fixtures with the neat-o vertical glow. The place is shiny, reclaimed, and deconstructed-Italian, a mid-century, Hanna-Barbera, futuristic-retro masterpiece, yesteryear married to modernity.
Basically, the Jetson Family remodeled an 80s-style pizza parlor: booths, ivy, a great oven.   Jane added hints of steel-y, spacey SanFran consciousness.  George insisted on the gleaming bar seating and traditional wood effects.  Judy added the communal sleekness; Rosie the stone-ground mill.  Elroy, naturally, created the intelligent design that centrally spotlights the wood-fired oven.
I would learn the true details of David's funtastic interior design project during dinner.  I admired the well-dressed restaurant.
Shortly following our arrival, our server Andrew approached the table to share some Scratch facts: One, the restaurant opened in November 2013 and recently began dinner service.  And two, this still-youthful joint had drawn in accolades for their Scratch burger.
Winning Best of State 2014, the Scratch burger battled and won the title against fierce competitors.  I was impressed, and the pièce de résistance was still yet to come; the "what makes From Scratch different than all the other local pizza parlours."
David would later share that this place holds the record for the smallest flour manufacturer in the entire United States.  Separate from the main show is a tiny room that contains a flourmill handmade by renowned manufacturer Ostirroler-Gestreidnuhlem of Stribach Austria.  A significant percentage of this From Scratch flour is contained in the dough used in their pizza, pasta, and bread.
The menu was minute and intrinsically satisfying.  It boasted appetizer, salad, soup, and limited entree choices including burger, short rib sandwich, pasta, and a variety of pizza options. I was immediately excited by my range of comfort food choices. I was stumped from the beginning though, and torn by the well-chosen appetizer options: Risotto Cakes ($6) or Charcuterie ($13).
Of the salads, Honey Apple ($6) is most popular, although our waiter prefers the sweet and salty flavors of The Wedge.  I'm a sucker for the third option, a colorful Beet Salad ($8); the golden beets are sourced from nearby Yukon, Idaho.  I needed a minute, and decided to peruse my drink options.
This place is a beer geek's hoppy place.  From Scratch boasts a beer menu of no more than Epic proportions paired with an informative beer guide.   To be clear, locally-sourced Epic Brewing is served in masses.  Two tap options are also offered.  Wine, too, is available.
Based on the waiter's recommendation my companion and I enjoyed the Charcuterie plate, which showcased a variety of SLC-made Creminelli Salumi Selections and cheeses from Park City-based Gold Creek farms.  Also featured on the sleek rectangular plate were three complimentary tastes: a decadent and light house-made raspberry jam, honeycomb from not-so-distant Cali, and house-made whole-grain mustard.  A From Scratch-baked baguette came on the side.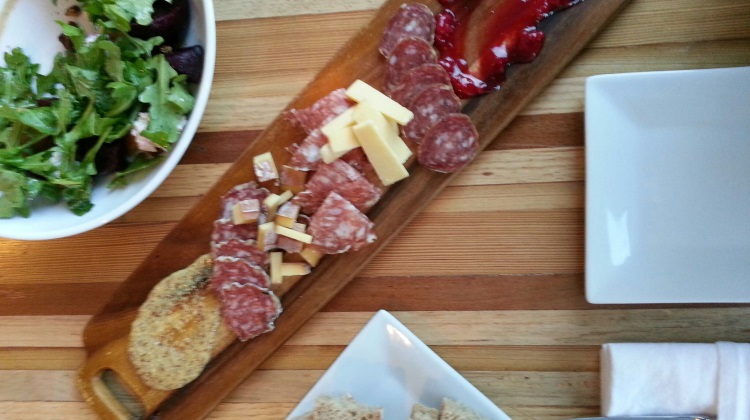 I enjoyed nibbling bits off the plate in a various orders.  Salumi selections included a fatty Campagna, a satisfying, flavorful Calabrese, and; thin, fennel-tastic-flavored Finochianna.  These sexy slivers of pig paired with bold cheeses may not appeal to all palettes.  The drunken parmesan, previously soaked in red wine, felt natural.  The smoky, somewhat tart cheddar shocked me at first.  The honeycomb defused its electric flavor.
The beet salad was a kaleidoscope of textures.  Spectacular, juicy, fire-roasted golden and red beets arrived piled lovingly on top rough, spicy greens.  Rooted in arugula's secret garden were blossoms of hard, sugary, candied pecans, smooth and earthy goat cheese, and light sherry shallot vinaigrette.
I was thrilled to have ordered an award-winning Scratch Burger ($15) with its varied accoutrement; shoestring onions, shredded iceberg, & Gold Creek smoked Cheddar with yukon gold chips. This burger is the real deal: thick, fresh, well-seasoned and accessorized to the nines.  A burger enthusiast myself, I support this as best burger in State.
It had been difficult to choose between the six crusty options, especially between house-favorites: Mushroom Pizza ($15) and Fennel Sausage ($15).   I decided to instead opt for the more traditional White Out Pizza ($14).  Anathema to vampires and dates alike, the White Out Pizza is covered in homemade Alfredo sauce, roasted garlic, fresh ricotta cheese and Parmesan-Reggiano, and hand-spun mozzarella.
The pizza's honeyed, height-achieving, airy-light crust is impressive to behold, particularly considering the interference caused by high altitude.   Head Chef Adam Fold's extensive training at luxury restaurants as both a pastry chef and general chef allowed him to work a yeasty miracle.
Chef Adam's efforts have led to some tongue-thrilling recipes as well as some tastes that feel familiar.  The pizza was pleasant, but something's a-miss, like a kiss without the chemistry.  The pizza cooled on the table in the beefy burger's shadow.  Next time, I will try the Mushroom as Yelpers have raved.
During our entrees, we were joined by owner David Brodsky, who is the source of energy behind the dedicated attention to service and quality. He is peppy and animated; he is loquacious and obsessive, too.
The history of From Scratch is straightforward.  After naying the prospect of a food truck, the Brodskys started, well, from scratch.  His desire for knowledge and tasty food were all-consuming.  David surveyed restaurants.  He set out to challenge himself by sampling the best and doing it better.
He knows the restaurant specs through and through.  From the respective resumes of the Head Chef and Head Baker to the lowered temperature at which the pizza is cooked, David is open and aware.  His pizza takes twice the time to bake as local competitors to succeed in its flaky form.
He can outline the fire code safety required to run the world's smallest flourmill.  David shares the minutiae; the minimalistic wooden tables are hand-made in Florida; the colorful antique French parlor chairs date back to the mid-century; the wall mirror was extracted from an actual pickle-factory. David also provided us a proper tour of the restaurant, enriching the sights through his vision.  This man knows his stuff, supporting the restaurant with his keen eye, sense of urgency, and frenetic passion.
Sitting back down at our table for the evening, we were greeted by the yeasty-sugary smell of a signature From Scratch dessert, the oven-roasted bread pudding.  Our server Andrew checks on us a final time as we chomp away at the cream-soaked brioche extra sweetened by a pale créme anglaise.
Andrew wishes us good night and makes one request.  He shyly inquires, "Would you mind taking a photo of the lit sign?"  He paused.  "It's the first night that I've seen it lit.". Standing on the quiet street, my hair blew in the wind as I snapped a shot of the new sign.  This place is now easier to find.
Disclosure: Rachel was an invited guest of the restaurant for this meal.
From Scratch
62 E Gallivan Ave, Salt Lake City, UT 84111
(801) 538-5090
www.pizzafromscratch.com
Rating: 4 out of 5. Reviewed by Rachel on .
Rachel's word bank stemmed from loud and harmonious roots, the diverse flavors of Miami: Judeo-, Caribbean-, and Latin-notes. Years of academic pursuit in Boston, the Middle-East, and NYC shaped her career until her stomach demanded more attention. She then manifest-ed destiny, and landed in the softer hills, canyons, and farm-to-table options of Colorado; it was out west that Rachel's love for food found a voice and a passion, supporting efforts towards locally sustained businesses. Here in Utah she has found home.
This article may contain content provided by one of our paid partners. These are some of the best businesses in Utah. For a list of all our current and past relationships see our
partnership history page
.