Summer is just a couple of apocalyptic thunderstorms away. With those blue skies set to dominate for many a searing afternoon thoughts start to turn to tailgating, hiking, camping and cooking outdoors. Dreams of that perfectly prepared, pristine meat give way to the terrible reality of your culinary prowess – well if you're me anyway. With all that in mind, here are a few products to keep in mind for your summer outdoors adventure – that I spied during two recent trade shows.
First things first – anyone headed to the outdoors probably wants to look the part. If you're missing that je ne sais quoi of ruggedness look no further than Beard Beanie
– from Logan, Utah. Is it it beanie, is it it a hat, no, its both:
(sidenote: French nationals aside, uttering je ne sais quoi probably means you're not the gnarled mountain type anyway)
Facial credentials in order, make sure the leader of your group is equipped with this handy backpack from the folks at Eagle Creek
. Remember kids, beer hydration is everything: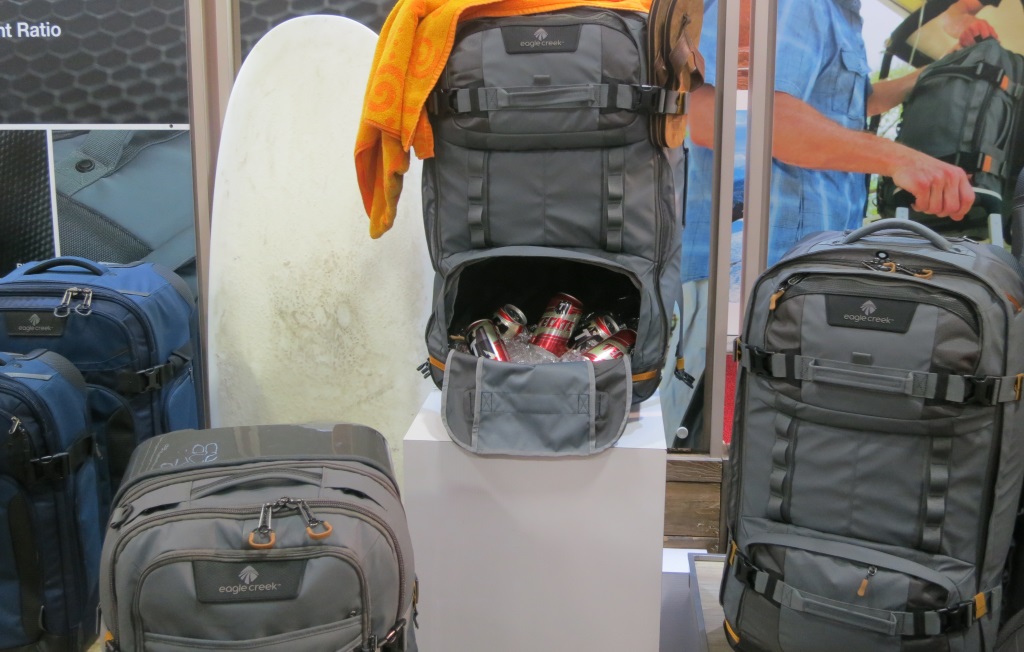 Once you've hit your destination, options for cooking are myriad. One particular range of grills that stood out to me was the O Grill
and its accompanying collapsible portable table
. You probably won't find these at your local Home Depot (online is your friend), but from my first hand experience the construction was first rate, the price was keen, and they look pretty darn cool: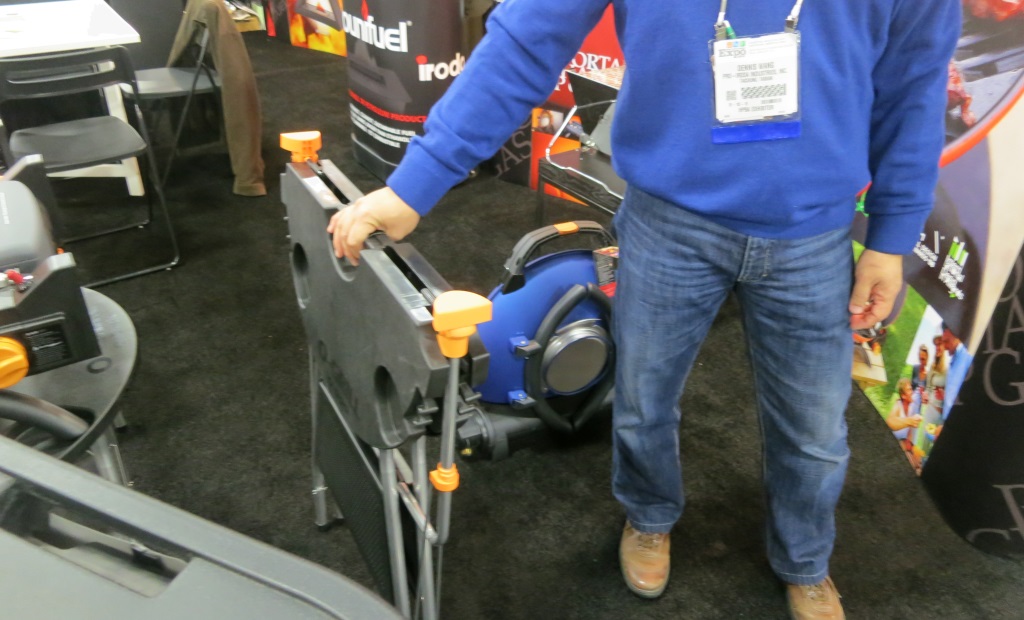 If you're looking for something fancier, the Big Green Egg guys released their mini max model this year to accompany the existing mini model. Effectively two scaled down versions of these insanely robust and hefty charcoal grills, perfect for the tail gate; or I guess camping too, if you have the incredible hulk tagging along to carry. Seriously, these things are built like sherman tanks – the mini alone weighs in at 36 pounds – but after playing with a bunch of varying egg-esque cookers, I appreciate their build quality.
Mind you, they ain't cheap, the cheapest mini starts around $400 or so and prices rocket northwards the larger you go and the more accessories you add. Mini far right, mini max left:
Of course, once you've cooked, it's time to clean the grill. One product I spotted on the show floor eliminates those nasty metal scrapers that forever seem to leave bits of metal bristle everywhere – The Great Scrape. Pictured below is The Woody Paddle
($35) made of solid oak and coated with an all natural, non-toxic, food safe mineral oil. This long lasting paddle quickly forms grooves as you scrape your grill surface – forming a usable tool in as little as one use. From there you can expect years of safe grill cleaning from this unique tool.
Another cool product I spied was Instafire, a product from another local company in Riverdale. This stuff is crazy cool:
This versatile fire starter lights in snow, wind and rain with water-repellent properties. It offers a fifteen minute burn time and a thirty year shelf life. Use it to light campfires, prepare charcoal briquettes, or as a safe and reliable fuel source for cooking or heating in emergency situations – check out the InstaFire on Amazon
store for all the options..
You can literally throw this stuff on the floor, hold a lighter to it and ignite it. The version for charcoal grills even comes in a bag that's totally safe to ignite and burn, made from natural sugars. Go ahead and throw the whole bag into your chimney starter, lob some coals on top, and you're all set.
Another innovative product I spotted was The Power Pot – indeed these guys just secured backing from Mr Mark Cuban himself on ABC's Shark Tank. If you're like me the threat of losing wireless connectivity produces something akin to phantom limb syndrome. The Power Pot
($149-$229) allows you to generate USB voltage power while you cook your ramen noodles and beans (because that's what I think people cook in the mountains, ok). Fascinating stuff, and no doubt a range of power generation applications down the line.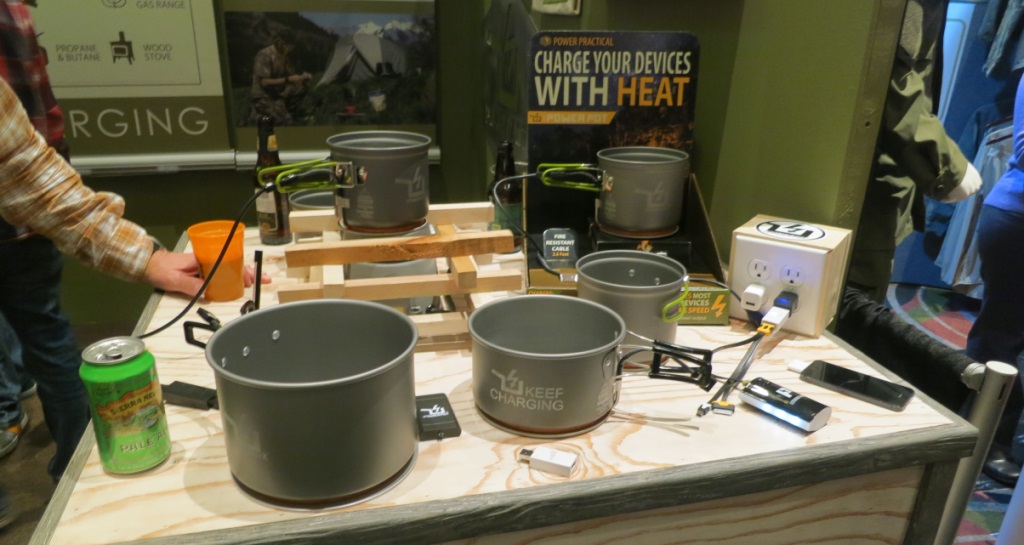 Finally, while you might be ready to kick back and relax in the great outdoors – please – use a little decorum while you're out there, and use a coaster for your drink. Ok, ok, if you must fit in with the outdoorsy vibe, check out Park City's Summit Coasters. Using only 100% reclaimed woods such as Aspen, Elm, Oak, and Pine, Summit Coasters laser engrave these ultra hip wooden coasters with your logo or info. After the engraving is complete, the coasters are lightly finished with a protective coating that maintains the natural and rustic wood feel.
In fact, these would look just as good inside as outdoors…
Disclosure: Above pictures taken at Outdoor Retailer and HPBExpo both of whominvited GSLC as a media guest. Some links above may be affiliate links, where GSLC earns a small portion (very small!) of any purchase made.
Hi, I'm Stuart, nice to meet you!  I'm the founder, writer and wrangler at Gastronomic SLC.  I'm a multiple-award winning journalist and have written in myopic detail about the Salt Lake City  dining scene for the better part of seventeen years.
I've worked extensively with multiple local publications from Visit Salt Lake to Salt Lake Magazine, not least helped to consult on national TV.   Pause those credits, yep, that's me! I'm also a former restaurant critic of more than five years, working for the Salt Lake Tribune.    I'm largely fueled by a critical obsession with rice, alliteration and the use of big words I don't understand.   What they're saying about me: "Not inaccurate", "I thought he was older", "I don't share his feelings".
Want to know more? This is why I am the way I am.
This article may contain content provided by one of our paid partners. These are some of the best businesses in Utah. For a list of all our current and past relationships see our
partnership history page
.