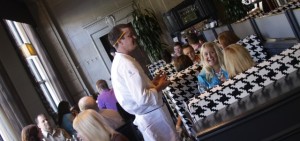 Bambara *
Executive Chef Nathan Powers is cooking up something special for Easter Brunch 2014 at Bambara. On Sunday, April 20, 2014, from 10 a.m. to 3 p.m. guests can enjoy a tasty Easter brunch buffet, featuring Bambara's award-winning New American bistro cuisine. Specialties include Powers' delicious lamb hash with poached egg and mint béarnaise sauce, grilled king salmon with lemon caper-dill sauce, and a carving station with mustard glazed ham and organic turkey breast. Pastry Chef Rebecca Moore has whipped up delicate pastries and her own house made granola. With plenty of options for the whole family to enjoy, brunch is available for $42 for adults, $22 for children ages 6-12 and $36 for senior citizens, 65-years-old and over. Guests are encouraged to reserve early as the Sunday Easter brunch fills up quickly. Bambara's Easter Brunch Menu is all-you-can-eat and includes:
From The Bakeshop
Croissants, Danish, Sweet Pastries,
Berry Preserves & Sweet Butter
Rebecca's House Made Granola
Yogurt Parfaits
Easter Offerings
Fresh Seasonal Fruit
Smoked Salmon with Accoutrements
Roasted Spring Asparagus
Antipasti Platter
Spring Greens with Red Wine Vinaigrette
Bambara Caesar Salad
Brioche French Toast
Buttermilk Biscuits & Elk Sausage Gravy
Roasted Red Potatoes
Apple Wood Smoked Bacon & Country Link Sausage
Executive Sous Chef Justin's Famous Quiches
Poached Prawns with Herbs & Hot Horseradish
Truffled Macaroni and Cheese with Pine Nut Breadcrumbs
Carving Station
Mustard Glazed Ham with Roasted Pineapple
Organic Turkey Breast with Caramelized Onion Gravy
A La Carte
Eggs Any Style
Traditional Eggs Benedict
Lamb Hash, Poached Egg, Mint Béarnaise
Grilled King Salmon, Lemon Caper-Dill Sauce
Omelet of your own design
Dessert Station
Mini Cheesecakes, Cup Cakes, Éclairs, Fruit Tarts,
Brownies, Blondies & Lemon Bars
202 S Main St, Salt Lake City, UT 84101
(801) 363-5454
www.bambara-slc.com
Caffe Niche *
Caffe Niche on 300 South is offering a special Easter bunch from 9 a.m. until 3 p.m. Selections are a la carte from the newly retooled brunch menu and Chef Ethan Lappe will offer a "Niche Scrambler" special with organic polenta with Peppadew peppers, scrambled local cage free eggs, lump crab meat, Mornay sauce and Campari tomatoes for $15. There are no reservations required — diners can just pop in whenever it suits, and there's never much of a wait.
Recently awarded "Salt Lake's Best Breakfast/Brunch" by Salt Lake magazine, Lappe's focus is on offering healthier alternatives without compromising flavor. With brunch in mind – "Our bartender Chris Bradshaw is having a blast with his new ice freezer, hand-crafting cubes for his new line up of brunch-focused cocktails. We have such a great new selection…from Bellinis to Bloody Marys to more fun ones like Harvey Wallbangers," said Lappé. "You can always choose one from our classic line up like Cuba Libre, Fernet & Coke or a summery Gin Ricky, too. They all pair very well with our updated brunch menu."
779 E Broadway, Salt Lake City, UT 84102
(801) 433-3380
www.caffeniche.com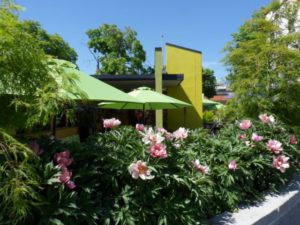 Faustina *
Faustina in downtown Salt Lake will offer a hearty Easter buffet brunch from 9 a.m. to 3 p.m. on Sunday, April 20. Chef de Cuisine's special creations include orange-chipotle glazed salmon, Italian sausage, a prime rib carving station, omelets to order, chicken Marsala with mushrooms and caramelized onions, and a wide selection of salads, pastries and desserts. Brunch costs $30 per person for adults, $15 for children under the age of 12 and is free of charge for children under the age of 3.* General Manager Hillary Merrill has created a special $3 Mimosa bar that includes a choice of juices: orange, blood orange, pomegranate, peach, pear, cranberry, grapefruit or pineapple. Chef Kemp will serve dinner from 4:30 to 9:00 p.m. featuring his award-winning nightly menu.
Chef Kemp excels at taking traditional brunch items and adding regional twists. "We've been focusing on revamping the dinner menu small plate selections so I'm happy to turn my focus to brunch," said Joe Kemp, chef de cuisine. "Our all-weekend brunch has been super popular, so it seemed like a natural to offer it on Easter Sunday." Patio seating will be available weather permitting.
Hot and Cold Entrees:
Orange Chipotle Glazed Salmon
Italian and Linguisa Sausage
Bacon
Breakfast Potatoes
Scrambled Eggs
Prime Rib Carving Station with Au Jus and Horseradish
Ham Omelette with Cheddar Cheese
Veggie Omelette with Mozzarella, Tomato, Zucchini and Mushrooms
Chicken Marsala with Mushrooms and Caramelized Onions
Biscuits with Sausage Gravy
Fresh Fruit and Cheese Platter
Shrimp Cocktail
Salads
Mediterranean Orzo Salad
Caesar Salad with Pesto Chicken
Tuscan Mixed Greens with House Dressing
Hummus, Pesto and Olive Tapenade with Pita Bread
Smoked Salmon Platter with Red Onion, Capers, Hard Boiled Egg and Chives
Pastries and Desserts
Carrot Cake
Chocolate Cake
Banana Bread
Lemon Curd Tartlets
Cinnamon Rolls
Berries and Cream
Croissants
454 E 300 S, Salt Lake City, UT 84111
(801) 746-4441
www.faustinaslc.com
Franck's
Chef Robert Perkins will serve a fabulous four course brunch menu this coming Eater Sunday for the entire family. Hours are from 10:30am-2:30pm. $55 per person, $25 children 12yrs and younger. Tax and gratuity not included. Easter Menu:
1st Course:
Spring Strawberries, Goat's Milk Cheese, Chive, Peppadew Dressing, Crispy Shallots
2nd Course:
Dill Crusted "Barely Warm" Organic Scottish Salmon, Cream Cheese,
Red Onion, Shaved Bagel, Baby Cucumber, "Everything Bagel" Vinaigrette
3rd Course:
Dry Aged Meyers All Natural N.Y. Strip, Gruyere Cream Cheese Biscuit, Sous Vide Farmers Egg, Fingerling Potato Chips, Salsa Verde Hollandaise
4th Course:
Buttermilk Pie, Honey Comb, Sweet Corn Ice Cream, Honey Scented Apricot
6263 S Holladay Blvd, Holladay, UT 84121
(801) 274-6264
www.francksfood.com
Grub Steak
Up in Park City, family friendly steak house Grub Steak are hosting an Easter Sunday Brunch menu 10:00am – 2:00pm. Prices are $27.75 for adults and $13.75 for children under twelve. A full menu can be found here.
2093 Sidewinder Dr, Park City, UT 84060
(435) 649-8060
www.grubsteakrestaurant.com
La Caille
Celebrate Easter with a Grand Buffet at La Caille. 10:00 AM – 4:00 PM, adults $49, children 4 – 10 $26, 3 and Under $10. Menu Includes:
Composed Dishes
Herb Roasted Beet Salad, Haricot Verts Croutons, Blue Cheese
Artisan Greens, Grapes, Candied Nuts, Port Wine Dressing
Hand Selected Sliced Fruit
Deviled Eggs, Smoked Salmon, Traditional, Caviar, Crab
Imported & Domestic Cheese Platter
Parfaits, Dried Fruits, Fresh Berries, Compotes, Honeys
Eggs Benedict, Grilled Ham, Roasted Tomato, Warm Spinach, Poached Farm Fresh Eggs
Maryland Crab Cakes, Assorted Aioli
Herb Roasted Whole Mary's Chicken, Spring Onion Potato Puree
Ratatouille, Assorted Spring Vegetables, Local Goat Cheese
Scrambled Farm Fresh Eggs, Smoked Bacon, Cranberry Sausage, Crispy Potatoes
Slow Roasted Salmon, With Corn And Sweet Pea Fritters
Carving Station
Rosemary Garlic Crusted Lag of Lamb
Porcini Rubbed Prime Beef
Dessert Display
Milk Chocolate Panna Cotta
Sticky Buns, Pecans and caramel
Chocolate Fondue, Assorted Fruits and Cookies
Macaroons
Little America
Celebrate Easter with family and friends at The Little America Hotel. A bountiful buffet will feature traditional brunch favorites as well as Easter specialties, served in the ballroom. Savor the selection of freshly prepared salads, succulent roasts, numerous entrees, and of course, decadent desserts.
Brunch runs 10:00 a.m. – 2:00 p.m. and is price $47.00 for adults and $23.50 for children (5-10). Children 4 and under are complimentary. No reservations required.
500 S Main St, Salt Lake City, UT
(801) 596-5700
saltlake.littleamerica.com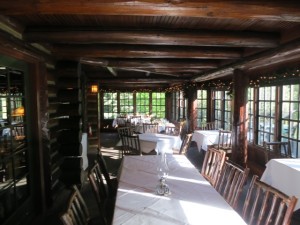 Log Haven *
Grab brunch AND supper and make a day of gourmet dining. Log Haven's Easter Sunday Supper is available 12:00pm to 5:00pm. The hand-crafted four-course meal by Chef Dave Jones is $39.95 per adult with children (under 12 years old) $21.95. A full menu is available on their site here.
6451 E Millcreek Canyon Rd, Salt Lake City, UT 84109
(801) 272-8255
www.log-haven.com
Oasis Cafe *
Oasis Cafe on 500 East will serve an Easter Brunch buffet on Sunday, April 20 from 9 a.m. – 3 p.m. Cost for Adults is $32 per person, children age 13 and under $18 and is free of charge for children under the age of 3.* Mirroring the creative daily menu filled with local organic vegetables, sustainably ranched meats and freshest seafood, the buffet is a favorite with locals. The buffet will also include the popular prime rib carving station and a chocolate fountain for dessert. Oasis will be open for dinner service from 5 p.m. on Easter. Oasis Cafe will be seating on their beautiful courtyard patio, an urban oasis, weather permitting.
Oasis Cafe Easter Brunch Menu
Hot and Cold Entrees
Prime Rib Carving Station
Maple/Mustard Glazed Salmon
Baked French Toast Casserole
Vegetable/Potato Hash and Eggs
Apple Wood Smoked Bacon
Baked Sausage and Eggs
Cheese Blintzes with Blueberry Sauce
Petite Omelets (Oasis Omelet, Asparagus & Feta)
Mediterranean Tasting Platter
Shrimp filled Enchiladas
Salads
Efren's Pasta Salad
Mediterranean Pasta Salad
Pastries and Desserts
Coffee Cake
Mini Scones (Strawberry Toasted Almond)
Mini Croissants
Vegan Chocolate Cake
Tres Leches Cake
Chocolate Fountain
Pretzel Sticks
Lemon Pound Cake
151 S 500 E, Salt Lake City, UT 84102
(801) 322-0404
www.oasiscafeslc.com
Snowbird
Its an action packed Easter Sunday at Snowbird. A pancake breakfast runs 7:30 a.m. – 10:30 a.m. in the Rendezvous Restaurant – a breakfast buffet with blueberry pancakes, french toast, scrambled eggs and much more – a full menu can be found here.
A free Easter egg hunt will start at 9 a.m. in Chickadee Bowl for children up to 11 years of age. Bring a basket and let the Easter Bunny help you find his eggs! The three age divisions are: 4 & under, 5-7 and 8-11.
Stick around afterwards to enjoy the Aerie's gourmet Easter brunch from 9 a.m. – 3 p.m. featuring dishes such as braised lamb, trout amandine, mahi mahi, lobster mac & cheese, smoked salmon, New York strip and more. A full menu can be found here.
The Forklift will be getting in on the Easter fun too, with your favorite Forklift breakfast and lunch items available all day (7:30 a.m. – 2:30 p.m.). A menu can be found here.
* Gastronomic SLC is a proud local partner of Bambara, Caffe Niche, Faustina, Oasis Cafe and Log Haven.
Hi, I'm Stuart, nice to meet you!  I'm the founder, writer and wrangler at Gastronomic SLC.  I'm a multiple-award winning journalist and have written in myopic detail about the Salt Lake City  dining scene for the better part of seventeen years.
I've worked extensively with multiple local publications from Visit Salt Lake to Salt Lake Magazine, not least helped to consult on national TV.   Pause those credits, yep, that's me! I'm also a former restaurant critic of more than five years, working for the Salt Lake Tribune.    I'm largely fueled by a critical obsession with rice, alliteration and the use of big words I don't understand.   What they're saying about me: "Not inaccurate", "I thought he was older", "I don't share his feelings".
Want to know more? This is why I am the way I am.
This article may contain content provided by one of our paid partners. These are some of the best businesses in Utah. For a list of all our current and past relationships see our
partnership history page
.