Perfect Pie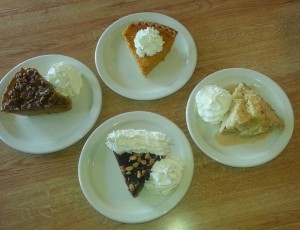 While the holidays are fast approaching there's still time to secure the perfect antidote to dry, boring turkey. Penny Ann's Cafe is presently taking orders for their glorious pies – which I guarantee will be the only centerpiece you need for your Thanksgiving table.
With the season in mind Penny Ann's Cafe is offering a trio of seasonal pies: pumpkin, apple crumble and sweet potato w/pecan topping. In addition all the regular options are available too: banana cream, chocolate mousse, coconut cream, key lime, lemon raspberry cream and peppermint cream. You can reserve a full pie for a measly $15 ($17 for the sweet potato). Pies can be picked up until 4PM the day before thanksgiving.
And while you're there to pick up your pie, you might want just want to grab a meal too. Monday 19th through Wednesday 21st Penny Ann's we will be offering a traditional dinner of turkey with gravy, potatoes, stuffing, veggies, dinner roll and a slice of pie for $9.99. The regular menu will be available too. For more information on Penny Ann's Cafe see my review in the Salt Lake Tribune last year.
Penny Ann's Cafe
1810 South Main Street Salt Lake City, UT 84115
(801) 935-4760
www.pennyannscafe.com
SLC POP goes full time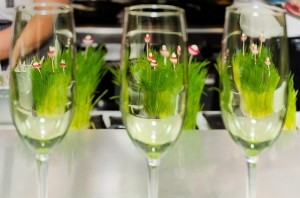 Inspired by feedback from SLC POP dinners, the infrequent guerrilla restaurant has decided to open a permanent location. Nata Gallery will be a permanent home for their spontaneous, creative dinners not to mention art showings, yoga classes, fundraisers, cocktail parties and more.
But wait! SLC POP and Nata Gallery need your help. In order to realize their ambitions, chef Katie Weinner has put together a Kick Starter campaign to fund the project. If you want to get involved, donate a little cash and help out a great local business, check out the full plans here:
http://www.kickstarter.com/projects/slcpop/nata-gallery-catering-to-your-eyes-mouth-and-mind
Real Food Rising Holds Fundraiser
Youth farming program Real Food Rising (RFR) invites community members to the Fall Celebration Fundraiser on Thursday, November 8, 2012 at Rico's Warehouse. Tickets are $35 in advance or $40 at the door, and can be purchased online at www.uah.org/realfoodrising/real-food-rising-fundraising-dinner.
The Fall Celebration Fundraiser, sponsored in part by LuluLemon in Trolley Square, will raise money for the expansion of RFR's summer youth program. The program brings youth from different socio-economic backgrounds together to work growing food sustainably while learning important job, leadership, teamwork, diversity, and civic participation skills.
"Next summer, we will hire more youth and substantially expand the land they will farm with the help of this fundraiser," said Mike Evans, RFR Director. "We are thrilled to celebrate the first year of our program with the community and so excited for the possibilities in Real Food Rising's future."
The event begins at 6 pm and ends at 9 pm. There will be food provided by Rico's and Frida Bistro, drinks, a photo gallery of images from the summer, and a silent auction with items from LuluLemon, Dexterity Salon, Taste of the Wasatch, Utahns Against Hunger, and the Downtown Alliance. Youth crew members and staff will share personal stories of their experience in the program this summer.
The dinner also celebrates RFR's accomplishments during the pilot year, which wrapped up this fall with winter preparations on the farm. This year's ten youth crew members grew over 3,500 pounds of produce, and over 3,000 pounds were donated to local hunger relief organizations. Youth also spent 681 hours volunteering with soup kitchens, food pantries, and other non-profit farms over the summer.
"Going to the hunger relief organizations was the most impactful thing this summer," said youth crew member Ethan. "I had never realized there were so many people going without food in Salt Lake. The magnitude of it all is astounding."
Hi, I'm Stuart, nice to meet you!  I'm the founder, writer and wrangler at Gastronomic SLC.  I'm a multiple-award winning journalist and have written in myopic detail about the Salt Lake City  dining scene for the better part of seventeen years.
I've worked extensively with multiple local publications from Visit Salt Lake to Salt Lake Magazine, not least helped to consult on national TV.   Pause those credits, yep, that's me! I'm also a former restaurant critic of more than five years, working for the Salt Lake Tribune.    I'm largely fueled by a critical obsession with rice, alliteration and the use of big words I don't understand.   What they're saying about me: "Not inaccurate", "I thought he was older", "I don't share his feelings".
Want to know more? This is why I am the way I am.
This article may contain content provided by one of our paid partners. These are some of the best businesses in Utah. For a list of all our current and past relationships see our
partnership history page
.