4H Meat Hitting the Tables at Communal
Meat comes from animals. It's true. For most people, this fact is kept at a distance, mostly in big industrial feedlots in the Midwest. At Heirloom Restaurant group, they prefer to embrace and respect the origin of the food they serve. They butcher whole hogs from Christiansen Family Farm and cut their own chops and loins. They smoke their own bacon and stuff their own sausage. A local farmer, someone they know, put in the work and care to raise the animal, so they feel it's only right to take equal care processing and preparing it. Heirloom Restaurants Group is now applying that same philosophy to beef.
A few weeks back, on August 4, representatives from Heirloom Restaurant Group went to the Tooele County Fair and bought a couple of steers at auction. These animals, one Black Angus and one Red Angus, had been raised from birth to market by high school students as part of a 4H project.
In the meantime, the cattle have been dressed, hung, and butchered. Now it's finally time for this very special beef to hit the tables. Starting Wednesday, September 5, Communal will be featuring this particular locally raised Angus beef on its dinner menu.
There's plenty more where that came from, though. All of the Heirloom restaurants will be serving the 4H Angus over the coming weeks. Along with the Fall harvest produce streaming in from local farms like Jacob's Cove, La Nay Ferme, and Clifford Family Farms, it's possibly the best time of year to eat local at Communal, Pizzeria 712, and Mountain West Burrito.
Communal
100 North University Avenue Provo, UT 84601
(801) 373-8000
Website: www.communalrestaurant.com
Les Madeleines Gifts
The holiday season wouldn't be complete without a fresh panettone, gift box of mini toaster tarts in seasonal flavors or four pack of the beloved Kouing Aman from acclaimed Salt Lake City, Utah bakery Les Madeleines.
Whether you prefer a traditional dessert or a fun spin on a classic, the Les Madeleines holiday offerings are sure to whet all palates.
Forget the fruitcake and opt for Pasty Chef Romina's panettone. Her loaf takes over two weeks to produce and all details, down to the in-house candied fruit, are lovingly looked after. The holiday panettone sells for $49.
There's nothing better than waking up on Christmas morning to gourmet pastries ready to serve and eat with a house full of guests. The Les Madeleines mini toaster tart gift box features 21 tarts in seasonal flavors, including: caramel apple, strawberry rose geranium and fig and cognac. The gift box retails for $29.
At a loss for what to gift to the foodie in your life? Think Kouing Aman (or kouign aman). Les Madeleines four packs are the ultimate decadent gift. Four packs retail for $26.50.
The Les Madeleines holiday panettone and mini toaster tart gift box will be available for purchase online from Thanksgiving until the New Year's holiday. Four packs of the Kouing Aman are available for purchase year round online. All three ship nationwide.
Les Madeleines
216 E 500 S Salt Lake City, UT 84111
(801) 355-2294
Website: www.les-madeleines.com
Utah Company Scoops Up Awards
Local confection experts, Chocolot, recently competed in the TasteTV International Chocolate Salon as well as the TasteTV Bridal Salon. The local company did Utah proud winning awards in the following categories:
Caramels:
Top Caramel–Gold (also named the official caramels of the TasteTV awards)
Best Ingredient Combination–Silver
Best Packaging–Bronze
Toffee:
Best Packaging–Bronze
And in the Bridal Salon:
Best Milk Chocolate–Gold
Top Artisan Chocolatier–Gold
Best Flavored Chocolate–Gold
Most Gifted Chocolatier–Gold
Most Delicious Ingredient Combination–Silver
Most Luxurious Chocolate Experience–Silver
Best Caramel–Silver
Best in Salon–Silver
Best Presentation and Packaging–Silver
Best Dark Chocolate–Bronze
Chocolot is an artisan confection company based out of Ogden, Utah, and cofounded by Ruth and Ryan Kendrick. Chocolot makes gorgeous chocolates with an emphasis on locally-sourced ingredients, and was recently named one of the best chocolatiers in America. More information can be found on their website: www.chocolot.com
More information about the TasteTV International Chocolate Salon can be found on their website: www.internationalchocolatesalon.com
Pallet Lunch Menu
Finally, fans of downtown SLC restaurant Pallet might be interested in their recently updated lunch menu. The new lunch menu is available now, Tuesday through Friday 11:00am – 3:00pm. Click the image below for the full size menu.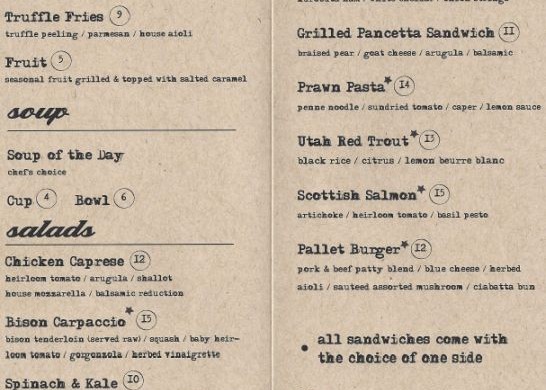 Pallet
237 South 400 West Salt Lake City, UT 84101
(801) 935-4431
Website: eatpallet.com
Hi, I'm Stuart, nice to meet you!  I'm the founder, writer and wrangler at Gastronomic SLC.  I'm a multiple-award winning journalist and have written in myopic detail about the Salt Lake City  dining scene for the better part of seventeen years.
I've worked extensively with multiple local publications from Visit Salt Lake to Salt Lake Magazine, not least helped to consult on national TV.   Pause those credits, yep, that's me! I'm also a former restaurant critic of more than five years, working for the Salt Lake Tribune.    I'm largely fueled by a critical obsession with rice, alliteration and the use of big words I don't understand.   What they're saying about me: "Not inaccurate", "I thought he was older", "I don't share his feelings".
Want to know more? This is why I am the way I am.
This article may contain content provided by one of our paid partners. These are some of the best businesses in Utah. For a list of all our current and past relationships see our
partnership history page
.