Evening dinner review
A few weeks ago someone asked me what my favorite restaurant in Salt Lake was, and I immediately responded that it was Fresco Italian Café in Sugarhouse. But I realized almost as soon as I said it that I hadn't been to Fresco in almost two years and I couldn't for the life of me figure out why. Investigation was in order.
We made our reservations for Fresco through OpenTable.com, and I really like it when a restaurant uses this service. I admit I have absolutely no idea what's involved in getting setup with them, but it sure makes things nice on my end. We arrived at 7:00 pm on a Saturday night and were quickly seated outside (as requested). As we perused the menu, a stack of delicious looking rolls were brought to the table and our drink orders were taken. There was a compound butter served with the bread as well (the server made sure to mention that when dropping it off), but if you can see from the picture there was probably a tablespoon of butter for four people. Normally I wouldn't really complain about this since I always feel a little guilty about slathering butter on great bread, but the rolls were a bit dry and fairly tasteless. Butter would have helped.
We then ordered our meals and the bottle of wine we'd ordered was brought out (a delicious 2009 Isabel Marlborough Sauvignon Blanc). Jason and Justin ordered salads, and Laura and I ordered the Bruschetta appetizer for everyone to share.
The Bruschetta ($10.00) with chickpea puree, Bresola, tomato confit, ricotta salata, arugula, and a lemon vinagrette was very tasty, but hard to eat. One small side note here – we actually asked if the appetizer would feed four people, so when it arrived and there were three pieces it seemed a bit strange that the server said it would. Lots of geometry was involved in getting everyone an equal share.
Jason's Café Salad ($8.00) had toasted almonds, fresh cherries, Rockhill Creamery Tomme cheese and a red-wine vinegar dressing, and although the cheese was really good, the salad was a bit bland. Justin's Caesar Salad ($8.00) was a pretty typical version of the Caesar variety.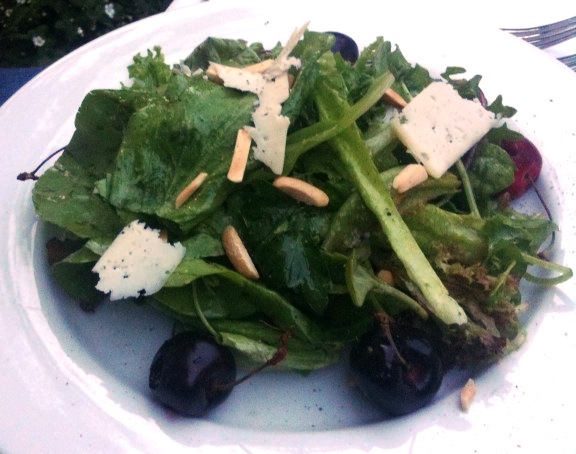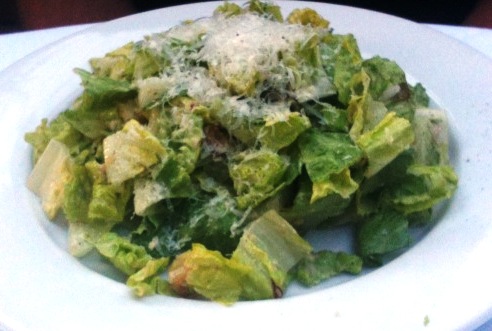 Next our entrees arrived. I ordered the Farfalle Ai Gamberi E Vongole ($23.00) with prawns, clams, and mussels with a white bean broth and tomatoes, basil, and pancetta. Very, very tasty, although I always want more seafood in these kinds of dishes. Jason ordered the red wine and cherry risotto special that night with duck (I completely forgot to jot down the price). My bite of the risotto was weirdly disappointing with very little flavor (and I admit I was expecting a punch with the cherries), but with the duck it was good.
Justin ordered the Pollo Piccata Alla Maria ($24.00), which was chicken, stuffed with fontina and asparagus on top of orzo with spinach and a lemon-caper-garlic sauce. He said it was good. Nothing spectacular, but good.
Laura ordered the pasta special which they called Summer Stroganoff (again, I blew it on getting the price), and it was very herby and light. One note with that though. It had chicken, pork, and beef in it, and although it was a stroganoff, the beef didn't work at all in it. Just too heavy with the rest of the flavors.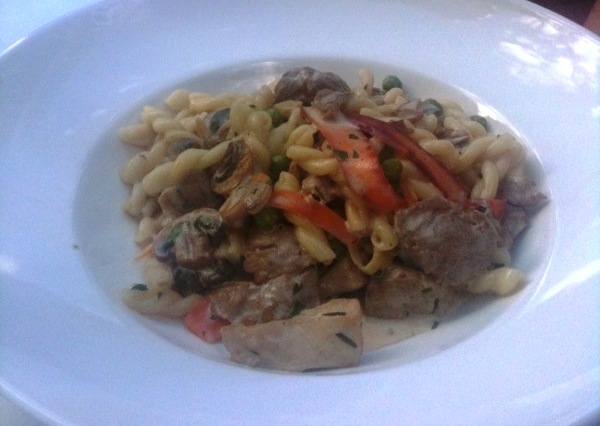 We then ordered coffee and dessert. Jason ordered the Robiola Cheesecake ($8.00), and ate it all before I could even get one bite. I ordered the Berries & Balsamic ($8.00), and I really liked it, although I think I'd prefer a gelato here, with a bit more weight to it than the lighter, almost icy semi-freddo. The texture was just a bit off for me, although tasted great. Justin ordered the Cannoli ($8.00), and we all thought he'd only get one (he asked for
chocolate), but you get all three.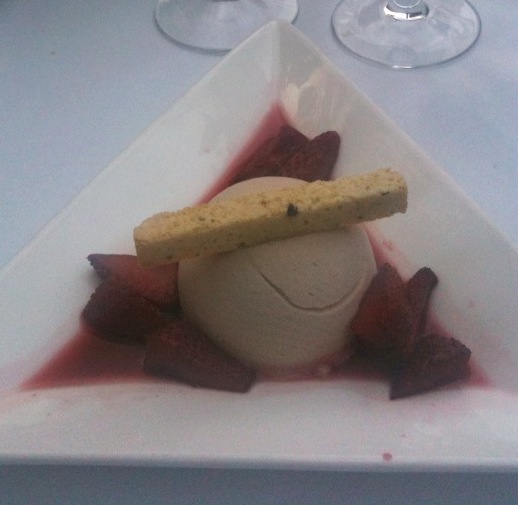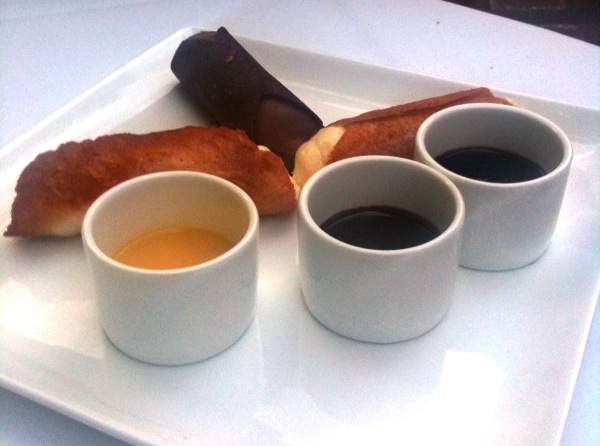 All in all we had a nice meal, and spent about $150.00 for the four of us with one bottle of wine.
I would note here though that the service was a little strange. For some reason our server seemed very uninterested in helping us much, but I don't mean the service was bad, just disinterested. I'm not sure if he'd decided we looked like bad tippers right from the beginning of the meal, but he was barely there. We did get our water glasses refilled quickly by the bus staff though, so it really was fine. I suppose I can't say Fresco is my favorite restaurant anymore. I do love the patio, and mostly really like the food. I know they've had some changes in the cooking staff recently, and maybe that was part of the problem that night, but Salt Lake has a lot of competition now and I hope Fresco steps up to the challenge. I'll definitely be back to give it another try.
Fresco Italian Cafe
1513 South 1500 East, Salt Lake City, 84105
(801) 486-1300
Website: www.frescoitaliancafe.com
This article may contain content provided by one of our paid partners. These are some of the best businesses in Utah. For a list of all our current and past relationships see our
partnership history page
.