Evening dinner review
First, let me confess, I'm a confirmed omnivore. While I try to keep my bacon and steak eating to a minimum, I definitely do eat meat. That said, I frequently choose other forms of protein, and so when a friend of mine recently described a visit to Omar's Rawtopia, I quickly setup a lunch with my friends Resha and Roger (and of course the husband) to try it out.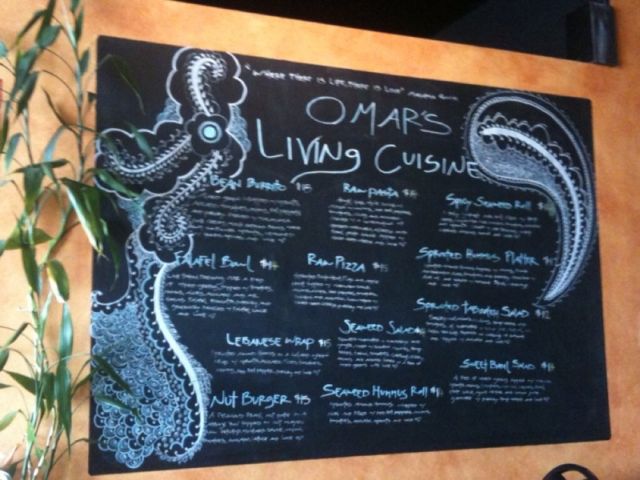 Omar's is definitely not just a typical vegetarian or vegan restaurant. Since all their food is considered "raw" (not to mention organic) the names of the menu items really just describe how something looks. For example, we started with two appetizers. The first was the Almond Hummus Bite ($7.00), which was very yummy, sort of hummus-y in flavor, but nothing like regular hummus in texture.
Made from live almonds (which I think means organic almonds), and topped with onions, tomatoes, and parsley and then drizzled with olive oil, this was a great starter. We also tried the Seaweed n' Noodles ($8.00) with a little more mixed results. Resha and I liked the marinated seaweed, long strips of zucchini (the noodles), and "salsa" of avocado, tomatoes, celery, red bell peppers, cucumbers, and onions, but the guys weren't that impressed.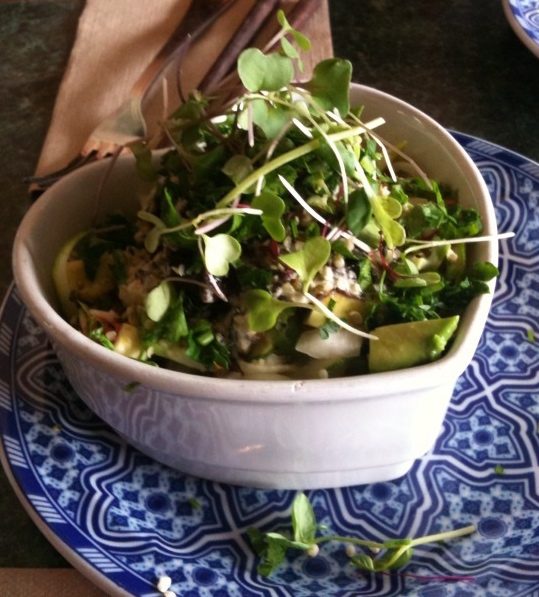 We also tried a few half glasses of the specialty drinks (all were $3.50). Resha and I had the Hemp Milk Chai, Jason tried the Chocolate Goji, and Roger tried the Drink of the Day, which was a strawberry smoothie with Chocolate Goji layered together. We all really liked our drinks. I thought the chai was very strongly spiced, and my taste of Jason's Chocolate Goji reminded me of eating a 70% cacao chocolate bar.
Next came our entrees. I got to have more zucchini "noodles" in the Raw Pasta ($14.00). The different layers of sauces (tomato, pesto, and alfredo nut) were very flavorful and I'm not sure why but the zucchini strands didn't feel exactly raw to me. This dish was very good, but I felt like there were so many flavors it was hard to enjoy anyone of them on it's own. Jason tried (and praised) the Bean Burrito ($15.00), which really was a puree of tahini and sunflower seeds wrapped inside of a collard green.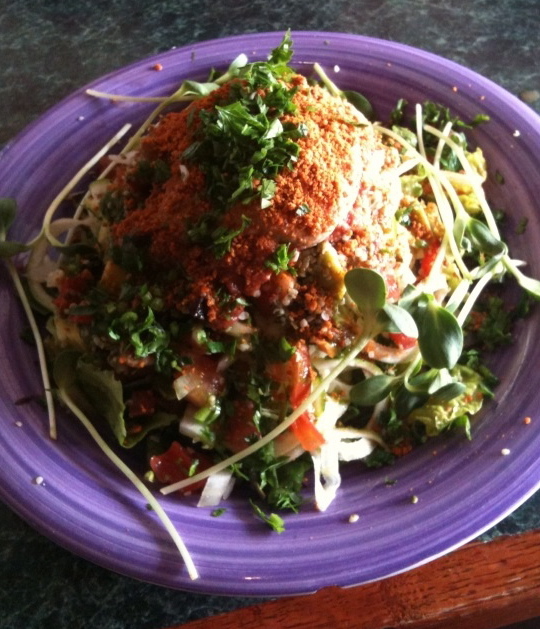 Roger tried the Pizza ($15.00), which consisted of a flax, sprouted buckwheat, and apple crust topped with a tomato sauce, onions, zucchini, avocados, pesto and Omar's nut and seed cheese. The crust was a very interesting texture amid all the veggies, but Roger felt like there was so much going on the flavors were a bit muddy. Resha ordered the Falafel Bowl ($14.00), and that's probably the thing I'd order when I go back. A great salad with a tahini dressing and little nut/seed falafel biscuits sprinkled in. It was perfectly flavored, and those little falafel biscuits were like the outside of a falafel ball i.e. delicious!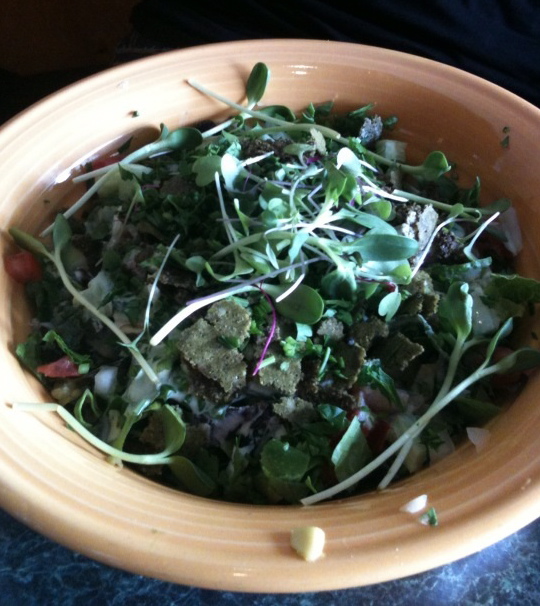 All in all we felt the food at Omar's was very good, and none of us felt dissatisfied after eating there (which is something I often hear from people who don't want to eat vegetarian). It wasn't a quick meal by any means, but it was a tasty one.
Honestly, the only complaint any of us had was about the price. For the four of us our bill came to something close to $95.00, and that was before tip. I can certainly understand that the time and effort involved in making these dishes is extreme, not to mention sometimes organic food costs more. All of that makes sense to me (and I'm willing to pay for it), but unfortunately with those prices, my visits to Omar's will be a lot fewer and farther between than they might be if the entrees were $9.00 instead of $15.00.
Omar's Rawtopia
2148 Highland Dr, Salt Lake City, UT 84106
(801) 486-0332
Website: www.omarsrawtopia.com
This article may contain content provided by one of our paid partners. These are some of the best businesses in Utah. For a list of all our current and past relationships see our
partnership history page
.