Sunday isn't the dining apocalypse it once was in SLC. There are now many restaurants open Sunday in Salt Lake City, and the following are some the best. Sundays in SLC can be so much more than a boring old roast dinner – you can find everything from sushi to steaks to…well, you name it, you can probably find it these days in Salt Lake.
While the featured restaurants below are some of the very best places you can eat on Sunday in Utah, it's by no means exhaustive. Check out the two following links on our sister site SLC Menu, for more detailed info on Sunday dining in SLC as well:
SLC Eatery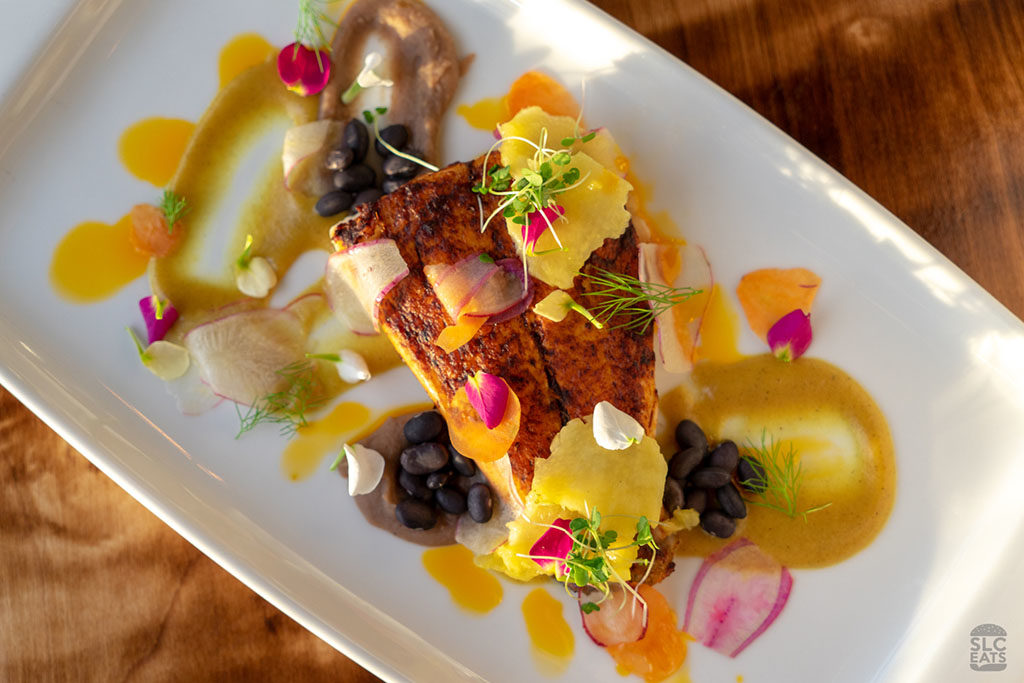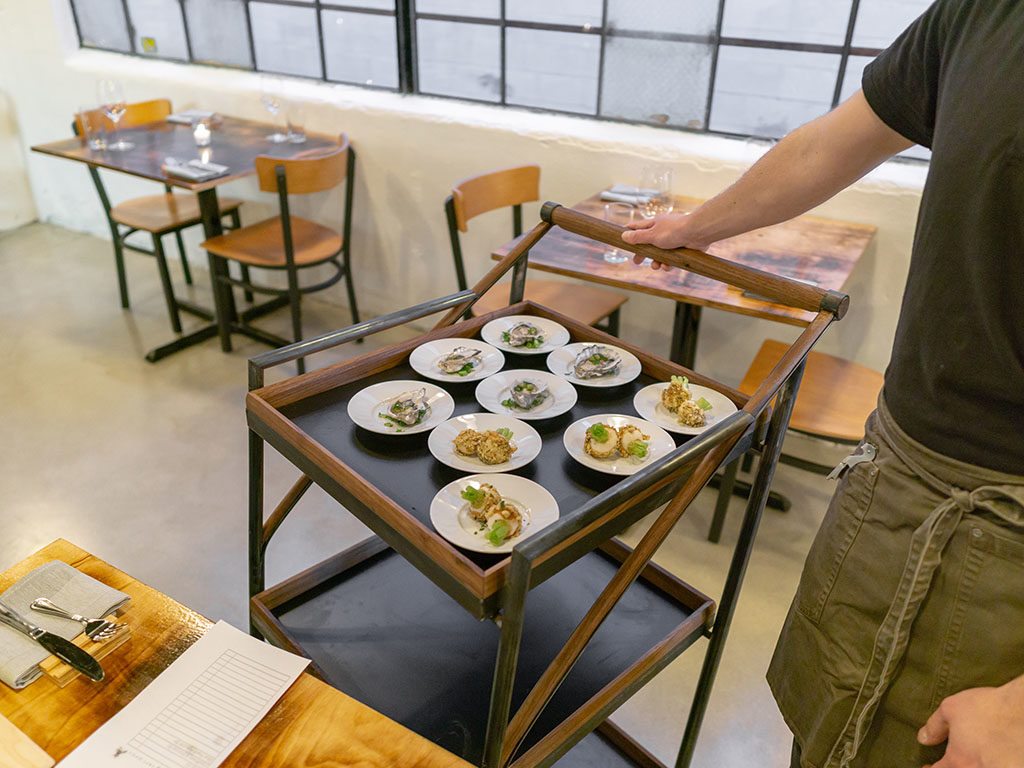 SLC Eatery is the work of chefs Paul Chamberlain and Logen Crew – a duo who you might recognize from their award winning time at Fresco Italian Restaurant way back when; and what a team they make, SLC Eatery is undoubtedly one of Utah's top restaurants, and luckily for you – open Sundays too! The cuisine spans a range of global influences, Indian to Mexican to Chinese, all tied together with New American sensibilities; think fresh, seasonal, local products where possible.
One particular item that stands out at SLC Eatery, is their take on the classic dim sum experience. As you enter the restaurant take note of the specials board, and during your email you'll see a small plates cart make its way through the room. Feel free to order up anything that takes your fancy at your own pace – and trust me – it's hard to not grab pretty much everything.
The feel is chic but relaxed, stop in for a couple of small plates and a glass of wine, or make it an evening with a full meal – but whatever you do, make sure to hit up this unique dining destination before the crowds discover it!
1017 Main St, Salt Lake City, UT 84111
(801) 355-7952
Brunch menu
We're proud to have SLC Eatery as the sponsor for this page.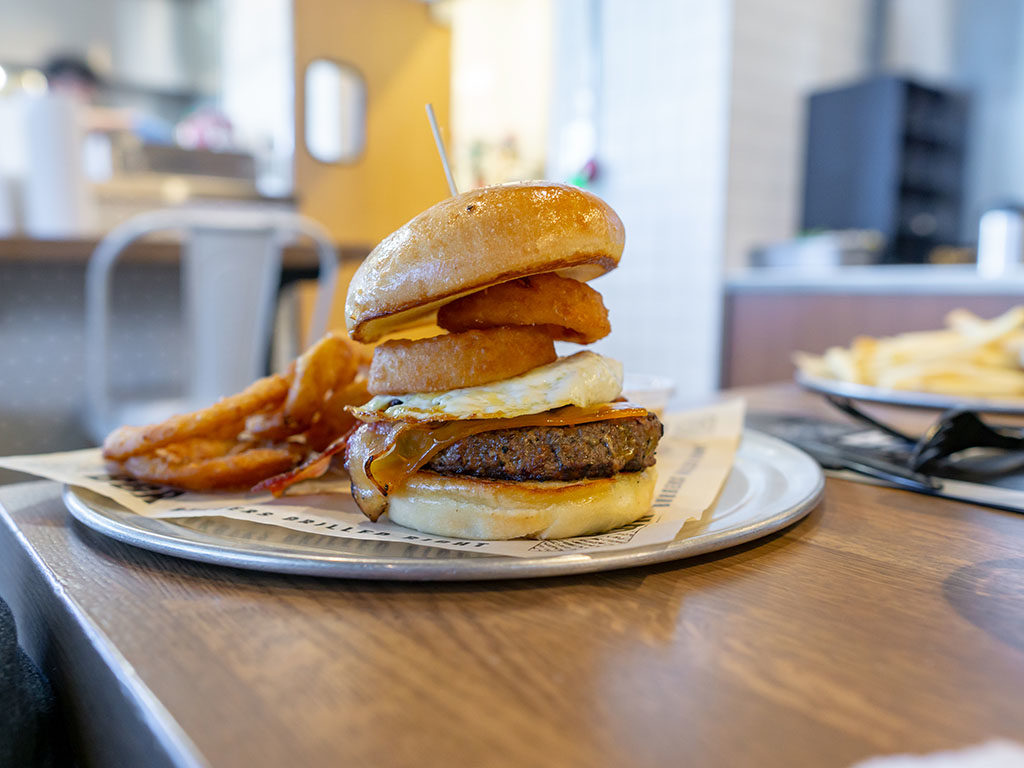 Everything you need to know about BGR is right in the name – Burgers Grilled Right. That means a range of different patty proteins, and cooked to order as well. Want a medium rare beef burger? No worries.
BGR lets you customize your burger as you see fit, not to mention offers a wide range of fun preset selections like the pictured Western BBQ burger. Also of note, there's craft beer and wine, and they're open seven days a week. Which means whenever your burger cravings hit, they've got you covered.
1202 Wilmington Ave Ste, Salt Lake City, UT 84106
(801) 487-6301
bgrtheburgerjoint.com/locations-menus/saltlake-ut/
Whiskey Street / White Horse
Located side by side, these twin businesses both offer the same reliable Sunday dining solution; each offers a full bar, a gourmet bar menu and comfortable digs, open all day long. Start at one, finish at the other, or just hang out all day long from bunch to dinner.
Whiskey Street | 323 Main St, Salt Lake City, UT 84111 | (801) 433-1371
White Horse | 325 Main St, Salt Lake City, UT 84111 | (801) 363-0137
Alamexo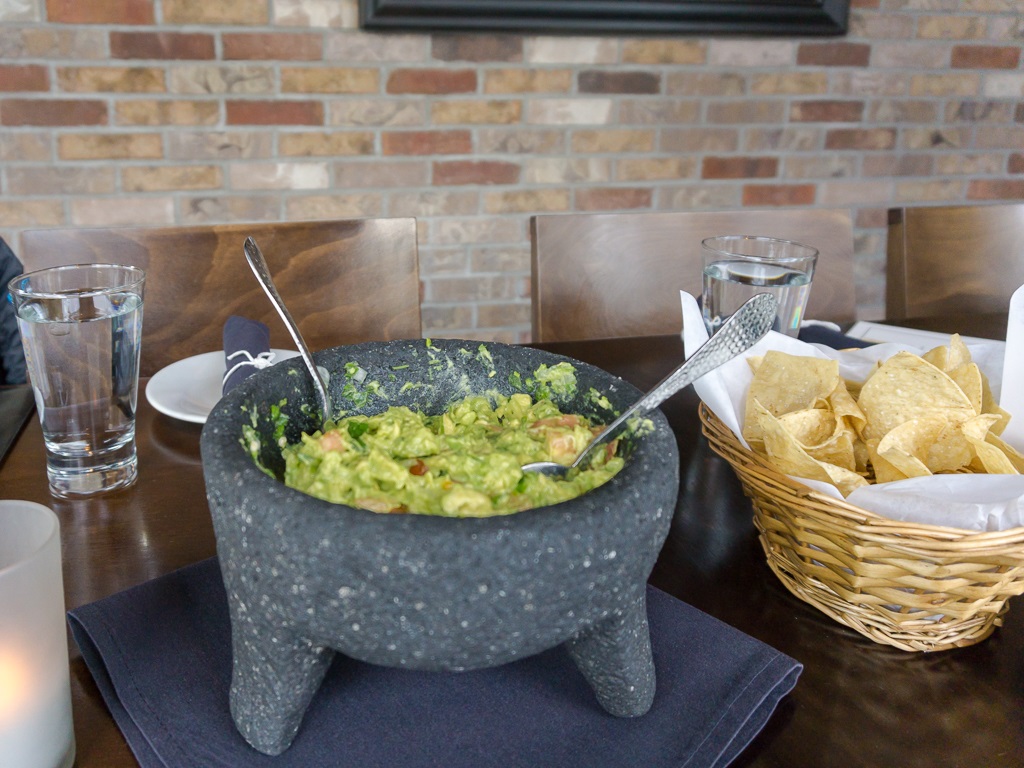 Elevated South of the border cuisine in the heart of Salt Lake City. Chef and owner Matt Lake crafts refined Mexican cuisine seven days a week – and gets bonus points for serving up Sunday supper too. You can read more about the restaurant and the chef's ethos here on our 2016 review of Alamexo.
268 State St #110, Salt Lake City, UT 84111
(801) 779-4747
www.alamexo.com
Avenues Proper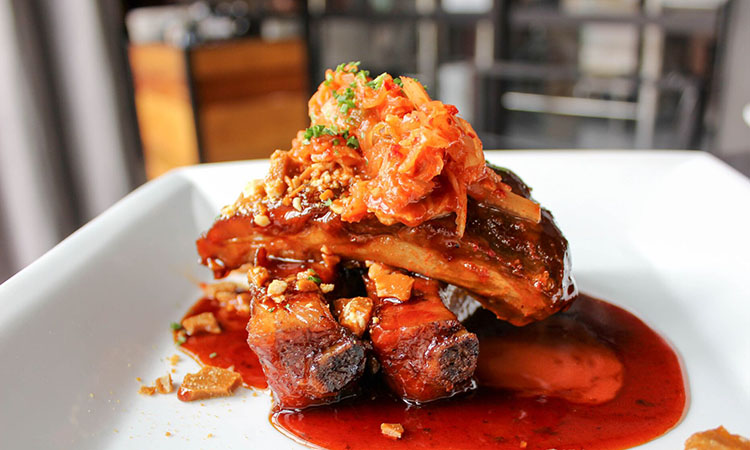 – This gastropub in the SLC Avenue's neighborhood is perfect for any meal – but it makes a great Sunday destination. Not only a fun place for weekend brunch the micro craft brew pub also serves up a stunning lunch and dinner menu too. Open on Sunday until 9 p.m.
454 E 300 S, Salt Lake City, UT 84111
(801) 746-4441
avenuesproper.com
Kyoto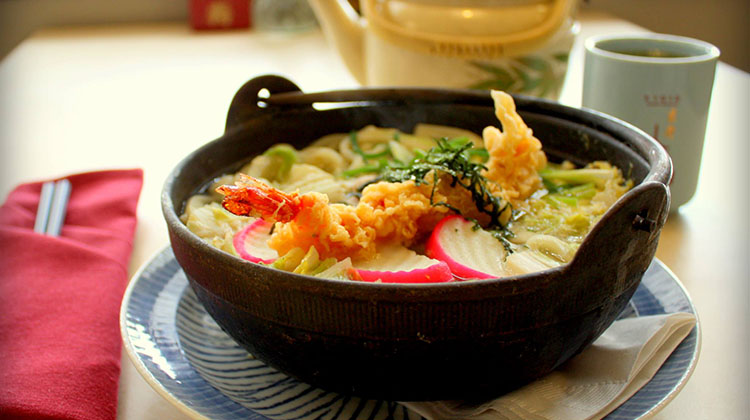 Home to hands down the best tempura in town, Kyoto Japanese Restaurant offers a classic Japanese menu packed with comforting flavors you crave. Open for more than three decades, the restaurant offers dishes such as tonkotsu and teriyaki amid a full sit down sushi bar. Beer, wine and sake are also available too. The restaurant is open until 9 p.m. on a Sunday.
1080 E 1300 S, Salt Lake City, UT 84105
(801) 487-3525
kyotoslc.com
Taqueria 27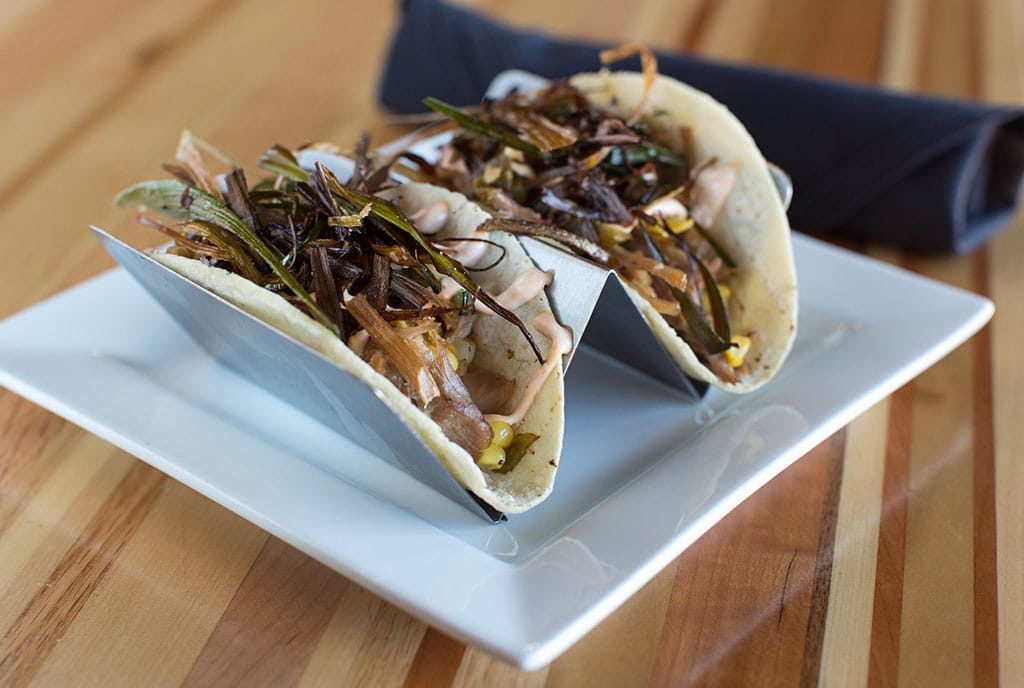 Five locations. Open seven days a week. A full bar. With all that, Taqueria 27 has you covered whatever your mood. The creative modern taco menu features refunded ingredients such as duck confit and short rib – plus on Sundays there's an extra special brunch menu too!
Proper Burger Co
From the same guys behind Avenues Proper is this second restaurant, also open on Sunday. The burger focused eatery has a range of delicious gourmet burgers, all of which you can customize to your own needs. Vegans and vegetarians will also be happy to find their needs catered here too. Proper Burger is open on Sunday till 10 p.m. If you don't want to go home, just go next door to Proper Brewing which is also open till 1 a.m. on a Sunday.
865 Main St, Salt Lake City, UT 84111
(801) 906-8604
properburgerslc.com
Saffron Valley
With three locations across the valley (Avenues, Sugar House, South Jordan), Saffron Valley has you covered wherever you are in SLC. Each menu is slightly different, as owner Lavanya Mahate seeks to highlight less known dishes from around the Indian sub continent. All three locations are open till 9 p.m. on Sunday.
Avenues | 2642 26 E Street, Salt Lake City, UT 84103 | (801) 203-3325
Sugar House | 479 E 2100 S, Salt Lake City, UT 84115 | (801) 203-3754
South Jordan | 1098 S Jordan Pkwy, South Jordan, UT 84095 | (801) 438-4823
saffronvalleysaltlakecity.com

Sugar House BBQ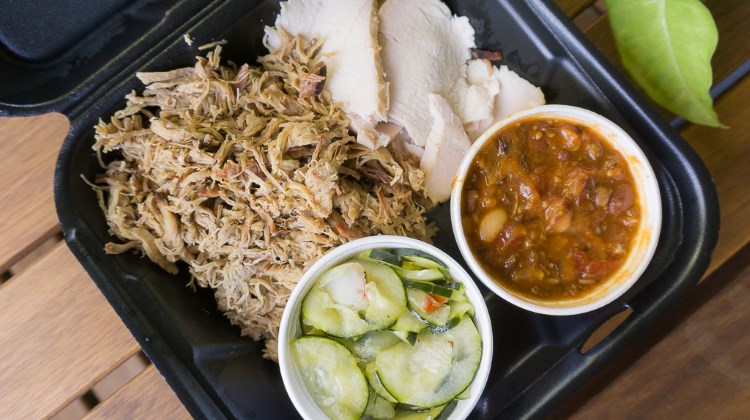 Sugarhouse BBQ in, um, well, Sugarhouse(!) has been delighting locals for decades. In 2013 the restaurant moved digs to a newer, more spacious outlet, that also offers a handy drive through window for 'to go' orders. The restaurant's staples of Memphis style barbecue are also back by a full bar too should you want to order up a cocktail or local craft beer while chowing down on your Sunday BBQ. Pictured dish: smoked turkey breast salad.
880 2100 S, Salt Lake City, UT 84106
(801) 463-4800
www.sugarhousebbq.com
Mano Thai Diner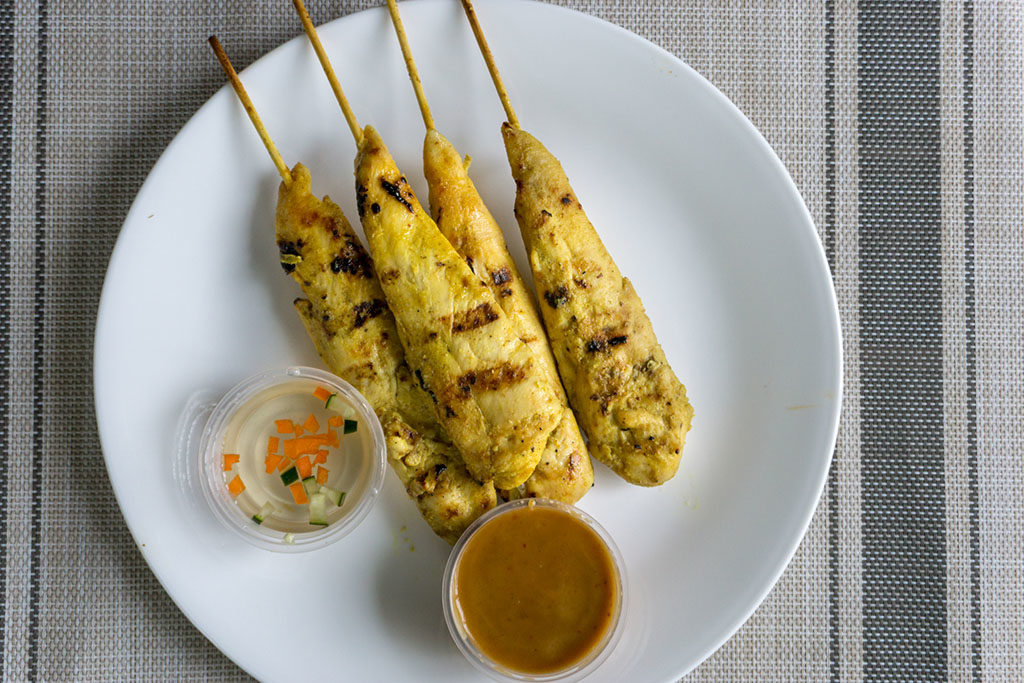 This mom and pop Thai eatery in South Salt Lake is perfect for Sunday dining. Dine in, take out, get delivery or even stop by their drive thru after placing a to go order. Yep, rain or snow, you don't even have to leave your car for those rainy Sundays.
41 W 3300 S, South Salt Lake, UT 84115
(801) 485-1209

manothai.com
Piper Down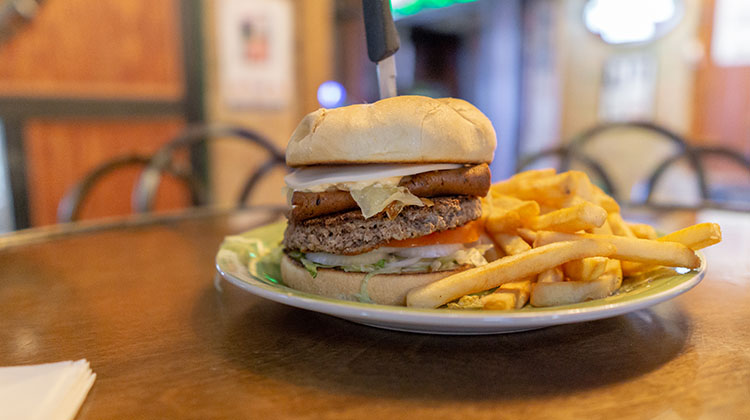 Piper Down on State Street is open seven days a week offering a menu full of delicious pub grub; not to mention a full bar loaded with great beers and whiskey. What's more Piper Down does so offering both a full vegan friendly menu too! Kick back, order up a burger and fries and relax.
1492 State St, Salt Lake City, UT 84115
(801) 468-1492
piperdownpub.com
Again, this list is far from complete. You'll find hundreds of restaurants open here in SLC on Sundays. Be sure to check out these two links to our sister site SLC Menu to find even more Sunday menus.
* Restaurants near me now – let us look at your location and tell you the closest places to you right now for Sunday dining.
* Complete list of restaurants open on Sunday in SLC – more than a 150 choices, fine dining to casual and fast food.
Our sponsors and this page
This page may contain information about one of our sponsors. We only work with the very best businesses in the state, and routinely turn down offers to work with businesses we don't enjoy. If we can't hand on heart recommend them - they can't be a sponsor.
At this time we have the following sponosrs: BTG, Caffe Molise, The Dough Miner, Downtown Alliance, Feldman's Deli, Flanker, Garage On Beck, Hearth And Hill, Hill's Kitchen, Kao Thai, Kin Sen Asian Noodle Bar, Kyoto, LemonShark Poke, Log Haven, Oasis Cafe, Pirate O's Gourmet Market, SLC Eatery, Squatter's Downtown Salt Lake City, Stoneground Italian Kitchen, Urban Hill, Wasatch Brew Pub Sugar House, Whiskey Street, White Horse.
I encourage you to Google any of our sponsors and see the stellar reviews on multiple sites that they enjoy. For a list of all our current and past relationships see our partnership history page.