Utah offers one of North America's most scenic landscapes. From the vibrant red rocks of the South to the lush green mountain canyons of the North. As well as being home to some of the nations most breathtaking national parks, there are plenty of restaurants that allow you to enjoy natures beauty alongside a fabulous plate of food and a glass of wine. Here are some of our favorites.
Log Haven
Log Haven has a storied past. Built in the 1920s as a private residence for a wealthy industrialist the property lapsed into disrepair a half century later. The building was rescued, renovated and expanded in the 1980s becoming one of the jewels in the Utah fining landscape – that it is today.
The beautiful log cabin based restaurant sits amid soaring trees, rushing waterfalls and is resplendent year around. It doesn't hurt that the menu is an award winning fine dining experience, supported by one of the best wine lists in town.
6451 E Millcreek Canyon Rd, Salt Lake City, UT 84109
(801) 272-8255
www.log-haven.com
Honeycomb Grill
Head up the winding roads of Big Cottonwood Canyon and you'll find the Solitude Mountain Resort. The name isn't just an idle moniker either. The resort is one of the smallest and quietest in the state – which is a great thing when you want to soak in the fresh mountain air and impressive landscape.
While some of the businesses at Solitude are seasonal, the Honeycomb Grill is open year round, and offers a pretty patio to watch the setting sun light up the mountain pines in pinks and golds.
12000 Big Cottonwood Canyon Rd, Solitude, UT 84121
solitudemountain.com
Silver Fork Lodge
Just a mile or two down the canyon from Solitude you'll find this quaint little roadside diner. There's a cost interior log cabin feel, with a beautiful outdoor deck surrounding by nature. On the menu you'll find hearty American food for breakfast lunch and inner, supported by a full bar. Silver Fork has limited lodging available, while Solitude Mountain Resort provides a free shuttle service to and from the restaurant.
11332 Big Cottonwood Canyon Road, Brighton, UT 84121
(801) 533-9977
Brunch menu
Ruth's Diner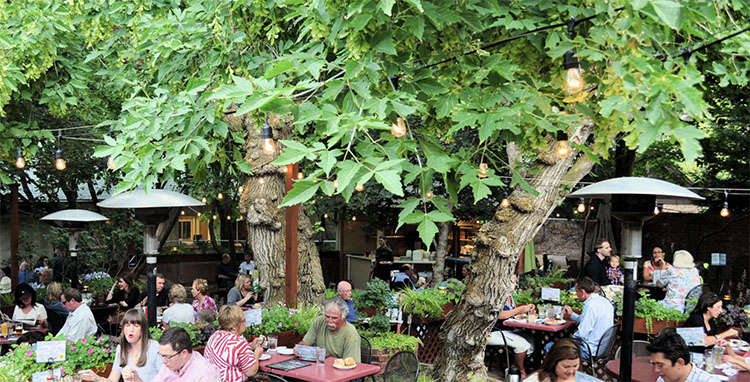 Loved by locals and travelers alike, Ruth's has been featured in just about every publication there is. The charming roadside trailer of years gone by has long been expanded into a fuller restaurant with substantial patio out back. That makes a perfect spot to take in the fresh air of Emigration canyon in warmer months. The menu offers a full bar and plenty of filling American cuisine seven days a week.
4160 Emigration Canyon Rd, Salt Lake City, UT 84108
(801) 582-5807
ruthsdiner.com
The Aerie
Head up Little Cottonwood canyon to the Snowbird resort and hunt down The Aerie restaurant for some of the most stellar views in town. The fine dining restaurant is perched atop the resorts 'The Cliff Lodge' hotel and offers both spectacular dining, wine and window gazing. The restaurant is open to the public as well as guests of the hotel.
9320 Cliff Lodge Dr, Snowbird, UT 84092
(801) 933-2160
snowbird.com/dining/the-aerie/

Have we missed someone off of this list? If you have a suggestion for this page, perhaps something interesting and unique off of the beaten path let me know at stuart@gastronomicslc.com so we can share!
Our sponsors and this page
This page may contain information about one of our sponsors. We only work with the very best businesses in the state, and routinely turn down offers to work with businesses we don't enjoy. If we can't hand on heart recommend them - they can't be a sponsor.
At this time we have the following sponosrs: BTG, Caffe Molise, The Dough Miner, Downtown Alliance, Feldman's Deli, Flanker, Garage On Beck, Hearth And Hill, Hill's Kitchen, Kao Thai, Kin Sen Asian Noodle Bar, Kyoto, LemonShark Poke, Log Haven, Oasis Cafe, Pirate O's Gourmet Market, SLC Eatery, Squatter's Downtown Salt Lake City, Stoneground Italian Kitchen, Urban Hill, Wasatch Brew Pub Sugar House, Whiskey Street, White Horse.
I encourage you to Google any of our sponsors and see the stellar reviews on multiple sites that they enjoy. For a list of all our current and past relationships see our partnership history page.