Composed charcuterie boards
Maven Oak Creative
Pictured above is the work of Maven Oak Creative – a board I personally enjoyed to cap off a wonderful birthday weekend one year. Maven offer a range of composed boards, everything from small plates perfect for one right up to massive creations suitable for large events. Bonus points – they deliver right to your door, and source really fabulous ingredients.
Oakford Gourmet
Oakford are another company that will prepare beautiful selections of meat cheese and fruit for you. Oakford promises to craft "beautiful grazing tables filled with high quality, locally sourced nibbles & treats that will delight your eyes and your tastebuds."
Harvest And Honey Co.
Harvest and Honey are another local charcuturie board specialist that also deliver to your door. Selections start from $50 for boards that server 3-4 and range through to their Feasting Board that serves 15+ with 8 cheese, 5 meats and sides.
Buying charcuterie online
iGourmet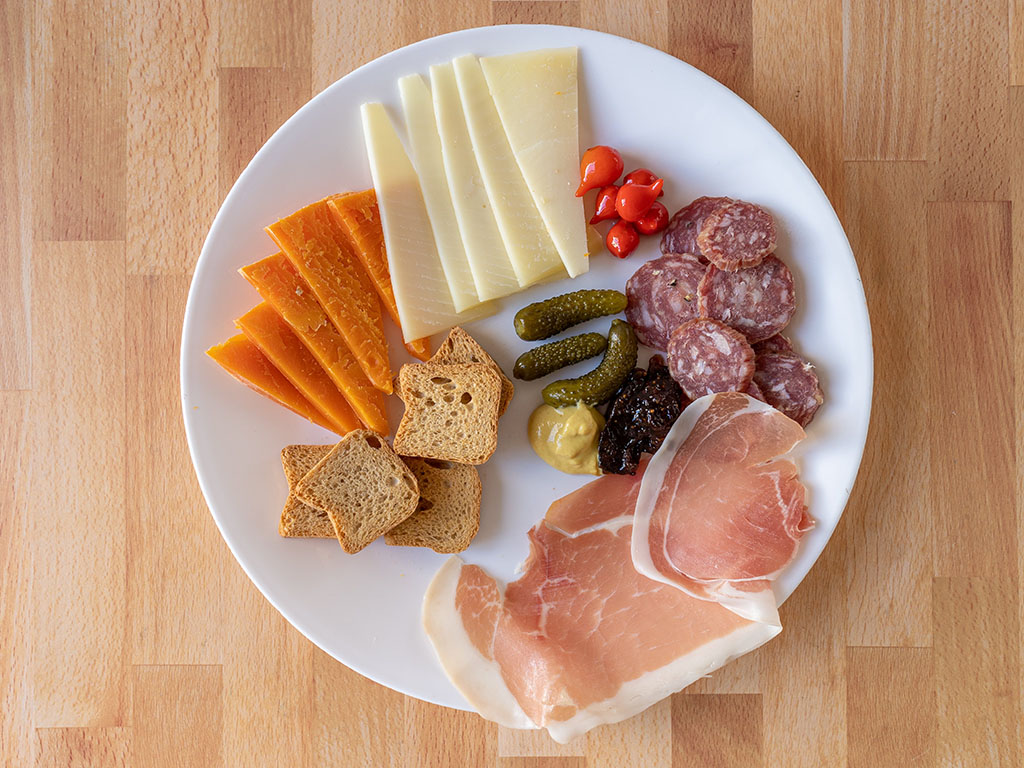 iGourmet.com (affiliate link, we earn a fee on sales) is your one stop shop for smartly bundled goodies from all over the globe – including creative charcuterie options. The online store focuses on quality and has a deep inventory – all shipped to your door at light speed in impeccable packaging. The pic above is just a few items from their French selection box.
Local DIY charcuterie options
One of the funnest way to enjoy charcutuere is to build your own selection. If you want to craft your own platter then we strongly recommend you check out these companies, some of Utah's best choices for meats and cheese.
Beltex Meats
Hands down the best high end butcher in all of Utah and also, creator of award winning salami and pate – Beltex are a must. Some of their meats and pates have won awards at the Good Food Awards in the Bay Area – one of THE most prestigious high end foodie fests in all of American. No mean feat,
Caputo's
Home to on site cheese caves, Caputo's age their own special cheese in house. The selection is jaw dropping and easily the largest in Utah. The staff are well trained and will guide you through their offerings plus give you a little nibble if you're not sure. They also stock a full pantry including some top deli meats. If you can't make it in person the sore delivers nationwide, including both meat and cheeses safely packed with dry ice.
Harmons
This Utahn based grocer with locations all over the state isn't quite as high end as the above, but the selections are solid. Their in house bakeries are some of the best in the businesses and the range of meats and cheeses aren't anything to sniff at. Usefully you can also find other accoutrement like pickles, condiments and fruits here. Harmons is a great place to round out your charcuterie with all the fixings.
Restaurants that offer charcuterie in Utah
The restaurants on this list typically offer charcuterie boards on their regular menu, for dine in patrons. Please be sure to review with each restaurant before headed down, in case their menu has seasonal changes.
America's Test Kitchen – Boards
If you want to take your charcuterie game to the next level, here's one more option for you. Boards, published by the America's Test Kitchen collection of books, is a deep dive into the world of creative platters. The book begins with offering board ideas for evetyihng from bridal showers through game day – then goes onto break down the various components that make up a visually arresting array. It's a fabulous book for inspiration, you can buy on Amzon here; if you do we get a referral fee.
Who did we miss?
If you think we're missing a really great addition to this list, please email us at stuart@gastronomicslc.com – we'd love to hear from you. Let us know who you think should be on this list and why. If you have a really great picture of one of more dishes, please send that too! We're always excited to check our more businesses!
Hi, I'm Stuart, nice to meet you!  I'm the founder, writer and wrangler at Gastronomic SLC.  I'm a multiple-award winning journalist and have written in myopic detail about the Salt Lake City  dining scene for the better part of seventeen years.
I've worked extensively with multiple local publications from Visit Salt Lake to Salt Lake Magazine, not least helped to consult on national TV.   Pause those credits, yep, that's me! I'm also a former restaurant critic of more than five years, working for the Salt Lake Tribune.    I'm largely fueled by a critical obsession with rice, alliteration and the use of big words I don't understand.   What they're saying about me: "Not inaccurate", "I thought he was older", "I don't share his feelings".
Want to know more? This is why I am the way I am.
Our sponsors and this page
This page may contain information about one of our sponsors. We only work with the very best businesses in the state, and routinely turn down offers to work with businesses we don't enjoy. If we can't hand on heart recommend them - they can't be a sponsor.
At this time we have the following sponosrs: BTG, Caffe Molise, The Dough Miner, Downtown Alliance, Feldman's Deli, Flanker, Garage On Beck, Hearth And Hill, Hill's Kitchen, Kao Thai, Kin Sen Asian Noodle Bar, Kyoto, LemonShark Poke, Log Haven, Oasis Cafe, Pirate O's Gourmet Market, SLC Eatery, Squatter's Downtown Salt Lake City, Stoneground Italian Kitchen, Urban Hill, Wasatch Brew Pub Sugar House, Whiskey Street, White Horse.
I encourage you to Google any of our sponsors and see the stellar reviews on multiple sites that they enjoy. For a list of all our current and past relationships see our partnership history page.