Hello! This is our first official review for Gastronomic SLC and we're pleased as punch to be here! For those not familiar with our earlier work, we ran a food blog called Ya Burned It a few years ago. It was a fun, rewarding project that we miss dearly, BUT – hear us out now – when the pandemic hit in March 2020, all of a sudden reviewing restaurants while they struggled to keep their lights on and pay employees just lost its luster to us for some strange reason. So we abruptly stopped YBI without explanation. Now that things are slowly coming back to normal (??), we're ready to get back to mindlessly pontificating about restaurants again, so let's do this!
With that intro out of the way, let's talk about House of Corn (816 E 9400 S) in Sandy, shall we? First things first: We live in the Fairpark area of downtown Salt Lake City, about 15 miles away from House of Corn, and roughly a mile away from about ten different taco joints in our neighborhood. So the question at the top of our minds (not necessarily anyone else's, unless they live on our side of the valley or beyond) would be is House of Corn worth the drive out to Sandy? Let's find out.
As we drove through the vast Sandy Mall parking lot, Ashlee mourned the loss of her beloved Starships Theater, where she spent many an hour watching movies back in the 80's (the theater shut its doors after the lease expired in 2000). That gut-punch of nostalgia didn't last long though, because there it was, in all its glory: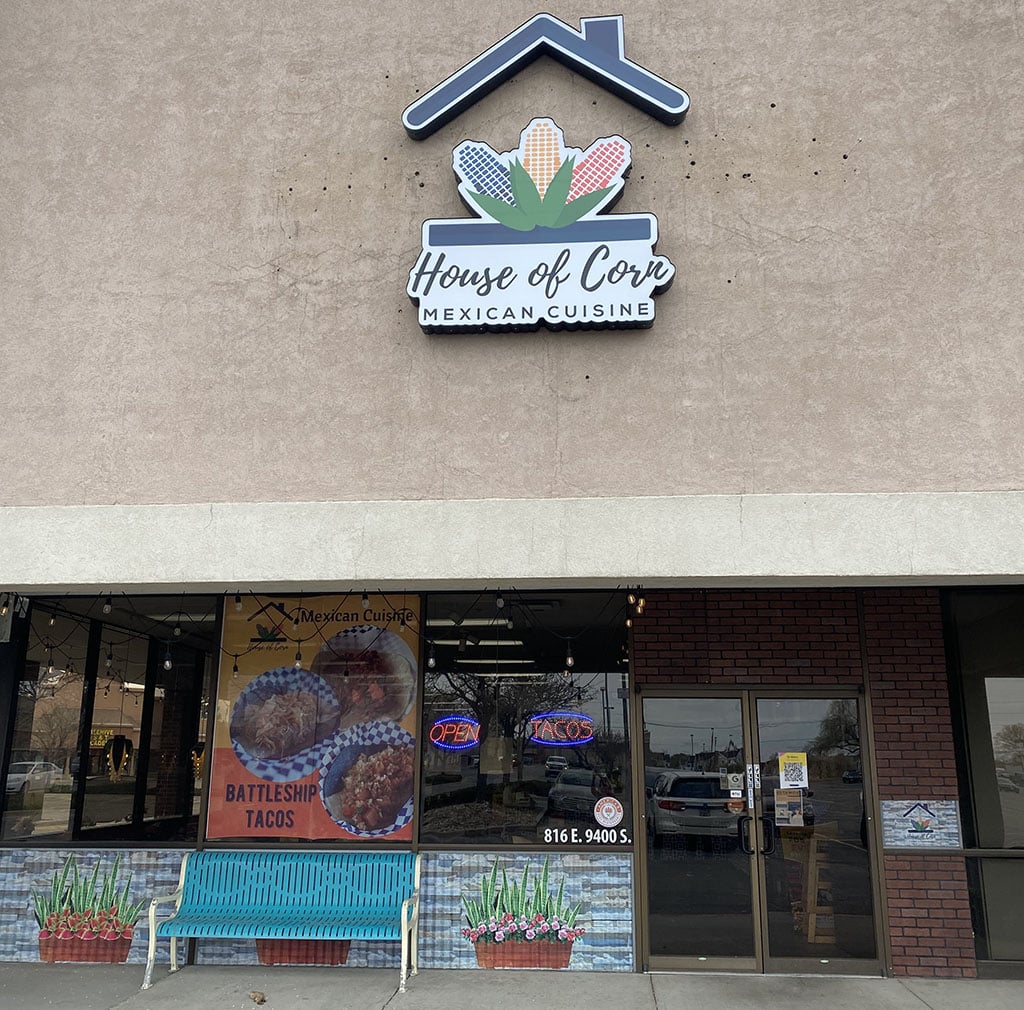 The Haus of Carrrrrn! We stepped through the doors and were met with charming decor that really emphasized what this place is all about: corn!
One thing we learned about Mexico on our recent trip to Oaxaca is that corn – and all of its native varieties thereof – is extremely important to the culture. In fact, there's a common saying "Sin Maíz No Hay País" that translates to "Without corn, there is no country." So we were delighted to find out there is a restaurant in Sandy that celebrates Mexico's sacred food staple! Now that we were here, it was time to order. We walked up to the counter, and the gentleman helping us (who we later learned was chef Armando Guerrero from Cuernavaca) was very friendly, attentive, and informative. He walked us through the menu with genuine enthusiasm, and noted that they use three types of corn kernels for their tacos: red, yellow, and blue.
We did our best to order a diversity of dishes to get a sense of what this place has to offer. Jason ordered the tripe, carnitas and al pastor tacos. He completely forgot to request each variety of corn for his tortillas, but not to worry: House of Corn had us covered on that front. Ashlee ordered the chicken and pork tamales along with a chili relleno on a bed of rice and beans. What?? We were HONGRAY. Ashlee asked if they had horchata and Armando looked pained when he said no. She opted for a half liter of Mexican Coca Cola instead. The total came to $30.71 without tip. Not too shabby! As we waited for our food, Jason perused the condiment bar…
…which had some tasty options, but we were a little sad that there were no white onions or cilantro. In fact, we're going to get a little nitpicky about the condiments for a second, so buckle up. The three salsas were good, but a little on the mild side. We're not going to claim to know how the locals prefer their heat levels, but having grown up in Sandy, Ashlee has an inkling that these sauces are tamer for a reason. With that said, the one condiment that really packed a punch was House of Corn's chili oil. Now THIS is the stuff! Only a light drizzle hit all the good heat notes in our mouths. We're always fans of pickled red onions, but these – and again, major nitpick alert – were a little too thickly sliced and unwieldy for our liking.
Our final quibble with the condiment bar (yes, we swear, it's the last one) is that we wish they offered ramekins or some other kind of vessel for their toppings. While we wholeheartedly support less plastic waste, we weren't very big fans of dressing our food items directly at the salsa bar. Let's end this part on a good note: the pico de gallo was delicious. Moving on!
Let's take a look at our order. First, the tacos:
Next, the tamales:
Finally, the chili relleno:
Alright, starting with the tacos, Jason enjoyed the tripe the best by far. Nice flavor – almost reminiscent of a mild pancetta – and great texture. Not chewy or gamey, but like a perfectly cooked calamari. Yum! The carnitas tacos were good, but Jason wished they had a little more caramelization to bump up the flavor. Then came the al pastor… before we get into that, let's look at this sexy close-up first:
Nice, huh? Feeling good? Okay. Well, the al pastor was not our favorite. It wasn't cooked on a traditional vertical spit, so it lacked caramelization on the outer edges. And while the meat was identifiably flavored as al pastor, it certainly didn't look like al pastor (besides the pineapple toppings). Instead of shaved slices of pork, this version used ground pork, which just didn't seem right to us. 
One other thing about all of the tacos is that they were overstuffed. Wait, wait, come back! Let us explain! We know that many, many people like huge portion sizes. It makes a lot of sense: more meat filling = more bang for one's buck. HOWEVER. We find that when you overstuff tiny little tortillas, you're in for a bit of an unbalanced mess, and that's exactly what happened here. The tortillas themselves held up great for the most part. We didn't confirm this, but we suspect House of Corn uses alkaline water when making the dough (which makes tortillas more pliant and resistant to tears).
Speaking of dough, did you know you can buy your own at House of Corn? That's right! For less than $4 a pound, you can purchase dough directly from the restaurant and press your own tortillas at home! We had a long errand to run after our meal, so we opted not to get any this time around, but we really appreciate this restaurant being so generous with their corn! If you don't have a press at home, don't fret: they also sell premade tortillas by the dozen. Huzzah!
Before we move onto the best dish we had, we'll just say the tamales were both a bit dry, and Jason felt they needed more lard to bump up the moisture and flavor. Ashlee stipulates to this assessment. There ya go.
Okay! Onto Ashlee's chili relleno now! We feel she hit the jackpot with this dish, which was surprising to her because she normally doesn't like relleno much. Wanna know why? Well, if you're still reading this review, we'll just assume you wanna know why: Most rellenos Ashlee's had in the past were stuffed with WAY too much cheese. Haha, the irony! Just a second ago, we were talking about House of Corn overstuffing their tacos, and now we're singing their praises for not overstuffing their relleno? Yep, pretty much. While Ashlee was grateful not to have a giant mound of cheese coming at her from all sides, we were even more impressed with House of Corn's rice and beans. They are deceptively simple sides, and we're always happy to come across a restaurant that treats them with care.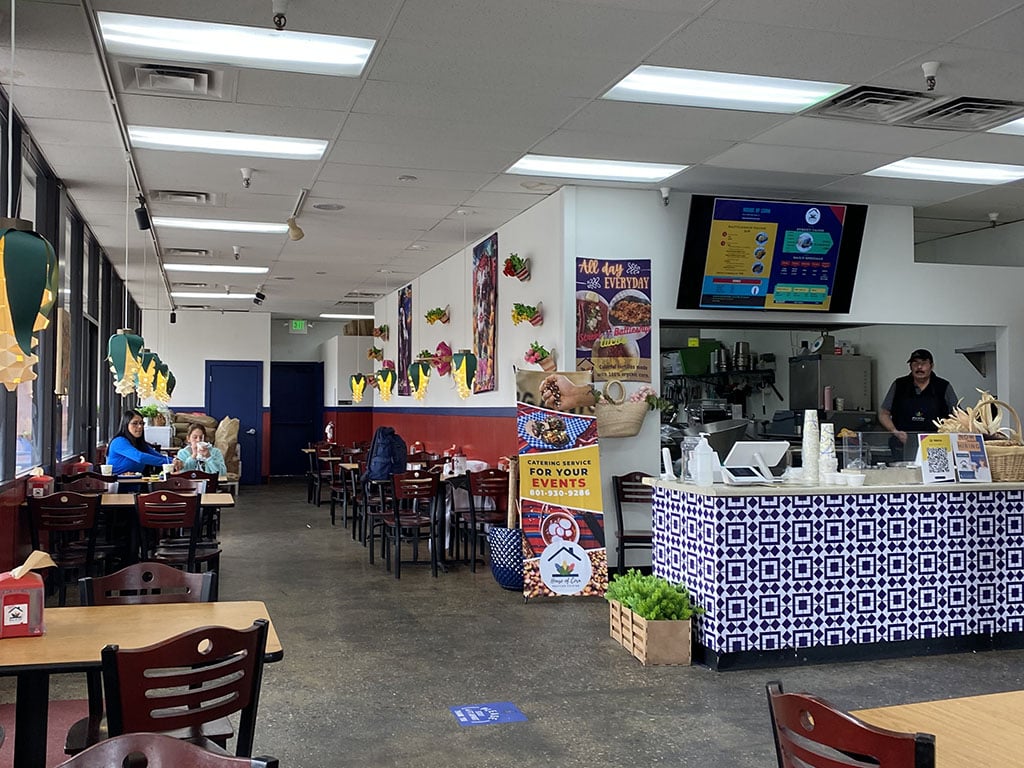 Overall, we thought the ambiance at House of Corn was really nice, clean, and cheerful. Chef Guerrero stopped by our table to check in on us, and we got into a fun discussion about the culinary wonders of Mexico. As noted above, Ashlee grew up in Sandy, and she thinks we wouldn't find a place like this out here even ten years ago. So good for Sandy! Good for everybody! Haus of Carrrrrn!
816 E 9400 S, Sandy, UT 84094
(801) 930-9286
houseofcornutah.com
Hi there! We are proud residents of Fairpark, SLC that share a passion for food and travel. Jason has been the Brewmaster at Squatter's Downtown Pub since 2012, and Ashlee spends most of her work week breaking copy machines in law offices. (She's also a freelance writer, having written for publications such as SLUG Magazine, Ya Burned It, and Reality Blurb.) Bickering about food is one of our favorite pastimes, so come, join us, as we sporadically share our thoughts about Utah's burgeoning culinary scene.
This article may contain content provided by one of our paid partners. These are some of the best businesses in Utah. For a list of all our current and past relationships see our
partnership history page
.