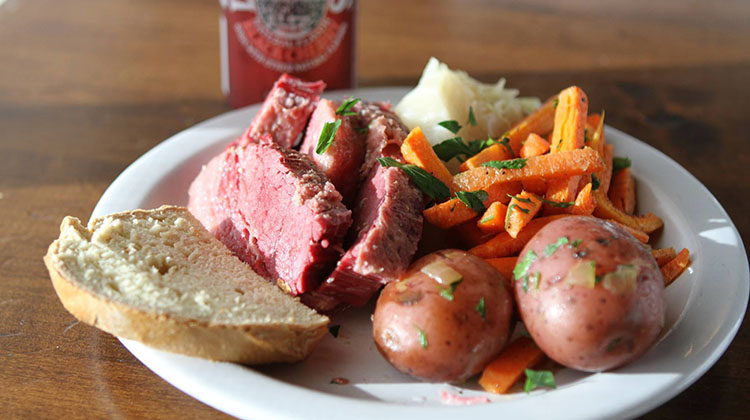 Without alcohol, St. Paddy's Day can seem pretty lame. The Irish holiday is, after all, defined by pub fare, green beer, and joyous drunken bar-goers. But perhaps an equally important, though sometimes overshadowed portion of the festivities is the delectable food! Whether you're under age or you just choose not to drink, we've got you covered, with a diverse list of SLC food spots fit for drinkers and non-drinkers alike.
Feldman's Deli
If you're feeling particularly festive this St. Paddy's Day, Feldman's Deli is the place for you. With corned beef as the inspiration, the authentic Jewish restaurant will be celebrating with live Celtic music during the evenings of March 15th and 16th and an Irish-themed menu featuring homemade corned beef and cabbage on the 16th. And, if you're craving a sandwich, many of their regular menu items also feature corned beef as the star of the show.
2005 E 2700 S, Salt Lake City, UT 84109
(801) 906-0369
feldmansdeli.com

Hoppers
Hopper's is going all-out this year with their St Paddy's menu. If you're looking for a good blend of classic and not-so-traditional preparations, they have plenty of options to satisfy your cravings. The extensive menu includes bangers and mash and corned beef and cabbage, but that's where the tradition ends. They're also serving up a corned beef burger, whiskey wings, and Irish nachos if you're looking for something a little different.
890 Fort Union Blvd, Midvale, UT 84047
(801) 566-0424
hoppersbrewpub.com
Avenues Proper
The festive ambiance at Avenues Proper will serve as the perfect backdrop for a delicious St. Paddy's Day meal. Their special menu highlights classically Irish flavors with dishes like Irish coddle stew, house made corned beef, and Colcannon, as well as Irish soda bread. If you're dining with drinkers, Avenues Proper does offer a wide selection of local beers to accompany their meal.
376 8th Ave, Salt Lake City, UT 84103
(385) 227-8628
avenuesproper.com
Roots Cafe
No St. Patrick's Day menu is complete without the comforting familiarity of shepherd's pie. This homey dish is already a crowd-pleaser, but Roots Cafe takes it one step further by also providing diners with an equally satisfying vegetarian option– something that is not easy to come by on St. Paddy's Day. Lunch at Roots Cafe is the perfect way to casually celebrate the Irish holiday, and a great excuse to indulge in such a hearty meal.
3474 S 2300 E, Salt Lake City, UT 84109
(801) 277-6499
rootscafeslc.com

Fillings and Emulsions
If you're not in the mood to celebrate St. Patrick's Day with a sit down meal, Fillings and Emulsions is a great option. This year, they are serving fresh-baked corned beef and cabbage meat pies, as well as a special dessert. And while you're there, you should probably pick up a few of their other delicious pastries…it's a holiday, so calories the don't count!
1475 Main St, Salt Lake City, UT 84115
(385) 229-4228
fillingsandemulsions.com

Mrs. Backer's
Cooking your own St. Patrick's Day dinner this weekend? Then swing by Mrs. Backer's and grab a loaf of their soda bread to accompany your meal. They'll also have a variety of fondant shamrocks alongside their usual cookies, cakes, and pastries, which are a nice way to end your holiday dinner.
434 E S Temple, Salt Lake City, UT 84111
(801) 532-2022
mrsbackers.com

Eggs In The City
If you're looking for a chill way to experience St. Paddy's Day festivities, opt for brunch instead of lunch or dinner. The corned beef hash at Eggs in the City is a humble nod to the heartier, more classical dishes that usually define St. Patrick's Day, surrounded by an active, neighborhood atmosphere. And, if you're worried about having to wait for a table, you can call ahead and get your name on the list. Just remember to wear green, and your holiday is sure to be a fun one.
1675 E 1300 S, Salt Lake City, UT 84105
(801) 581-0809
eggsinthecityslc.com

Gracie James is a student at the University of Utah with a lifelong passion for food. She loves writing about, learning about, and experiencing food in the Salt Lake City area, as well as cooking up her own creations for friends and family.
The self-labeled World's Worst Vegetarian is constantly on a mission to find delicious vegetarian food that's fit for her broke college student lifestyle, and is always looking for an escape from the nasty university cafeteria fare.
This article may contain content provided by one of our paid partners. These are some of the best businesses in Utah. For a list of all our current and past relationships see our
partnership history page
.