Evening dinner review
Aristo's Greek Restaurant & Cafe is by far one of my favorite restaurants in Salt Lake City. I have been there countless times but am usually overwhelmed by the amazingly delicious food to remember to take pictures to blog about it. The white table cloth restaurant is fancy without a stiff vibe. It has a relaxing neighborhood charm, a wonderful patio, and a friendly owner who always makes his way over to say hello.
Danny and I went to Aristo's a few weeks ago, as both of us crave the food nearly constantly. We started with skordalia ($6.95). Skordalia is a potato-based garlic dip, similar to hummus but without the nutty tahini flavor and much, much more garlicky. This dish is an absolute favorite of ours. We don't just order it every time we go to Aristo's, we order it as soon as we sit down, before we even order wine. It's that good. (And so good that I forgot to take a picture of it!)
Aristo's entrees are phenomenal. Some favorites are the mousaka ($14.95), a rich lamb, beef, and eggplant casserole-like dish with heavy cumin and mint flavors; kotopoulo yemisto ($16.95), breaded chicken breast stuffed with spinach and feta with a mushroom scallion sauce; and paidaka ($24.95), garlic-marinated lamb chops and roasted vegetables. I would order these over the solomos ($17.95), the salmon with tabouleh; and the yemista ($15.95), rice-stuffed bell peppers and zucchini. While these entrees weren't necessarily bad, they lacked the oomph that the others are full of.
But our new standard for dinner (with leftovers for lunch the next day) is choosing several small plates to share instead of an entree each. Half of the menu is small plates so there are plenty of options to play with. We usually order the pikilia ($19.95), a massive plate of marinated chicken, pork, gyro meat, and keftethes (spiced lamb and beef meatballs). The dish comes with pita, tomatoes, feta, and tzatziki sauce, so it's a build-your-own mini gyro with each bite a different type of meat.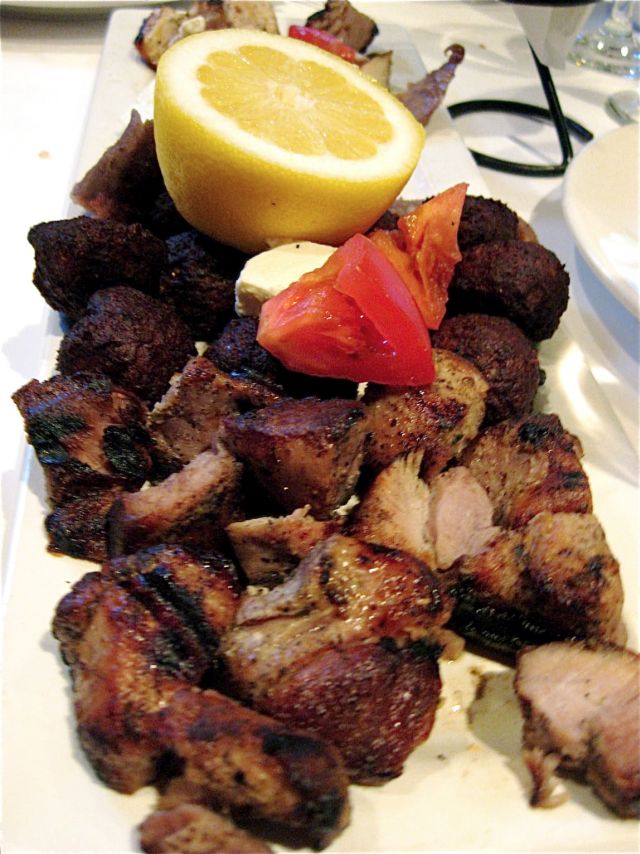 To accompany our meat plate, we ordered dolmathes, spiced lamb, beef, and rice wrapped in grape leaves. This classic Greek dish is packed full of flavor and not simply just a side like many other Greek places.
Somehow we managed to save enough room for dessert and it was well worth it! We ordered the galaktoboureko, a lemon and vanilla custard layered in phyllo dough drizzled with lemony syrup. Overall it was really light, perfect after a heavy meal. The custard was incredibly refreshing, and the lemon flavor was perfect for a warm evening.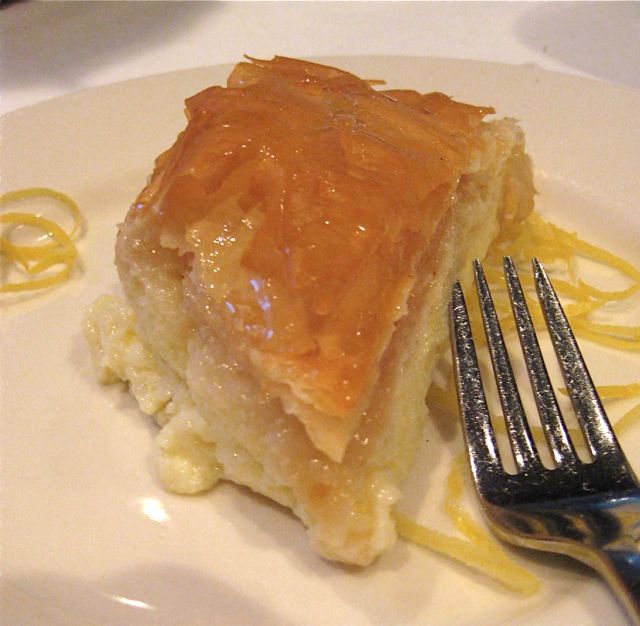 Aristo's is one restaurant that I know I'll walk away full and satisfied. Plus, I don't have to wait for a special occasion to go there. I've been there for the meet-the-boyfriend's-mom dinner, after a long day of Utah football tailgating, and for girls' night out. Because, let's face it, a glass of wine and skordalia makes any meal amazing.
(This guest post was written by guest poster Kelli. Kelli blogs on food, living downtown, and random things at RandomActsOfKelliness.blogspot.com)
Aristo's Greek Restaurant
224 South 1300 East Salt Lake City, UT 84102-2609
(801) 581-0888
Website: www.aristosrestaurant.com
This article may contain content provided by one of our paid partners. These are some of the best businesses in Utah. For a list of all our current and past relationships see our
partnership history page
.