Evening dinner review
(Stuart's note: Please welcome David, a new guest reviewer to Gastronomic Salt Lake City, and his first review, Tuscany. Take it away David…)
Have you ever walked out of a restaurant feeling perfectly content after a decadent meal, surrounded by the comforts of an Italian manor only to be surprised by the fact that you're still in Salt Lake City, next to a business park, traffic roaring. That's what Tuscany's like, an hour or two of blissful transcendental escape from the world.
Tuscany has long been a favorite of mine. The service is always exceptional, the staff friendly, and the food is always local, fresh, and indulgent. In order to give a fair review however, I have disregarded my previous experiences and outlined my most recent visit.
The experience started out with valet parking, which is not necessary given the small, easy to navigate parking lot, but can be nice on cold days, or for novelty's sake. Upon entering Tuscany, the ambiance is warm, inviting, and a bit of a hodgepodge of Classic, Modern, and Americanized Italian Decor. Pieces of note include the old fashioned bar, the blown glass chandelier (glass grapes and vines included), and the open kitchen, showcasing the Chef's handiwork.
The hostess greeted me by name, promptly seated me, and I was almost immediately greeted by the server, who provided us with the Seasonal Menu, and made suggestions to me based on what I'd enjoyed at Tuscany in the past.
I decided to start out with a salad and ended up choosing the Seasonal Insalata : Seasonal Pears, Arugula, Radicchio, Endive, Pine Nuts, and Gorgonzola Cheese in a Champagne Vinaigrette ($9). It was light and refreshing, but also had some strong earthy tones between the Gorgonzola and pine nuts. The combination of flavors was very complimentary, and definitely worth the $9 cost.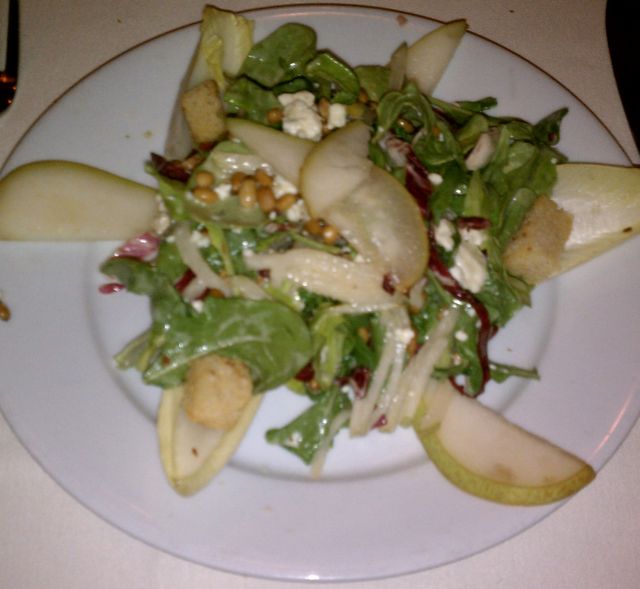 For my entrée, I ordered the Ravioli special: House made local goat cheese and beet ravioli with organic arugula, olive oil, and a balsamic reduction ($20). I've had (and made) many a salads based on these ingredients/flavor combinations, but this is the first time I've seen them in a ravioli dish. The pasta is made fresh each day in the restaurant and is thin and delicate, the goat cheese is local, and the arugula is organic. Overall a very healthy and eco friendly dish that leaves your taste buds delighted and your conscious clear. I will say that this is a very light dish and should be considered an appetizer by most.
My guest had the Wood-Oven Roasted Half Chicken with Garlic-Dijon Butter, Olive Oil Mashed Potatoes, and Natural Chicken Jus ($20). This is my go to dish for comfort food, and has long been my favorite chicken dish. Like the salad, this chicken is organic and local and gives you the type of flavor you never knew you were missing (trust me, there's a difference). The oven roasted chicken is a prime example of how good a simple but expertly executed entrée can taste.
For Dessert we shared the Amaretto panna Cotta with Caramel and Sauteed Apples ($6). As you can see from the picture there's essentially three layers, the caramel at the bottom, the panna cotta in the middle, and the fruit on top. Personally I think they could have benefited by layering it a bit more, almost as a trifle, but there's no denying it was delicious, regardless.
The panna cotta was smooth and creamy, the caramel was sticky but not too thick, and the fruit was fresh. They garnished with a dried apple chip, which was fun, and appealing, but just a dried apple chip and not really to my taste.
In case you've already forgotten while reading my review, We're still in Salt lake 🙂 But whenever you feel like escaping to Italy for an hour or two, choose Tuscany.
Tuscany
2832 E 6200 S, Holladay, UT 84121
(801) 277-9919
Website: www.tuscanyslc.com
This article may contain content provided by one of our paid partners. These are some of the best businesses in Utah. For a list of all our current and past relationships see our
partnership history page
.