Sampling SLC is a new section to the site where we hone in on one particular item and taste our way around the valley. First up are margaritas…
It's Friday afternoon and after a long week I'm already thinking about the weekend. I'm starting to anticipate a good meal, and hopefully a great margarita somewhere, but a good margarita can be an elusive thing in Salt Lake. A month or so ago, after visiting another restaurant that offered up a meager excuse for a margarita, I decided it was time to do some serious research.
The funny thing about margaritas is that they seem so easy. Lime, ice, a little sweetener, and some tequila, right? But really there are a lot of components that have to work together correctly to make a great drink. I suppose that's why they are so elusive. Get one thing wrong and, well, bleh.
I began my research at Mexican restaurants, since they seem to always have margaritas on the menu, but I also tried drinks at several other "regular" restaurants just to be fair.
Here's how I evaluated the drinks.
First, I prefer margaritas on the rocks. I know a lot of people like frozen margaritas, but to me it feels like all that extra ice is just filler. Plus your tongue gets numb, and you can't taste the drink after a few sips.
Second, I want to taste the tequila. I like tequila, I like how it makes my shoulders relax at the end of a hard week, and drinking a margarita that tastes like candy doesn't really work for me.
Third, I want good-sized drink, something I can take a big drink of and still have liquid left. Enough with the tiny straws, they aren't fooling me!
Fourth, the price needs to match the drink. I really don't like being charged $9.00 for Cuervo Gold.
Finally, for these reviews (with a couple of exceptions), I only drank the restaurant's regular margarita. No fancy pineapple-cilantro concoctions (although I highly recommend that particular combo at Frida Bistro). Following on from this article will be a series of mini margarita reviews, but first Red Iguana: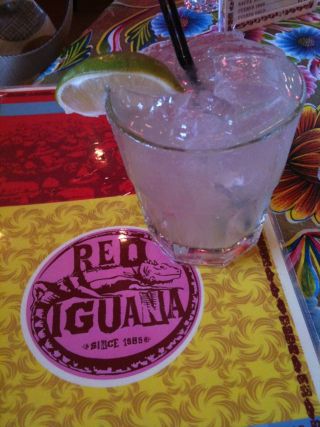 Red Iguana (736 West North Temple, SLC, UT)
Sweetness Factor: Nicely Balanced
Size: Smallish
Price: Good
Red Iguana's margarita is quite tasty, and at $6.25 (for the upgraded Heradura) is a good value. I could taste the tequila, but it was still a bit sweet, and seriously, you can't beat the food here. (Stu note: getting a refill during a busy period can take a while here, so plan ahead, but hey that is pretty much a given with the RI's popularity!).
This article may contain content provided by one of our paid partners. These are some of the best businesses in Utah. For a list of all our current and past relationships see our
partnership history page
.