I am not a winter sports person, and believe me, I know this statement is pretty much blasphemy coming from a native Utahan.  This deficiency is definitely the only reason why I have never before visited Solitude Ski Resort's famous yurt (http://www.skisolitude.com/dining/yurt.php). For over 20 years now people have cross-country skied or donned snow shoes and traveled into the woods to eat a fabulous meal. How romantic that sounds! (if you like snow). So, when I was recently invited to the summer version of the yurt, I jumped at the chance to finally give it a try.
Our group met in Solitude's village square and our guide Nick (who turned out to be our fantastic server) led us in a fairly quick hike up to the new permanent location of the yurt (if you aren't a hiker they can transport you to the yurt too).  Soon we were sitting on the deck outside of the yurt, sipping a perfectly chilled glass of wine, and watching the sunset, and this was only the beginning of what turned out to be one of the best meals I've had in ages.
The yurt holds about 18 people and the space reminded me a lot of a very well built tent. You get all of the benefits of eating outside without the bugs, and that was just the first reason I really liked it. The second, and main reason, was the food:
Here's the menu we had:
Asparagus Soup with seared sea scallop
Fresh Pea and Watermelon Salad Drake's Family Farm goat cheese, and Prosciutto di Parma, drizzled with mint infused olive 0il and pickled lime
Painted Hills Farms Beef Tenderloin Crusted in espresso, with rosemary-poached baby potatoes, warm fennel slaw, and lemon crème fraiche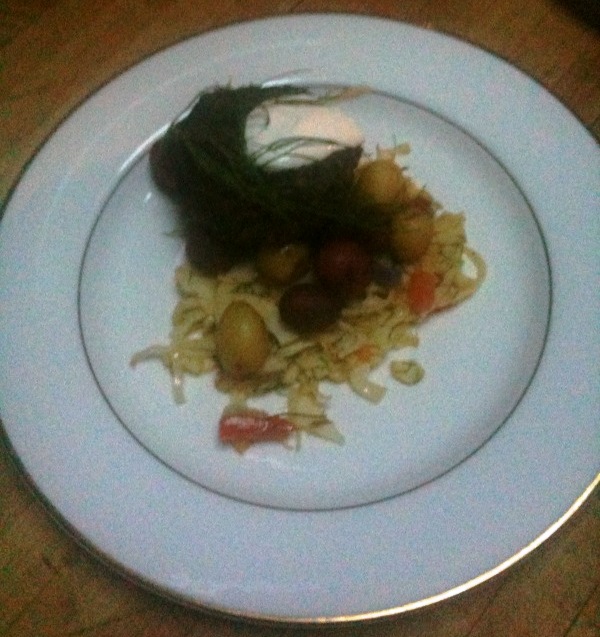 Ginger Shortbread Balsamic-glazed fresh cherries and Chantilly cream
I really have no idea how Chef Matt Barrigar created such an amazing meal for us that night. The yurt doesn't have any power other than the gas used to run the stove, but he kept wowing us. I'd really like to go back to the yurt again, pull up a stool and watch the magic, but on this night I was chatting away, eating, and drinking and completely oblivious to all the work going on just a few feet away from us.
Chef Matt not only cooked for us that night, but he also talked to us, describing what we were about to eat, telling us about the local produce he'd picked up that morning at the farmer's market, as well as where he sources a lot of the ingredients he uses. I was in foodie heaven.
Now I need to admit here that I was invited to come on behalf of GastronomicSLC, but I would have gladly paid the $65.00 the yurt normally costs to have the experience.  The whole way down the canyon that night I kept trying to figure out when and which friends I could come back with, and I couldn't even begin to imagine what new treats would be in store for us when we did. I think this destination would be a great place to come with family, friends, or even complete strangers (as I did), because in the end the location, the atmosphere, and the food make the evening something to remember.
Solitude Mountain Resort
12450 E Big Cottonwood Canyon Rd, Brighton
(800) 748-4754
Website: www.skisolitude.com/
This article may contain content provided by one of our paid partners. These are some of the best businesses in Utah. For a list of all our current and past relationships see our
partnership history page
.