So, I have a confession to make. After months of writing for GastronomicSLC I still haven't talked about one of my very favorite restaurants in Salt Lake. This is a place I go at least once and sometimes twice a week, and it's definitely a place I personally recommend to people all the time. Part of the reason I haven't written about Oh Sushi before now is that every time I've gone there intending to take pictures, I forget all about it when my food arrives and I start eating before I can snap the photos. I'm not kidding.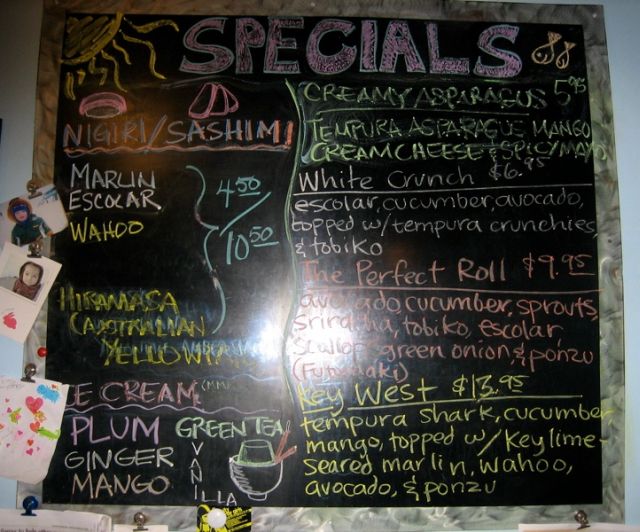 I suppose I would call Oh Sushi a typical neighborhood "hole-in-the-wall," which may at first blush sound strange for a sushi place given all the health concerns raw fish can conjure up. Believe me though, the place may be a little rough around the edges, but that absolutely doesn't translate into the quality of the food they serve. I've been going to Oh Sushi almost since the day they opened five years ago and have never had any kind of problem. I cannot say that for several other "fancy" sushi places I've visited.
One of the main things I like about Oh Sushi is the price I'm paying for very good quality fish. There is no doubt that in this land-locked city fresh fish comes at a high price most of the time, but Oh's offbeat address really mitigates that. You aren't paying for high overhead, a bunch of marketing or a high-end location.
Speaking of which, parking for Oh Sushi can be a little hard to find if it's busy. If there aren't places right in front, then the parking lot on 2000 East (by the dance studio) is the next best thing. Oh does a brisk takeout business, so the spots up front tend to turn around fairly quick. Don't park in the parking lot directly east of Oh though. You could be towed.
After five years of consistently eating here I've had just about everything on the menu and would recommend any of the rolls, bowls, or salads. Some of my favorites are the tempura Go ($9.95) or tempura Veggie Vegas ($5.95) roll, the Playboy ($10.95), the Mars ($11.95), or the Mexi Veggie ($5.25). I also really like the Tataki Maguro Nigiri ($4.75) which you can see with the Playboy roll in my picture.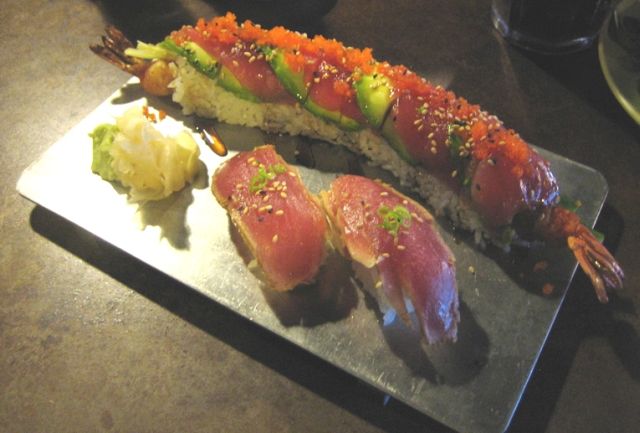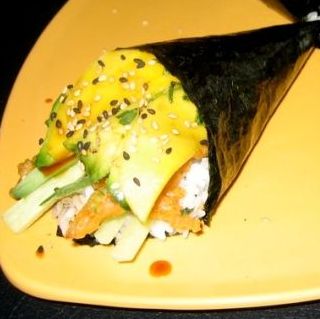 At this point though, I usually just look at what's on the specials board, or have the sushi chef make up a hand roll for me. I never know what's in it, but it always tastes great. I recently tried the cucumber salad ($2.95) for the first time and it's really delicious. Light, crisp, and a perfect accompaniment to a tempura roll.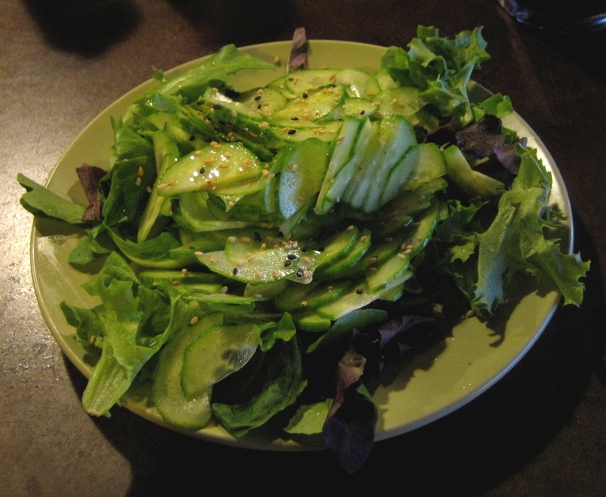 I also consistently request something another long time customer made up called a Griffin Roll (pictured below). It is crab with salmon on top, layered with thin slices of lemon. The kicker is the tempura Serrano chile pepper nestled in the crab. I'm starting to feel very hungry even describing it.
I will admit I'm probably not completely impartial when it comes to Oh Sushi anymore. I've gotten to know the staff and chefs over the years and I suppose it's now my version of a bar where everybody knows my name. I've had sushi all over this town, and in lots of places outside of Salt Lake, but there's something about Oh Sushi that keeps me coming back. It isn't the strange paintings on the wall, the homemade curtains that perform like a Rubix Cube when I'm trying to lower them (this is a task for professionals only), or the reggae music that's usually streaming from the speakers, but instead it's the great quality, delicious fish that I can actually afford.
My advice is that if you like sushi (and even if you don't the Green Apple Teriyaki is great!) I'd suggest you try it and see for yourself. Just save me a seat please (and possibly a parking place).
Oh Sushi
2015 E 3300 S, Salt Lake City, UT 84109
(801) 467-8955
Website: www.ohsushiutah.com
This article may contain content provided by one of our paid partners. These are some of the best businesses in Utah. For a list of all our current and past relationships see our
partnership history page
.