Evening dinner review
Recently, I told a friend of mine I was going to try the new restaurant "Vinto" on 200 South and he gave me a strange look and said, "Do we really need another pizza place in Salt Lake?" Well, I have an answer now that I've eaten there, and that answer is yes.
As usual, I talked some friends into trying the place with me, and upon walking into the space we were very impressed with how beautifully the space was designed. Lots of clean lines, but with warm finishes – my kind of décor for sure. We were seated in a big booth with a fairly small table, and the first thing I wondered was how all four of our meals were going to fit on the table. Luckily, this didn't prove to be a problem because the wait staff was very diligent about removing used plates etc.
Our server arrived quickly and we ordered the Antipasto Piatto ($9.00) to eat while we figured out what we wanted for our entrees. I really do love salami and prosciutto in almost any form, but the veggies on this plate didn't play second string. The glaze on the mushrooms was balsamic in nature and very tasty, and I really liked the green bean addition to the typical squash and peppers.
As I just mentioned, I love prosciutto, and so I then ordered the V Salad ($7.00). The arugula was nicely dressed with olive oil and lemon, and the prosciutto gave the salad a little heft. Jason got the Insalata Mista ($5.00), with gorgonzola dressing and he raved about the heirloom cherry tomatoes on it.
Danielle and Wayne shared the special salad – Utah Heirloom Tomatoes with sea salt and extra virgin olive oil ($6.50). As you can see from the picture these tomatoes were perfect ('tis the season!), and the simple olive oil and salt really let the differences in the tomatoes shine through.
After all the raving about the tomatoes at the table, I decided to try them too on the Campania pizza ($11.00). Wow, this pizza was great. Little cubes of tasty pancetta with caramelized onions, and the tomatoes (although not raw) were perfectly sweet. This one is a keeper for me. I'll order it again for sure.
Danielle ordered the Regina pizza ($11.00), and I have to admit I almost wish I'd ordered it. Roasted chicken and whole garlic cloves with fontina and wild mushrooms. Very yummy.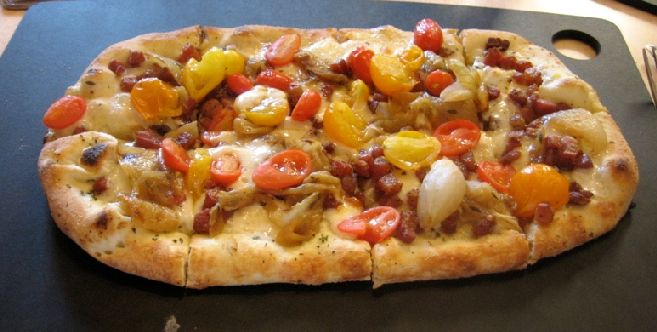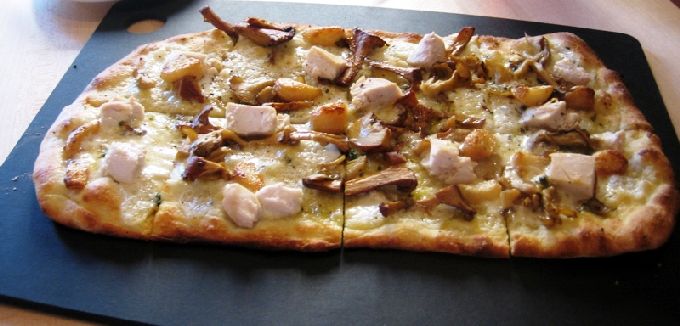 Jason ordered the Tuttabella pizza ($9.00), and although he liked the sausage and caramelized onions he thought the roasted red peppers were a little too sweet for his taste. Wayne ordered the pasta special – Orecchiette, sundried tomatoes, calamata olives, and goat cheese ($7.50). My bite of this reminded me of something I make at home every now and then, but the top notch ingredients really took it to another level.
Dessert was definitely in order at this point. Wayne ordered the Apple Crostata ($5.00). Like a good apple pie without the heavy crust – flaky pastry and a nicely spiced filling. Jason ordered the Molten Cake ($5.00 – and sorry for the fuzzy picture). Made with bittersweet chocolate it wasn't overly sweet, so I definitely approved.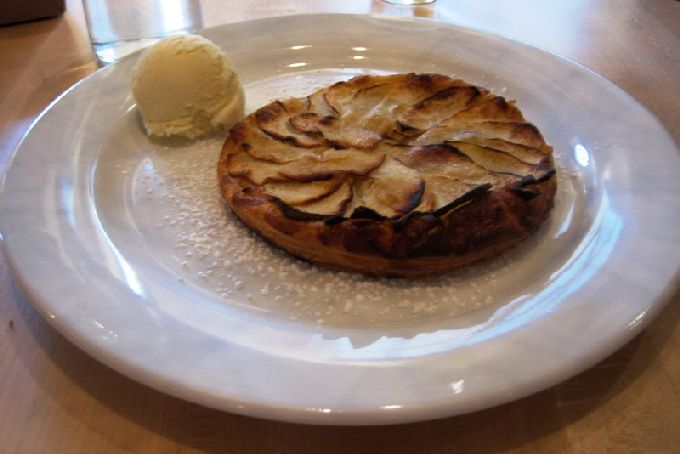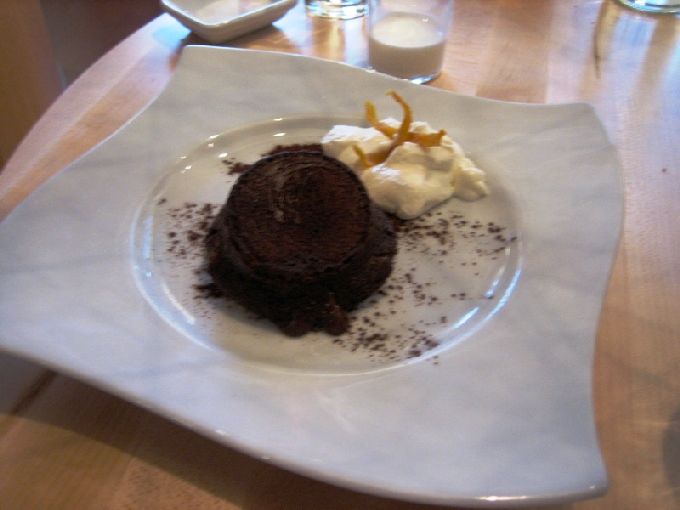 Danielle ordered two scoops of gelato ($4.00), one espresso and one mint chocolate chunk. Both were very good I thought, with the mint tasting like actual mint and not mint-flavoring.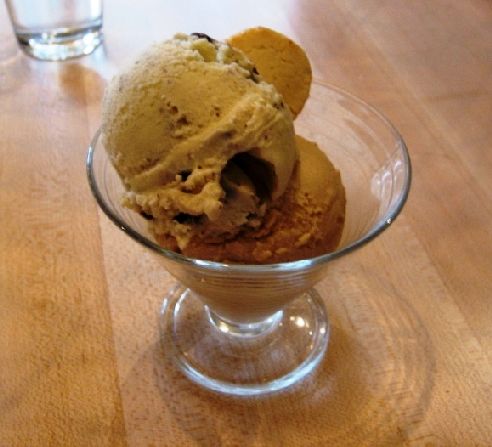 When we first sat down and looked at the menu I noticed something in the "Dolce" section that really piqued my interest. Along with a regular order of gelato, you could have it topped with chocolate sauce, or (and this is what caught my eye) you could order it topped with extra virgin olive oil and sea salt. I asked the server about it at the end of the meal and she suggested I try it with the vanilla gelato. My first bite was sort of what I expected and sort of not. The type of olive oil they use (the server actually mentioned the name and it now escapes me) is really lovely, but I was surprised the coldness of the gelato didn't dampen the flavor of it. I tasted it alone and the complexity of the oil really held up to the salt and the vanilla. Everyone at the table had a bite and we all agreed it was delicious and definitely a unique presentation (and I don't mean unique in a bad way).
Vinto is definitely a welcome addition to the Salt Lake restaurant scene, and I'm looking forward to going back and trying one of the Piadinas (they sort of look like large taco and according to our server are made with an Italian tortilla). We saw one pass our table and it looked very intriguing. But then again maybe I'll just get the Campania…
(Stu's note: since Corrinne reviewed this restaurant the chef Roseanne Ruiz no longer works in kitchen. With the restaurant now functioning to the owner's expectations, Roseanne is stepping down in favour of a general kitchen manager who can oversee the day to day operations of Vinto. Roseanne will be retained as a consultant in the role of selecting and training said replacement/s.)
Vinto
418 E 200 S, Salt Lake City, UT 84111
(801) 539-9999
Website: www.vinto.com
This article may contain content provided by one of our paid partners. These are some of the best businesses in Utah. For a list of all our current and past relationships see our
partnership history page
.