Evening Dinner Review
Alright, I admit when I heard that the owners of Caffé Molise had opened a new restaurant called the Sego Lily Café in Bountiful, I was a bit surprised. Bountiful? Really? But after visiting the beautifully restored Craftsman house at the sleepy end of Bountiful's Main Street, I think I've seen the light.
Jason and I drove up to try it out on a recent Friday night, and right from the curb I was in love with the building. As we walked up to the front door from the rear parking lot we were greeted with appetite stimulating smoke from their outside smoke house. We were a little confused when we walked into the building though. There isn't a host stand anywhere in the front foyer, so when we walked in and weren't greeted by a person we felt a little befuddled. After a minute or two a hostess appeared though and we were quickly seated.
We started off with the Grilled Flat Bread ($6.95) with wild mushrooms, goat cheese, and basil. When I asked the hostess (who was filling our water glasses) what specifically the wild mushrooms were, she said they were "domestic." Not really sure what that meant, but this delicious flat bread raised my expectations for the rest of the meal. We were served a basic house salad next (which came with our entrees), and then after a bit of waiting our entrees finally appeared.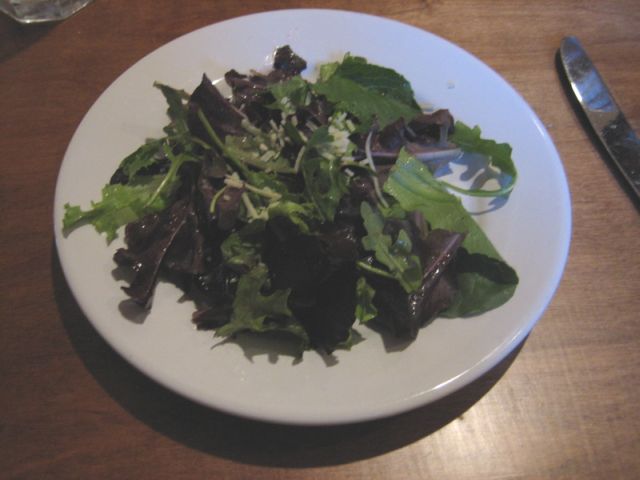 I ordered the Penne di Caprino ($13.95), a concoction of sun-dried tomatoes, artichoke hearts, roasted garlic, and Montchevre cheese. I think this might have been a fairly generic pasta dish except that the goat cheese in the dish was so good. It was very tangy, and yet smooth and rich at the same time. Yum! Did I mention rich? I couldn't actually finish it, but really wanted to.
Jason ordered the Lasagna ($13.95) with sausage and beef, and although he liked it, he said he was hoping for a bit more spice in it. I will report that he did eat all of it, so take that as a good sign.
Plenty stuffed, but knowing it was our review duty to order dessert I got the Crème Brulee, and Jason got the highly touted (by the waitress) Chocolate Hazelnut Mousse Cake. I was very happy with my dessert. The melted sugar layer was perfect; not too thick, or too thin, and the vanilla custard was deliciously creamy. However, this paled in comparison to the rave reviews Jason gave his mousse cake. I think he was seriously considering ordering another piece, but he was way too full.
Our total bill, with wine and tip came to $75.00. Almost cheap considering how much we liked the food. We waddled out onto the beautiful front porch that night jealous of the residents of Bountiful, and absolutely sure we'd make the drive up again.
Sego Lily Cafe
305 N Main St Bountiful, UT 84010
(801) 294-3327
Website: http://www.segolilycafe.com
This article may contain content provided by one of our paid partners. These are some of the best businesses in Utah. For a list of all our current and past relationships see our
partnership history page
.