Sunday brunch review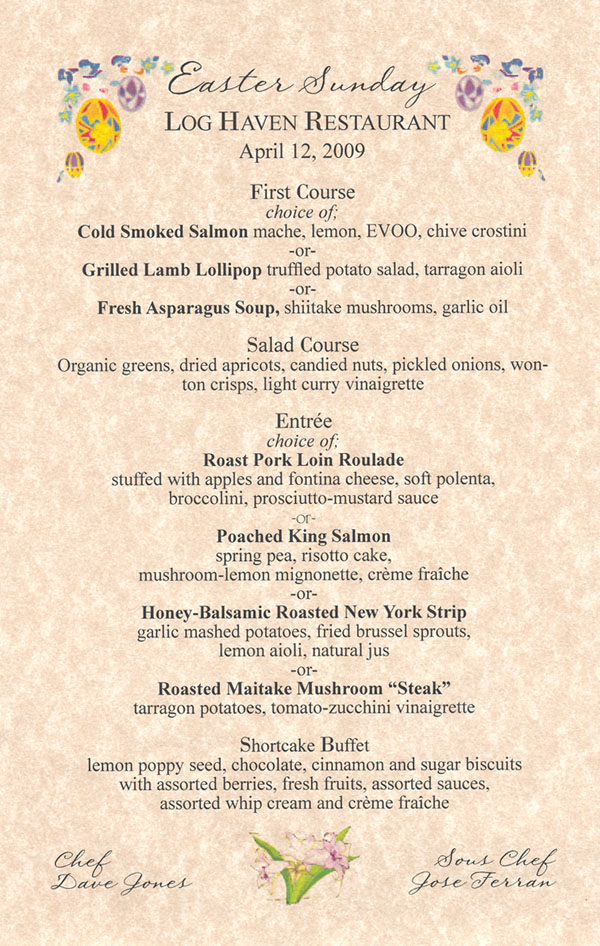 Sunday holidays often include brunch at a restaurant for my family. I can't really tell if it's because we don't want to bother cooking most Sunday mornings anyway, or it's just a good excuse to get dressed up, but it's definitely our normal holiday tradition.
This year on Easter Jason and I went with a couple of friends to try out Log Haven. It was a gorgeous day, and just driving up Millcreek canyon felt like a nice getaway. I've always wanted to sit out on Log Haven's beautiful patio, but on this day there was still quite a bit of snow up there so we sat inside.
I have to say here that I've only been to Log Haven twice before so this may be a ridiculous statement to make, but the layout of the restaurant always feels weird to me. I'm assuming that the old building has a lot of interior structural walls they can't move (they do get a huge amount of snow), but every time we go we get seated at a table that feels squished into the space. This time we were seated in what I'd call a pass-through, and during the whole meal people were doing exactly that – passing by us. It was handy for our server though. No reaching around other people to fill water glasses or remove plates.
Once we got settled, I ordered a glass of house chardonnay ($6.00) and everyone else ordered mimosas. If I have a complaint about this meal it really comes down to this: The mimosas were small, made with a very regular kind of champagne, and served in half glass flutes. We had no idea until the end of the meal they were $10.00 a piece. When we received the final bill and $60.00 of it was these tiny mimosas, it definitely left a sour taste in our mouths (and I didn't even have one).
The menu though, like a lot of holiday brunches, was a set meal ($38.00 per person), and we all quickly made our choices.
Jason and I each started with the Cold Smoked Salmon, Roger ordered the Grilled Lamb Lollipop, and Resha ordered the Fresh Asparagus Soup. Although small (and this was a plus later, believe me), they were all very tasty. Roger was a little unhappy with his lollipop though, not because of the flavor, but because it was served cold. It would have been nice to have that fresh of the grill, and not cold out of the fridge.
Smoked Salmon:
Grilled Lamb Lollipop:
Asparagus Soup:
I was starving when we arrived and initially felt like my little strip of salmon was a little chintzy, but we were also served a couple of rounds of rolls, and our salads came out quickly. There was a little wait while our great server fixed Roger's salad – none of us had noticed it came with nuts on it and he's allergic to them. Once they brought him a no-nut version we all tucked in. The light curry vinaigrette was interesting and matched the candied cashews well, but the other ingredients seemed a little too strongly flavored for the dressing to stand up to.
Our entrees soon arrived, and it was at this point we were all glad about the smaller appetizer portions. I ordered the Roasted Maitake Mushroom "Steak" because I'd never had one before and I was excited to try it. I think I could probably live on mushrooms, but this one was a little odd. It's sort of like a whole bunch of mushrooms fused together, so the main stem or "steak-y" part of the mushroom was dense, with little flaps of mushroom tops attached to that. The texture was unexpected, and I think part of my problem with that was those little flaps were overdone. The bottom part was really yummy though, and the tomato-zucchini vinaigrette and tarragon potatoes served with it were delicious.
Mushroom Steak:
Jason and Roger both ordered the Honey-Balsamic Roasted New York Strip and funny enough had very different steaks. Jason said his was done to perfection with a lot of flavor, but Roger said his was tough and bland (both ordered medium-rare). Everyone liked the garlic mashed-potatoes though, and I even tried one of the dreaded brussel sprouts everyone raved about. Bleh – but then I don't really like cabbage.
Finally, Resha's pork loin was very tender and I thought the stuffing was a nice addition. Everyone also really liked the polenta because it was super creamy and cheesy. The sides were all a big hit for us.
By the end of the entrées I was stuffed, and we still hadn't visited the amazing Shortcake Buffet yet. We all managed to sample the desserts though, and the lemon poppy seed shortcake with the Crème Anglaise was out of this world. Fresh whipped cream, fresh fruit, all sorts of sauces and shortcakes – I wish I'd saved more room.
All in all we had a great Easter brunch. Great company, good food, and top notch service made all the other little things that weren't perfect seem less important…except the whopper prices on the mimosas. I still have a bad taste in my mouth from those.
Log Haven
3800 S Wasatch Blvd Salt Lake City, UT 84124
(801) 272-8255
Website: www.log-haven.com
This article may contain content provided by one of our paid partners. These are some of the best businesses in Utah. For a list of all our current and past relationships see our
partnership history page
.