Lunch review
Several years ago the company I worked for was located in a little building at the top of Ft. Union Blvd. For a budding foodie this location was pretty dire because it was almost impossible to find anything interesting to eat out there until (hallelujah) the Lone Star Taqueria opened.
At the time I was also regularly trekking back and forth from Salt Lake to El Paso, Texas to visit my dad and my first taste of a Lone Star Taqueria taco made me think I'd been accidentally transported to the lone star state. Fresh ingredients, no cheese (on the tacos anyway), and the best chips instantly made Lon eStar my standard lunch place, and since then I've been a regular customer.
I know Lone Star is fairly well known to locals, but I recently heard some friends (who are pretty new to Salt Lake) lamenting the fact that they hadn't found any good taco places yet. After growing up in California and then living in various other places, Cynthia and Sean know their Mexican food, so I quickly arranged a trip to Lone Star.
We met on a recent Saturday, about 11:30 am (because if you wait much later it gets packed). Sean ordered three tacos: Carnitas (pork), Carne Asada (beef), and one of their famous fish tacos. It was swordfish that day I believe, but it changes regularly. The regular tacos are $2.69 each, and the fish or shrimp tacos are $3.29 each. Cynthia ordered one of their gigantic chicken burritos ($6.40), and they also took my advice and ordered a side of chips ($2.09). We also got multiple samples of all four of LoneStar's fresh salsas (my favorite is the tomatillo).
I ordered my standard; two shrimp tacos. I am completely addicted to the sauce that comes on the side. My guess is that it's a concoction of cilantro and sour cream. I really don't know what's in it, but I love it on the tacos and the chips! My husband Jason ordered something new this time, the Machaca Burrito. This egg burrito (like all their burritos) was filled with rice, pinto beans, lettuce, tomatoes, and pico de gallo. Our food was soon delivered and all conversation stopped as we dove into our food. My tacos were, as usual, a great blend of perfectly cooked shrimp, crisp cabbage, and that creamy cilantro sauce.
Sean reported that his tacos were the best he'd had in a long time, and Cynthia said her burrito was absolutely delicious. Jason was not as enamored of his burrito though, saying it was a bit bland. I would like to add in here that although I didn't order the Chile Verde ($4.99) on this occasion, I highly recommend it. It's thick, spicy and a great combination with a cheese quesadilla.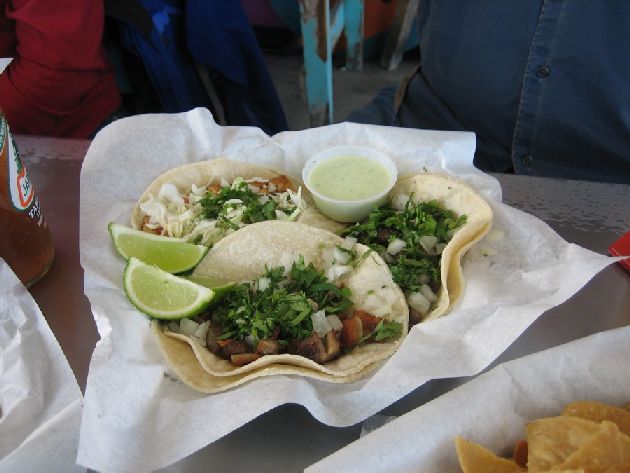 (Stu's note: these burrito's are massive. Don't make the mistake me and Wendi did on our first visit to their drive through. We ordered three burritos between two of us, just in case they happened to be small. I think we ended up struggling to eat a whole burrito each!).
I would like to mention that there are a couple of things you do have to keep in mind when going to Lone Star Taqueria. The first is that using the drive-up can be a complicated experience. The ordering speaker is terrible and that makes understanding on either end of the connection difficult. Check your order. The other thing is that the one-way parking lot is very narrow and usually full. Don't bring a gigantic vehicle. You'll regret it.
Regardless of these little idiosyncrasies, Lone Star Taqueria is well worth it. For roughly $20.00 for two people, you too can take a quick trip to the lone star state.
Lone Star Taqueria
2265 Fort Union Blvd, Salt Lake City, UT 84121
(801) 944-2300
Website: Menu available here
This article may contain content provided by one of our paid partners. These are some of the best businesses in Utah. For a list of all our current and past relationships see our
partnership history page
.