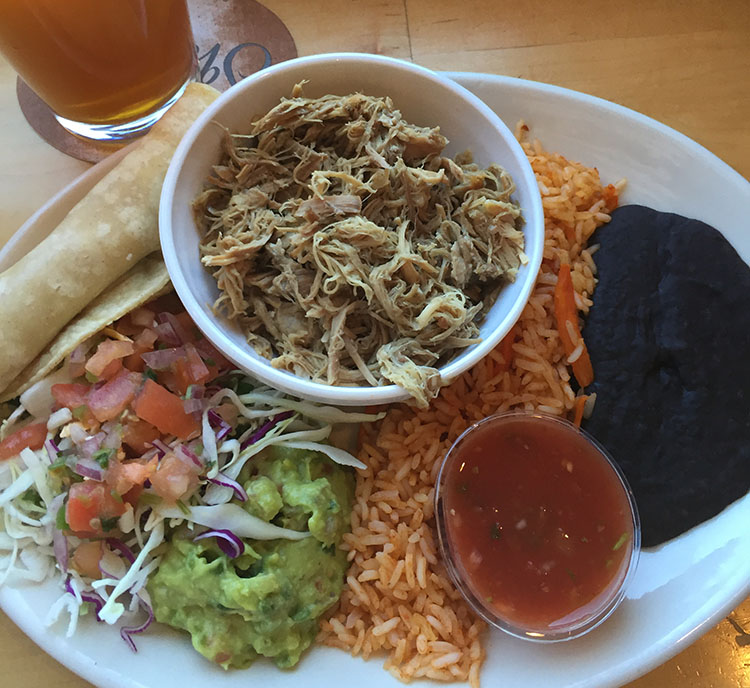 The dining options at Salt Lake City airport lean heavily on local restaurants, breweries and distilleries. That means if you're traveling through or out of SLC you'll be able to experience some dining options that are more than just the usual McDonald's or Jamba Juice (though the airport has plenty of those too). Please note all restaurants listed are behind security, you'll need a ticket for travel that day to eat at them. Dining options outside of security are minimal to none.
Squatters (Concourse C)
Squatters is our number one pick for a place to eat at Salt Lake City airport. If you're on terminal C this is a no brainer. Heck if you're on terminal B or D it's maybe worth the walk as well. If you do decide to trek from B or D it will take you up to 10 minutes to wander over to terminal C, so do keep an eye on your time. If you've got family in tow or are tired, scroll down and we will recommend something much closer.
Squatters is a downtown SLC brew pub institution, in fact it was the first craft brewer to open in the 1980s after a near three decade drought of craft brewing in Salt Lake. These days, you can't move for Salt Lake City brewing businesses, but this was the company that kick started it all, and they still make a might fine beer. And yep, you belly up to the bar and sample plenty of them here.
The restaurant is half way down terminal C and the kitchen opens daily from 7 a.m. through to 10 p.m. There's an additional late night menu from 10 p.m. till midnight too. Inside it's always very busy but there's plenty of seating at standard tables, high tops, bar seating and also some cool raised stools/bar seating that looks out over the airport. The menu is traditional brew pub grub and offers a bit of everything. Breakfast all day, pizza, Mexican classics, burgers, sandwiches, salads – you name it. There's genuinely something for everyone here, and the service is efficient and fast, even when busy you can get in and out in thirty minutes.
Squatters has a full bar and its open from 8 a.m. till midnight seven days a week. Yep you can get a drink in Utah folks. Even on Sunday and even at 8.30 a.m. If you're taking a tipple, be sure to check out their award winning ales. We'd recommend the potent Hop Rising Double IPA (9% ABV) by the bottle.
See our sister site for the full Squatters SLC airport menu.
While Squatters is reliably open for the hours listed above, please note that the following restaurants can often have shorter hours on Tuesday and Saturday based on flight volume: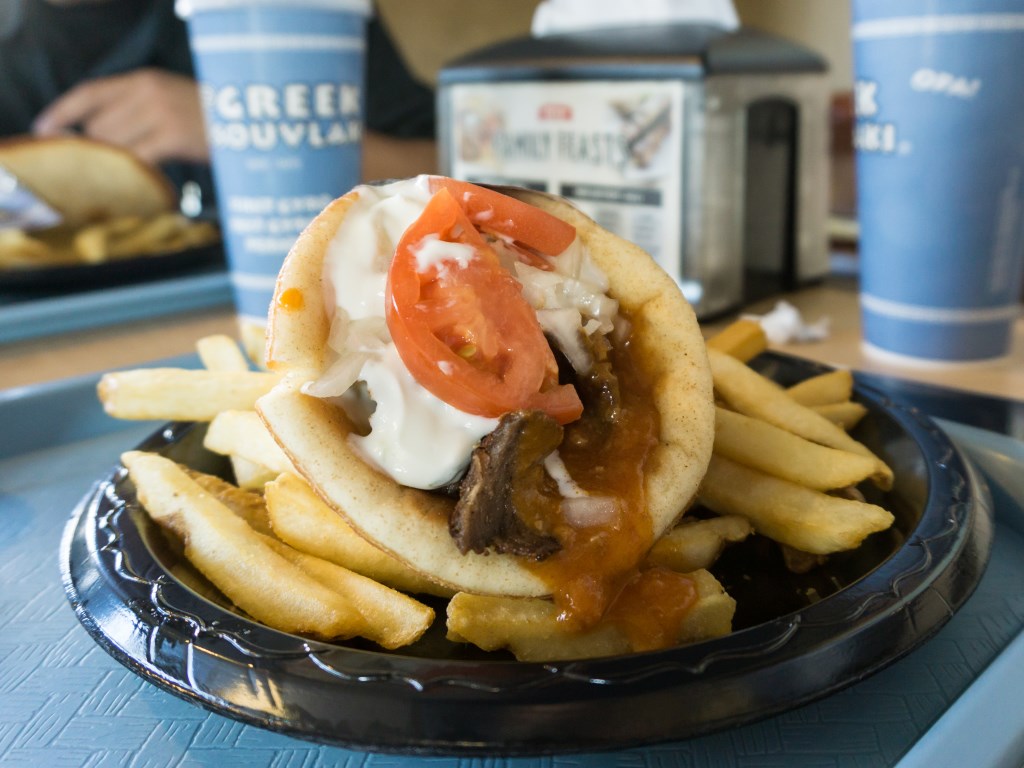 Greek Souvlaki (food court)
This fast food joint is another SLC original and is located in the food court. Within the terminal 2 building this is just past security and before concourse C stretches out. You'll find other national chains in the food court area, but Greek Souvlaki has something extra special – gyro. If you don't have these delicious Greek wraps in your home town, grab one now.
Pronounced yee-roh – trust us on this – a gyro is a fast food option for when you need to eat fast. It starts with a soft and fluffy pita brea. On top of that you pile on layers of seasoned (garlic and herbs) spit roasted lamb and beef. Lastly there's red onion, sliced tomato and tzatzki – a yogurt based sauce with cucumber. Order up a side of fries and it's simply heaven.
Due to a large Greek population in SLC, we have tons of great Greek fast food in town, surprisingly more than cities much bigger out size. Greek Souvlaki is one of the best and worth checking out at the airport. Also noteworthy at the food court is Cafe Rio, another homegrown Utah (fast casual Mexican) brand that went onto open hundreds of stores regionally out here in the West. We'd still pick a gyro as our favorite though!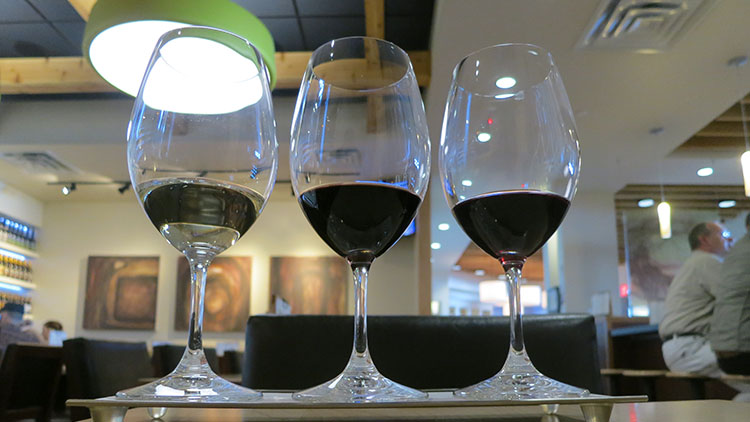 Vino Volo (between Councourse D and E)
Vino Volo isn't an SLC based business, indeed you will find this brand at several airports around the United States. That said, we love to come here when we want a light bite and a glass of wine. It's not located on a main concourse, so the space is very relaxed and usually quite quiet. There's plenty of standard table seating and also bar counter seating too. Its open and bright and a refreshing space to relax in.
Top of the list here is wine, and we always grab a wine flight from the extensive lists when stopping into Vino Volo; three small pours of wine paired together around a specific theme. There is also of course a full bar and a diverse menu that offers plenty to pair with those wine: charcuterie, cheese plates, olives, flatbreads and more.
See the Vino Volo menu here.
Market Street (Terminal 2)
You'll find this SLC classic just to the side of the food court off of Concourse C. You'll spot its wood paneled exterior and dapper dressed servers – that copy the style of the downtown Salt Lake City original; a seafood centric restaurant that has served Salt Lakers for decades. The airport outlet is spacious with bar seating, table seating and booths. It opens 6.30 a.m. – 10.00 p.m. daily. The bar is open from 8.30 a.m.
The menu is built around the iconic regional US seafood dishes the original is known for. Dishes such as clam chowder, crab stuffed halibut, fish and chips, gulf shrimp, crab cakes and more. There are steaks, sandwiches, burgers and more as well. This is definitely a more formal, sit down and take some time of your feet restaurant. While the great service team will certainly try to expedite your meal if you need, we recommend coming here when you have a little more time to enjoy the experience.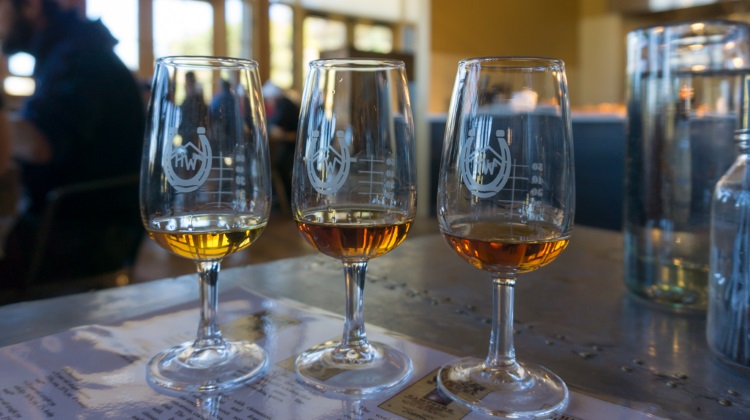 High West (Concourse E)
This is the airport extension of Park City Utah's famous High West Distillery – the first distillery in Utah since prohibition days. High West blazed a path for a slew of other distilleries in Utah, but they were the first and easily the most famous.
At the airport, you'll find this snug spot located on Concourse E open from 8 a.m. – 9.30 p.m. Like other bars in the airport the strong stuff flows from 8.30 a.m. The restaurant offers table and bar service and has a menu of pub grub comfort foods: breakfast, nachos, Mac and cheese, wings, BLTs, burgers etc. And of course, if you stop by you'll be able to sample the distilleries famed whiskey. Two flight are available that take in four selections each. The picture above is actually from the Warship Utah location of the distillery not the airport, but hey, you get the idea right – what better way to spend some time between flights?
If you're traveling internationally note that you can purchase High West spirits in Duty Free to take to your friends and fgamiliyt for a taste of Utah. You can find Duty Free at the start of Concourse D, it opens 6 a.m. – 9 p.m. daily.
Staying in SLC?
If you're staying longer in SLC than just a quick trip through the airport, let us help you out with a few more pieces of info and help.
Things to do in Salt Lake City – A quick guide of how to spend a day in Salt Lake City, ordered by your interests. And of course, we provide where to get breakfast, lunch and dinner each day.
$20 Lyft Credit – While we have Uber in SLC, Lyft is here too and is just as good (we think better). Use the link to signup and get $20 in free credit if you haven't used them before. And yes, you can get both Uber and Lyft to and from the SLC airport. If you're taking a ride out of the airport, just follow the signage (at baggage claim) for ride share pick up points.
Our sponsors and this page
This page may contain information about one of our sponsors. We only work with the very best businesses in the state, and routinely turn down offers to work with businesses we don't enjoy. If we can't hand on heart recommend them - they can't be a sponsor.
At this time we have the following sponosrs: BTG, Caffe Molise, The Dough Miner, Downtown Alliance, Feldman's Deli, Flanker, Garage On Beck, Hearth And Hill, Hill's Kitchen, Kao Thai, Kin Sen Asian Noodle Bar, Kyoto, LemonShark Poke, Log Haven, Oasis Cafe, Pirate O's Gourmet Market, SLC Eatery, Squatter's Downtown Salt Lake City, Stoneground Italian Kitchen, Urban Hill, Wasatch Brew Pub Sugar House, Whiskey Street, White Horse.
I encourage you to Google any of our sponsors and see the stellar reviews on multiple sites that they enjoy. For a list of all our current and past relationships see our partnership history page.