Kin Sen Asian Noodle Bar
Pictured above are the stunning boat noodles from the fabulous Kin Sen, located in Millcreek. The mammoth bowl of comfort comes in a variety of options, but those in the know go for the combination bowl. This comes loaded to the brim with oxtail, beef short rib, beef, oxtail, beef meat balls, and a topping of fried pork. Join that array are authentic Thai rice noodles, bean sprouts, Chinese broccoli, and scallion. The key to the dish though is the sweetly cinnamon-tinged broth that's cooked five hours.
2819 S 2300 E, Millcreek, UT 84109
(801) 935-4024
kinsennoodlebar.com
Pho 777
Those looking for the best pho in Utah will want to make a beeline right away to this West Valley mom and pop. The cozy restaurant offers a menu featuring more than a 100 dishes. Among them fifteen different specular pho dishes, not least a rather stunning shaking beef. Check out our full story that covers Pho 777 here.
1835 W 3600 S Suite A, West Valley City, UT 84119
(385) 528-0189
Foodie And Sweetie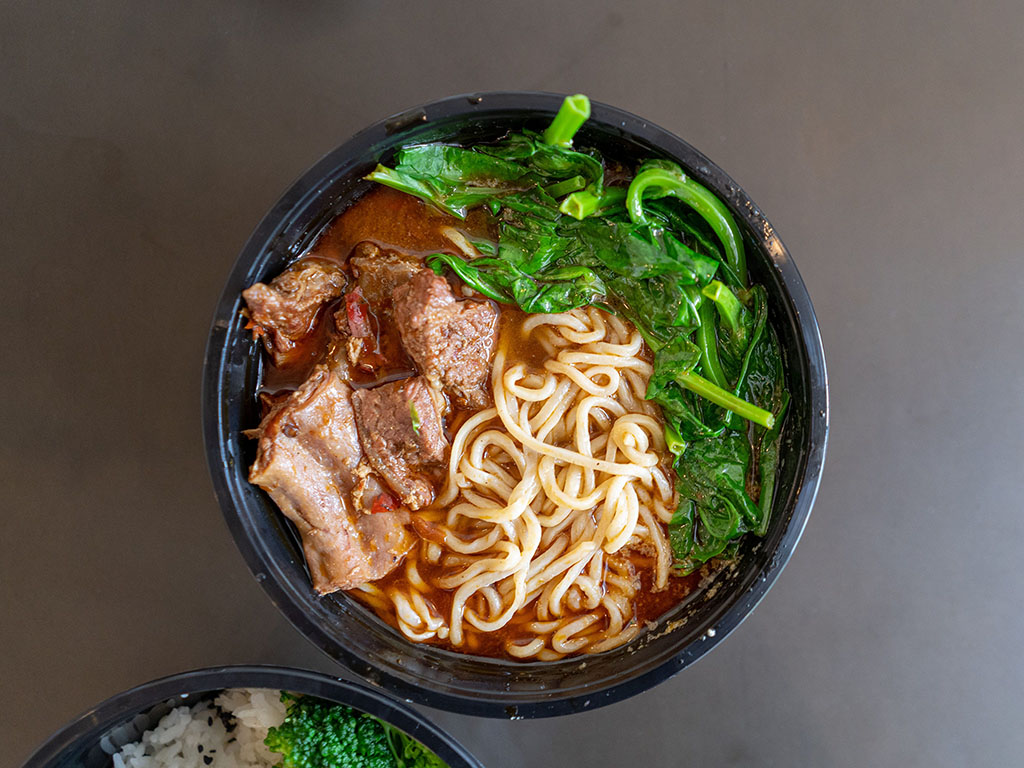 This humble mom and pop Chinese restaurant in the Avenues might offer a humble menu, but the menu always has a fabulous choice of noodle dishes.
89 D St, Salt Lake City, UT 84103
(385) 528-3823
instagram.com/foodieandsweetie_dmarket
Boba World
Head North to Woods Cross (whose motto should be, 'its closer than you think'!) and check out this blink and you'll miss it Chinese restaurant. The cuisine here is Shanghai style, and the star of the show are the fat, home made noodles. Available with a range of proteins, they're big, hearty, soul satisfying noodles.
512 W 750 S, Woods Cross, UT 84010
(801) 298-3626
slcmenu.com/2013/12/05/boba-world-restaurant-menu/

Wann Jale
This unique restaurant in South Salt Lake offers dishes you might not find anywhere else in town. The menu is a mix of cuisine from both Myanmar and Thailand and features fund noodle dishes, both hot and cold, like the featured Yangoon noodle dish above.
919 2100 S, South Salt Lake, UT 84119
(801) 906-0056
slcmenu.com/2019/07/13/wann-jale-menu/
One More Noodle House
When a restaurant has noodle right there in the name, noodle lovers should take note. There's more than 40 different Chinese noodle dishes on the menu here – with a particular leaning to the spicier delights of Sichuan cuisine.
3370 State Street Suit N5, South Salt Lake, UT 84115
(801) 906-8992
slcmenu.com/2018/01/06/one-noodle-house-menu/
Ramen Bar
Downtown SLC is home to this fun Japanese restaurant that's all about the popular Japanese noodle dish, ramen. Located on buzzy Main Street amongst several bars, you can start your night on the town with a heaping bowl of delicious ramen here.
319 Main St, Salt Lake City, UT 84111
(801) 355-0158
slcmenu.com/2018/09/28/ramen-bar-menu/
CY Noodle House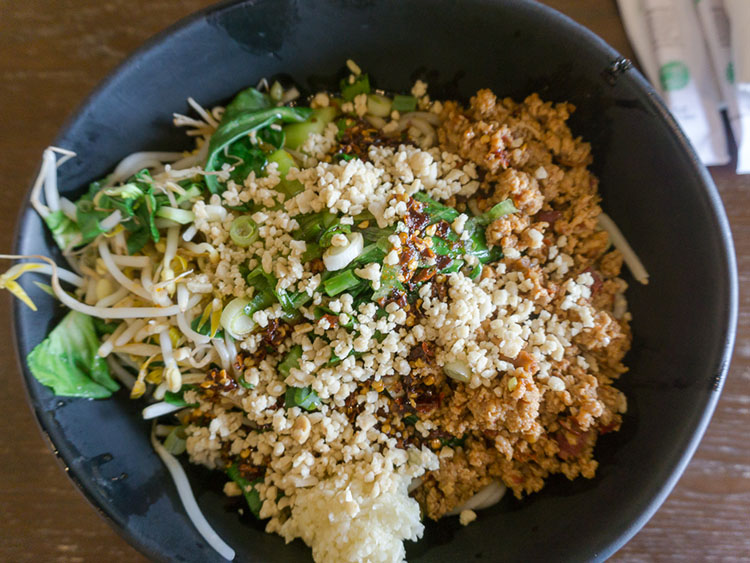 CY Noodle House is another restaurant that puts the good stuff right there in their name. The business started off in a small space in the South Salt Lake Chinatown complex offering a build your own noodle bowl concept. Moving few doors down to a larger space years later, the restaurant offers a large menu now, but retains the DIY noodle options.
3390 State St, South Salt Lake, UT 84115
(801) 485-2777
slcmenu.com/2017/11/26/cy-noodle-chinese-restaurant/
All Chay
If you love noodles but also enjoy a meat free life style, look no further than All Chay – one of the very best vegan restaurants in town. The menu here is Vietnamese and is 100% vegan friendly. And yes, there are several beautiful bun noodle dishes to enjoy!
1264 W 500 N, Salt Lake City, UT 84116
(801) 521-4789
slcmenu.com/2015/07/09/all-chay-menu/
Mano Thai Diner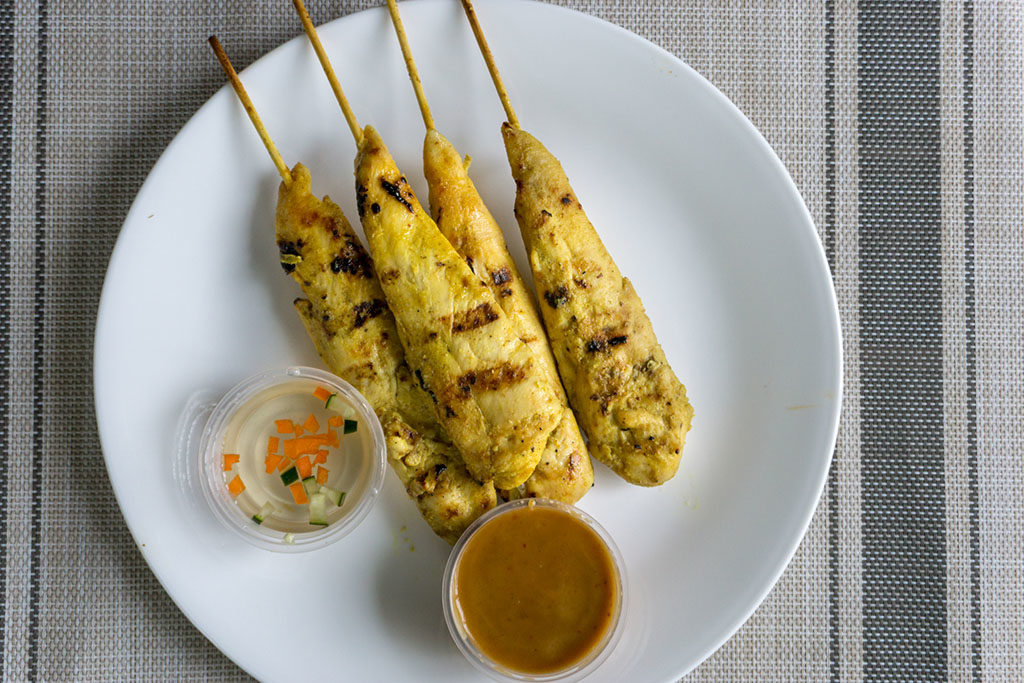 That's not a noodle I hear you shout! O.k. you got me, but I am very partial to Mano Thai's luscious satay – as well as yes – several fantastic Thai noodle dishes. The restaurant is located in South Salt Lake close to freeway access and also has a drive through window.
Our sponsors and this page
This page may contain information about one of our sponsors. We only work with the very best businesses in the state, and routinely turn down offers to work with businesses we don't enjoy. If we can't hand on heart recommend them - they can't be a sponsor.
At this time we have the following sponosrs: BTG, Caffe Molise, The Dough Miner, Downtown Alliance, Feldman's Deli, Flanker, Garage On Beck, Hearth And Hill, Hill's Kitchen, Kao Thai, Kin Sen Asian Noodle Bar, Kyoto, LemonShark Poke, Log Haven, Oasis Cafe, Pirate O's Gourmet Market, SLC Eatery, Squatter's Downtown Salt Lake City, Stoneground Italian Kitchen, Urban Hill, Wasatch Brew Pub Sugar House, Whiskey Street, White Horse.
I encourage you to Google any of our sponsors and see the stellar reviews on multiple sites that they enjoy. For a list of all our current and past relationships see our partnership history page.