While it's easy to find the biggest name on the block or the current hot venue on the dining scene – seasoned diners know the real trick to a great meal – find where the locals eat, time and time again. Check out our picks for where you will find the best locals dining SLC has to offer.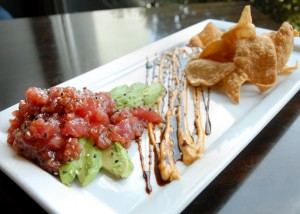 Caffe Niche *
Caffe Niche has been a staple of downtown for more than 5 years – offering a relaxed, friendly atmosphere with an innovative twist provided by chef Ethan Lappé. Lappé's menu revolves around the best fresh ingredients prepared in a simple and timeless way to highlight flavors. With an emphasis on supporting local farms, ranchers and food purveyors for the most flavorful ingredients around, Niche sets the table as food-centric community restaurant.
Local's secret tip: Lappé's close association with Hawaiian fishermen and farmers makes for some amazing dishes using line caught fish, direct shipped from the island fishermen, never frozen.
Featured dish: Hawaiian Poke Tartar
779 E Broadway, Salt Lake City, UT 84102
(801) 433-3380
www.caffeniche.com
Faustina *
Casual enough for a lazy weekend breakfast but chic enough for a special evening out on the town – Faustina is many a local's goto spot for a wide variety of occasions. Open seven days a week for lunch and dinner, plus weekends for brunch, not to mentions porting a full bar –
Faustina's menu of New American inspired cuisine offers everything from small plate tapas inspired dishes through to pasta, seafood and. Plus, there's always an eye on local product and seasonal cuisine too –
Local's secret tip: Don't miss Faustina's fabulous hidden patio out back, pretty as picture and perfect for our warm sultry summer evenings.
Featured dish: Rabbit
454 E 300 S, Salt Lake City, UT 84111
(801) 746-4441
www.faustinaslc.com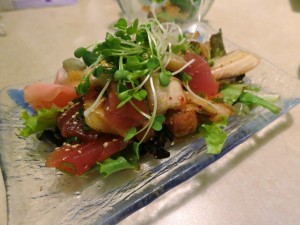 Kyoto *
Kyoto has been providing traditional Japanese cuisine for more than 20 years. Indeed stop by on any given night and you'll find the restaurant routinely packed to the rafters, with patrons vying for seats at the sushi bar or zen calm tatami booths.
Kyoto also offers a top notch selection of sushi, from traditional sashimi and nigiri preparations through to more contemporary maki rolls. There's something for everyone at Kyoto, including a full bar offering great wine and sake selections.
Local's secret tip: Kyoto's Japanese cooking is best highlighted best by their stunning tempura, most notably their 'big as your arm' prawns served in the shockingly crisp and crunchy batter.
Featured dish left: Kimchee Maguro appetizer

1080 E 1300 S, Salt Lake City, UT 84105
(801) 487-3525
www.kyotoslc.com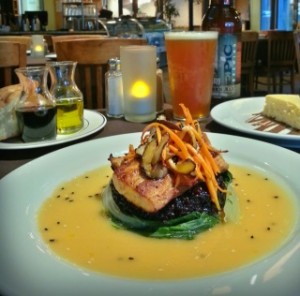 Oasis Cafe *
Oasis Cafe is a locals hot spot for breakfast and brunch, open seven days a week serving a menu just as acessible for vegans, vegetarians and meat lovers alike. Housed in a tranquil space, just away from the maddening downtown core, the restaurant is a zen like haven.
The new American styled menu has a keen eye on Local First and sustainability even going as far as to making every attempt to offer wines from vineyards who practice sustainability. Backing yup the fine wine list is an array of greta klocla brews too, featuring Epic, Wasatch and Uinta "high point" beers, like Epic's Brainless Golden Ale at 8.5% ABV, Wasatch While Label Belgian at 6% ABV, and Unita Dubhe Imperial Black Stout at 9.2% ABV.
Local's secret tip: Oasis is just as good for dinner as it is brunch, open seven nights a week, featuring a seasonally updated menu that again has a keen focus on sustainability.
Featured dish: Salmon dinner special from fall 2013
151 S 500 E, Salt Lake City, UT 84102
(801) 322-0404
www.oasiscafeslc.com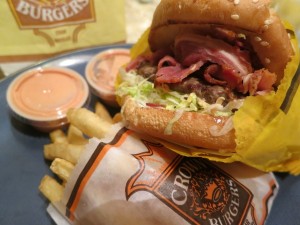 Crown Burgers
Since 1978 when the Katzourakis and Katsanevas families decided to join forces, Crown Burger has been putting big smiles on the faces of SLC citizens. Nearly forty years later, the chain shows no sign of easing up – gradually expanding across the Salt Lake Valley. At each location you will find a mega menu loaded with fast food classics, created with home made care – not to mention some great Greek options like fabulous gyros.and still to this day, its a family owned and operated business.
Local's secret tip: The signature crown burger is loaded with salty sliced pastrami. Topping one of Crown's smoky patties, its and indulgent dish.
Featured dish: Crown burger with fries and fry sauce
Various locations
www.crown-burgers.com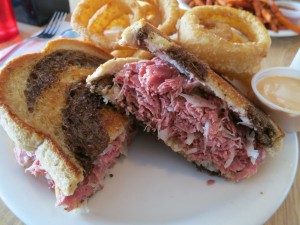 Penny Ann's Cafe
An Americana classic through and through, the type they simple don't make anymore. Except, in the case of Penny Ann's Cafe they do – ever since 2011 – this family run diner has been slinging the very finest pancakes and pies you will find anywhere in SLC. Hands down.
Hours are relatively limited, and its about as far from molecular gastronomy as you can imagine, but if you can fit this humble eatery into your schedule, you'll find hearty portions, tiny prices and a welcoming, smiling staff.
Local's secret tip: Don't leave without trying a slice of one of the homemade pies. Each one is heavenly but the Key Lime Pie is a knockout.
Pictured dish: Reuben on rye with onion rings
1810 S Main St, Salt Lake City, UT 84115
(801) 935-4760
www.pennyannscafe.com
* Gastronomic SLC is a proud local partner of Caffe Niche, Faustina, Kyoto and Oasis Cafe.
Our sponsors and this page
This page may contain information about one of our sponsors. We only work with the very best businesses in the state, and routinely turn down offers to work with businesses we don't enjoy. If we can't hand on heart recommend them - they can't be a sponsor.
At this time we have the following sponosrs: BTG, Caffe Molise, The Dough Miner, Downtown Alliance, Feldman's Deli, Flanker, Garage On Beck, Hearth And Hill, Hill's Kitchen, Kao Thai, Kin Sen Asian Noodle Bar, Kyoto, LemonShark Poke, Log Haven, Oasis Cafe, Pirate O's Gourmet Market, SLC Eatery, Squatter's Downtown Salt Lake City, Stoneground Italian Kitchen, Urban Hill, Wasatch Brew Pub Sugar House, Whiskey Street, White Horse.
I encourage you to Google any of our sponsors and see the stellar reviews on multiple sites that they enjoy. For a list of all our current and past relationships see our partnership history page.