1 – EJO Korean BBQ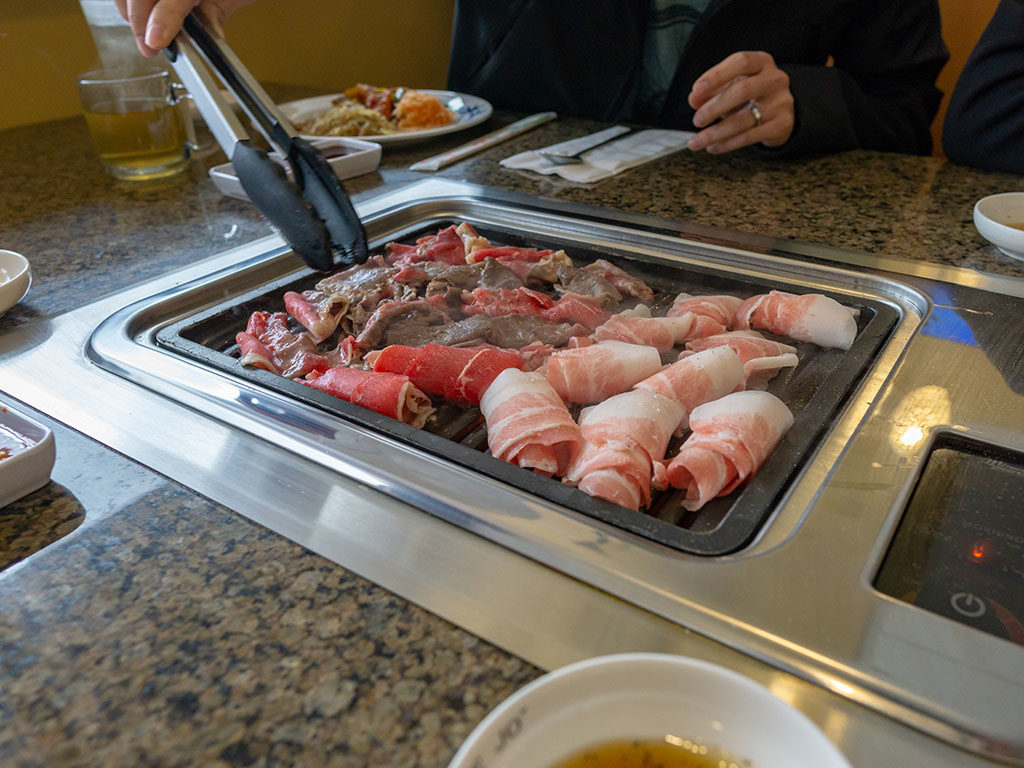 For Korean style BBQ our pick is EJO located in South Salt Lake. If you're new to Korean BBQ you're in for a real treat. The friendly staff bring plate after plate of raw meats to your table, which yo then grill yourself, there and then.
At EJO, the whole affair is an all you can eat setup too. As well as the table side meats there's also a great buffet setup with hot and cold dishes, japchae to banchan – plus a number of hot dishes that you can order up cooked from the kitchen too.
633 3300 S, South Salt Lake, UT 84106
(801) 474-0047
ejokoreanbbq.com
2 – Korea House
This State Street located business offers a very traditional take on Korean dining and is regularly one of the most well regarded by reviewers. Korea House also lays claim to the oldest operating Korean restaurant in Utah hands down.
1300 South 145 East #207, Salt Lake City, UT 84115
(801) 487-3900
koreahousesaltlake.com
3 – Cupbop
It's impossible to talk about Korean food in Utah without mentioning the wildly successful Cupbop. Starting from a single humble food truck, the business has expanded into an empire with multiple trucks and bricks and mortar locations. The menu and concept is simple – classic Korean flavors presented in a fun an easily accessible bowl – at wallet friendly prices.
Various locations
slcmenu.com/2017/03/05/cupbop-draper-menu/
4 – Jang Soo Jang
Another Korean restaurant that provides an array of authentic dishes everything from galbi and bulgogi through Korean hot pot dishes.
58 E 3750 S, South Salt Lake, UT 84115
(801) 281-5574
facebook.com/jangsoojangslc/

What other Korean food is there in Utah?
Check out our sister site and their complete Utah Korean food list. They try to collate as many restaurant menus as possible, including all the ones on this page!
Our sponsors and this page
This page may contain information about one of our sponsors. We only work with the very best businesses in the state, and routinely turn down offers to work with businesses we don't enjoy. If we can't hand on heart recommend them - they can't be a sponsor.
At this time we have the following sponosrs: BTG, Caffe Molise, The Dough Miner, Downtown Alliance, Feldman's Deli, Flanker, Garage On Beck, Hearth And Hill, Hill's Kitchen, Kao Thai, Kin Sen Asian Noodle Bar, Kyoto, LemonShark Poke, Log Haven, Oasis Cafe, Pirate O's Gourmet Market, SLC Eatery, Squatter's Downtown Salt Lake City, Stoneground Italian Kitchen, Urban Hill, Wasatch Brew Pub Sugar House, Whiskey Street, White Horse.
I encourage you to Google any of our sponsors and see the stellar reviews on multiple sites that they enjoy. For a list of all our current and past relationships see our partnership history page.